Resort Restaurants | Polynesian Village Resort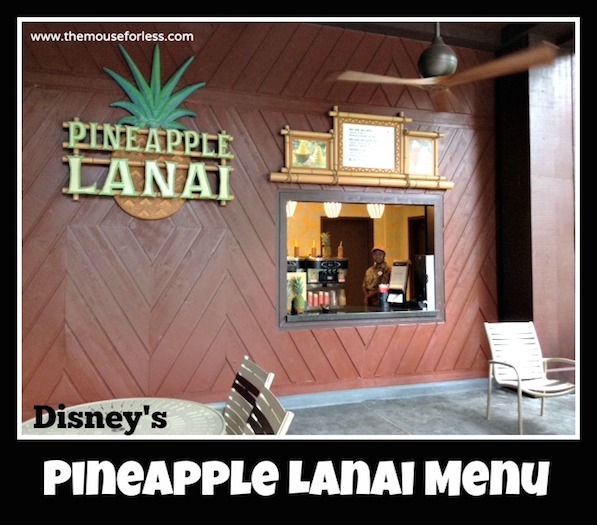 Make time for a stop by this quick service window, the newest home to Dole Whip, at the Polynesian Village Resort!  It is located in the main outdoor court yard area of the Polynesian Village Resort, right outside of Captain Cook's Quick Service Restaurant.
If you don't know what this Disney favorite the Dole Whip is, you are in for a treat.   And if you do, of course you KNOW you are in for a treat.  It can be a quick and easy pick up for your favorite, refreshing pineapple treat.  Nothing cools you off like a Dole Whip on a hot Florida day or evening. The pineapple treats are so popular that the Polynesian Village had to open a separate location just to serve them; they used to be available at Captain Cook's.  And if it happens to be a non park day for you, grab a Dole Whip and sit down to enjoy the fireworks from the Magic Kingdom in the evening.  It's a great option on a non park day to take care of that Dole Whip craving, come on and admit you love these!
Restaurant Info: Snack, $
Find out how you can save money on dining at Walt Disney World by using one of Disney's Dining Plans.
Pineapple Lanai Menu
Menu Date: 07/2018
Pineapple Lanai at Disney's Polynesian Village Pineapple Treats
Dole Whip Soft-serve – Pineapple or Vanilla – $4.49
Dole Whip Soft-serve Served in a Souvenir Tiki Bowl – $9.49
Dole Whip Soft-serve Swirl – Pineapple Swirled with Vanilla – $4.49
Dole Whip Soft-serve Swirl Served in a Souvenir Tiki Bowl – $9.49
Pineapple Float – Vanilla or Pineapple soft serve with Pineapple Juice – $5.49
Pineapple Float Served in a Souvenir Tiki Sipper – $10.49
Pineapple Lanai at Disney's Polynesian Village Beverages
Dasani Bottled Water – $3.00
** Pineapple Lanai Menu and Prices are Subject to Change Without Notice **