Resort Restaurants | Old Key West Resort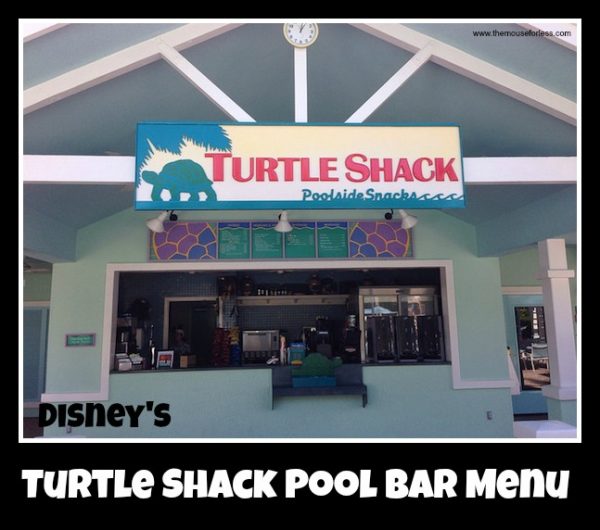 Crawl onto dry land for pizza, sandwiches, hot dogs and salads. Sweet treats, smoothies, wine, draft and bottled beer, and soft drinks are also available at this seasonal venue. A shuffleboard court and game room offer further diversions.
Restaurant Info: American, Lunch/Snack, $
Find out how you can save money on dining at Walt Disney World by using one of Disney's Dining Plans.
Turtle Shack Pool Bar Menu
Menu Date: 05/2019
Entrees
Hot Dog with Chili and Cheese – $9.99
Cheese Pizza – $7.49
Pepperoni Pizza – $7.99
Taylor Turkey Sandwich – House-roasted Turkey served on a Ciabatta Bread with Basil Pesto Mayonnaise and Chips – $10.49
Flagler Italian Sandwich – served with Salami, Ham and Mortadella on Focaccia Bread with Lemon Caper Mayonnaise and Chips – $9.99
Tuna Salad  – Olivia's famous Tuna served with House-made Chips  – $7.79
Power Salad  – a mix of Edamame, Garbanzo, Roasted Peppers, Cherry Tomatoes, Shredded Iceburg and Quinoa with a Key Lime Mustard Vinaigrette – $9.99
Turkey Cobb Salad – $9.49
Shrimp Cobb Salad – $11.99
Caesar Salad – $7.49
Caesar Salad with Chicken – $9.99
Caesar Salad with Shrimp – $11.99
Mango Rum Barbecue Pulled Pork Sandwich – topped with Coleslaw on a Kaiser Roll served with French Fries -$9.99
Buttermilk Chicken Sandwich – served with House-made Chips or Coleslaw – $9.49
Snacks
Assorted Chips– $2.99
Soft Pretzel with Cheese Sauce – $5.99
Assorted Fruit Cup–  $4.39
Kids' Meals
For Kids Ages 9 and Under. All meals include choice of two: Grapes, Applesauce, Carrot Sticks and a choice of Lowfat Milk or small Dasani Water

Turkey Sandwich – $6.99

Smucker's Uncrustables – $6.19

Grilled Chicken Wrap – $6.99
Macaroni & Cheese – $6.69
All-Beef Hot Dog – $7.29
Minute Maid Juice Box or Cookie substituted upon request

Meets Disney Nutrition Guidelines for Complete Meals without substitutions
Desserts
Cupcake – $4.29 – $5.49
Assorted Cookies – $3.29
Crispy Treats – $4.69
Key Lime Pie – $4.29
Carrot Cake – $4.49
Nestle Mickey's Ice Cream Bar – $5.39
Nestle Mickey's Cookies 'n Cream Ice Cream Sandwich – $5.39
Beverages
Assorted Fountain Beverages – $3.99
Slushy – Strawberry or Piña Colada – $6.49
Simply Orange Juice – $4.99
Minute Maid Apple Juice – $2.69
Dasani Bottled Water – $3.50
Milk – Lowfat or Whole – $1.99
Chocolate Milk – $2.69
Hot Coffee – Regular or Decaf – $3.29
Hot Tea – $3.29
Nestlé Hot Cocoa – $3.29
French Roast Cold Brew  – dark-roasted Coffee with a smooth, rich-bodied taste | Caramel, Hazelnut, or Vanilla shots available for .50 cents each  – $3.79
Shakin' Jamaican™ Cold Brew  – our Island-inspired Cold Brew Coffee with hints of Caramel and Vanilla | Caramel, Hazelnut, or Vanilla shots available for .50 cents each  – $3.79
Alcoholic Beverages
Strawberry Daiquiri – $10.50
Piña Colada – $10.50
Draft Beer – Key West Ale Draft – $9.00
Bottled Beer – Miller Lite, Coors Light, Budweiser, Bud Light – $7.75
Jose Cuervo Mini Margarita – $9.00
Turtle Krawl – Siesta Key White Rum, Parrot Bay Coconut Rum, Sailor Jerry Spiced Rum with Grenadine, Pineapple, Orange, and Key Lime Juices – $11.50
** Turtle Shack Pool Bar Menu and Prices are Subject to Change Without Notice **