Epcot | World Showcase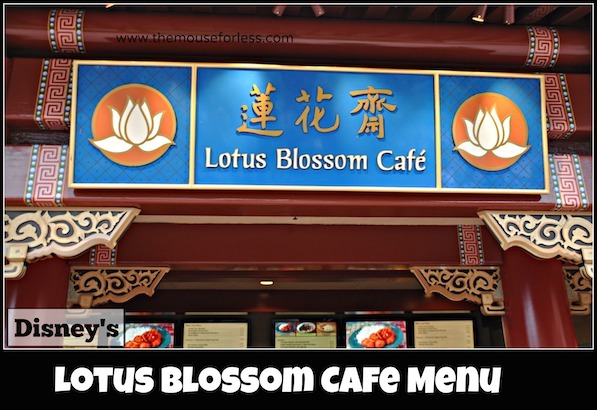 Ensure that your fortune is delicious at this World Showcase counter-service restaurant. Lotus Blossom Cafe offers classic Chinese take-out favorites like egg rolls, fried rice and more.
Restaurant Info: Asian/Chinese, Lunch/Dinner/Snack, $ -$14.99 and under per adult
Find out how you can save money on dining at Walt Disney World by using one of Disney's Dining Plans.
Lotus Blossom Cafe Menu
Menu Date: 09/2018
Appetizers
Potstickers – Chicken – $5.25
Pork and Vegetable Egg Rolls – $3.99
Entrees
Orange Chicken – with Steamed Rice – $10.49
Beef Noodle – Mongolian Style –  $10.95
Shrimp Fried Rice – with Egg Roll – $10.49
Shrimp Fried Rice – served with egg roll – $10.49
Sichuan Spicy Chicken – served with Seasoned Rice – $10.49
Vegetarian Stir Fry –  served with Steamed Rice – $9.99
Sesame Chicken Salad – $9.99
Kids' Meals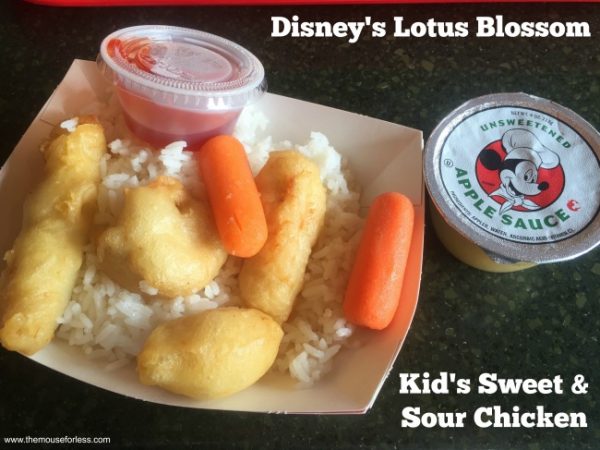 Sweet and Sour Chicken – with Steamed Rice with choice of 1% milk, small bottle of water or orange juice – $7.95
Potstickers & Spring Rolls – with choice of 1% milk, small bottle of water or orange juice – $7.95
Desserts
Lychee Ice Cream – $3.50
Caramel Ginger Ice Cream – $3.50
Beverages
Assorted Fountain Beverages – $2.99 Regular  | $3.29 Large
Dasani Bottled Water – $2.75
Chinese Hot Tea – $2.29
Coffee – regular and decaf – $2.29
Hot Cocoa – $2.29
1% Milk – $1.99
Orange Juice – $2.59
Strawberry Smoothie – $4.65
Mango Smoothie – $4.65
Iced Peach Oolong Tea – $4.25
Alcoholic Beverages
Tsing Tao Bottled Beer – $6.95
Foo Draft Beer – $7.50
Tiger Draft Beer – $7.50
Plum Wine – $4.99
** Lotus Blossom Cafe Menu and Prices are Subject to Change Without Notice **