Epcot | World Showcase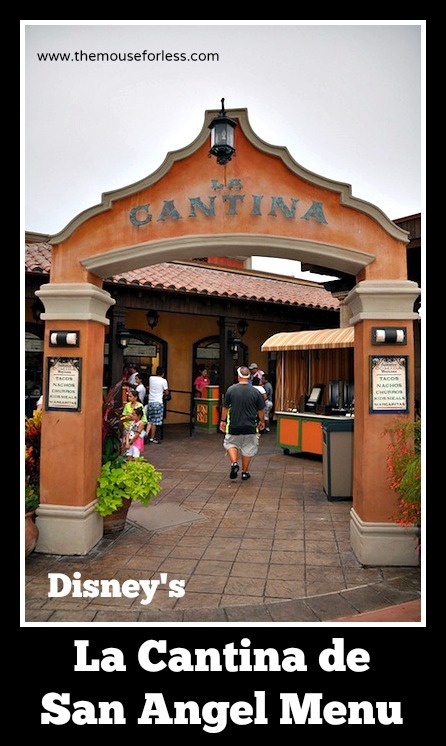 La Cantina at the Mexico Pavilion shares air-conditioned space with La Hacienda up until about 2:30 in the afternoon, after which, seating is found on the outdoor terrace only. The menu focuses on authentic Mexican tacos and the margaritas are a standout. The architecture resembles an old hacienda. It's right on the water, and very eye catching. And the view – the terrace seating is geared to World Showcase Lagoon and the fireworks. During the day it's great for enjoying the waterfront.
Restaurant Info: Mexican, Lunch/Dinner, $
Find out how you can save money on dining at Walt Disney World by using one of Disney's Dining Plans.
La Cantina de San Angel All-Day Menu
Menu Date: 11/2018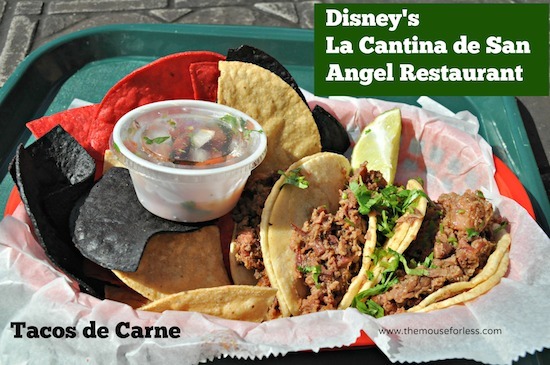 Entrees
Tacos de Barbacoa – Seasoned Beef served on fresh homemade Corn Tortillas with Mexican Rice, Refried Black Beans and fresh Salsa – $13.25
Tacos de Pollo – Seasoned Chicken served on fresh homemade Corn Tortillas with Mexican Rice, Refried Black Beans and fresh Salsa – $12.75
Tacos de Pescado – Seasoned Fried Fish, Homemade Corn Tortillas, Mexican Rice, Refried Black Beans, Slaw and Habanero Aïoli – $12.95
Pollo Cascabel – Grilled Chicken served Mexican Rice, Corn, Cascebel Sauce and Pickled Onion – $12.95
Empanadas con Queso – Fried flour Tortillas filled with Cheese and served with Mexican Slaw – $11.75
Nachos – Tortilla Chips topped with Ground Beef, Nacho Cheese, Tomatoes, Jalapeños, Beans and Sour Cream – $11.75
Guacamole with Totopos – Tortilla Chips accompanied by our homemade Guacamole – $8.50
Ensalada Mexicana – Tossed Romaine Lettuce, Arugula, Red and White Cabbage, Black Beans, Corn, Olive Oil and Lime Juice – $8.95
With Grilled Chicken – $12.20
With Beef Barbacoa – $ 12.95
Sides
Refried Beans – $1.99
Guacamole – $4.50
Sour Cream – $0.75
Nacho Cheese – $0.75
Kids' Meals
For Guests 9 and Under
Meals are served with a choice of 1% Milk, Chocolate Milk, Soda or small Dasani Bottled Water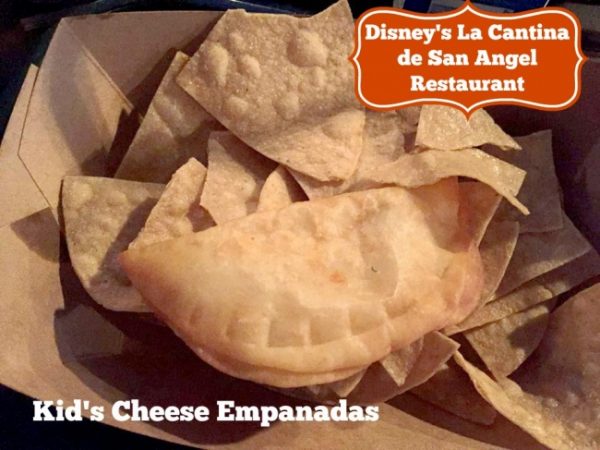 Empanadas con Queso – Fried flour tortilla filled with cheese, served with tortilla chips and nacho cheese – $7.99
Chicken Tenders – Served with tortilla chips and fruit – $7.99
Macaroni and Cheese – Cavatappi Pasta in a Rich White Cheddar Cheese Sauce – $7.99
Desserts
Churros – with Caramel Sauce – $4.50
Mickey Ice Cream – $.4.69
Non-Alcoholic Beverages
Nestlé Hot Cocoa – $3.29
Coffee – $3.29
Jarritos – Traditional Mexican Soda with choice of Pineapple, Mango, Fruit Punch and Apple (Sidral) – $4.25
Assorted Fountain Beverages – $4.49
Dasani Bottled Water – $3.50
Alcoholic Beverages
Patrón Lime  Margarita on the Rocks – $15.25
Avion Fresh Lime Margarita on the Rocks – $13.75
Mango Frozen Margarita – $10.50
Lime Frozen Margarita – $10.25
Ambhar Coconut Passion Margarita on the Rocks – $14.75
Pomegranate Liqueur Floater  – $3.25           
Tequila Mexican Sangria – $11.25
Dos Equis Lager Draft Beer – $6.75
Modelo Especial Draft Beer – $6.75
** La Cantina de San Angel Menu and Prices are Subject to Change Without Notice **