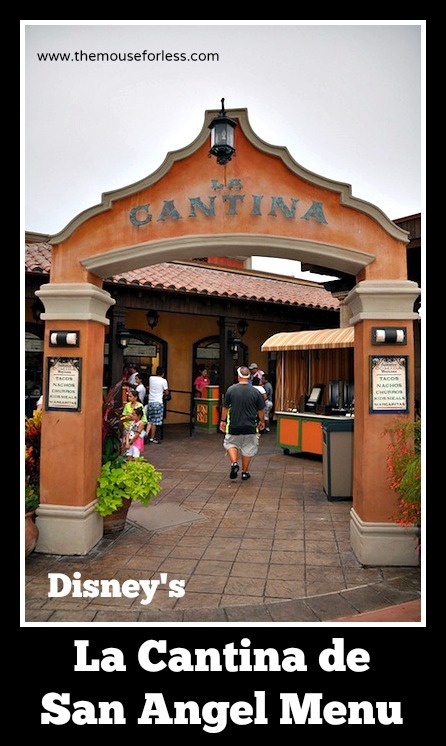 La Cantina de San Angel at the Mexico Pavilion shares air-conditioned space with La Hacienda up until about 2:30 in the afternoon, after which, seating is found on the outdoor terrace only. The menu focuses on authentic Mexican tacos, and the margaritas are a standout. The architecture resembles an old hacienda. It's right on the water, and very eye-catching. And the view – the terrace seating is geared to World Showcase Lagoon and the fireworks. During the day, it's great for enjoying the waterfront.
La Cantina de San Angel is located in Disney's Epcot theme park.  Find more Walt Disney World dining locations on our Walt Disney World Resort menus page.
Restaurant Info: Mexican, Lunch/Dinner, $
Find out how you can save money on dining at Walt Disney World by using one of Disney's Dining Plans.

Planning a Walt Disney World Vacation?
For a Free no-obligation quote, contact our sponsor
The Magic For Less Travel
. The Magic For Less Travel is an Authorized Disney Vacation Planner and has been helping guests plan magical vacations since 2002. Receive the best prices and free travel planning services. Their fee-free services will help you save time, money, and stress while planning a vacation designed around you and your needs!
La Cantina de San Angel All-Day Menu
Menu Date: 06/2022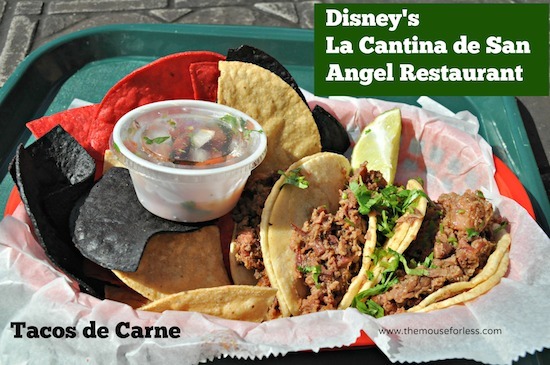 Entrees
Arroz con Pollo Bowl – Marinated Grilled Chicken, Rice and Corn topped with a spicy Tomato Sauce, Pickled Onions, Queso Fresco, and Cilantro – $14.50
Tacos de Barbacoa – Shredded Beef on homemade Corn Tortillas topped with Red Salsa and Cilantro. Served with Rice and Black Beans with Queso Fresco $15.50
Tacos de Pollo – Marinated Grilled Chicken covered in Red Salsa on homemade Corn Tortillas topped with Cilantro. Served with Rice and Black Beans with Queso Fresco – $14.75
Tacos de Camaron – Mexican corn breaded shrimp on homemade corn tortillas ,cabbage, salsa verde, and a mango relish. Served with rice and black beans with queso fresco – $14.75
Taco Trio – Barbacoa, Pollo, and Camarón Tacos on homemade Corn Tortillas. Served with Rice and Black Beans with Queso Fresco – $14.99
Empanadas con Queso – Fried Flour Tortillas filled with Cheese, topped with Sour Cream, Salsa Verde, and Queso Fresco. Served with Rice and Black Beans with Queso Fresco – $13.75
Nachos – Tortilla Chips topped with White Nacho Cheese, Ground Beef and Beans, Tomatoes, Jalapeños, and Sour Cream. Add Guacamole $2.00. – $14.25
Guacamole with Totopos – Traditional Gucamole with Tortilla Chips – $10.00
Sides
Black Beans – $2.25
Rice – $2.25
Guacamole – $6.99
Fried Plantains – $4.99
Sour Cream – $0.75
Nacho Cheese – $0.75
Kids' Meals
For Guests 9 and Under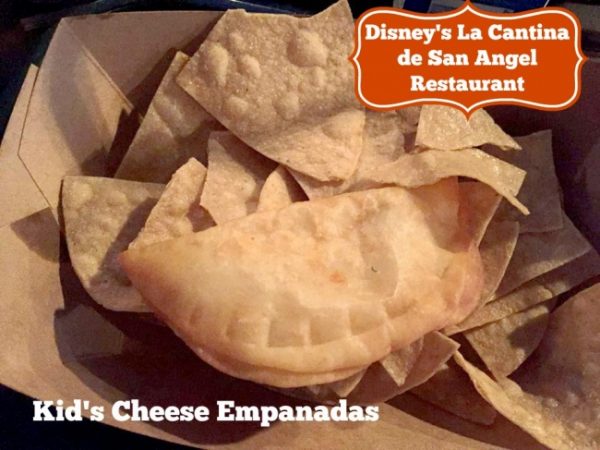 Empanadas con Queso – served with Tortilla Chips, Nacho Cheese and served with choice of Drink and a side of Fruit – $9.25
Chicken Tenders – served with Tortilla Chips, Nacho Cheese and served with choice of Drink and a side of Fruit – $9.25
Macaroni and Cheese – Cavatappi Pasta in a Rich White Cheddar Cheese Sauce and served with choice of Drink and a side of Fruit – $9.25
Chicken Tacos – Marinated grilled chicken on homemade corn tortillas served with Tortilla Chips, Nacho Cheese and served with choice of Drink and a side of Fruit – $9.25
Desserts
Churros – Churros with chocolate hazelnut spread – $5.89
Mickey Ice Cream – $5.40
Non-Alcoholic Beverages
La Cantina Slushie – $6.00
Jarritos – traditional Mexican Soda with choice of Pineapple, Mango, or Fruit Punch – $4.25
Assorted Fountain Beverages – $4.49
Dasani Bottled Water – $3.50
Alcoholic Beverages
"Top Shelf" Clásica on the Rocks – Teremana Blanco Tequila, Gran Gala Orange Liqueur, fresh Lime juice, Nixta Corn Liquor with Black Ant Salt rim – $16.50
El Tigre – Ojo de Tigre mezcal, pomegranate-prickly pear infused vodka, pineapple and ginger juices with wild flower salt rim – $17.00
Mango Frozen Margarita – $12.50
Lime Frozen Margarita – $12.50
Ancho Reyes Liqueur Floater – $4.25
LeJay Crème de Cassis Floater – $4.25
Tromba Blanco Floater – $4.25
The Wild One – El Tigre Tequila, Mango-passion fruit puree, Ginger, Ancho Reyes Chile Liqueur, fresh Lime juice, hint of Ilegal Mezcal with Hibiscus Salt rim – $17.00
Mexican Sangria – $13.00
Mexican Craft Cielito Lindo Draft Beer – $13.00
Dos Equis Lager Draft Beer – $10.50
Tecate Light Draft Beer – $10.50
** La Cantina de San Angel Menu and Prices are Subject to Change Without Notice **