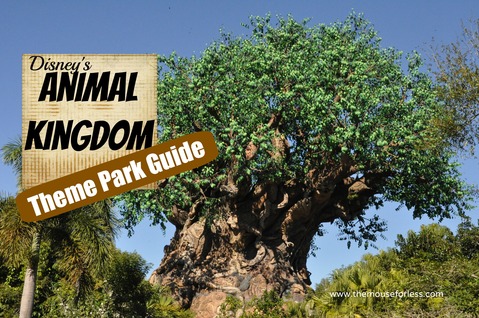 Animal Kingdom Theme Park lets you explore the realm of creatures who inhabit our world…and our imagination…and create your own adventure for an experience that roars with excitement. Prepare to be awed, inspired, thrilled, and enchanted. From fantasy and discovery to roaring adventure, the imagination and magic of Walt Disney World Theme Parks will come alive all around you.
The fourth Walt Disney World theme park celebrates one amazing adventure after another with wild animals, exciting attractions, lavish stage shows, and lovable characters! Highlights include an authentic African safari, a whirling white-water raft ride, and a thrilling race back in time to prehistoric worlds.
Admission  Attractions  Nighttime Spectaculars  Kids  Dining  Lockers Park Map

 Tours Accessibility  Transportation and Other Information

Planning a Walt Disney World Vacation?
For a Free no-obligation quote, contact our sponsor
The Magic For Less Travel
. Services are provided free of charge, and their expert planning advice will help you make the most of your vacation time and money.
Special New Experiences
For a limited time, take advantage of these exciting new experiences
Discovery River Flotillas
Throughout the day, keep your eyes open for short unscheduled visits from your favorite characters. All take place on the Discovery River
Goofy and Pals Set Sail – Leaving their posts at Donald's Dino Bash, Goofy and his Pals cruise down the Discovery River.
Mickey and Friends Flotilla  – Ready for a brand-new adventure, Mickey and his friends set sail on the Discovery River.
Discovery Island Drummers Flotilla taking their music to the water, performing live as they sail around the Discovery River

Discovery River Character Cruise featuring characters from Pocahontas or the Lion King
Donald's Dino Bash Flotilla  – Donald and his friends take Donald's Dino Bash to the Discovery River. Keep an eye out for their party boat throughout the day.
Feathered Friends in Flight!
Join the animal behavior specialists at the Caravan Stage for a behind-the-scenes look at the free-flying birds of Disney's Animal Kingdom theme park. Learn how they care for and train their feathered friends.
Animal Kingdom Theme Park Admission
Deciding what ticket to get for your visit to Animal Kingdom is no simple matter.  You can get a ticket with one day's worth of admission, a ticket with 10-days worth of admission or something in between.  You can also add options like a Park Hopping or Park Hopper Plus (which includes water parks, miniature golf, and golf at Disney's Oak Trail Golf Course, and ESPN Wide World of Sports Complex). Other admission options are available such as Walt Disney World annual pass, Florida resident passes and more.  For detailed information on Walt Disney World admission options, visit MFL's "Walt Disney World Tickets" page.
Animal Kingdom Theme Park Attractions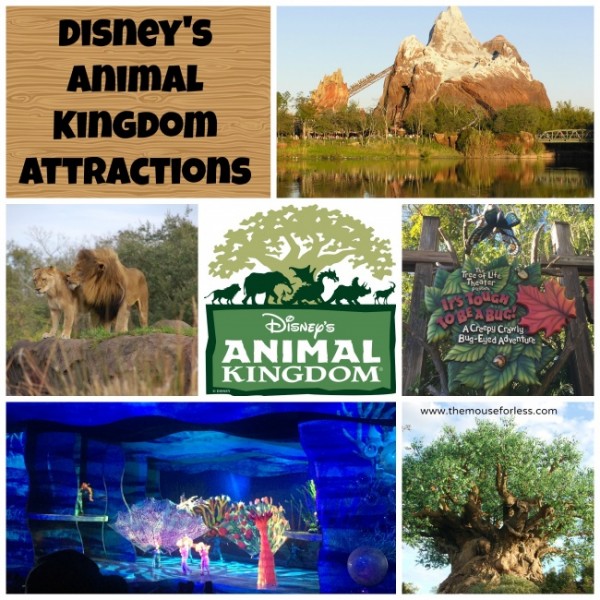 The fun gets wild at Disney's Animal Kingdom Park. Each section of the park features its own amazing theme that transports guests to Africa, Asia, or a whimsical land of Dinosaurs.
Africa – Journey through the "wild" Savannah on Kilimanjaro Safaris that seems to put you in the heart of Africa with lions, zebra, giraffes and other magnificent animals roaming freely.
Asia – The beauty of Asia comes alive here. Adventure into a tropical paradise full of plants and trees, rushing waterfalls and wild animals.
DinoLand U.S.A. – Here's where the world's fascination with dinosaurs comes to life.
Discovery Island – The park hub and home of the towering icon, The Tree of Life.

Attractions: It's Tough to be a Bug!, Discovery Island Trails, Russell and Dug from "UP" Meet & Greet, Wilderness Explorers headquarters (discovery game taking place throughout the park), Mickey & Minnie Meet & Greet at Adventurers Outpost, Winged Encounters – The Kingdom Takes Flight

Oasis – The park's main entrance. Along with providing various guest services, the Oasis features several animal habitats.

Attractions: The Oasis Exhibits

Rafiki's Planet Watch

Attractions: Wildlife Express Train, Habitat Habit! (exhibits), Conservation Station (Song of the Rainforest, veterinary and training exhibits, live animal cams), Affection Section (petting area), Animation Experience, It All Started with a Mouse (Conservation Station's "animal ambassadors," including sheep, parrots, porcupines, birds of prey and Kunekune pigs help tell stories and make appearances)

Pandora – The World of Avatar
Print out a copy of the Animal Kingdom Hidden Gem pocket guide from our Pocket Guide page and have more fun in the park discovering the hidden gems.
Pick up an Animal Kingdom Times Guide as you enter the park for important information such as park hours, special hours, show times, parade, character greeting times and other park hours to help you plan your day.
Nighttime Spectaculars
Tree of Life Awakening
The park's iconic Tree of Life undergoes an extraordinary "awakening." Animal spirits come to life throughout the evening by magical fireflies. Each scene appears to emanate from within the tree itself and reveals stories of wonder. Guests are invited to watch in awe as animal spirits within the Tree of Life awaken bringing with it a mesmerizing showcase of color and light.  After night falls, the Tree of Life will begin to come to life approximately every 10 minutes until park close.
Four different stories are told throughout the night. Story number 1 allows Guests to gaze upon a graceful young doe that embarks on a thrilling journey. Story two sees love blossoming between a pair of hummingbirds. In story three, see a fox spreading gifts of love in a wintry forest. Finally, story 4 celebrates the eternal balance and harmony that exists in all living things.
Animal Kingdom Theme Park Children's Services
Mothers with infants can visit Animal Kingdom worry-free with the services of the Baby Care Centers. The Baby Care Center is located behind Creature Comforts on Discovery Island (left of the Tree of Life before crossing the bridge to Africa). The facility offers Guests a place to feed, change, and nurse babies. Highchairs, rocking chairs, nursing rooms, changing tables and a microwave to heat bottles and food are available. The Baby Care Center also offers formula, bottles, pacifiers, children's Tylenol, cold and allergy medication, band-aids, Motrin, children's undergarments, t-shirts and baseball caps for Guests to purchase in those "baby emergencies."
Stroller rentals are available for single day rentals as well as the length of stay.  Visit MFL's Stroller page for detailed information on stroller rental.
Kingdom Strollers is the top choice for families traveling to Orlando, Disney, and surrounding areas! Kingdom Strollers provides premium stroller & crib rentals delivered straight to your Orlando theme park resort, hotel or vacation home free of charge. Book your stroller as soon as you book your vacation for best selections!
There's nothing more frightful to parents than the thought of losing their child in the ocean of people inside a theme park. There are many fascinating distractions at Animal Kingdom, and children can wander off in a blink of an eye. Be prepared so that you won't spend precious vacation time frightened and in search of each other. Have a plan before your vacation, make and print some Kids Travel IDs. There are many designs to choose from, they're easy to make, and children love to have their own ID cards.
When you enter Animal Kingdom at the beginning of the day, take a picture of your child from your camera, phone or by a Disney Cast Member on your Photopass so that you can readily show a Cast Member what your child is wearing and what he/she looks like if you should become separated from your child. Set up a meeting area in the park. Locate a Cast Member so that your child can meet a Cast Member "in person" and will not be afraid of them. Let your child know to look for Cast Members with Disney ID tags and to show the Cast Member their ID cards if they could not find you.
If you become separated, stay in the area and enlist the assistance of a Cast Member to search for your child. Most likely, your child is in the same vicinity looking for you. If you have not located your child after searching the area, and there is more than one adult in your party, split up and have one go to the pre-determined meeting location while another follows the direction of a Cast Member. All lost children will be taken to Lost Children inside the Baby Care Center by a Cast Member if they can not locate the parents in the immediate area.
Throughout the park, Disney PhotoPass photographers will capture guests caught up in the Disney experience. Disney's PhotoPass and Memory Maker allows guests to have great high-resolution photos taken by Disney Photographers using state-of-the-art digital equipment at picturesque locations. Even better, your photos can be accessed, shared, and ordered online. Visit our Disney's PhotoPass Guide for more information on Disney's PhotoPass service.
Animal Kingdom Attraction Height Requirements
Walt Disney World attractions require children under the age of seven to have someone age 14 or older with them in the "same" ride vehicle and the "same" row or the row directly behind them.
Certain attractions at Disney's Animal Kingdom also require guests to be of a certain height to ride. Visit our Height Requirement page for height requirements to all Walt Disney World attractions.
Walt Disney World offers Rider Switch so that all members of a group who meet the height requirement can experience an attraction.

 MouseForLess Tip: When traveling with children, it may be essential to consider educational opportunities at Walt Disney World.
Animal Kingdom Theme Park Early Theme Park Entry
Guests staying at Walt Disney World Resort hotels can enjoy more time in the theme parks with the enhanced Early Theme Park Entry benefit. Each day, all four of the theme parks opens an 30 minutes early. This benefit offers guests more time to enjoy shorter lines during these extended theme park hours. There is no charge for this Disney Resort guest benefit.
Animal Kingdom Theme Park Dining and Food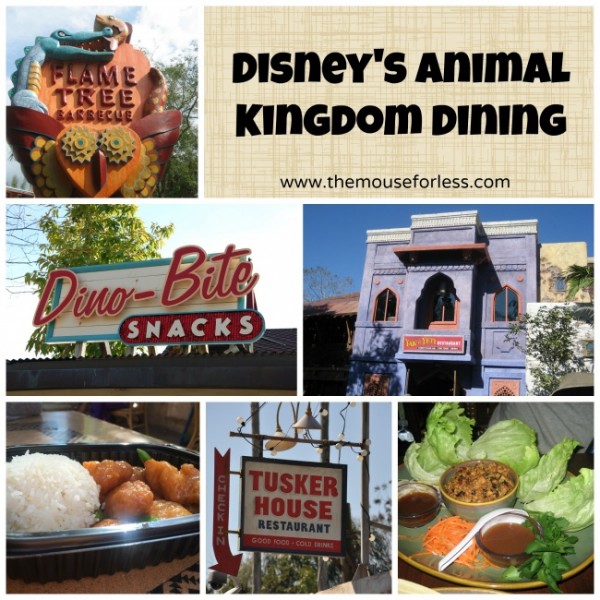 Guests to Animal Kingdom Theme Park may bring coolers smaller than 24″L X 15″W X 18″H. Coolers will be inspected, and no glass containers or alcoholic beverages are allowed. For those who prefer to leave the cooking to Disney, the following selections are available. Click on the name below for menu. Visit our WDW Menu Page for a complete list of menus available for Walt Disney World. If you are on the Disney Dining Plan, you can print out a pocket guide for Animal Kingdom in our Pocket Guide page.
Legend
$ – Under $14.99
$$ – $15-$35.99
$$$ – $36-$59.99
Theme Park Lockers
Lockers can be found at two locations at Animal Kingdom. The Expedition Storage Lockers are near Guest Relations inside the park. Guest lockers have been upgraded at all Walt Disney World theme parks. The process for renting a locker has now changed, as each locker location is now equipped with a self-service kiosk. Guests paying with cash or credit card may now proceed directly to the kiosk to rent a locker. Guests paying with a MagicBand or gift card should see a Cast Member at the nearest merchandise location where the Cast Member will provide the Guest with a code to access one of the lockers. Lockers are available in Standard (12.5" X 10" X 17") size for $7.00 and Large (15.5" X 13" X 17") size $10 per day. Guests are no longer required to pay a deposit when renting a locker.
Two-hour complimentary locker rental is available for anyone riding Kali River Rapids who would like to store items to keep dry. Lockers are located near the ride and are not available for all day use.
Animal Kingdom Theme Park Tours
Guests who are interested in guided tours can take advantage of some exciting tours offered at the Animal Kingdom. "Backstage Safari Tour" provides an insider's look at the innovative ways that Disney Cast Members care for its animal inhabitants."Wild By Design" tells the story of how the creative wizards at Walt Disney Imagineering meticulously transformed Florida wetlands into the exotic and untamed landscapes of Disney's Animal Kingdom theme park. "Sunrise Safari" a private 45-minute tour and photo shoot of the Harambe Wildlife Reserve before park opening offered only to Club level guests staying at the Animal Kingdom Lodge. "Wild Africa Trek" is an immersive experience that offers Disney's Animal Kingdom Guests a unique opportunity to enjoy unexplored areas of the Harambe Reserve and have an "up close and personal" experience with intriguing African wildlife species. "Caring for Giants" is a 1-hour tour that brings guest behind the scenes to learn about the elephants at Animal Kingdom. To reserve tours call (407) WDW-TOUR or (407) 939-8687. Visit the Animal Kingdom section of Disney Backstage Tours & Experience page for details, prices, and restrictions for each tour.
Animal Kingdom Theme Park Wheelchair Accessibility and Service Animals
For more information on Accessibility, see our page Services for Guests with Special Needs. For the convenience of Guests with disabilities, wheelchairs and Electric Convenience Vehicles (ECV) are available for rent at Disney's Animal Kingdom. The wheelchair rental location at Animal Kingdom is at Garden Gate Gifts inside the theme park entrance.
Guests can ask for a Guidebook for Guests with Disabilities at Guest Services. Animal Kingdom can accommodate Guests with mobility, visual, and hearing disabilities. Refer to the guidebook for more details on special restrictions and seating areas.
Trained service animals are welcome at Animal Kingdom and are allowed in most locations. Not all attractions can accommodate service animals. In those instances, a member of the Guest's party must remain with the animal. All service animals must remain on a leash or harness at all times. Animal Kingdom allows Guests to use backstage locations for a service animal to take breaks and relieve themselves or to use the designated service animal relief areas. A Cast Member must accompany the Guest to the designated backstage areas. The areas allowed are: Main Entrance near the Kennel Area, backstage behind the gates near Restaurantosaurus, backstage behind the gates near Kilimanjaro Safaris, entrance to First Aid next to Creature Comforts, backstage behind the gates to the Conservation Station, backstage behind the gates near Maharajah Jungle Trek, and on the Africa side of Pandora: World of Avatar.
Most restrooms are designed for access by Guests using wheelchairs. Companion-assisted restrooms are available at the following four locations: First Aid, Discovery Island opposite Flame Tree Barbeque, Harambe Village in the Mombasa Marketplace, Chester and Hester's Dinosaur Treasures in DinoLand U.S.A. Asia near Maharajah Jungle Trek and Expedition Everest.
Animal Kingdom Theme Park Transportation and Other Information
Transportation
In addition to Walt Disney World buses running to Animal Kingdom from individual Walt Disney World resorts, Disney has added park-to-park buses permanently. Animal Kingdom guests can catch buses running to and from the Magic Kingdom, Disney's Hollywood Studios and Epcot at approximately every 20 minutes throughout the day. The direct bus to Magic Kingdom from any park still goes to the Transportation and Ticket Center, and you have to take the ferry or monorail to the park.
For information about Parking at Animal Kingdom see our Parking Lot Information page.
Smoking Area
Walt Disney World Designated Smoking Areas are the only place where guests may smoke. Walt Disney World Resort is a smoke free environment and smoking is only permitted outside the theme park gates in dedicated areas. You can find the smoking area for Animal Kingdom on our page for Walt Disney World designated smoking areas.
Other Walt Disney World Parks: