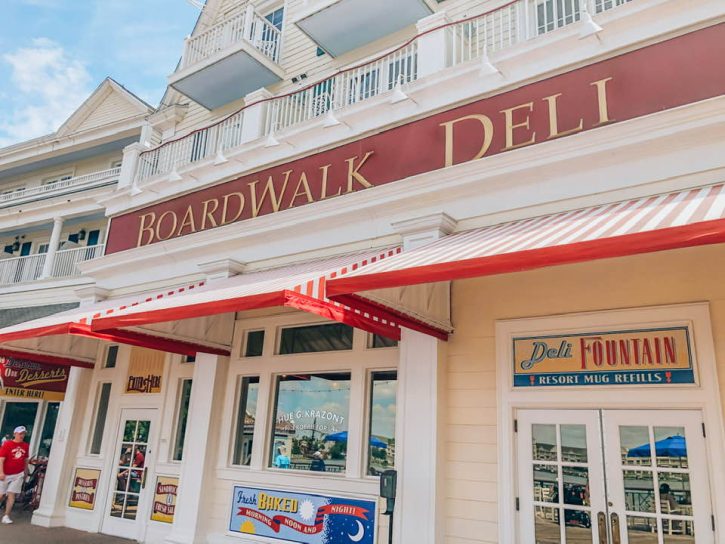 Delight in the timeless charm of the Disney BoardWalk while you dine on overstuffed sandwiches and deli favorites.
Boardwalk Bakery is located at Disney's Boardwalk Inn Resort.  Find more Walt Disney World dining locations on our Walt Disney World menus page.
Restaurant Info: American, Breakfast/Lunch/Dinner/Snack, $ – $14.99 and under per adult
Find out how you can save money on dining at Walt Disney World by using one of Disney's Dining Plans.
Breakfast Menu  Lunch and Dinner Menu

Planning a Walt Disney World Vacation?
For a Free no-obligation quote, contact our sponsor
The Magic For Less Travel
. The Magic For Less Travel is an Authorized Disney Vacation Planner and has been helping guests plan magical vacations since 2002. Receive the best prices and free travel planning services. Their fee-free services will help you save time, money, and stress while planning a vacation designed around you and your needs!
Boardwalk Bakery Breakfast Menu
Menu Date: 07/2023
Souvenir Specialties & Limited Time Offerings
Resorts Refillable Mug
Eligible for refills at Beverage Islands at Quick Service locations at any Disney Resort Hotel during the length of the stay – $21.99
Freedom Cheesecake
Red Velvet Brownie, Vanilla Cheesecake, Sweet Cream, Crisp Pearls, and White Chocolate Garnish – $5.99
Independence Day Cupcake 
Cinnamon Cupcake, Apple Pie Filling, and Vanilla Mascarpone Cream – $5.79
Breakfast Entrees
Bagel Breakfast Sandwich
Cage-free Egg, Bacon, and Cheddar on a Plain Bagel served with choice of Side – $8.99
Everything Bagel Sandwich
Cage-free Egg, Sausage Patty, and Cheddar on an Everything Bagel served with choice of Side – $8.99
Everything Bagel with Smoked Salmon
Vine-ripened Tomato, Arugula, and Caper-Onion Cream Cheese served with choice of Side – $9.99
Plain Bagel with Smoked Salmon
Vine-ripened Tomato, Arugula, and Caper-Onion Cream Cheese served with choice of Side – $9.99
Plant-based
Ciabatta Breakfast Sandwich
Plant-based Eggs Florentine, "Cheese", Tomato Jam, and Arugula served with choice of Side – $7.49
Sides
Side of Bacon – $2.99
Apple – $2.29
Banana – $2.29
Orange – $2.29
Bakery
Mickey Cinnamon Roll – $6.79
Cookies 'n Cream Cupcake – $6.49
Cinnamon Yummy – $4.49
Almond Croissant – $4.29
Chocolate-dipped Cream Puff – $4.19
NJ Crumb Cake – $4.29
Snickerdoodle Muffine – $3.99
Banana Bread – $3.79
Blueberry Muffin – $3.99
Blueberry Scone – $3.79
Chocolate Chip Muffin​​ – $3.99
Croissant – $3.79
Chocolate Croissant – $3.99
Everything Bagel – $3.79
Plain Bagel – $3.79
NY Half Moon Cookie – $3.79
Snacks
Greek Yogurt Parfait – $5.99
Assorted Chips  – $2.99
Beverages
Chocolate Milk – $4.19
Assorted Fountain Beverage – $4.29
Whole Milk – $3.79
Lowfat Milk – $1.99
Bottled Beverages – Coca-Cola®, Coca-Cola® Zero Sugar, Diet Coke®, Sprite®, POWERADE® Mountain Blast – $4.69
Specialty Beverages
Caffé Latte – $4.99
Cappuccino – $4.99
Joffrey's Coffee™ Cold Brew – French Roast – $4.29
Double Espresso – $3.49
Hot Beverages & More
Freshly Brewed Joffrey's Coffee™ Decaf – $3.49
Freshly Brewed Joffrey's Coffee™ Regular – $3.49
Hot Cocoa – $3.49
Twinings London® Hot Tea – $4.99
Minute Maid® Apple Juice – $3.99
Minute Maid® Cranberry Juice – $3.99
Small Chocolate Milk – $1.99
DASANI® Bottled Water – $3.75
DASANI® Bottled Water – Small – $2.50
Beer
White Claw Black Cherry Hard Seltzer – Chicago, IL
12-oz Can – Hard Seltzer balancing the tartness and sweetness of a ripe summer cherry – $10.50
Michelob Ultra Lager – St. Louis, MO
16-oz Bottle – Golden-colored with flavors that are dry, clean, crisp, and refreshing with subtle bitterness – $9.00
Bud Light Lager – St. Louis, MO
16-oz Bottle – Golden-colored with flavors that are dry, clean, crisp, and refreshing with subtle bitterness – $8.50
Specialty Cocktails
Social Hour Prizefighter
Rye Whiskey, Peach, Lemon, and Fernet – $11.00
Social Hour Sunkissed Fizz
Vodka, Yuzu, Peach, Key Lime, and Jasmine – $11.00
RAMONA Blood Orange Wine Spritz – $11.00
RAMONA Dry Ruby Grapefruit Wine Spritz – $11.00
RAMONA Meyer Lemon Wine Spritz – $11.00
Boardwalk Deli Lunch and Dinner Menu
Menu Date: 07/2023
Souvenir Specialties & Limited Time Offerings
Resorts Refillable Mug
Eligible for refills at Beverage Islands at Quick Service locations at any Disney Resort Hotel during the length of the stay – $21.99
Freedom Cheesecake
Red Velvet Brownie, Vanilla Cheesecake, Sweet Cream, Crisp Pearls, and White Chocolate Garnish – $5.99
Independence Day Cupcake 
Cinnamon Cupcake, Apple Pie Filling, and Vanilla Mascarpone Cream – $5.79
Entrees
Warm Pastrami Reuben
Sauerkraut, Pickles, Swiss, and Thousand Island Dressing on Marble Rye served with choice of Side – $14.49
Italian Sub
Capicola, Soppressata, Pepperoni, Provolone, Arugula, Tomato, and Red Wine Vinaigrette – $11.49
Chicken & Walnut Salad Wrap
Rotisserie Chicken, Grapes, Walnuts, and Mayonnaise in a Spinach Wrap served with choice of Side – $10.99
Roasted Turkey Sandwich
Oven Roasted Turkey, Vine ripened Tomatoes, Provolone, and Garlic Aioli – $10.49
Grilled Cheese Sandwich and Tomato-Basil Soup
Provolone and Cheddar on Multigrain served with choice of side – $9.99
Salads
Caesar Salad with Grilled Chicken
Kale and Romaine Mix, Parmesan, Croutons, and Caesar Dressing – $11.29
Mixed Berry Salad
Spring Mix, Strawberries, Blueberries, Blackberries, Seeds, Almonds, and Berry Vinaigrette – $10.29
Plant-based
Veggie Crunch Muffuletta
Cured and Pickled Root Vegetables, "Cheese", and Olive-Vegetable Tapenade on Focaccia served with choice of Side – $10.49
Sides
Tomato-Basil Soup – $4.99
Potato Chips – $4.49
Coleslaw – $3.49
House-made Deli Pickle – $2.29
Kids' Disney Check Meals
Ham and Cheese Sandwich
Served with Carrot Sticks and Strawberries and choice of Small Lowfat Milk or Small DASANI® Bottled Water. Meets Disney Nutrition Guidelines for Complete Meals without substitutions – $7.49
Kids' Meals
Grilled Cheese Sandwich
Served with Carrot Sticks and Strawberries and choice of Small Lowfat Milk or Small DASANI® Bottled Water – $6.79
Bakery
Mickey Cinnamon Roll – $6.79
Cookies 'n Cream Cupcake – $6.49
Cinnamon Yummy – $4.49
Almond Croissant – $4.29
Chocolate-dipped Cream Puff – $4.19
NJ Crumb Cake – $4.29
Snickerdoodle Muffine – $3.99
Banana Bread – $3.79
Blueberry Muffin – $3.99
Blueberry Scone – $3.79
Chocolate Chip Muffin​​ – $3.99
Croissant – $3.79
Chocolate Croissant – $3.99
Everything Bagel – $3.79
Plain Bagel – $3.79
NY Half Moon Cookie – $3.79
Snacks
Greek Yogurt Parfait – $5.99
Assorted Chips – $2.99
Desserts
Mickey Brownie – $5.79
Brownie Cheesecake – $5.29
Key Lime Pie – $4.99
Cannoli – $4.19
Chocolate Chip Cookie – $3.49
Sugar Cookie with Sprinkles – $3.49
Beverages
Chocolate Milk – $4.19
Assorted Fountain Beverage – $4.29
Whole Milk – $3.79
Lowfat Milk – $1.99
Bottled Beverages – Coca-Cola®, Coca-Cola® Zero Sugar, Diet Coke®, Sprite®, POWERADE® Mountain Blast – $4.69
Specialty Beverages
Caffé Latte – $4.99
Cappuccino – $4.99
Joffrey's Coffee™ Cold Brew – French Roast – $4.29
Double Espresso – $3.49
Hot Beverages & More
Freshly Brewed Joffrey's Coffee™ Decaf – $3.49
Freshly Brewed Joffrey's Coffee™ Regular – $3.49
Hot Cocoa – $3.49
Twinings London® Hot Tea – $4.99
Minute Maid® Apple Juice – $3.99
Minute Maid® Cranberry Juice – $3.99
Small Chocolate Milk – $1.99
DASANI® Bottled Water – $3.75
DASANI® Bottled Water – Small – $2.50
Beer
White Claw Black Cherry Hard Seltzer – Chicago, IL
12-oz Can – Hard Seltzer balancing the tartness and sweetness of a ripe summer cherry – $10.50
Michelob Ultra Lager – St. Louis, MO
16-oz Bottle – Golden-colored with flavors that are dry, clean, crisp, and refreshing with subtle bitterness – $9.00
Bud Light Lager – St. Louis, MO
16-oz Bottle – Golden-colored with flavors that are dry, clean, crisp, and refreshing with subtle bitterness – $8.50
Specialty Cocktails
Social Hour Prizefighter
Rye Whiskey, Peach, Lemon, and Fernet – $11.00
Social Hour Sunkissed Fizz
Vodka, Yuzu, Peach, Key Lime, and Jasmine – $11.00
RAMONA Blood Orange Wine Spritz – $11.00
RAMONA Dry Ruby Grapefruit Wine Spritz – $11.00
RAMONA Meyer Lemon Wine Spritz – $11.00
** Boardwalk Bakery Menu and Prices are Subject to Change Without Notice **