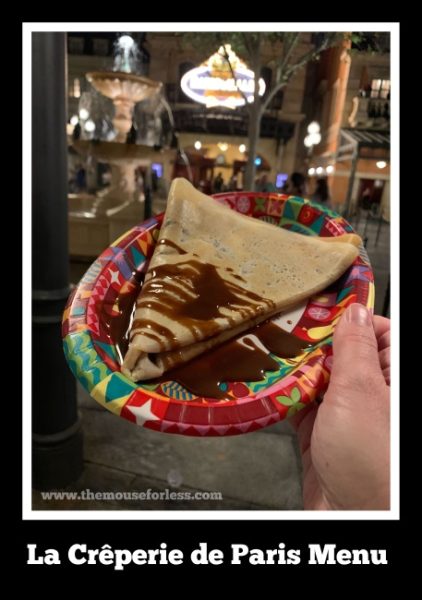 Sit down to a relaxing meal in this table-service restaurant, serving up savory buckwheat galettes featuring ingredients like chicken, salmon, ham or vegetables, along with various cheeses. Or, satisfy your sweet tooth with a crêpe featuring delectable options like fruit, whipped cream, hazelnut chocolate spread or caramel beurre salé. And sip on authentic French hard cider—a refreshing accompaniment to your meal.
La Crêperie de Paris is located in Disney's Epcot theme park. Find more Walt Disney World dining locations on our Walt Disney World Resort menus page.
Restaurant Info: French, Casual, $$ – $15.00 – $34.99 per adult
Find out how you can save money on dining at Walt Disney World by using one of Disney's Dining Plans.

Planning a Walt Disney World Vacation?
For a Free no-obligation quote, contact our sponsor
The Magic For Less Travel
. The Magic For Less Travel is an Authorized Disney Vacation Planner and has been helping guests plan magical vacations since 2002. Receive the best prices and free travel planning services. Their fee-free services will help you save time, money, and stress while planning a vacation designed around you and your needs!
La Crêperie de Paris Lunch/Dinner Menu
Menu Date: 09/2021
Appetizer or Side Dish
Soupe du Jour
Soup of the Day – $6.75
Salade Maison
Mixed Greens, Tomatoes, Onions, and Vinaigrette – $6.75
Prix Fixe Menu
Prix Fixe Menu
Choice of Soup of the Day or Salade Maison; choice of one Galette with a Glass of Hard Cider, Soda, or Juice; Choice of one Dessert Crêpe – $33.00
Galettes (Buckwheat Crêpes)
Classique
Ham, Egg, Swiss Cheese – $15.95
Poulet
Chicken, Bechamel Cheese Sauce, Mushrooms – $15.95
Chèvre
Goat Cheese, Spinach, Walnuts – $15.95
Saumon
Smoked Salmon, Crème Fraîche, Chives, Lemon – $15.95
Ratatouille
Tomato, Zucchini, Eggplant – $15.95
Savoyarde
Raclette Cheese, Caramelized Onions, Bacon, Imported Bayonne Ham – $15.95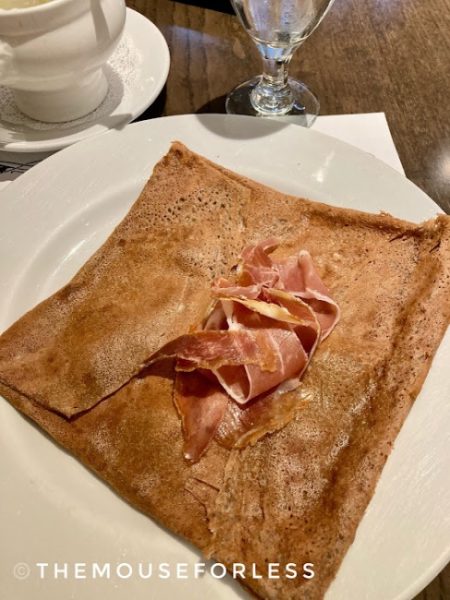 Dessert Crêpes
Gourmande
Hazelnut-Chocolate Spread, Whipped Cream – $8.95
Banane
Banana, Caramel Beurre Salé – $8.95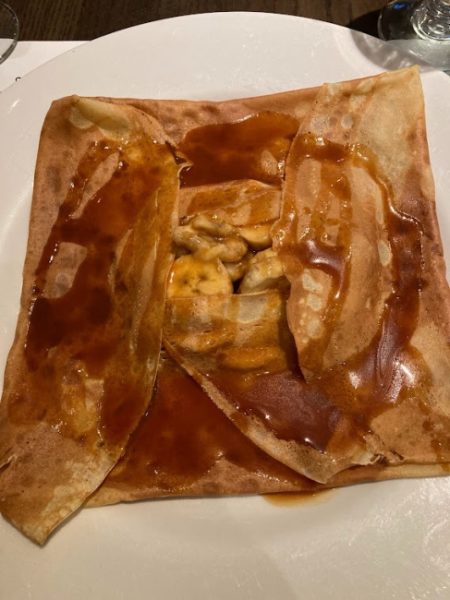 Melba
Peach, Red Berries Sauce, Almonds – $8.95
Poire
Pear, Chocolate Ganache, Whipped Cream – $8.95
Pomme
Caramelized Apples, Caramel Beurre Salé – $8.95
Add-On's
Each: Whipped Cream, Ice Cream, Sauce – $2.95
Add a Shot to Any Crêpe
Grand Marnier, Rhum, or Calvados – $7.00
Menu Enfant
Brie Cheese Galette
Choice of One: Sugar Crêpe, Red Berries Crêpe, or Hazelnut-Chocolate Spread Crêpe – $14.00
Ratatouille Galette
Choice of One: Sugar Crêpe, Red Berries Crêpe, or Hazelnut-Chocolate Spread Crêpe – $14.00
Ham and Cheese Galette
Choice of One: Sugar Crêpe, Red Berries Crêpe, or Hazelnut-Chocolate Spread Crêpe – $14.00
Cidres (French Hard Ciders)
Brut – Bottle $29.00; Glass $5.95
Demi Sec – Bottle $29.00; Glass $5.95
Doux – Bottle $29.00; Glass $5.95
Rose – Bottle $40.00; Glass $7.50
Vins (French Wines)
Chardonnay – Bottle $36.25; Glass $7.75
Carbernet Sauvignon – Bottle $36.25; Glass $7.75
Merlot – Bottle $36.25; Glass $7.75
Rosé de Provence – Bottle $69.50; Glass $14.25
Divers (Miscellaneous)
Biere Kronenbourg – $9.00
Champagne Malard – $17.55
Mimosa – $12.00
French Martini – $15.75
Imported Soft Drinks
Evian – 750mL – $8.50
Badoit – $8.50
Perrier – 850mL – $8.50
Ice Tea – $4.29
Milk – $4.29
Jus de Pomme – Apple Juice – $5.00
Limonade – French Sparkling Limonade – $5.75
Orangina – French Orange Soda – $6.25
Hot Beverages
Espresso – $4.75
Cappuccino – $5.25
Thé – $4.50
Café – $4.25
** La Crêperie de Paris Menu and Prices are Subject to Change Without Notice **