Resort Restaurants | Disney's Grand Floridian Resort & Spa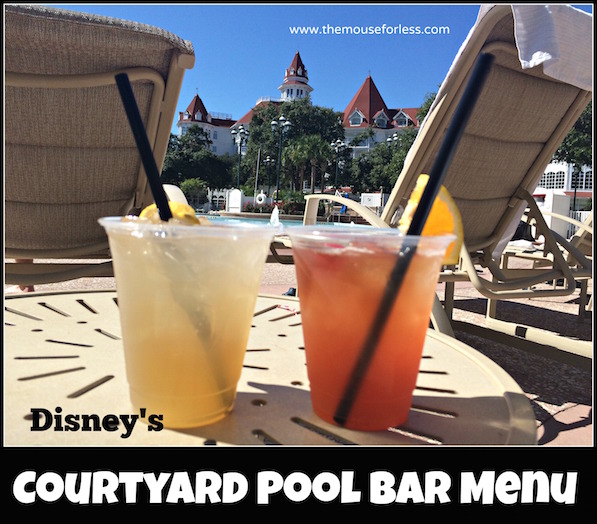 At the Courtyard Pool Bar, enjoy a refreshing dip then a refreshing sip by the largest pool at the Resort. A ping-pong table and 2 TVs provide added entertainment.
Restaurant Info: American, Lunch/Dinner/Snack, $
Find out how you can save money on dining at Walt Disney World by using one of Disney's Dining Plans.
Courtyard Pool Bar Menu
Menu Date: 05/2019
Lunch and Dinner Entrees
Caesar Salad with Chicken – Fresh-roasted Chicken Breast and Classic Caesar Dressing served with Ciabatta Croutons – $10.99
Grilled Portobello Sandwich  – with Mozzarella, Baby Spinach and Fire-Roasted Tomato Aïoli  – $10.49
Turkey Sandwich – $10.49
All-Beef Hot Dog – $8.99
Sides
Assorted Fresh Fruit Cups – $3.99
Pasta Salad – $5.49
Pretzels with Hummus – $4.49
Kids Meals
For Guests Ages 9 and Under. All Meals served with choice of small Lowfat Milk or small Dasani Water

Turkey Sandwich– Oven-roasted Turkey, Lettuce and Tomato on Honey-Wheat Goldfish Bread with Grapes – $6.99

Smucker's Uncrustables Sandwich – includes Carrot Sticks and Dannon® Danimals® Smoothie – $6.49

Meets Disney Nutrition Guidelines for Complete Meals without substitutions.
Beverages
Assorted Fountain Beverages – Coca-Cola, Diet Coke, Sprite – $3.99
smartWater – $5.50
Strawberry or Raspberry Lemonade – featuring odwalla – $5.49
Odwalla All-Natural Lemonade – $4.99
Strawberry Smoothie – Strawberry Purée blended with Nonfat Yogurt – $5.99
Lava Smoothie – Raspberry Purée blended with Piña Colada Mix – $5.99
Zico Coconut Water $4.49
Bottled Dasani Water – $3.50
Alcoholic Beverages
Sunshine Margarita  – Lunazul Reposado Tequila, Cointreau, and Sweet-and-Sour with Juices of Orange and Lime – $13.00
Blueberry Lemonade – Three Olives Blueberry Vodka, Bols Blue Curaçao, and odwalla® Lemonade with Juices of Lemon and Pomegranate topped with Sprite® – $12.25
Captain's Mai Tai – Captain Morgan Original Spiced Rum, Bols Amaretto and Tropical Juices topped with a float of Myers's Original Dark Rum – $10.75
Poolside Iced Tea – Absolut Vodka, Bacardi Superior Rum, Beefeater Gin, Jose Cuervo Tradicional Tequila, Cointreau, and Sweet-and-Sour topped with Coca-Cola® – $13.50
Bourbon Breeze – Bulleit Bourbon with Cranberry, Lime and Pomegranate Juices with Fever Tree Ginger Beer – $13.25
Cucumber & Mint Vojito – Ketel One Botanical Cucumber, Mint Vodka, Lime Juice and Pure Cane Sugar topped with Soda Water – $12.50
Strawberry Margarita – Herradura Reposado Tequila and fresh Lime Juice blended with Strawberry Purée – $13.50
Beso Del Sol Sangria  – White or Red – $10.00
Assorted Beer – Bottle, Can or Draft – $7.25 – $12.50
Assorted Wine – $10.00 – $15.00
A full bar is also available
** Courtyard Pool Bar Menu and Prices are Subject to Change Without Notice **