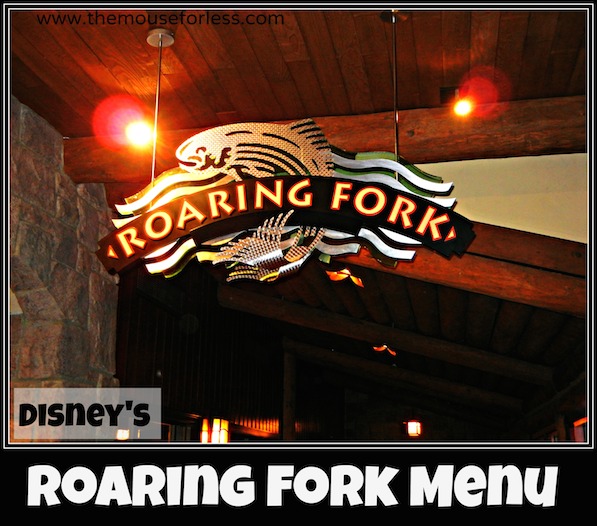 Capture the rugged outdoorsy spirit of the Pacific Northwest at this counter-service restaurant.  Try the soups, salads, sandwiches, pizza, and hamburgers.  Roaring Fork will tame your hunger.
Roaring Fork is located in Disney's Wilderness Lodge Resort.  Find more Walt Disney World dining locations on our Walt Disney World menus page.
Restaurant Info: American, Breakfast/Lunch/Dinner/Snack, $
Find out how you can save money on dining at Walt Disney World by using one of Disney's Dining Plans.
Breakfast Menu  Lunch & Dinner Menu  Kids Breakfast Menu  Kids Lunch & Dinner Menu

Planning a Walt Disney World Vacation?
For a Free no-obligation quote, contact our sponsor
The Magic For Less Travel
. The Magic For Less Travel is an Authorized Disney Vacation Planner and has been helping guests plan magical vacations since 2002. Receive the best prices and free travel planning services. Their fee-free services will help you save time, money, and stress while planning a vacation designed around you and your needs!
Roaring Fork Breakfast Menu
Menu Date: 04/2019
Served from 7-11 a.m.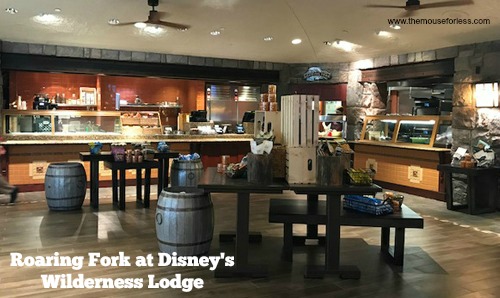 Breakfast from the Grill
Loaded Mickey Waffles – Mickey-shaped Waffles with Strawberry Sauce, Chocolate-Chips, Banana Foster Sauce, Caramel Sauce, Chocolate Syrup and Whipped Cream – $8.99
Roaring Breakfast Platter – Scrambled Eggs, Potato Hash, Sausage, Bacon and a Cheddar Biscuit – $10.89
Breakfast Flatbread – Sausage Gravy, Pit Ham, Western-style Eggs, and Cheddar Cheese – $9.99
Banana Foster's French Toast – $8.99
10-Hour Pulled Pork-Cheese Grits – Chipotle-Apple Barbecue Sauce served with a Poached Egg – $7.99
Chicken and Waffles – starring Mickey-shaped Waffles with Pecan Butter and Maple Syrup – $10.99
Bagel Sandwich – Scrambled Eggs, Bacon, Cheese, and Arugula tossed in Apple Vinaigrette with Chipotle Mayonnaise and served with Potato Hash – $8.79
Beverages
Assorted Fountain Beverages – $3.99

Dasani Bottled Water – $3.50

smartwater – $5.50

Coffee – Regular or Decaf – $3.29

Hot Tea – $3.29

Hot Chocolate – $3.29

Apple Juice – $3.99

Orange Juice – $4.99

Assorted additional Grab 'n Go items are available
Roaring Fork Kids' Breakfast Menu
Menu Date: 04/2019
Mickey Check Meals
For Guests Ages 9 and Under. All Meals Include Choice of One Beverage: Small Lowfat Milk or Small Bottled Water

Kid's Cereal Breakfast Box – with Kellogg's Frosted Flakes cereal, apple slices, carrots, and peanut butter – $6.49

Meets Disney Nutrition Guidelines for Complete Meals without substitutions
Kids' Choice
For Ages 9 and Under. All meals include a choice of Small Lowfat Milk or Small Dasani Water
Mickey Waffle Basket – served with bacon – $6.69
Saddlebag Sandwich – Ham, Egg, and Cheese – $6.99
Roaring Fork Lunch & Dinner Menu
Menu Date: 04/2019
Served from 11 a.m. – 11 p.m.
Burgers & Sandwiches
10-Hour Smoked Pulled Pork Sandwich – with Chipotle-Apple Barbecue Sauce, creamy Slaw on a Sweet Brioche Bun with French Fries – $10.99
Bacon Cheeseburger – Tillamook Cheddar Cheese, Bacon, Bibb Lettuce and Tomato on a Sweet Brioche Bun with French Fries – $12.49
Gourmet Grilled Cheese – Mozzarella, Arugula, Tomato and Caramelized Onions on Multigrain Bread with French Fries s – $9.99
Western Chicken Breast Nuggets– Chicken Breast Nuggets tossed in Barbecue Sauce served with Creamy Slaw and French Fries – $10.99
Chicken and Waffles – starring Mickey-shaped Waffles with Pecan Butter and Maple Syrup – $10.99
Bratwurst Sausage – Sauerkraut and Grain Mustard on a Pretzel Roll with French Fries – $9.99
House-smoked Turkey Sandwich – served with Chipotle Aïoli, Bibb Lettuce, and Tomato on Multigrain Bread – $10.49
Chicken Caesar Salad – Romaine Lettuce with Caesar Dressing, Parmesan Cheese and Croutons – $10.49
Tuna Salad Sandwich – served with Bibb Lettuce and Tomato on Multigrain Bread with chips – $10.19
Vegetarian Pita – Pepper Hummus, Field Greens, Tomatoes, Cucumbers, Onions and Feta Cheese on a Whole Wheat Pita with Chips – $9.99
Warm Roast Beef Sandwich – Arugula, Blue Cheese and Buttermilk-Chive Dressing with Chips – $10.49
Wilderness Salad – Grilled Chicken Breast, Candied Walnuts, Sliced Apples, Croutons, Shredded Cheese and Apple Vinaigrette – $10.99
Flatbreads
Flatbreads served until 12 Midnight
Sausage, Pepperoni, Caramelized Onion, and Mozzarella Flatbread – $10.99
Desserts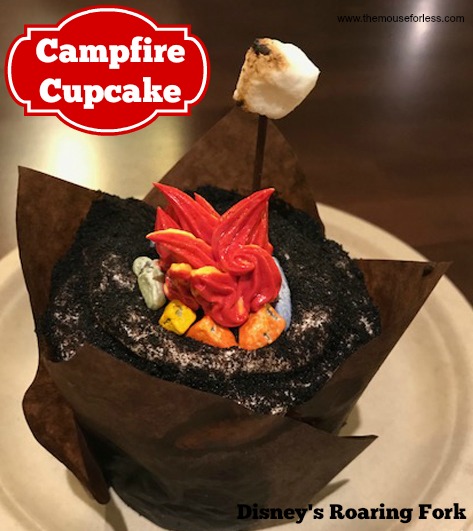 Fruit Croissant – Kiwi, Blueberries, and Strawberries with Pastry Creme – $3.59

Minnie Mouse or Mickey Mouse Cupcake – $5.49
Maple Bacon Donut – $2.19
Campfire Cupcake – $5.49
Molasses Cookie – $2.99
Beverages
Assorted Fountain Beverages – $3.99

Dasani Bottled Water – $3.50

smartwater – $5.50

Coffee – Regular or Decaf – $3.29

Hot Tea – $3.29

Hot Chocolate – $3.29

Apple Juice – $3.99

Orange Juice – $4.99

Roaring Fork Kids' Lunch & Dinner Menu
Menu Date: 04/2019
Mickey Check Meals
For Guests Ages 9 and Under
All Meals Include Grapes and Dannon Danimals Smoothie and Choice of One Beverage: Small Lowfat Milk or Small Bottled Water

Smucker's Uncrustables Sandwich – $6.49

Meets Disney Nutrition Guidelines for Complete Meals without substitutions
Kid's Choice
For Guests Ages 9 and Under
All Meals Include Choice of 2 Side Items: Grapes, Carrot Sticks, or Applesauce. Choice of One Beverage: Small Lowfat Milk, Small Bottled Water or Apple Juice Box
Chicken  Breast Nuggets – $7.49
Pepperoni Flatbread – $7.19
Mickey Macaroni and Cheese – $6.29
Cookie, French Fries, Gelatin or soft drink substituted upon request

= Snack on the Disney Dining Plan
** Roaring Fork Menu and Prices are Subject to Change Without Notice **