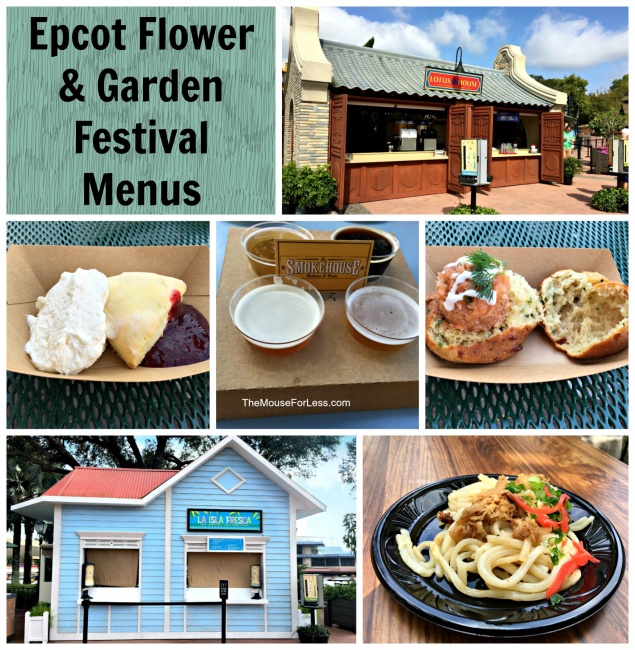 At the Outdoor Kitchens, Guests are invited to discover a delicious selection of farm-to-table dishes featuring the freshest locally sourced ingredients available The Outdoor Kitchens marketplaces debuted at the 2013 festival and they return with new and favorite menu items. Throughout World Showcase you will find kiosks with food and beverages highlighting produce growing in the areas nearby and making the connection of food from field to table Prices average from $4 – $6 per dish.
Also, normally, as with the EPCOT Food & Wine Festival, many of the marketplace menu items will be available for snack credits on the Disney Dining Plan. Full EPCOT Flower & Garden Festival Menus, however with the Disney Dining Plans being on hold this year, using these credits are not an option. (We left in which options would be available for snacks, for reference.)
2021 Outdoor Kitchens EPCOT Flower & Garden Festival Menus
Bauernmarkt: Farmer's Market Cider House The Citrus Blossom EPCOT Farmers Feast Festival Favorites Flavor Full Kitchen Fleur de Lys Hanami Jardin de Fiestas La Isla Fresca Lotus House Northern Bloom Pineapple Promenade Primavera Kitchen Taste of Marrakesh Magnolia Terrace  The Honey Bee-stro Trowel & Trellis Joffrey's Coffee & Tea Company Additional Dining Locations

— These items can be used as a snack credit on a Disney Dining plan

— Vegetarian-These items do not contain meat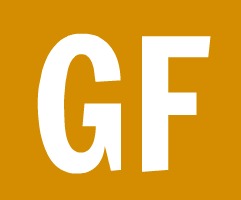 — Gluten/Wheat Friendly Dishes

Planning a Walt Disney World Vacation?
For a Free no-obligation quote, contact our sponsor
The Magic For Less Travel
. The Magic For Less Travel is an Authorized Disney Vacation Planner and has been helping guests plan magical vacations since 2002. Receive the best prices and free travel planning services. Their fee-free services will help you save time, money, and stress while planning a vacation designed around you and your needs!
Bauernmarkt: Farmer's Market  – Germany
Enjoy Bavarian bites sure to be enjoyed by foodies of all ages
Food
Potato Pancakes with House-made Apple Sauce 
Potato Pancake with Caramelized Ham, Onions and Herb Sour Cream
Toasted Pretzel Bread topped with Black Forest Ham and Melted Gruyère Cheese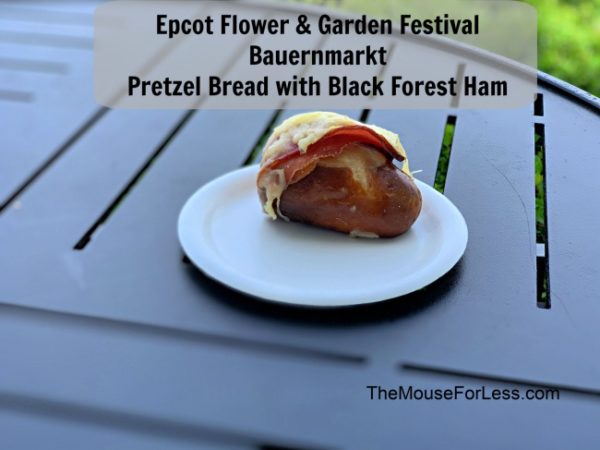 Warm Cheese Strudel with Mixed Berries
Drinks
M.I.A. Brewing Hugo, Doral, Fla.
Bitburger Premium Pils, Rhineland-Palatinate, Germany
Stiegl Brewery Radler Zitrone, Salzburg, Austria
Apfelschaumwein: Sparkling Wine and Apple Liqueur
Beer Flight
Dasani Bottled Water
Cider House (World Showplace)
Food:
House-made Potato and Cheddar Biscuit with Salmon Tartare
Dark Chocolate Raspberry Tart with Whipped Cream
Beverages:
3 Daughters Brewing Pink Lemonade Hard Cider, St. Petersburg, Fla. (new)
Bold Rock Watermelon Hard Cider, Nellysford, Va. (new)
Blake's Hard Cider Co. Triple Jam Hard Cider, Armada, Mich. (new)
Samuel Smith Old Brewery Pure Brewed Organic Lager, Tadcaster, UK.
Snakebite: Blake's Hard Cider Co. Triple Jam Hard Cider and Samuel Smith Old Brewery. Pure Brewed Organic Lager
Cider Flight
Dasani Bottled Water
The Citrus Blossom – Showcase Plaza
Enjoy the subtleties of lemon, orange, and lime
Food
Meyer Lemon-poached Lobster Salad with Grapefruit-Rosé Vinaigrette, Yuzu-marinated Hearts of Palm, and Avocado-Yuzu Panna Cotta (new)
Citrus-braised Crispy Pork Belly with Kumquat and Carrot (new)
Citrus Shortcake: Orange Chiffon Cake, Lemon Curd, Mandarins, Whipped Cream, Citrus Crumble 
Drinks
Orange-Lemon Smoothie in a Souvenir Orange Bird Sipper Cup (non-alcoholic) (new)
Islamorada Beer Company Coconut Key Lime Ale, Fort Pierce, FL
First Magnitude Brewing Lemon Hefeweizen, Gainesville, FL
Playalinda Brewing Company Hibiscus Lime Ale, Titusville, Fla. (new)
Orange Sunshine Wine Slushy
Beer Flight
Dasani Bottled Water
EPCOT Farmers Feast (World Showplace)
Food Items – Rotating Menu: 
Spring Onion Soup with Crispy Shallots and Micro Chive (new)
Duck Confit with Carrot Purée, Roasted Root Vegetables, Rainbow Chard, and Duck Jus
Off the "Beet"en Path: Profiteroles with Red Beet Mousse, Golden Beet Pastry Cream, Whipped Goat Cheese Cream, and Candied Walnuts (new)
Beverages:
81Bay Brewing Co. Watermelon Mint Wheat Ale, Tampa, Fla. (new)
Hibiscus Lemonade Cocktail featuring Islamorada Brewery & Distillery Hibiscus Gin (new)
Dasani Bottled Water
Festival Favorites (World Showplace)
Food:
Watermelon Salad with Pickled Onions, Feta, and Balsamic Reduction 
Beef Brisket Burnt Ends and Smoked Pork Belly Slider with Garlic Sausage, Chorizo, Cheddar Fondue, and House-made Pickle 
Fried Green Tomatoes with Blue Crab-Fennel Salad, Remoulade, and Smoked Paprika Oil 
Key Lime Tart with Toasted Meringue
Beverages:
Frozen Lemonade (non-alcoholic)
3 Daughters Brewing Maple Bacon Stout, St. Petersburg, Fla
Frozen Lemonade with Firefly Blackberry Moonshine
Dasani Bottled Water
Flavor Full Kitchen Hosted by AdventHealth – Future World West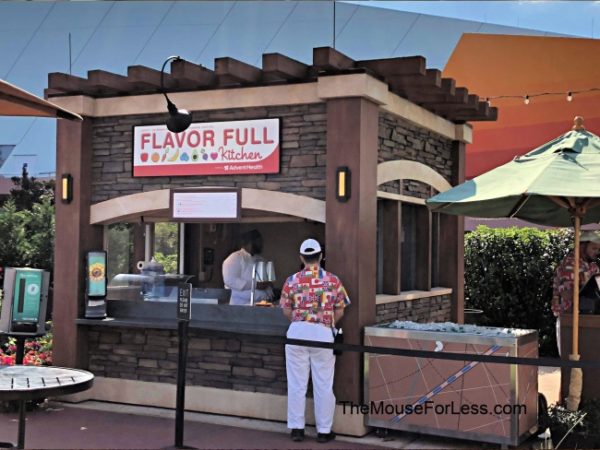 Discover the many flavors of healthy cuisine in this delightful eatery, featuring vegetables straight from the garden!
Food
Grilled Baby Vegetables with Hummus Cream and Red Pepper Coulis
Seared Verlasso Salmon with Farro Risotto and Micro-herbs
Strawberry Mousse with Chocolate Crisp Pearls
Drinks
Blood Orange Aqua Fresca (non-alcoholic) 
Cookie Butter Worms and Dirt (non-alcoholic) 
Dasani Bottled Water 
Fleur de Lys – France Pavilion
Indulge in haute cuisine and boissons from this Parisian kitchen!
Food
Tarte aux Oignons Caramelises et Chévre: Goat Cheese Tart with Caramelized Onions On a Flaky Pastry Crust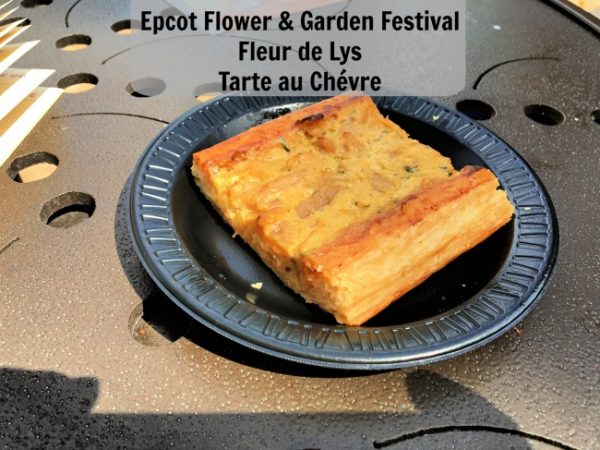 Canard Confit à l'Orange aux Gnocchi à la Parisienne: Braised Duck Confit à l'Orange with Parisian Gnocchi (new)
Macaron au Chocolate en Sucette: Large Chocolate Macaron Lollipop
Beignet Caramélisé, Fourré Crème Vanille, Glacé au Caramel Fleur de Sel: Caramelized Beignet filled with Vanilla Cream and Glazed with Caramel Fleur de Sel (new)
Drinks
Kronenbourg Blanc 1664
VeRy Raspberry: Rosé Wine with Natural Raspberry Flavor
Chardonnay, Le Vieux Manoir (new)
Bordeaux, Cabernet Sauvignon, Merlot and Malbec Blend, Château Lorient (new)
La Vie en Rose Frozen Slushy: Vodka, Grey Goose l'Orange Vodka, St. Germain Liqueur, White and Red Cranberry Juice
Evian Bottled Water
Hanami – Japan Pavilion
Journey to Japan for innovative plates.
Food
Frushi – Fresh pineapple, strawberries, and melon rolled with coconut rice, topped with raspberry sauce, sprinkled with toasted coconut and served with whipped cream on the side  
Shrimp and Crab with Spicy Mayonnaise and Cucumber Slices finished with Creamy Avocado and Violet Sauce (new)
Soy-glazed Pork Shank with Truffle Mashed Potatoes, Crispy Lotus Flower, Garlic Chips, and Green Onion
Drinks
Sakura Zen Ale
Pineapple Sake
Blood Orange Sour with Fresh Mint (new)
Dasani Bottled Water
Jardin de Fiestas – Mexico Pavilion
Take a tour of Mexico.
Food
Tostada de Cochinita: Braised Pork on a Crispy Corn Tortilla with Black Beans topped with Pickled Onions, Mango-Habanero Relish, and Oregano
Taco Vampiro: Braised Beef on a Corn Tortilla with Crispy Grilled Monterey Jack Cheese and Salsa Ranchera  
Sope de Chorizo: Plant-based Ground Chorizo on Fried Corn Dough with Black Beans and Avocado Mousse
Drinks
Passion Fruit Margarita: Corazón de Agave Blanco Tequila, Passion Fruit Purée, Lime Juice, Nixta Corn Liqueur, and a hint of smoke with a Hibiscus Flower Salt Rim
The Garden Margarita: Ojo de Tigre Mezcal, Lettuce Juice, Ancho Reyes Chile Verde Liqueur, Lime Juice, Gracias a Dios Agave Gin, and a Sprig of Thyme
Tulum Mexican Craft Beer with Floater: Artisanal Lager with Citrus notes made with Caribbean Seawater and served with an Elderflower Liqueur Floater
Dasani Bottled Water  
La Isla Fresca – (Between Morocco and France)
Enjoy Caribbean-seasoned dishes.
Food
Lamb Curry with Sweet Plantains and Rice
Sugar Cane Shrimp Skewer with Steamed Rice and Coconut Lime Sauce
Tropical Mousse Cup: Layers of Passion Fruit Cake, Coconut Mousse and a Tropical Fruit Glaze with Fresh Pineapple
Beverages
Tropical Freeze with Parrot Bay Coconut Rum
Tropical Freeze (Non-alcoholic)  
Ivanhoe Park Brewing Co. Hibiscus Guavacation Sour Beer, Orlando, Fla. (new)
Dasani Bottled Water  
Lotus House – China Pavilion
Sink your teeth into authentic Chinese eats.
Food
Papa Cakes: Potato Cakes filled with Shrimp and Water Chestnuts served with House-made Strawberry Sauce (new)
House-made Crab and Cheese Wontons
Bon Bon Chicken Skewer with Sesame and Peanut Sauce
Drinks
"Panda" Bubble Tea: Classic Milk Tea with Black and White Bobas (non-alcoholic)
Jasmine Draft Beer
Marco Boba: Amaretto, Iced Coffee, Milk, and Boba
Kung Fu Punch: Vodka, Triple Sec, Mango Syrup and Orange Juice
Tang Dynasty: Jose Cuervo Especial Tequila Gold, Light Rum, Strawberry Syrup, Piña Colada Mix, White Boba Pearls, and Soda Water (new)
Dasani Bottled Water
Artisan Cotton Candy (Limited Availability)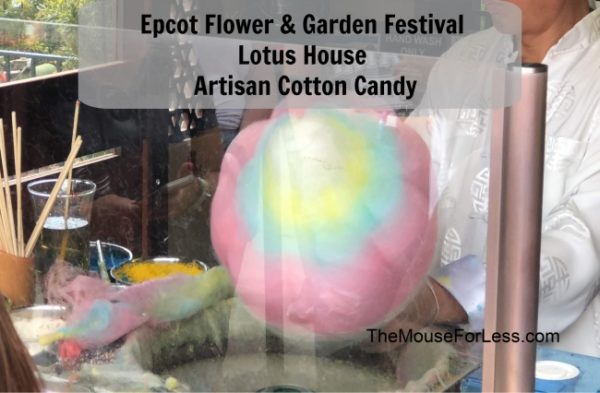 2-Layered Sweet Heart — $7.00
2-Layered Butterfly Dream — $8.00
3-Layered Sunrise Star — $10.50
4-Layered Aurora Blossom — $12.50
5-Layered Spring Fantasy — $16.00
Northern Bloom  – Canada Pavilion
Fantastic fare from our Great White North neighbor.
Food
Seared Scallops with French Green Beans, Butter Potatoes, Brown Butter Vinaigrette, and Applewood Smoked Bacon  
Beef Tenderloin Tips, Mushroom Bordelaise Sauce, Whipped Potatoes with Garden Vegetables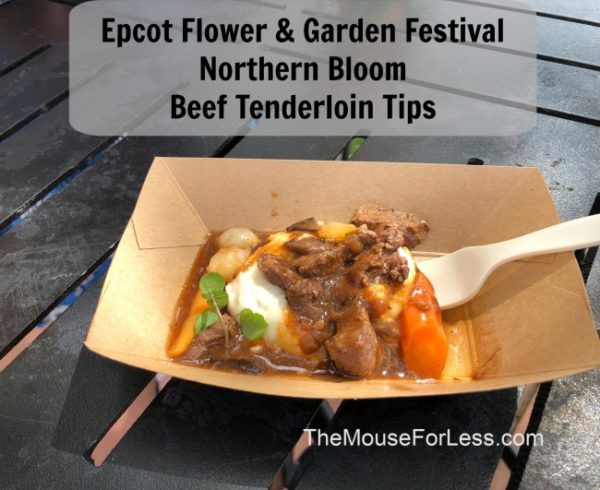 Griddled Maple Pound Cake with Warm Peach Compote and Sweet Corn Gelato  
Beverages
Maple Popcorn Shake (Non-alcoholic) 
81Bay Brewing Apricot with Maple Syrup, Tampa, FL
Collective Arts Brewing Blackberry Fruit Beer, Hamilton, Ontario
Goose Island Beer Company Lost Palate Hazy IPA with Mango and Cinnamon, Chicago, Ill. (new)
Beer Flight
Maple Popcorn Shake with Tap 357 Maple Rye Whisky
Dasani Bottled Water  
Pineapple Promenade – Showcase Plaza
Get your tropical fruit fix here!
Food
Spicy Hot Dog – with Pineapple Chutney and Plantain Chips 
Mixed Berry Buttermilk Cake 
DOLE Whip®
Drinks
Frozen Desert Violet Lemonade – featuring Simply Lemonade (nonalcoholic)
Pineapple DOLE Whip® with Fanta (Non-alcoholic) 
3 Daughters Brewing Tropical Hefe Wheat Ale, St. Petersburg, Fla. (new)
Wicked Weed Brewing Fresh Pressed Wheat Ale with Mango, Pineapple, and Guava, Asheville, N.C. (new)
Lexington Brewing & Distilling Company Alo'hop IPA, Lexington, Ky. (new)
Playalinda Brewing Company Violet Lemonade Ale, Titusville, FL
Florida Orange Groves Winery Sparkling Pineapple Wine, St. Petersburg, FL
DOLE Whip® with Parrot Bay Coconut Rum
Pineapple Beer Flight
Dasani Bottled Water  
Primavera Kitchen – Italy Pavilion
Hearty helpings of Italian dishes and wines.
Food
"Margherita": Rustic Italian Flatbread, Vine-ripened Tomatoes and Mozzarella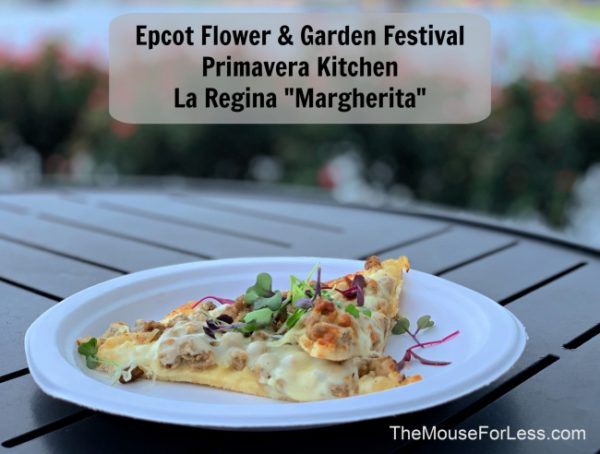 Arancini: Sweet Sausage Fried Risotto Balls with Pomodoro Sauce
Traditional Sicilian Cannoli: Crisp Pastry filled with Sweet Ricotta, Chocolate, and Candied Orange
Drinks
Peroni Pilsner
Pinot Grigio
Chianti
Prosecco
Rosa Regale
Moscato
Italian White Sangria with Prosecco
Italian Red Sangria with Cabernet Sauvignon
Italian Margarita with Limoncello and Tequila
Dasani Bottled Water  
Taste of Marrakesh – Morocco Pavilion
Enjoy the exotic flavors of this North African mecca.
Food
Moroccan Seafood Couscous with Shrimp, Mussels, Olives, Preserved Lemons, and Anchovy Breadcrumbs (new)
Shakshuka: Moroccan Baked Eggs in a Spiced Eggplant and Tomato Stew (new) 
Lemon Magdalena Cake with Fig Compote and Sangria Gel (new)
Drinks
M.I.A. Beer Company Pink Hibiscus Orange Wheat Ale, Doral, Fla. (new)
Maeloc Pineapple and Pear Hard Cider, Galicia, Spain (new)
White Sangria
Dasani Bottled Water
Magnolia Terrace – American Adventure Pavilion
Slow-cooked specialties and a selection of craft brews.
Food
Crawfish Étouffée with Andouille Sausage and Dirty Rice (new)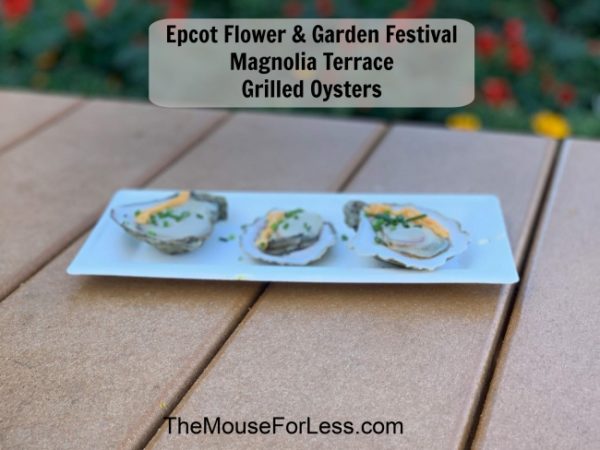 Grilled Oysters with Cajun Butter
House-made Boudin Two Ways with Spicy Mustard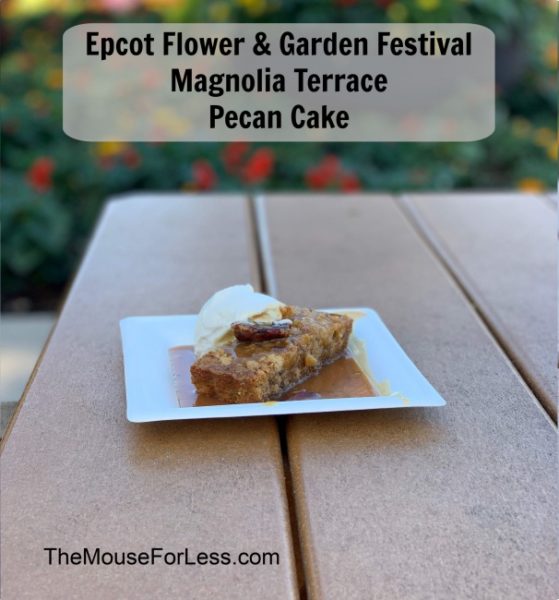 Pecan Cake with Maple Whipped Cream featuring Burton's Maple Syrup 
Pecan Praline
Drinks
Bayou Cocktail: Bayou Spiced Rum, Coconut Rum, Fruit Punch, and Minute Maid Orange Juice (new)
81Bay Brewing Co. Orange Coriander Wheat Ale, Tampa, Fla. (new)
Wicked Weed Brewing Day Light American Light Ale, Asheville, N.C. (new)
Parish Brewing Co. Ghost in the Machine Double IPA, Broussard,  LA
Beer Flight
Dasani Bottled Water
The Honey Bee-stro Hosted by National Honey Board
An incredible menu of all-natural food and drink infused with the nectar of the gods!
Food
Tupelo Honey and Sweet Corn Spoon Bread with Jalapeños, Bacon, and House-made Whipped Honey Butter (new)
Lavender Honey Mustard-marinated Chicken Flatbread with Whipped Honey-Ricotta Cheese, Marinated Vegetables, and Purple Haze Lavender Goat Cheese (new)
Local Wildflower Honey-Mascarpone Cheesecake with Orange Blossom Honey Ice Cream garnished with Fennel Pollen Meringue Kisses and Petite Lavender Shoots 
Drinks
Honey-Peach Freeze in a Souvenir Spike the Bee Sipper Cup (Non-alcoholic)
First Magnitude Brewing Co. Honey Bee Citrus Blonde Ale, Gainesville, Fla. (new)
Florida Orange Groves Winery Orange Blossom Honey Wine, St. Petersburg, FL
Honey-Peach Freeze with Blueberry Vodka
Dasani Bottled Water
Trowel & Trellis Hosted by IMPOSSIBLE Foods (Showcase Plaza)
Innovative recipes with some impossibly delicious twists
Food
Grilled Street Corn on the Cob with Savory Garlic Spread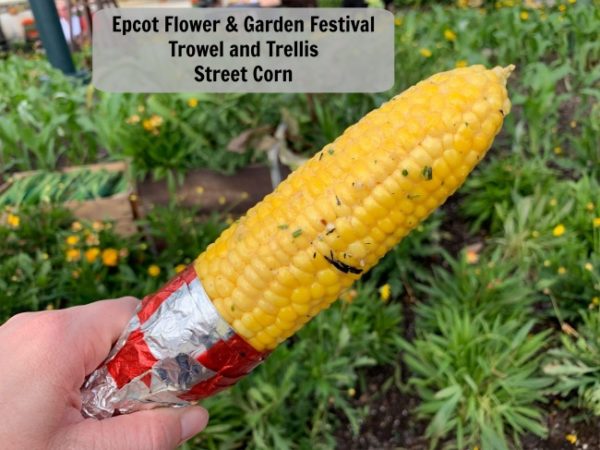 Boneless Impossible Korean Short Rib with Cilantro-Lime Rice, Danmuji Slaw, and Kimchee Mayonnaise (new)
Lavender Pot de Crème with Blueberry Cake, Pink Peppercorn, and Lime Whipped Cream (new)
Drinks
Twinings of London Energize Matcha Cranberry & Lime Green Tea (non-alcoholic) (new)
Parish Brewing Co. Bloom Hazy IPA, Broussard, La. (new)
Twinings of London Energize Matcha Cranberry & Lime Green Tea with Hanger 1 Makrut Lime Vodka served in a Mason Jar (new)
Dasani Bottled Water  
Joffrey's Coffee and Tea Company
Drinks
Future World East: Bloomin' Berry: Frozen Lemon and Blackberry Syrup with a splash of Vodka (new)
Showcase Plaza: Citrus Sunrise: Frozen Lemon and Passion Fruit with Mandarin Vodka (new)
The American Adventure: Bubbly Brew: Jameson Cold Brew Whiskey and Coffee with a splash of Coke (new)
Canada: Spring Flurry: Frozen Lemon and Cinnamon Whiskey (new)
Additional Dining Locations
Funnel Cake
Food
Mini Funnel Cake topped with Lemon Cheesecake Ice Cream, Blueberries, and Powdered Sugar 
Refreshment Port
Food
House-made Italian Sausage and Peppers Poutine (new)
Popsicle Trio: Honeydew, Raspberry-Mint, and Coconut-Lime
Beverage
Starcut Ciders Cidre Colada Hard Cider, Bellaire, Mich. (new)
Cutwater Bloody Mary: Ultra-premium Vodka, All-natural Tomato Juice, and a dash of Spice (new)
Cutwater Whiskey Mule: Black Skimmer Bourbon with Ginger Beer, a hint of Lime, and Aromatic Bitters (new)
Refreshment Outpost
Food
Pineapple Skewer with Tajin Seasoning  
Beverage
Islamorada Beer Company Key Lime Hibiscus Ale, Ft. Pierce, Fla. (new)
---
For the latest EPCOT Flower and Garden Festival updates, guests may also visit DisneyWorld.com.
** Menu and Prices are Subject to Change Without Notice **