Disney Springs | The Landing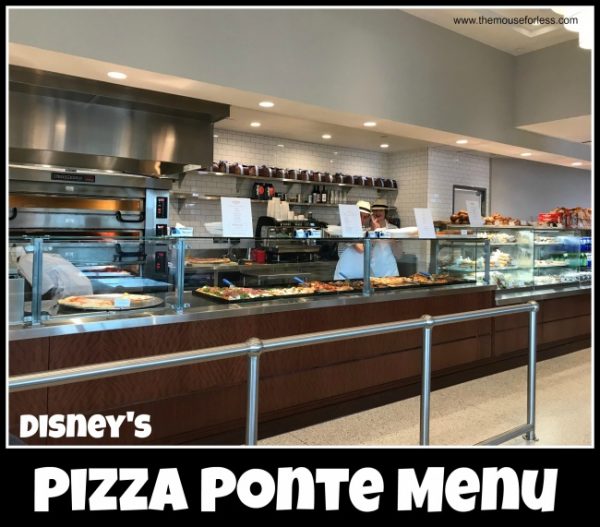 Pizza Ponte Menu
Consider this quick-service restaurant a go-to spot when you're in the mood for something sweet or savory.
Menu highlights include made-to-order sandwiches, an assortment of house-baked Italian pastries and Sicilian-style pizza by the slice. A selection of Italian beer and wine is also available.
Restaurant Info: Italian, $ – $14.99 and under per adult
Find out how you can save money on dining at Walt Disney World by using one of Disney's Dining Plans.
Lunch and Dinner Menu
Menu Date: 04/2019
Pizza By the Slice
Tomato– Mozzarella, Basil – $7.00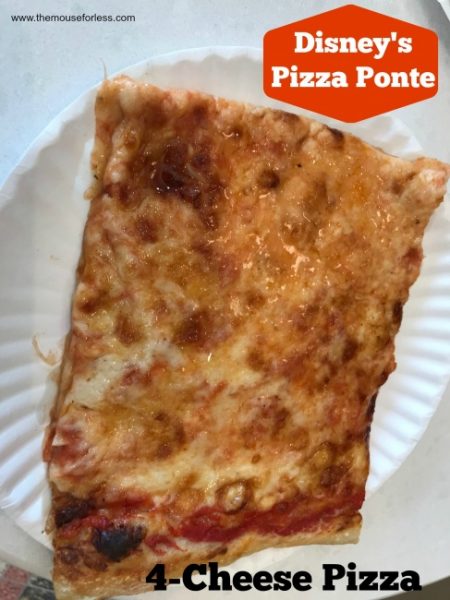 4-Cheese – $7.00
Forest Mushrooms – $7.00
Spicy Salame – Mozzarella, Tomato – $7.00
Porchetta – Hot Peppers, Onion – $7.00
The Big Roman – chef's daily special pizza – $7.00
add prosciutto di parma – $4.00
Sandwiches
Handcrafted sandwiches on Roman Pizza Bread
Prosciutto di Parma – Fontina and Mostarda on Roman Pizza Bread – $9.00

Ponte – Parma Ham Cotto, Stracchino Cheese and Pickled Vegetables on Roman Pizza Bread – $9.00
Pomodoro – Tomato, Mozzarella and Arugula on Roman Pizza Bread – $9.00
Tonno – Sicilian Tuna, Tomato, Onion, Arugula and Olivada on Roman Pizza Bread – $9.00
Muffuletta – Mortadella, Salami Picante, Prosciutto and Fontina on Roman Pizza Bread – $11.00
Dessert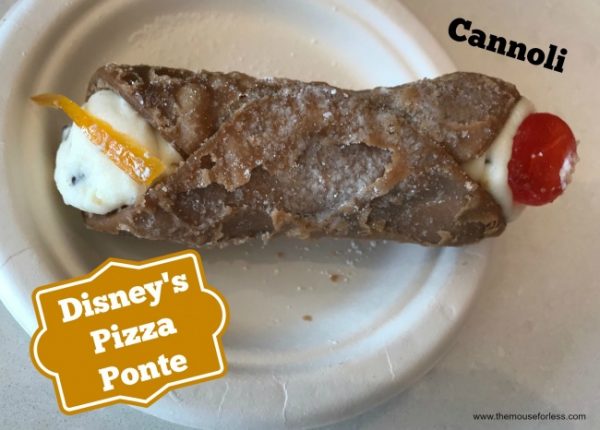 Cannoli – Sweet Ricotta and Chocolate Chips – $7.00
Sfoglia di Riso – Layered Pastry and Rice Cream – $6.00
Torta di Arancia – Orange Olive Oil Cake – $6.00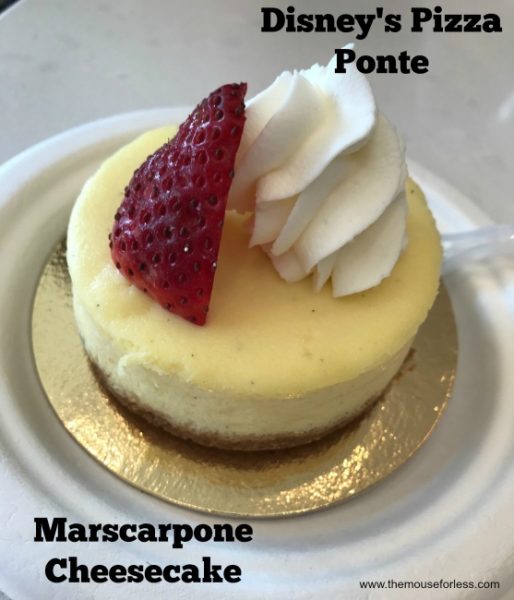 Marscarpone Cheesecake – Fruit Jam filled Zeppola – $6.00
Pistachio and Mascarpone Parfait – with Strawberries – $6.00
Biscotti – assorted Cookies – $3.50
Limoncello Parfait – with Rasperries – $6.00
Baba – Orange Liqueur soaked Cake – $7.00
Cookies – Walnut Ring; Thumbprint Jelly; Almond – $3.50
Zeppole Con Panna – St. Joseph's Cream Puff – $6.00
Tiramisu – Mascarpone, Lady Fingers and Espresso Cream – $7.00
Nutella Parfait – $7.00
Beverages
Espresso – Single – regular or decaf – $2.50
Espresso – Double – regular or decaf – $3.50
Macchiato – Single – regular or decaf Espresso with Milk Froth – $3.00
Macchiato – Double – regular or decaf Espresso with Milk Froth – $3.50
Cappuccino – Espresso with Hot Milk and Milk Foam – $3.00 12 oz, $3.50 16 oz
Moccachino – Espresso with Hot Milk and Chocolate – $3.00 12 oz, $3.50 16 oz
American-style Coffee – regular or decaf – $1.00 12 oz, $1.50 16 oz, $2.00 20 oz
Cioccolata – our dense Semisweet Hot Chocolate with Whipped Cream – $2.75 12 oz, $3.25 16 oz, $3.75 20 oz
Espresso Freddo Shakerato – Espresso shaken with Ice and Milk- $2.50 12 oz, $3.25 16 oz, $4.00 20 oz
Cappuccino Freddo – $2.50 12 oz, $3.25 16 oz, $4.00 20 oz
Cold Brew Coffee – $2.50 12 oz, $3.25 16 oz, $4.00 20 oz
Assorted Coca Cola Beverages – $3.50 16 oz, $4.50 20 oz
Beer and Wine
Crooked Can – $7.00
Goose Island – $9.00
La Rossa – $9.00
Coppertail IPA – $9.00
Pinot Grigio – $8.00
Chianti – $8.00
** Pizza Ponte Menu and Prices are Subject to Change Without Notice **