Epcot | World Showcase
Delight in sweet yummies that are magnifique to eat at Boulangerie Patisserie, a quick service show bakery featuring seating for 90 located in the France Pavilion. Treat yourself to a delectable assortment of sandwiches, quiches, French pastries and hot coffee. Plus, the bakery opens at 8:00 a.m. – ahead of the 11:00 a.m. opening of World Showcase, so you can make it a stop for breakfast!
Restaurant Info: French, Snack, $ – $14.99 and under per adult
Find out how you can save money on dining at Walt Disney World by using one of Disney's Dining Plans.
Boulangerie Patisserie All Day Menu
Menu Date: 09/2018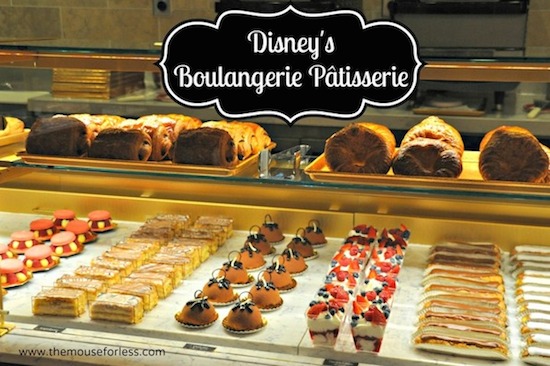 Pastries
Croissant – plain croissant – $2.25
Pain Au Chocolat – chocolate croissant – $3.35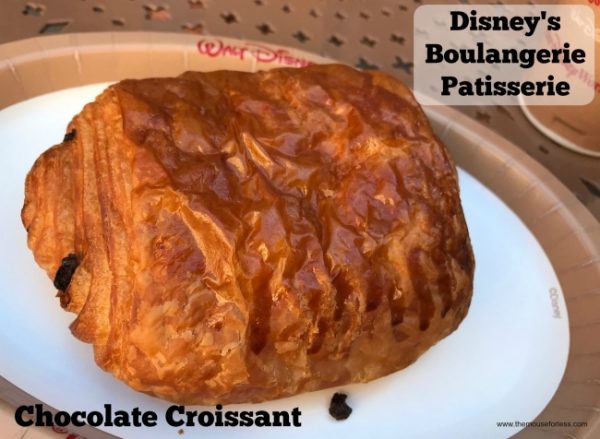 Brioche Chocolat – chocolate chip Brioche – $3.50
Palmier – Cinnamon and Chocolate elephant ears – $3.85
Biscuit Chocolat – chocolate chip cookie – $3.50
Frangipane – almond filling between puff pastry – $3.70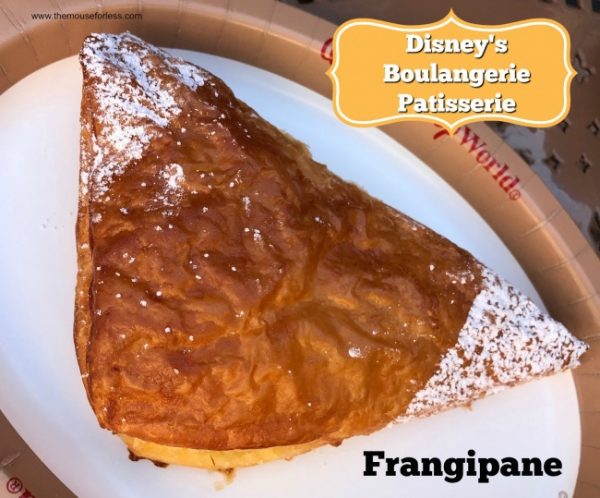 Flan and Cerises – Flan Tart with Cherries – $4.25
Fraises – Vanilla cream topped with Strawberry – $4.75
Citron – Lemon Cream topped with Meringue – $4.25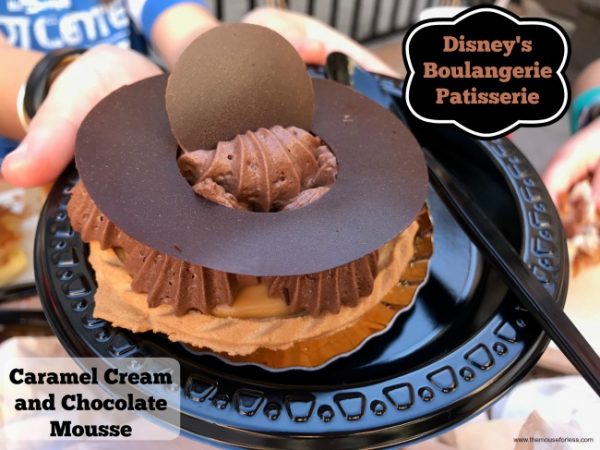 Chocolat – Caramel Cream and Chocolate Mousse – $4.50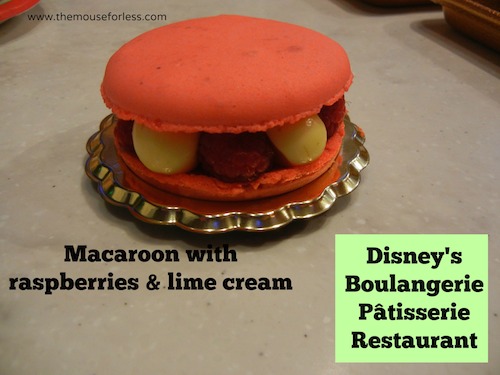 Desserts
Napoleon – puff pastry layered with cream – $4.25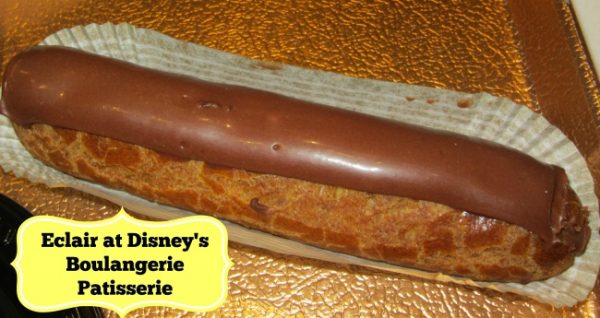 Eclair – Vanilla White Chocolate or Chocolate Cream – $4.25
Créme Brûlée – caramelized vanilla custard – $4.50
Parfait Aux Fruits – yogurt mousse with berries – $4.75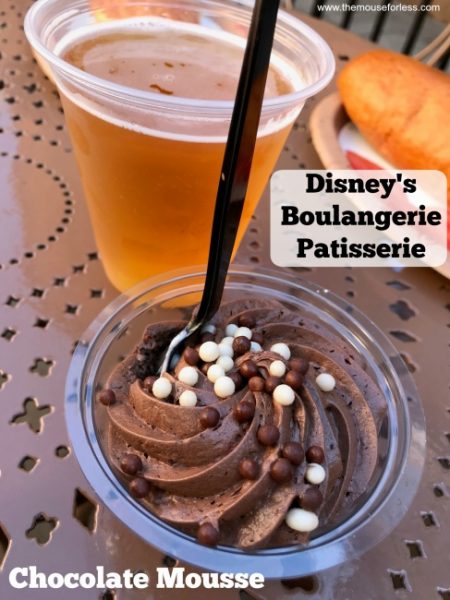 Mousse Au Chocolate – Chocolate Mousse – $4.50
Duo – white and dark chocolate mousse cake – $5.75
Cafe Liegeois – coffee & cream mousse, chocolate – $5.50
Framboise – raspberry mousse cake – $5.50
Macaron – macaroon with raspberry & lime cream – $5.75
Macarons Collection – $10.33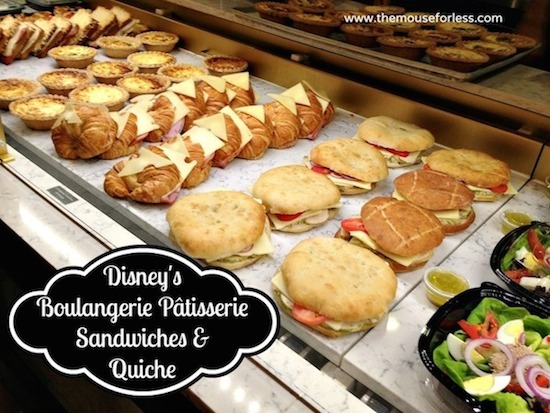 Entrees
Jambon Beurre – ham and cheese, dijon mustard butter on a demi baguette – $7.50
Dinde BLT – turkey, bacon, lettuce, tomato and garlic ailoi – $8.50
Brie Aux Pommes – brie, apples & cranberries in multigrain bread – $8.00
Croissant Jambon Fromage – ham, cheese and bechamel in a croissant – $4.75
Poulet au Pistou – chicken breast with cheese, tomato, red onion and pesto – $9.00
Tartine Aux Fromages – country bread, tomato sauce, swiss, parmesan, goat cheese – $6.75
Bleu – Romaine, Imported Blue Cheese and Croutons – $9.50
Niçoise – Tuna, Potato, Egg, Beans, Tomato and Dressing – $9.25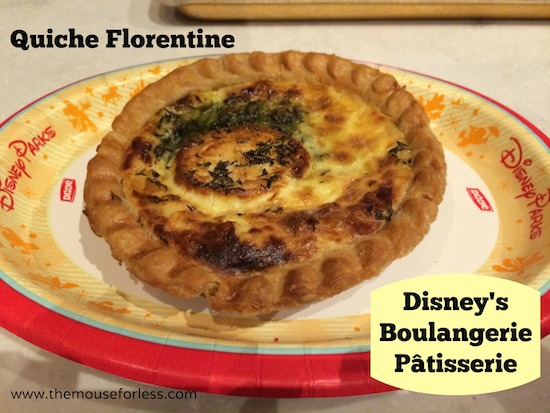 Sides
Quiche Lorraine – ham, gruyere quiche – $6.20
Croque Monsieur – Toasted Ham and Cheese – $8.75
Vichyssoise – leek & potato soup in bread bowl – $5.50
Roulé Lard and Fromage – bacon and cheese roll – $3.95
Bisque de Homard – lobster bisque – $4.90
Baguette – fresh from our oven – $1.85 half | $2.95 full
Quiche Florentine – spinach, goat cheese quiche – $7.00
Pissaladiere – tomatoes, olives and gruyere cheese – $4.50
Fromages – imported cheese plate – $9.25
Non-Alcoholic Beverages
Espresso – regular or decaf – $3.00
Cappuccino or Latte – regular or decaf – $3.99
Cafe – coffee, regular or decaf – $2.82
Chocolat Chaud – hot chocolate – $3.76
Thé – hot tea, regular or decaf – $3.00
Eau – Dasani bottled water – $2.75
Perrier – sparkling water – $4.25
Assorted Fountain Beverages – $3.25 Regular | $3.50 Large
Jus D'Orange – orange juice – $3.76
Lait, Lait au chocolat – milk, chocolate milk – $2.59
Cappucino Glace – ice cappuccino – $4.64
Granite a la Fraise – strawberry smoothie – $4.64
Alcoholic Drinks
Champagne – Nicolas Feuillate – $12.68
Mimosa – sparkling wine, orange juice – $7.50
Bourgogne Blanc – Chardonnay, Bouchard A&F – $6.85
Chardonnay – Chef's selection Duboeuf – $5.87
Pinot Noir – Bourgonae red, Boachard Aine & fils – $7.25
Bordeaux – cabernet Sauvignon Caateau – $7.98
Kronenbourg 1664 – French beer – $6.57
** Boulangerie Patisserie Menu and Prices are Subject to Change Without Notice **