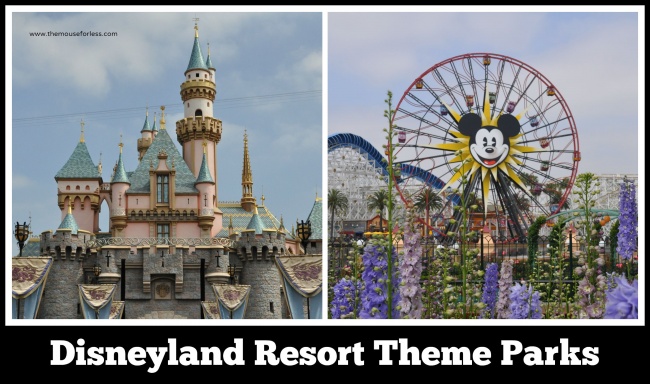 Disneyland Resort Theme Parks in Southern California offers guests two amazing theme parks. Disneyland and Disney California Adventure. Disneyland is where the "magic" began for Disney.  It is the original park that Walt Disney opened in 1955. Disney California Adventure opened directly across from Disneyland theme park in 2001. In 2012 a major expansion adding new lands and attractions was completed.
The two theme parks and the Downtown Disney district via an esplanade. There is no need for driving between the three locations since they are all next to each other. This makes the Disneyland Theme Parks very family friendly.

Planning a Disneyland Vacation?
For a Free no-obligation quote, contact our sponsor
The Magic For Less Travel
. Services are provided free of charge and their expert planning advice will help you make the most of your vacation time and money.
Disneyland Theme Park
Visit the Disneyland Theme Park — where the magic began. Guests can feel Walt Disney's influence throughout the park.  There is details and hidden magic where ever you look. Visit classic attractions that have been open since the beginning as well as experience new attractions.  Star Wars Land is coming soon and will add a new dimension of fun.
Disney California Adventure Theme Park
There are so many experiences unique to Disney California Adventure. Step into the set of Cars in the amazing Carsland area. See the different lands in the park.  See what tours and amenities are available.  Experience an one of a kind show with "World of Color."  See the shows and attractions available before you go.
Downtown Disney District
At the Downtown Disney District, enjoy world-class shopping, dining, and entertainment all in one location, conveniently located close to Disneyland and Disney California Adventure, as well as the Disneyland Resort Hotels.
Touring Tips & Information
Plan before you go. Make sure you go you know the height requirements for the little travelers in your family.  See what rides will be closed during your visit. Find out what attractions will be coming soon to the parks. Learn how to take advantage of the PhotoPass systems available at both parks.  Get help from experts at The Magic For Less Travel to book your vacation.