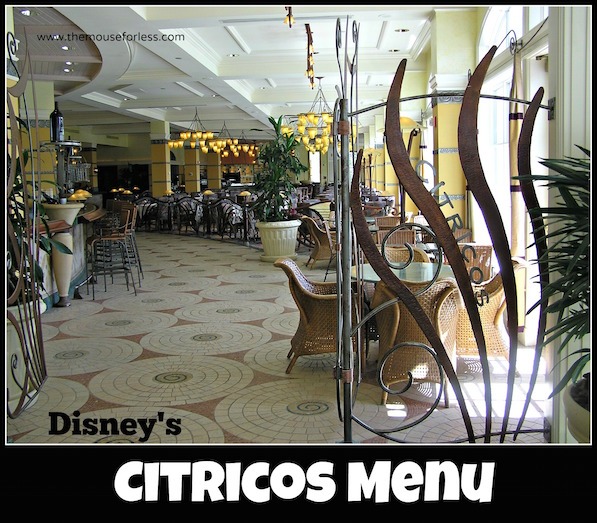 Treat yourself to cuisine from the fragrant hillsides of the Mediterranean coast. It's always fun to watch the action in the open kitchen, and if you dine at the right time, you may catch a view of the Magic Kingdom fireworks from this second-floor restaurant's floor-to-ceiling windows along the outside wall.  Citricos is located in Disney's Grand Floridian Resort.  Find more Walt Disney World dining locations on our Walt Disney World menus page.
Restaurant Info: American, Mediterranean, Dinner A la carte, $$$
Find out how you can save money on dining at Walt Disney World by using one of Disney's Dining Plans.

Planning a Walt Disney World Vacation?
For a Free no-obligation quote, contact our sponsor
The Magic For Less Travel
. The Magic For Less Travel is an Authorized Disney Vacation Planner and has been helping guests plan magical vacations since 2002. Receive the best prices and free travel planning services. Their fee-free services will help you save time, money, and stress while planning a vacation designed around you and your needs!
Citricos Dinner Menu
Menu Date: 2023
First Course
Strawberry Salad
Chamomile-infused Goat Cheese, Frisée Lettuce, Bacon Vinaigrette, Spiced Sunflower Seeds – $16.00
Citricos House Salad
Spring Mix, Fresh Oregano Vinaigrette, Preserved Kohlrabi, Picholine Olives, Pecorino – $15.00
Sweet Corn Bisque
Pickled Fennel, Popcorn, Fennil Oil – $15.00
Wild Mushrooms Arancini
Truffle Aïoli, Watercress, Champagne Vinaigrette (Plant-based) – $16.00
Smoked Duck Breast
Fresh Tagliatelle Pasta, Celeriac Purée, Duck Confit – $19.00
Citrus-cured Hamachi
Passion Fruit Nuoc Cham, Compressed Star Fruit, Cilantro-Scallion Oil, Blood Orange Puffed Tapioca – $21.00
Berkshire Pork Belly
Boniato Croquette, Salsa Verde, and Jicama – $18.00
Siberian Sturgeon Cavier – 1oz
Egg Yolk Spread, Creme Fraiche, Caper Berries, Toasted Brioche – $116.00
Royal Osetra Cavier – 1oz
Egg Yolk Spread, Creme Fraiche, Caper Berries, Toasted Brioche – $145.00
Entrées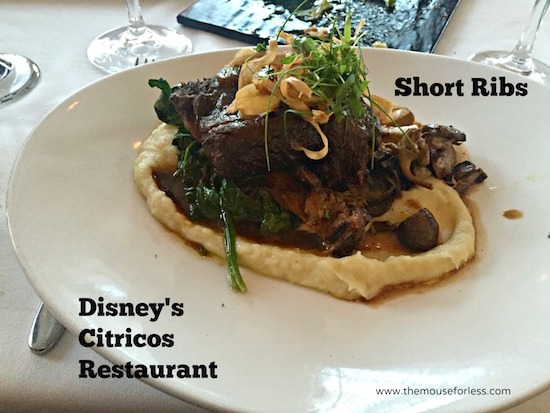 Domestic Golden Tile
Jupiter Rice Chorizo "Risotto", Key West Pink Shrimp, Confit Tomatoes – $46.00
Guava Barbecued Short Ribs
Aged Cheddar Creamy Grits, Roasted Poblano, Curtido Slaw, Brussels Sprouts – $52.00
Butter-poached Florida Cobia
Mashed Fingerling Potatoes, Grilled Asparagus, Local Mushrooms, Grapefruit Buerre Blanc – $42.00
House-made Rigatoni
Bolognese, Seasonal Vegetables, Roasted Hen of the Woods Mushrooms, "Egg Yolk" (Plant-based) – $36.00
Roulade of Chicken
Braised Kale, Corn Cake, Romesco Sauce, Roasted Turnips – $38.00
Oak-grilled Filet Mignon
Potato Purée, Broccolini, Cipollini, Bordelaise – $56.00
Oak-grilled 12-oz Prime New York Strip
Potato Purée, Broccolini, Cipollini, Jam, Bordelaise – $59.00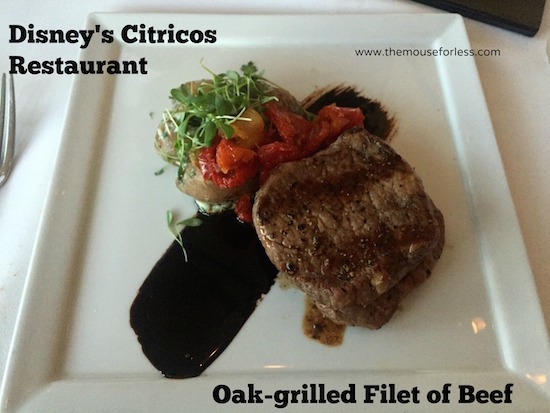 Enhancements
Truffle Macaroni & Cheese
House-made Gnocchetti, Summer Black Truffles, Sottocenere al Tartufo, Tarragon – $21.00
Grilled Marble Potatoes
Roasted Tomato Aïoli, Shaved Serrano Ham, Manchego – $11.00
Smoked Cauliflower
Green Curry, Chili Crunch, Citrus Crème Faîche (Plant-based) – $9.00
Desserts
Orange Blossom Flan
Blood Orange Gelée, Orange-scented Shortbread and Orange Blossom Honey-drizzled Fruit – $13.00
Apple Rose
Served Warm with Seasonal Apples, Marzipan, Raspberry Jam and Frozen Coconut Milk – $13.00
Blackberry Tartelette
Lemon Bavarian and Blackberry Mousse enrobed in Glacage with Candied Violet – $12.00
Chocolate Torte
Chocolate Financier, Dark Chocolate Ganache, Morello Cherries and Vanilla Mascarpone Cream – $14.00
Port, Madeira, and Dessert Wine
Royal Tokaji Aszú 5 Puttonyos Tokaji-Hegyalja, Hungary – $19.00
Meeker FroZin, Russian River Valley, California – $17.00
Dow's 20 yr Tawny – $22.00
Broadbent Madeira 10 yr Malmsey – $20.00
Marenco 'Pineto' Brachetto d'Acqui Piedmont – (5-oz Pour) – $16.00
Specialty 'Zero-Proof' Cocktails
Old Fashioned Orange Soda Float
Handcrafted orange syrup, House-made seltzer and Vanilla Bean Ice cream – $9.00
London Dry Juniper Seltzer
Authentic Cinchona Bark and Smoked Rosemary blended with Citrus, Lemongrass, and Juniper Aromatics – $7.00
Sparkling Grapefruit Soda
Traditionally made Grapefruit Syrup Sweetened with Florida Honey and Topped with house-made Seltzer – $8.00
Paradise Punch
Melted Sugar, Caribbean Spices, Scraped Vanilla Bean, Orgeat (contains Tree-nuts) and Citrus – $7.50
Purple Penguin
Pineapple, Peach, Lemon, Lavender, Grenadine and topped with house made Seltzer – $7.00
Spirit Free Gin and Tonic – $7.00
Florida Tiki Cooler – $8.00
Specialty Cocktails
Passion Margarita
Don Julio Reposado, Chef Orange Reduction, Passion Fruit and Passion Fruit Pearls – $17.50
Orange Blossom Martini
Diplomatico Rum, Orange Blossom Honey, Lemon Juice and Ginger Foam – $15.50
Agridolce
St Germain, Absolut Elyx, Ginger Beer and Montesole Spumante – $15.50
Amaro Grapefruit Spritz
Amaro Nonino, Antica Vermouth, Tanqueray Gin, House Grapefruit, Florida Honey and House seltzer – $16.50
Cucumber Vodka Martini
Grey Goose, Cointreau, Elderflower Liquor and Fresh Cucumber Pearls – $16.50
212 Manhattan
Angels Envy Bourbon, Bertrand Banyul's and Chocolate Bitters – $16.50
1806 Old Fashioned
Whistle Pig, Chef Made Orange Reduction and Del Maguey Vida Mezcal – $23.00
Beer, Cider, and Wine
Sierra Nevada Pale Ale – $10.00
Schöfferhofer Pomegranate Hefeweizen – $10.75
St. Bernardus Abt 12 Abbey Ale – $12.00
Dogfish Head 90 Minute Imperial IPA – $9.50
Kona Longboard Island Lager – $9.50
Stella Artois – $9.75
Left Hand Milk Stout – $9.50
Angry Orchard Hard Cider – $9.75
Assorted Wine – $15.00-$39.00 Glass; $59.00-$160.00 Bottle
Citricos Children's Menu
Menu Date: 07/2023
For Guests Ages 9 and Under
Appetizers
Garden Salad – With House Vinaigrette – $5.00
Chicken Noodle Soup – $5.00
Cheese and Grapes – With Crackers – $5.00
Kids' Create-Your-Own Entrées
served with choice of Small Lowfat Milk, Small DASANI® Water, or Small Minute Maid® Apple Juice
Shrimp – $19.00
Sirloin Steak – $19.00
Grilled Cheese Sandwich – $13.00
Pasta with Marinara – $13.00
Macaroni & Cheese – $13.00
Grilled Chicken Breast -$15.00
Cheese or Pepperoni Pizza – $13.00
Kids' Selections
Broccolini
Carolina Gold Rice
Roasted Carrots
Fresh Fruit
Mashed Potatoes
Vanilla or Chocolate Ice Cream Sundae
** Citricos Menu and Prices are Subject to Change Without Notice **