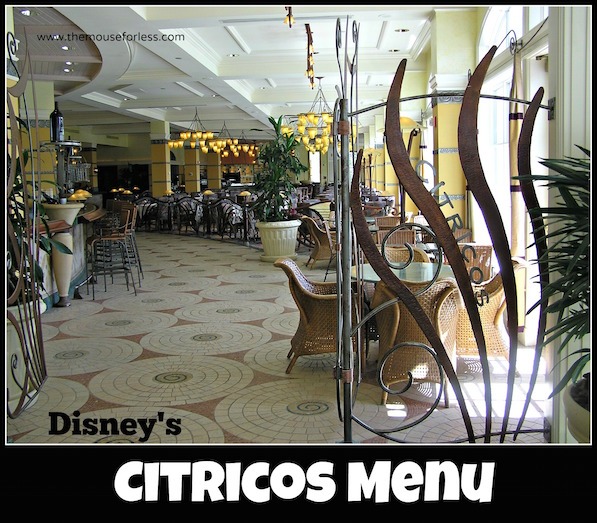 Treat yourself to cuisine from the fragrant hillsides of the Mediterranean coast. It's always fun to watch the action in the open kitchen, and if you dine at the right time, you may catch a view of the Magic Kingdom fireworks from this second-floor restaurant's floor-to-ceiling windows along the outside wall.  Citricos is located in Disney's Grand Floridian Resort.  Find more Walt Disney World dining locations on our Walt Disney World menus page.
Restaurant Info: American, Mediterranean, Dinner A la carte, $$$
Find out how you can save money on dining at Walt Disney World by using one of Disney's Dining Plans.
Dinner Menu  Children's Menu  Chef's Domain Menu

Planning a Walt Disney World Vacation?
For a Free no-obligation quote, contact our sponsor
The Magic For Less Travel
. The Magic For Less Travel is an Authorized Disney Vacation Planner and has been helping guests plan magical vacations since 2002. Receive the best prices and free travel planning services. Their fee-free services will help you save time, money, and stress while planning a vacation designed around you and your needs!
Citricos Dinner Menu
Menu Date: 11/2019
First Course
Seared Octopus Salad  – Spanish Octopus, Salsify, Preserved Artichokes, Hearts of Palm, Clementine Vinaigrette – $18.00
Florida Shrimp – House-made Gnocchetti Sardi Pasta, Spicy Puttanesca Sauce, Baby Spinach, Parmesan – $16.00
Pâté de Campagne – Country Pâté, Watercress, Onion Confit, Cornichons, Mustard Seeds, Focaccia – $15.00
Soup and Salads
Pea Soup – Ricotta, Quail Egg, Focaccia Croutons, Pea Tendrils – $16.00
Roasted Beet Salad – Heirloom Baby Beets, Passion Fruit Vinaigrette, Radish, Circus Frisée – $17.00
Salade Verte – Bibb Lettuce, Haricot Verts, Heirloom Tomatoes, Fennel, Niçoise Olives, Fingerling Potatoes, Sherry-Mustard Vinaigrette – $12.00
Entrées
Red Wine-braised Beef Short Ribs – Swiss Chard, Exotic Mushroom, Fresh Pappardelle Pasta – $49.00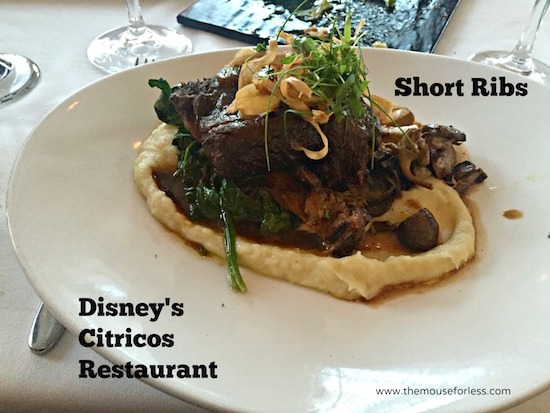 Florida Red Snapper – Shrimp, Mussels, Clams, Fork-mashed Fingerling Potatoes, Bouillabaisse Jus – $45.00
Oak-grilled Tuna – Lemon-roasted Potatoes, Seasonal Bean Ragoût, Grilled Baby Romaine – $44.00
Quinoa and Provençale Ratatouille – Tomato Confit, Seasonal Vegetables, Exotic Mushroom, Chickpea Sauce – $32.00
Scallop Risotto – Fava Beans, English Peas, Chanterelles, Carnaroli Rice – $48.00
Chicken Mediterranean – Creamy Polenta, Tomato Fondue, Spring Vegetables, Chicken Jus – $37.00
Oak-grilled Beef Filet – Potato Purée, Asparagus, Cipollini Jam, Bordelaise – $51.00
Oak-grilled Beef Filet (with 20-oz Rib-Eye) – Potato Purée, Asparagus, Cipollini Jam, Bordelaise – $72.00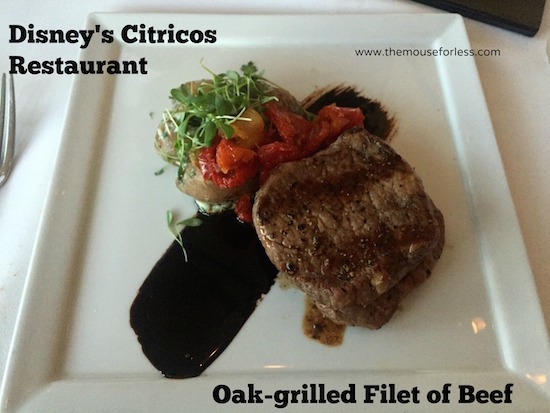 Enhancements
Mashed Potatoes – Yukon Gold Potato Purée – $7.00
Foraged Mushrooms – Sautéed Foraged Mushrooms, Fresh Herbs – $8.00
Desserts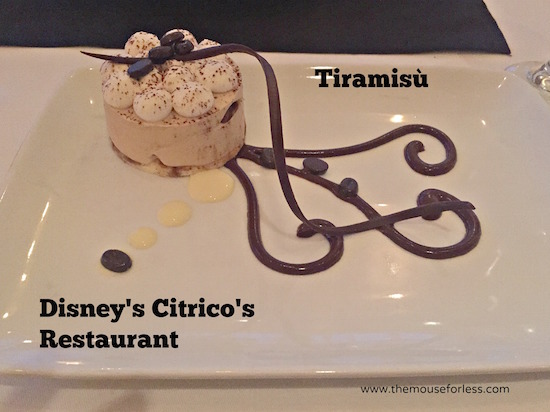 Chef's Cheese Selection – Five Artisanal Cheeses, Apple Confiture, Pine Nut Bread, Raisins on the Vine – $17.00
Profiteroles – Trio of Gelato Profiteroles and Chocolate Sauce  –$10.00
Mango-Lime or Raspberry Sorbet – No Sugar Added Dessert – $8.00
Berry Charlotte – Fresh Strawberry, Vanilla Cake, Raspberry Mousse, Whipped Cream, Macerated Strawberries – $11.00
Pumpkin Cheesecake – White Chocolate Ganache, Caramel Sauce, Vanilla Sauce, Cranberries, Cinnamon Whipped Cream – $11.00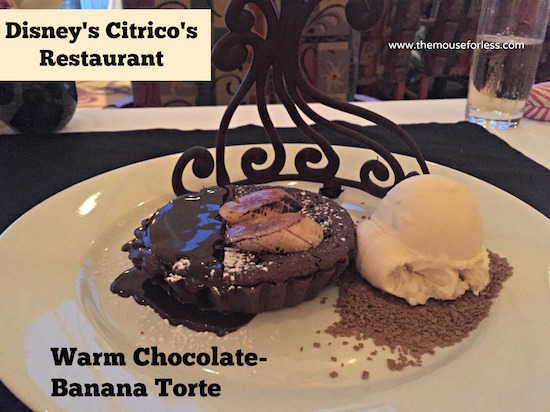 Warm Chocolate-Banana Torte  –with Vanilla Ice Cream and Handcrafted Belgian Couverture Chocolate Crown – $12.00
Chocolate-Hazelnut Bar – with Coffee-Coconut ice Cream, Creamy Hazelnut-Banana Mousse, Coconut Milk Ganache, and Chocolate Praline – $11.00
Vanilla Bean Crème Brûlée with Assorted Berries – $12.00
Tiramisù – with Italian Sorella Mascarpone and Chocolate Sauce – $12.00
Specialty Cocktails
Solerno Prosecco Cocktail – Solerno Blood Orange, Orange Juice, and Prosecco Sparkling Wine – $13.00
Grand Cosmopolitan – Purity Vodka shaken over ice with a splash of Cranberry Juice topped off with 100 year Grand Marnier – $14.00
Florida Manhattan – Local Small Batch Palm Ridge Whiskey Carpano Antica Sweet Vermouth, and Luxardro Cherry – $15.75
Strawberry Basil Mule – Russian Standard Vodka, Strawberry Purée, Fresh Basil Leaf, and Fever Tree Ginger Beer – $14.00
The Grand 30 – Palm Ridge Whiskey, St. Germaine topped with Veuve de Vernay – $16.00
Citricos Golden Margarita – Don Julio Reposado Tequila, Grand Marnier, and Fresh Lime Juice – $17.25
Purity Martini – Purity Vodka, a splash of Cranberry Juice topped with Grand Marnier – $16.00
Antica Umber – Buffalo Trace Bourbon, Solerno Blood Orange, Carpano Antica Sweet Vermouth, Lemon, and Bitters – $15.75
Beer Selections
Three Philosophers Quad Ale
Breckenridge Vanilla Porter
Founders Rübaeus Raspberry Ale
Cigar City Jal Alai IPA
Abita Harvest Seasonal Lager
Crooked Can High Stepper IPA
Stella Artois
Blue Moon Belgian White Ale
Rekorderlig Premium Pear Cider
Chimay Peres Trappistes Ale
New Belgium Citradelic Tangerine IPA
Unibroue Trois Pistoles
Clausthaler (Non-Alcoholic)
König Ludwig Bavarian Hefe-Weizen
Corona Extra
Assorted Domestic Beers
Citricos Children's Menu
Menu Date: 11/2019
For Guests Ages 9 and Under
Appetizers
Garden Salad – With Fat-free Ranch Dressing – $5.00
Chicken Noodle Soup – $4.00
Cheese and Grapes – With Crackers – $5.00
Kids' Create-Your-Own Entrées
served with two selections and choice of Small Lowfat Milk or Small Dasani Water
Sautéed Shrimp – $14.00
Beef Sirloin Steak – $16.00
Grilled Chicken Breast – $12.00
Pasta with Marinara – $10.00
Macaroni & Cheese – $12.00
Pepperoni or Cheese Pizza – $9.00
French-grilled Cheese Sandwich – $10.00
Kids' Create-Your-Own Selections
Broccoli
Roasted Carrots
Fingerling Potatoes
Garlic Mashed Potatoes
Jasmine Rice
Fruit Plate
Chocolate or Vanilla Ice Cream
Cítricos Chef's Domain Menu
Booking Info
Dine with an Imagineer: Guests can dine with an Imagineer on the first Thursday of each month at the Chef's Domain at Cítricos. This experience includes a four-course dinner for $97.98 and can be upgraded to include a wine pairing for an additional $30. Dining with an Imagineer is now available for guests to reserve by calling Walt Disney World Dining at 407-WDW-DINE (407-939-3463).
Chef's Domain Private Dining: Citricos also offers a private dining experience for up to 12 guests in The Chef's Domain. The exclusive experience takes diners on a tour of the Mediterranean through delicious flavors and fine wines. A minimum purchase of $800 per party is required, not including tax and gratuity. The Chef's Domain is offered daily at 5:30 p.m. and 8:30 p.m. Reservations are available by calling Walt Disney World Dining at 407-WDW-DINE (407-939-3463)at least 48 hours in advance.
Chef's Domain Sample Private Dining Menu
First Course – Seared Scallops – with Purple Radish, Candy Stripe Beets, and Fennel Flowering Crystals
Second Course – Heirloom Apple Winter Green Salad – with Goat Cheese Drizzle and Applewood Bacon Lardons
Third Course – Duo of Duck Tortellini and Duck Confit – with Tomato-Basil Broth and Brunoise Carrots
Fourth Course – Oak-grilled Quail – with White Cheddar Polenta, Huckleberry Gastrique, and Red Watercress
Fifth Course – Braised Veal Cheek – with Eggplant Ratatouille, Veal Glace, Citrus Gremolata, and Fine Herbs
Sixth Course – Chocolate-Banana Torte, Lemon Cheesecake, and Tiramisú
** Citricos Menu and Prices are Subject to Change Without Notice **