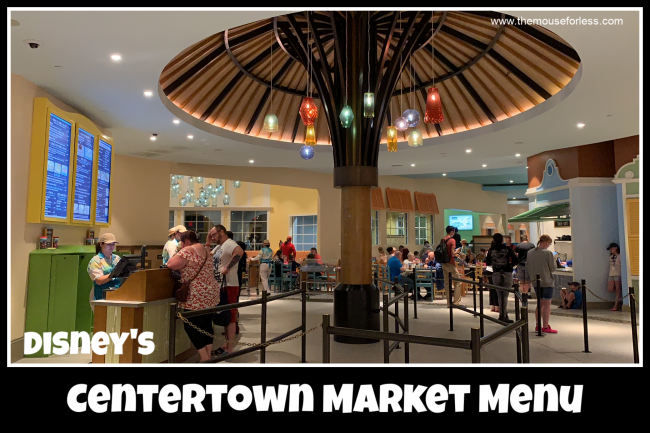 At Centertown Market, savor exotic island flavors at this fast-casual restaurant with an indoor street market vibe and flavorful Latin- and Caribbean-inspired breakfast and dinner menus. Centertown Market also features a grab 'n' go market for specialty coffee and a quick bite to go.
Centertown Market is located in Disney's Caribbean Beach Resort.  Find more Walt Disney World dining locations on our Walt Disney World menus page.
Restaurant Info: American, Latin, Breakfast/Lunch/Dinner/Snack, $
Find out how you can save money on dining at Walt Disney World by using one of Disney's Dining Plans.
Breakfast Menu  Lunch Menu  Dinner Menu

Planning a Walt Disney World Vacation?
For a Free no-obligation quote, contact our sponsor
The Magic For Less Travel
. The Magic For Less Travel is an Authorized Disney Vacation Planner and has been helping guests plan magical vacations since 2002. Receive the best prices and free travel planning services. Their fee-free services will help you save time, money, and stress while planning a vacation designed around you and your needs!
Centertown Market Breakfast Menu
Menu Date: 1/2022
Entrees
Island Bounty Platter – Small Mickey-shaped Waffle served with Scrambled Eggs, Home Fries, Bacon and Sausage – $11.29
Ham & Cheese Omelet – Choice of Cage-free Eggs filled with Ham, Cheddar Cheese and topped with fresh Arugula served with Home Fries – $10.29
Mickey-shaped Waffles – House-made Waffles served with Bacon – $8.99
Continental Breakfast – Oikos® Blueberry Yogurt, Banana, and a Croissant – $7.49
Breakfast Bagel Sandwich – Eggs, Bacon, and American Cheese served on a Bagel – $6.79
Egg and Cheese Bagel Sandwich – Eggs and American Cheese served on a Bagel – $5.79
Plant-Based
Avocado Toast – Avocado, Tomatoes, Oranges, Pickled Onions, and Sriracha Mayonnaise – $7.99
Steel-cut Oatmeal – topped with Dried Fruits and Nuts – $4.99
Sides
Bacon – $2.99
Home Fries – $2.99
Sausage – $2.99
Scrambled Eggs – $2.99
Kids' Disney Check Meals
Cage-free Egg Popper – Hard-boiled Egg "Pop" with Green Bacon Powder and Green Pirate Juice served with Strawberry-flavored Yogurt Smoothie, Fresh Fruit, and choice of Small Lowfat Milk or Small DASANI® Bottled Water. Meets Disney Nutrition Guidelines for Complete Meals without substitutions – $6.39
Kid's Scrambled Eggs – Cage-free Eggs served with Strawberry-flavored Yogurt Smoothie, Fresh Fruit, and choice of Small Lowfat Milk or Small DASANI® Bottled Water. Meets Disney Nutrition Guidelines for Complete Meals without substitutions – $6.39
Kids' Meals
Mickey-shaped Waffles – House-made Mickey Waffles served with choice of two sides and choice of Beverage – $7.29
Desserts
50th Anniversary Dessert – Raspberry Cheesecake with a Rose Gold Champagne-infused Glaze on an Almond Cookie – $5.99
Mickey Cupcake – Chocolate Cupcake – $5.99
Minnie Cupcake – Vanilla Cupcake – $5.99
Nestlé® Mickey's Premium Ice Cream Bar – $5.99
Nestlé® Mickey's Premium Ice Cream Sandwich – $5.99
Key Lime Tart – Key Lime Filling with Graham Cracker Crust topped with Meringue and Tropical Sauce with a White Chocolate Garnish – $5.49
Allergy-Friendly Double-Chocolate Brownie – $5.29
Mickey's Crisped Rice Treat – $4.69
Chocolate-Chip Cookie – $3.29
M&M'S® Sugar Cookie – $3.29
Allergy-Friendly Crunchy Cookies – Chocolate Chip – $6.99
Allergy-Friendly Soft-baked Cookies – Double Chocolate Chip – $6.99
Fresh Fruit
Grapes – $5.69
Mixed Fruit Cup – $5.69
Pineapple Fruit Cup – $5.69
Cuties® Mandarin 3-Pack – $4.19
Apples with Caramel – $3.99
Banana – $2.29
Orange -$2.29
Red Apple – $2.29
Snacks
Dried Mango Slices – $7.49
Dried Pineapple Wedges – $7.49
Yogurt Parfait – Vanilla Yogurt topped with fresh Seasonal Fruit and Honey Granola – $5.79
Cereal with Milk – $4.99
Toasted Bagel Plain – $3.49
Nonfat Blueberry Greek Yogurt – $3.19
Assorted Chips – $2.99
PB&J Uncrustable – $3.99
Allergy-Friendly Fruity Gummy Bears – $2.49
Strawberry-flavored Yogurt Smoothie – $2.39
Applesauce – $1.29
Bakery
Chocolate Brownie – $4.29
Apple Danish – $4.29
Guava Danish – $3.99
Blueberry Muffin – $3.49
Chocolate-Chip Muffin – $3.49
Chocolate Croissant – filled with Chocolate – $3.49
Croissant – $3.49
Water
smartwater® – $5.50
vitaminwater® Power-C Dragonfruit – $4.69
vitaminwater® Zero Rise – $4.69
DASANI® Bottles Water – $3.50
Small DASANI® Water – 12-oz Bottled Beverage – $2.50
Beverages
50th Celebration Resorts Refillable Mug – eligible for refills at self-service beverage islands at Quick-Service locations at any Disney Resort Hotel during the length of your stay  – $19.99
Assorted Fountain Beverages – Assorted Coca-Cola® Offerings  – $3.99
Monster™ Energy – $5.29
Monster™ Energy Zero Ultra – $5.29
POWERade® Fruit Punch Bottle – 20-oz Bottles Beverage – $4.69
POWERade® Mountain Blast – 20-oz Bottles Beverage – $4.69
Minute Maid® Lemonade Bottle – 20-oz Bottles Beverage – $4.69
Bottles Soda – 20-oz – Barq's® Root Beer | Cherry Coke® | Coca-Cola® | Coca-Cola® Zero Sugar | Diet Coke® | Fanta® Orange | Fanta® Pineapple | Sprite® – $4.69
Hot Beverages
Freshly Brewed Joffrey's Coffee™ – Regular or Decaf – $3.49
Hot Cocoa – $3.49
Twinings London® Hot Tea – $3.49
Specialty Coffees
Caffè Latte – Hand-crafted, fresh-pulled shot of Joffrey's Coffee® 100% Specialty Grade Arabica Beans fused with steamed milk – $3.99
Cappuccino – Hand-crafted, fresh-pulled shot of Joffrey's Coffee® 100% Specialty Grade Arabica Beans blended with the Velvety Microfoam Steamed Milk – $3.99
Joffrey's Coffee™ Cold Brew French Roast – Artisan Roasted Coffee Beans blended with flavors of Chocolate with a Smoky finish featuring Joffrey's Coffee™ perfectly steeped in water at cool temperatures for an extended period of time to create a smooth cup of Cold Brew Coffee – $3.79
Joffrey's Coffee™ Cold Brew Joffrey's Shakin' Jamaican™ – Artisan Roasted Coffee Beans blended with Caramel, Vanilla and Smoky flavors featuring Joffrey's Coffee™ perfectly steeped in water at cool temperatures for an extended period of time to create a smooth cup of Cold Brew Coffee – $3.79
Caffè Americano – featuring Joffrey's Coffee® – $3.49
Espresso – featuring Joffrey's Coffee®. A masterful mix of 100% Specialty Grade Arabica Beans from Central America, South America and Africa are fired to a full city roast to produce the bittersweet flavor and pleasant aftertaste you want and thick crema your cup should never be without – $3.49
Juice
Simply® Orange – $4.99
Simply™ Smoothie Pineapple Mango – 11.2-oz Bottled Beverage – $4.99
Simply™ Smoothie Strawberry Banana – 11.2-oz Bottled Beverage – $4.99
Minute Maid® Juice – Apple | Cran-Apple Raspberry | Grapefruit – $3.99
Vegetable Juice – $3.99
Small Minute Maid® Apple Juice – 6-oz Carton – $1.99
Milk
NESQUIK® Chocolate Milk – $4.19
NESQUIK® Strawberry Milk – $4.19
Lowfat Milk – $1.99
Small NESQUIK® Chocolate Milk – $1.99
Small Whole Milk – $1.99
Milk Alternatives
Almond Milk – $2.99
Soy Chocolate Milk – $2.99
Soy Vanilla Milk – $2.99
Tea
Honest Green Tea® – $4.49
Gold Peak® Sweet Iced Tea Bottle – $4.49
Gold Peak® Unsweetened Ice Tea Bottle – $4.49
Beer
Shöfferhofer Pink Grapefruit Hefeweizen – Germany – 16 oz Can – Easy and refreshing with light notes of Citrus and Spice with low bitterness – $10.25
Cigar City Jai Alai IPA – Tampa, FL -16-oz Can – this bigger brother to the Pale Ale employs a significant amount of Hops with high bitterness and Citrus and Floral aromas – $10.00
New Belgium Fat Tire – Fort Collins, CO – 16-oz Can – Toasted caramel malts with a gentle sweetness and balances addition of hops – $10.00
Angry Orchard Crisp Apple Hard Cider – Cincinnati, OH – 16-oz Can – Sweet and refreshing, a favorite since Colonial times – $9.25
Corona Extra Lager – Mexico – 16 oz Can – golden colored with flavors that are dry, clean, crisp and refreshing with subtle bitterness – $8.50
Red Stripe Lager – Jamaica – 16-oz Can – Golden colored with flavors that are dry, clean, crisp, and refreshing with subtle bitterness – $8.75
Blue Moon Belgian White Ale – Golden, CO – 16-oz Can – Easy and refreshing with light notes of Citrus and Spice with low bitterness – $8.50
Bud Light Lime Lager – St. Louis, MO – 16-oz Bottle – Golden-colored with flavors of lime and is dry, clean, crisp, and refreshing with subtle bitterness – $8.50
Michelob Ultra Lager – St. Louis, MO – 16-oz Bottle – Golden-colored with flavors that are dry, clean, crisp, and refreshing with subtle bitterness – $8.50
Bud Light Lager – St. Louis, MO – 16 oz Can – golden colored with flavors that are dry, clean, crisp and refreshing with subtle bitterness – $8.00
Beer – Draft
Cigar City Jai Alai IPA – Tampa, FL -16-oz Draft – this bigger brother to the Pale Ale employs a significant amount of Hops with high bitterness and Citrus and Floral aromas – $9.25
Red Stripe Lager – Jamaica – 16-oz Draft – Golden colored with flavors that are dry, clean, crisp, and refreshing with subtle bitterness – $8.25
Wine – Glass
Lolailo Sangria – 250 mL Bottle – $12.00
Merf Cabernet Sauvignon – 250 mL Can – $12.00
Stella Rosa Pink – 250 mL Can – $12.00
Ruffino Prosecco D.O.C. Sparkling Wine, Italy – 187 mL Glass – Fragrant bouquet bursting with aromas of apples, pears and citrus. Crisp, clean and delicate with fine bubbles on the palate, and intense flavors of apples and peaches – $10.00
Wine – Bottle
Martin Ray Cabernet Sauvignon, California – 750 mL Bottle – Richly extracted black currant and dark cherry flavors extend to a long, polished finish – $30.00
Parker Station Pinot Noir, California – 750 mL Bottle – Light, fresh floral and mineral aromas with refreshing flavors of Citrus and Green Apple, and a clean, fresh Lemon Zest finish – $22.00
Hess Shirtail Creek Chardonnay, California – 750 mL Bottle – Tropical Fruit and Buttery Pear aromas overlay a smooth, creamy texture – $21.00
Kung Fu Girl Riesling, Washington – 750 mL Bottle – Crisp and refreshing flavors of Peach, Apple, and Apricot, with a bright, clean finish – $21.00
King Estate Pinot Gris, Oregon – 375 mL Bottle – Light, fresh floral and mineral aromas with refreshing flavors of citrus and green apple, and a clean, fresh lemon zest finish – $20.00
Parducci Chardonnay, California – 375 mL Bottle – Tropical Fruit and Buttery Pear aromas overlay a smooth, creamy texture – $15.00
Parduccie Merlot, California – 375 mL Bottle – Black cherry and juicy plum notes, balanced with a round, velvety texture – $15.00
Cocktails
Specialty Frozen Tropical Colada – Plantation Original Dark Rum blended with Mango Purée and flavors of Coconut and Pineapple – $14.00
Blue Marble Bloody Mary – 200 mL Can – Ultra-premium Vodka, All-natural Tomato Juice and a dash of Spice  – $10.00
Blue Marble Marble-rita – 200 mL Can – all-natural Blue Agave, all-natural Lime Juice and a touch of Salt – $9.00
Blue Marble Mojito – 200 mL Can – Ultra-premium Rum, all-natural Lime Juice, and all-natural Mint – $10.00
Canella Bellini– 200 mL Can – $10.00
Cutwater Vodka Mule – 12 oz Can – Fugu Vodka, Natural Ginger, a hint of Lime, spicy, sweet, bitter and tart – $10.00
Centertown Market Lunch & Dinner Menu
Menu Date: 1/2022
Specialties
Mixed Grill Platter – Roasted Citrus-marinated Chicken, Barbecued Pork Ribs, and Grilled Andouille Sausage served with Fried Yucca, Seasonal Vegetables, Creamy Mango Coleslaw, and a Roll – $17.49
Fried Yucca Bowl – Fried Yucca topped with Black Beans, Pico de Gallo, and Cotija with choice of Shrimp, Chicken, or Pulled Pork – $15.49
Roasted Half-Chicken – Roasted Jamaican-style Half-Chicken with Cilantro Rice and Seasonal Vegetables – $14.49
Sandwiches
Bacon Cheddar Cheeseburger – Grilled Signature-blend Burger topped with Bacon, Cheddar, Lettuce, Tomato, Pickle, and Onion on a Toasted Brioche Bun served with choice of Side – $12.49
Hot Cuban Sandwich – Pressed cuban sandwich stuffed with slow-roasted Pork, Ham, Swiss , Pickles, and Mustard on a Sandwich Roll served with choice of Side – $11.49
Cheddar Cheeseburger – Grilled Signature-blend Burger topped with Cheddar, Lettuce, Tomato, Pickle, and Onion on a Toasted Brioche Bun served with choice of Side – $11.49
Barbecue Pulled Pork Sandwich – Pulled Pork topped with Creamy Coleslaw and Mango Ketchup on a Kaiser Roll served with a choice of Side – $10.49
Turkey Sandwich – Smoked Turkey, Gouda, Barbecue Mayonnaise, and Crispy Slaw on soft Multigrain Bread served Deli style with choice of side – $9.99
Entrées
Chicken Bowl – Jerk Chicken served over Rice and Beans with a side of Tomato and Cucumber Salad topped with Cilantro-Lime Tofu Crema and Pickled Vegetable Slaw – $12.49
Fish Tacos – Three Fish Tacos topped with Pickled Vegetable Slaw, Cilantro Lime Crema, Cotija Cheese, and a side of Pico de Gallo with a Lime served with choice of Side – $10.99
Chicken Strips (4 Strips) – served with choice of Side – $10.49
Romaine Salad – Parmesan, Cucumbers, Roasted Pumpkin Seeds, Tomatoes, Peppers, and Croutons – $8.99
Pizza
Large Cheese Pizza – $17.99
Large Pepperoni Pizza – $18.99
Super Slice of Pepperoni Pizza – $8.99
Super Slice of Cheese Pizza – $8.49
Plant-Based
Plant-based Fried Yucca Bowl – Fried Yucca topped with Black Beans, Pico de Gallo, Plant-based Cheese, and Plant-based Sausage – $15.49
Impossible™ Barbecued Market Burger – Served with Arugula, Tomato, Avocado, Barbecue Sauce, and a choice of Side
Sides
French Fries – $4.49
Macaroni and Cheese– $4.49
Tomato and Cucumber Salad  – $3.29
Kids' Disney Check Meals
Chicken Bowl – Jerk Chicken served over Beans and Rice with Cilantro-Lime Tofu Crema served with a House Side Salad with choice of Small Lowfat Milk or Small DASANI® Bottled Water. Meets Disney Nutrition Guidelines for Complete Meals without substitutions – $7.79
Fish Tacos – Two Fish Tacos topped with Pickled Vegetable Slaw, Cilantro-Lime Tofu Crema, Cotija Cheese, and a side of Pico de Gallo with a Lime. Served with choice of sides and choice of Small Lowfat Milk or Small DASANI® Bottled Water. Meets Disney Nutrition Guidelines for Complete Meals without substitutions – $6.99
Kids' Meals
Cheeseburger – served with your choice of sides and beverage – $7.49
Chicken Strips (2 Strips) – Served with your choice of sides and beverage – $7.29
Macaroni & Cheese – Served with your choice of sides and beverage – $6.99
Mickey Mouse Celebration Cake
Chocolate Cake – Chocolate Cake with Chocolate Ganache and Chocolate Mousse with your choice of Engraving Options. One Cake feeds 4 to 6 Guests – $39.00
White Chocolate Cake – Vanilla Cake with White Chocolate Ganache and White Chocolate Mousse with your choice of Engraving Options. One Cake feeds 4 to 6 Guests – $39.00
Desserts
50th Anniversary Dessert – Raspberry Cheesecake with a Rose Gold Champagne-infused Glaze on an Almond Cookie – $5.99
Mickey Cupcake – Chocolate Cupcake – $5.99
Minnie Cupcake – Vanilla Cupcake – $5.99
Nestlé® Mickey's Premium Ice Cream Bar – $5.99
Nestlé® Mickey's Premium Ice Cream Sandwich – $5.99
Key Lime Tart – Key Lime Filling with Graham Cracker Crust topped with Meringue and Tropical Sauce with a White Chocolate Garnish – $5.49
Allergy-Friendly Double-Chocolate Brownie – $5.29
Mickey's Crisped Rice Treat – $4.69
Chocolate-Chip Cookie – $3.29
M&M'S® Sugar Cookie – $3.29
Allergy-Friendly Crunchy Cookies – Chocolate Chip – $6.99
Allergy-Friendly Soft-baked Cookies – Double Chocolate Chip – $6.99
Fresh Fruit
Grapes – $5.69
Mixed Fruit Cup – $5.69
Pineapple Fruit Cup – $5.69
Cuties® Mandarin 3-Pack – $4.19
Apples with Caramel – $3.99
Banana – $2.29
Orange -$2.29
Red Apple – $2.29
Snacks
Dried Mango Slices – $7.49
Dried Pineapple Wedges – $7.49
Yogurt Parfait – Vanilla Yogurt topped with fresh Seasonal Fruit and Honey Granola – $5.79
Cereal with Milk – $4.99
Toasted Bagel Plain – $3.49
Nonfat Blueberry Greek Yogurt – $3.19
Assorted Chips – $2.99
PB&J Uncrustable – $3.99
Allergy-Friendly Fruity Gummy Bears – $2.49
Strawberry-flavored Yogurt Smoothie – $2.39
Applesauce – $1.29
Bakery
Chocolate Brownie – $4.29
Apple Danish – $4.29
Guava Danish – $3.99
Blueberry Muffin – $3.49
Chocolate-Chip Muffin – $3.49
Chocolate Croissant – filled with Chocolate – $3.49
Croissant – $3.49
Water
smartwater® – $5.50
vitaminwater® Power-C Dragonfruit – $4.69
vitaminwater® Zero Rise – $4.69
DASANI® Bottles Water – $3.50
Small DASANI® Water – 12-oz Bottled Beverage – $2.50
Beverages
50th Celebration Resorts Refillable Mug – eligible for refills at self-service beverage islands at Quick-Service locations at any Disney Resort Hotel during the length of your stay  – $19.99
Assorted Fountain Beverages – Assorted Coca-Cola® Offerings  – $3.99
Monster™ Energy – $5.29
Monster™ Energy Zero Ultra – $5.29
POWERade® Fruit Punch Bottle – 20-oz Bottles Beverage – $4.69
POWERade® Mountain Blast – 20-oz Bottles Beverage – $4.69
Minute Maid® Lemonade Bottle – 20-oz Bottles Beverage – $4.69
Bottles Soda – 20-oz – Barq's® Root Beer | Cherry Coke® | Coca-Cola® | Coca-Cola® Zero Sugar | Diet Coke® | Fanta® Orange | Fanta® Pineapple | Sprite® – $4.69
Hot Beverages
Freshly Brewed Joffrey's Coffee™ – Regular or Decaf – $3.49
Hot Cocoa – $3.49
Twinings London® Hot Tea – $3.49
Specialty Coffees
Caffè Latte – Hand-crafted, fresh-pulled shot of Joffrey's Coffee® 100% Specialty Grade Arabica Beans fused with steamed milk – $3.99
Cappuccino – Hand-crafted, fresh-pulled shot of Joffrey's Coffee® 100% Specialty Grade Arabica Beans blended with the Velvety Microfoam Steamed Milk – $3.99
Joffrey's Coffee™ Cold Brew French Roast – Artisan Roasted Coffee Beans blended with flavors of Chocolate with a Smoky finish featuring Joffrey's Coffee™ perfectly steeped in water at cool temperatures for an extended period of time to create a smooth cup of Cold Brew Coffee – $3.79
Joffrey's Coffee™ Cold Brew Joffrey's Shakin' Jamaican™ – Artisan Roasted Coffee Beans blended with Caramel, Vanilla and Smoky flavors featuring Joffrey's Coffee™ perfectly steeped in water at cool temperatures for an extended period of time to create a smooth cup of Cold Brew Coffee – $3.79
Caffè Americano – featuring Joffrey's Coffee® – $3.49
Espresso – featuring Joffrey's Coffee®. A masterful mix of 100% Specialty Grade Arabica Beans from Central America, South America and Africa are fired to a full city roast to produce the bittersweet flavor and pleasant aftertaste you want and thick crema your cup should never be without – $3.49
Juice
Simply® Orange – $4.99
Simply™ Smoothie Pineapple Mango – 11.2-oz Bottled Beverage – $4.99
Simply™ Smoothie Strawberry Banana – 11.2-oz Bottled Beverage – $4.99
Minute Maid® Juice – Apple | Cran-Apple Raspberry | Grapefruit – $3.99
Vegetable Juice – $3.99
Small Minute Maid® Apple Juice – 6-oz Carton – $1.99
Milk
NESQUIK® Chocolate Milk – $4.19
NESQUIK® Strawberry Milk – $4.19
Lowfat Milk – $1.99
Small NESQUIK® Chocolate Milk – $1.99
Small Whole Milk – $1.99
Milk Alternatives
Almond Milk – $2.99
Soy Chocolate Milk – $2.99
Soy Vanilla Milk – $2.99
Tea
Honest Green Tea® – $4.49
Gold Peak® Sweet Iced Tea Bottle – $4.49
Gold Peak® Unsweetened Ice Tea Bottle – $4.49
Beer
Shöfferhofer Pink Grapefruit Hefeweizen – Germany – 16 oz Can – Easy and refreshing with light notes of Citrus and Spice with low bitterness – $10.25
Cigar City Jai Alai IPA – Tampa, FL -16-oz Can – this bigger brother to the Pale Ale employs a significant amount of Hops with high bitterness and Citrus and Floral aromas – $10.00
New Belgium Fat Tire – Fort Collins, CO – 16-oz Can – Toasted caramel malts with a gentle sweetness and balances addition of hops – $10.00
Angry Orchard Crisp Apple Hard Cider – Cincinnati, OH – 16-oz Can – Sweet and refreshing, a favorite since Colonial times – $9.25
Corona Extra Lager – Mexico – 16 oz Can – golden colored with flavors that are dry, clean, crisp and refreshing with subtle bitterness – $8.50
Red Stripe Lager – Jamaica – 16-oz Can – Golden colored with flavors that are dry, clean, crisp, and refreshing with subtle bitterness – $8.75
Blue Moon Belgian White Ale – Golden, CO – 16-oz Can – Easy and refreshing with light notes of Citrus and Spice with low bitterness – $8.50
Bud Light Lime Lager – St. Louis, MO – 16-oz Bottle – Golden-colored with flavors of lime and is dry, clean, crisp, and refreshing with subtle bitterness – $8.50
Michelob Ultra Lager – St. Louis, MO – 16-oz Bottle – Golden-colored with flavors that are dry, clean, crisp, and refreshing with subtle bitterness – $8.50
Bud Light Lager – St. Louis, MO – 16 oz Can – golden colored with flavors that are dry, clean, crisp and refreshing with subtle bitterness – $8.00
Beer – Draft
Cigar City Jai Alai IPA – Tampa, FL -16-oz Draft – this bigger brother to the Pale Ale employs a significant amount of Hops with high bitterness and Citrus and Floral aromas – $9.25
Red Stripe Lager – Jamaica – 16-oz Draft – Golden colored with flavors that are dry, clean, crisp, and refreshing with subtle bitterness – $8.25
Wine – Glass
Lolailo Sangria – 250 mL Bottle – $12.00
Merf Cabernet Sauvignon – 250 mL Can – $12.00
Stella Rosa Pink – 250 mL Can – $12.00
Ruffino Prosecco D.O.C. Sparkling Wine, Italy – 187 mL Glass – Fragrant bouquet bursting with aromas of apples, pears and citrus. Crisp, clean and delicate with fine bubbles on the palate, and intense flavors of apples and peaches – $10.00
Wine – Bottle
Martin Ray Cabernet Sauvignon, California – 750 mL Bottle – Richly extracted black currant and dark cherry flavors extend to a long, polished finish – $30.00
Parker Station Pinot Noir, California – 750 mL Bottle – Light, fresh floral and mineral aromas with refreshing flavors of Citrus and Green Apple, and a clean, fresh Lemon Zest finish – $22.00
Hess Shirtail Creek Chardonnay, California – 750 mL Bottle – Tropical Fruit and Buttery Pear aromas overlay a smooth, creamy texture – $21.00
Kung Fu Girl Riesling, Washington – 750 mL Bottle – Crisp and refreshing flavors of Peach, Apple, and Apricot, with a bright, clean finish – $21.00
King Estate Pinot Gris, Oregon – 375 mL Bottle – Light, fresh floral and mineral aromas with refreshing flavors of citrus and green apple, and a clean, fresh lemon zest finish – $20.00
Parducci Chardonnay, California – 375 mL Bottle – Tropical Fruit and Buttery Pear aromas overlay a smooth, creamy texture – $15.00
Parduccie Merlot, California – 375 mL Bottle – Black cherry and juicy plum notes, balanced with a round, velvety texture – $15.00
Cocktails
Specialty Frozen Tropical Colada – Plantation Original Dark Rum blended with Mango Purée and flavors of Coconut and Pineapple – $14.00
Blue Marble Bloody Mary – 200 mL Can – Ultra-premium Vodka, All-natural Tomato Juice and a dash of Spice  – $10.00
Blue Marble Marble-rita – 200 mL Can – all-natural Blue Agave, all-natural Lime Juice and a touch of Salt – $9.00
Blue Marble Mojito – 200 mL Can – Ultra-premium Rum, all-natural Lime Juice, and all-natural Mint – $10.00
Canella Bellini– 200 mL Can – $10.00
Cutwater Vodka Mule – 12 oz Can – Fugu Vodka, Natural Ginger, a hint of Lime, spicy, sweet, bitter and tart – $10.00
** Centertown Market Menu and Prices are Subject to Change Without Notice **