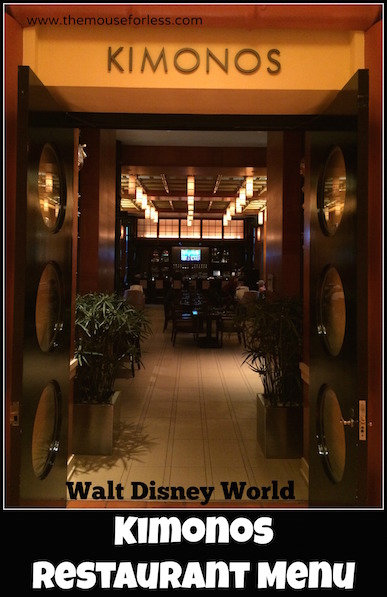 At Kimonos, guests join in the fun at this authentic Japanese sushi bar where the art of sushi is created nightly.  Kimonos is located in the Walt Disney World Swan Hotel.  Find more Walt Disney World dining locations on our Walt Disney World menus page.
Restaurant Info: Japanese, Dinner A la carte, $$
Find out how you can save money on dining at Walt Disney World by using one of Disney's Dining Plans.

Planning a Walt Disney World Vacation?
For a Free no-obligation quote, contact our sponsor
The Magic For Less Travel
. The Magic For Less Travel is an Authorized Disney Vacation Planner and has been helping guests plan magical vacations since 2002. Receive the best prices and free travel planning services. Their fee-free services will help you save time, money, and stress while planning a vacation designed around you and your needs!
Kimonos Sushi Bar Menu
Menu Date: 12/2022
Soups and Salad
Seaweed Salad – $9.00
Seasonal Green Salad
with Mandarin Vinaigrette – $10.00
Kimchee Salad
with Octopus and Spring Garlic – $13.00
Ika Salad
with Squid, Mushroom and Soy Sauce – $12.00
Tempura Udon Soup
with Shrimp, Krab, Asparagus and Shiitake Mushroom – $15.00
Cucumber Squid Salad
Squid, Cucumber and Fish Sauce – $12.00
Miso Soup – $7.00
Egg Drop Soup – $6.50
Edamame – $10.00
Appetizers
Hamachi Kama
Yellowtail Collar, Citrus Salad, Ponzu – $21.00
Tempura Platter
Shrimp and Seasonal Vegetables – $15.00
Seared Tuna
Matsu Dressing – $19.00
Wagyu Beef Satay
Clamshell Mushroom, Miso-Mustard and Scallions – $17.00
Gyoza – $12.00
Panko Softshell Crab
Yozu Ponzu – $18.00
Cod Katsu
Miso Braised Daikon and Ginger Foam – $15.00
Chicken Katsu
Lemon Plum – $16.00
Kobe Beef Tartare
Avocado Puree, Ginger, Dashi and Lotus Chips – $19.00
Cooked Sushi
Two Pieces with Rice
Conch – $8.00
Crab – $10.00
Eel – $10.00
Egg – $5.00
Octopus – $8.00
Shrimp – $8.00
Surf Clam – $6.00
Three Pieces 
Conch – $12.00
Crab – $15.00
Eel – $15.00
Egg – $7.00
Octopus – $12.00
Shrimp – $12.00
Surf Clam – $9.00
Raw Sushi
Two Pieces with Rice
Tuna – $10.00
Smoked Salmon* – $9.00
Fresh Salmon – $9.00
Yellowtail – $10.00
Grouper – $8.00
Mackerel – $6.00
Scallop – $10.00
Squid – $8.00
Salmon Roe – $10.00
Ama Ebi Shrimp – $12.00
Three Pieces 
Tuna – $15.00
Smoked Salmon* – $14.00
Fresh Salmon – $14.00
Yellowtail – $15.00
Grouper – $12.00
Mackerel – $9.00
Scallop – $15.00
Squid – $12.00
Salmon Roe – $15.00
Ama Ebi Shrimp – $18.00
Raw Sushi Rolls
Tuna Roll – $10.00
California Roll
Krab, Avocado, Cucumber and Smelt Roe – $12.00
Bagel Roll
Smoked Salmon, Cream Cheese and Cucumber – $13.00
Spicy Rainbow Roll
Spicy Tuna, Salmon and Avocado – $16.00
Dragon Roll
Giant Crispy Shrimp and Tuna – $21.00
Banzai Roll
Spicy Tuna, Avocado and Eel – $18.00
Alaskan Roll
Crab Salad, Avocado and Salmon – $18.00
Cajun Roll
Spicy Crawfish – $14.00
Jalapeño Roll
Spicy Tuna and Yellowtail – $19.00
Kimonos Roll
Tuna, Yellowtail, Salmon and Wasabi Mayonnaise – $20.00
Cooked Sushi Rolls
Asparagus Roll
Tempura Asparagus and Cream Cheese – $10.00
Vegetarian Summer Roll
Ponzu Sauce – $8.00
Ichiban Roll
Assorted Vegetables – $9.00
Shrimp Tempura Roll – $12.00
Spider Roll
Crispy Soft Shell Crab – $15.00
Coconut Shrimp Roll – $16.00
Dancing Eel Roll
Krab, Avocado and Eel – $17.00
** Kimonos Sushi Bar Menu and Prices are Subject to Change Without Notice **