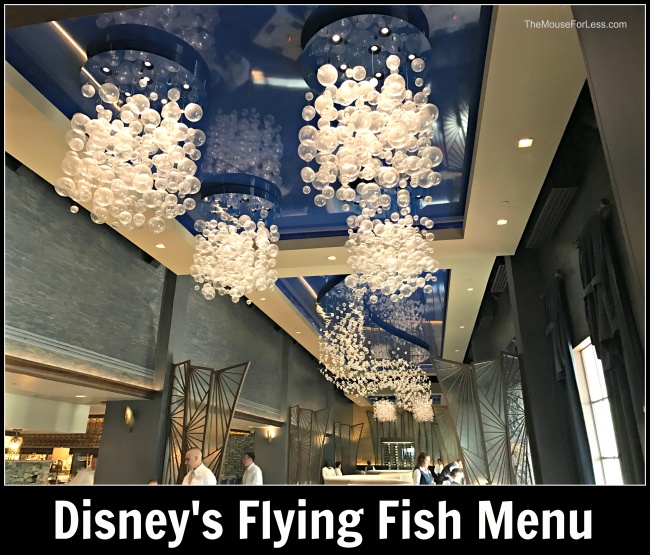 Get hooked on the fabulous fish and sizzling steaks at this restaurant featuring creative cuisine. Elements of the Flying Fish menu change daily.
Flying Fish is located at Disney's Boardwalk Inn Resort.  Find more Walt Disney World dining locations on our Walt Disney World menus page.
Restaurant Info: Seafood, Dinner $$-$$$
Find out how you can save money on dining at Walt Disney World by using one of Disney's Dining Plans.
Flying Fish Café Dinner Menu
Menu Date: 04/2019
Appetizers
Lobster Bisque – Sambuca, Chive Oil – $15.00
St. Augustine Soft-shell Crab – Blood Orange, Tarragon, Piquant Coulis – $18.00
Prince Edward Island Mussels – Fresh Basil, Chardonnay Broth – $15.00
Kurobuta Pork Belly – Gala Apple, Cherry Gastrique – $13.00
Crispy Oysters – Flying Fish Roe, Lotus Root – $16.00
Jumbo Shrimp – Crispy Serrano Ham, Citrus – $14.00
Wisconsin Burrata – Heirloom Apples, Figs, Walnut Vinaigrette – $14.00
Grilled Baby Romaine – Buttermilk-Crème Fraîche Dressing, Pecorino – $12.00
Tasting of Artisan Cheeses – Robiola Bosina, Crottin, Thomasville Tomme, Smokey Blue, Reypenaer V.S.O.P. Gouda – $15.00
Entrées
Sea Bass – Leek Fondue, Cassis-Red Wine Reduction – $57.00
Hokkaido Scallops – Antebellum Grits, Sweet Corn, Peppadew Emulsion – $44.00
Swordfish – Vegetable Mélange, Potato Beurre Blanc – $47.00
Wagyu Filet Mignon – Asparagus, Sweet Onion Risotto, Truffle Sauce – $57.00
Sardinian Seafood Pasta – Shrimp, Lobster, Scallops, Garden Herbs – $52.00
Char-crusted New York Strip – Marble Potatoes, Pearl Onions, Sauce Foyot – $46.00
Young Pennsylvania Chicken – Celery Root, Kale Sprouts, Madeira Jus – $36.00
Oak-grilled Salmon – Cauliflower Silk, Beets, Sunflower Seeds – $36.00
Tomahawk Rib-Eye for Two – Pomme Purée, Heirloom Tomatoes – $150.00
Enhancements
Cold Water Lobster Tail – $19.00
Scampi-style Sustainable Shrimp – $14.00
Hokkaido Scallops – $16.00
Desserts
Cocoa Breach – Chocolate-Hazelnut Cake, Warm Ganache – $12.00
Blueberries, Limes, and Sea Shells – Mascarpone Cream, Blueberry-Lime Compote, Hibiscus Meringue, Rye Bourbon Caramel – $9.00
Panna "Carpa" – Buttermilk Panna Cotta, Strawberry-Lime Consommé, Basil Sugar (No Sugar added and Gluten-friendly) – $10.00
Florida Sunset – Vanilla Custard, Lemon Broth, Segmented Fruits, White Chocolate – $11.00
Tasting of Artisan Cheeses – Robiola Bosina, Crottin, Thomasville Tomme, Smokey Blue, Reypenaer V.S.O.P. Gouda – $15.00
Flying Fish Cocktail Menu
Espresso Martini – Stoli Vanil Vodka, Kahlúa Coffee Liqueur, shot of Joffrey's Espresso, garnished with Lemon Twist, and Coffee Beans – $11.50
Boardwalk Café – Maker's Mark Bourbon, Salted Caramel, Flying Fish Viennese-style Coffee blend, freshly made Cream – $10.25
Peanut Butter Freeze – Kahlúa, Baileys Irish Cream, Crème de Banana, dark Crème de Cacao, Peanut Butter, garnished with Candied Bacon – $11.25
Chocolate Martini – Godiva Chocolate Liqueur, Stoli Vanil Vodka, House-made Cocoa Syrup, splash of Frangelico – $10.25
Hand-pressed Viennese-style Flying Fish Signature Coffee Blend – Locally roasted 100% specialty grade Arabica beans served French Press-style – $7.49
Flying Fish Cafe Kids' Dinner Menu
Menu Date: 04/2019
Kids' Appetizers
Free-Range Chicken Noodle Soup – with Tiny Dumplings – $4.00
Seasonal Fruit – with Sweet and Salty Crisps and Caramel Sauce – $5.00
Veggies and Greens – with House-made Ranch and Toasty Focaccia – $5.00
Kids' Meals
All meals served with choice of Small Lowfat Milk, Small Dasani Water, or Small Minute Maid Apple Juice
Sustainable Fish – with Grits and Summer's Vegetables – $17.00
Mickey Pasta – with Marinara or Cheese and Skinny Green and Yellow Beans – $13.00
Grilled Chicken Breast – with Ancient Grains and Seasonal Vegetables – $14.00
Corn-battered Key West Pink Shrimp – with Grits and Vegetables – $15.00
Grilled Beef Strip Loin – with Cheddar Gratin Potatoes and Cauliflower – $17.00
Flying Fish and Chips – with Scratch Tartar Sauce – $14.00
Kids' Desserts
S'more Time at the Beach – Chocolate Sea Shells and Toasted Marshmallows – $6.00
Fruits on Palm Island – $5.00
** Flying Fish Menu and Prices are Subject to Change Without Notice **

Planning a Walt Disney World Vacation?
For a Free no-obligation quote, contact our sponsor
The Magic For Less Travel
. The Magic For Less Travel is an Authorized Disney Vacation Planner and has been helping guests plan magical vacations since 2002. Receive the best prices and free travel planning services. Their fee-free services will help you save time, money and stress while planning a vacation designed around you and your needs!