Resort Restaurants | Boardwalk Resort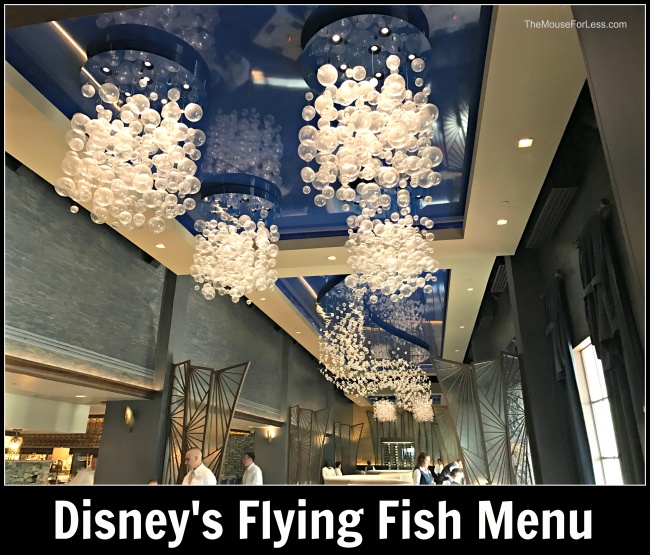 Get hooked on the fabulous fish and sizzling steaks at this restaurant featuring creative cuisine. Elements of the Flying Fish menu change daily.
Restaurant Info: Seafood, Dinner $$-$$$
Find out how you can save money on dining at Walt Disney World by using one of Disney's Dining Plans.
Flying Fish Café Dinner Menu
Menu Date: 04/2019
Appetizers
Lobster Bisque – Sambuca, Chive Oil – $15.00
St. Augustine Soft-shell Crab – Blood Orange, Tarragon, Piquant Coulis – $18.00
Prince Edward Island Mussels – Fresh Basil, Chardonnay Broth – $15.00
Kurobuta Pork Belly – Gala Apple, Cherry Gastrique – $13.00
Crispy Oysters – Flying Fish Roe, Lotus Root – $16.00
Jumbo Shrimp – Crispy Serrano Ham, Citrus – $14.00
Wisconsin Burrata – Heirloom Apples, Figs, Walnut Vinaigrette – $14.00
Grilled Baby Romaine – Buttermilk-Crème Fraîche Dressing, Pecorino – $12.00
Tasting of Artisan Cheeses – Robiola Bosina, Crottin, Thomasville Tomme, Smokey Blue, Reypenaer V.S.O.P. Gouda – $15.00
Entrées
Sea Bass – Leek Fondue, Cassis-Red Wine Reduction – $57.00
Hokkaido Scallops – Antebellum Grits, Sweet Corn, Peppadew Emulsion – $44.00
Swordfish – Vegetable Mélange, Potato Beurre Blanc – $47.00
Wagyu Filet Mignon – Asparagus, Sweet Onion Risotto, Truffle Sauce – $57.00
Sardinian Seafood Pasta – Shrimp, Lobster, Scallops, Garden Herbs – $52.00
Char-crusted New York Strip – Marble Potatoes, Pearl Onions, Sauce Foyot – $46.00
Young Pennsylvania Chicken – Celery Root, Kale Sprouts, Madeira Jus – $36.00
Oak-grilled Salmon – Cauliflower Silk, Beets, Sunflower Seeds – $36.00
Tomahawk Rib-Eye for Two – Pomme Purée, Heirloom Tomatoes – $150.00
Enhancements
Cold Water Lobster Tail – $19.00
Scampi-style Sustainable Shrimp – $14.00
Hokkaido Scallops – $16.00
Desserts
Cocoa Breach – Chocolate-Hazelnut Cake, Warm Ganache – $12.00
Blueberries, Limes, and Sea Shells – Mascarpone Cream, Blueberry-Lime Compote, Hibiscus Meringue, Rye Bourbon Caramel – $9.00
Panna "Carpa" – Buttermilk Panna Cotta, Strawberry-Lime Consommé, Basil Sugar (No Sugar added and Gluten-friendly) – $10.00
Florida Sunset – Vanilla Custard, Lemon Broth, Segmented Fruits, White Chocolate – $11.00
Tasting of Artisan Cheeses – Robiola Bosina, Crottin, Thomasville Tomme, Smokey Blue, Reypenaer V.S.O.P. Gouda – $15.00
Flying Fish Cocktail Menu
Espresso Martini – Stoli Vanil Vodka, Kahlúa Coffee Liqueur, shot of Joffrey's Espresso, garnished with Lemon Twist, and Coffee Beans – $11.50
Boardwalk Café – Maker's Mark Bourbon, Salted Caramel, Flying Fish Viennese-style Coffee blend, freshly made Cream – $10.25
Peanut Butter Freeze – Kahlúa, Baileys Irish Cream, Crème de Banana, dark Crème de Cacao, Peanut Butter, garnished with Candied Bacon – $11.25
Chocolate Martini – Godiva Chocolate Liqueur, Stoli Vanil Vodka, House-made Cocoa Syrup, splash of Frangelico – $10.25
Hand-pressed Viennese-style Flying Fish Signature Coffee Blend – Locally roasted 100% specialty grade Arabica beans served French Press-style – $7.49
Flying Fish Cafe Kids' Dinner Menu
Menu Date: 04/2019
Kids' Appetizers
Free-Range Chicken Noodle Soup – with Tiny Dumplings – $4.00
Seasonal Fruit – with Sweet and Salty Crisps and Caramel Sauce – $5.00
Veggies and Greens – with House-made Ranch and Toasty Focaccia – $5.00
Kids' Meals
All meals served with choice of Small Lowfat Milk, Small Dasani Water, or Small Minute Maid Apple Juice
Sustainable Fish – with Grits and Summer's Vegetables – $17.00
Mickey Pasta – with Marinara or Cheese and Skinny Green and Yellow Beans – $13.00
Grilled Chicken Breast – with Ancient Grains and Seasonal Vegetables – $14.00
Corn-battered Key West Pink Shrimp – with Grits and Vegetables – $15.00
Grilled Beef Strip Loin – with Cheddar Gratin Potatoes and Cauliflower – $17.00
Flying Fish and Chips – with Scratch Tartar Sauce – $14.00
Kids' Desserts
S'more Time at the Beach – Chocolate Sea Shells and Toasted Marshmallows – $6.00
Fruits on Palm Island – $5.00
** Flying Fish Menu and Prices are Subject to Change Without Notice **