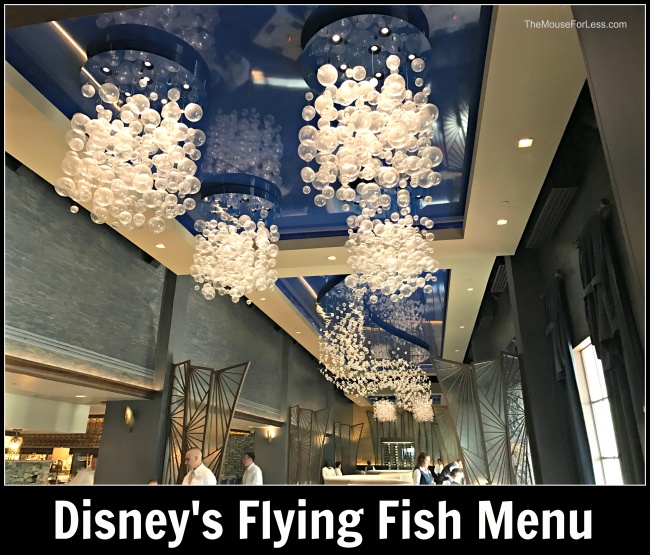 Get hooked on the fabulous fish and sizzling steaks at this restaurant featuring creative cuisine. Elements of the Flying Fish menu change daily.
Flying Fish is located at Disney's Boardwalk Inn Resort.  Find more Walt Disney World dining locations on our Walt Disney World menus page.
Restaurant Info: Seafood, Dinner $$-$$$
Find out how you can save money on dining at Walt Disney World by using one of Disney's Dining Plans.

Planning a Walt Disney World Vacation?
For a Free no-obligation quote, contact our sponsor
The Magic For Less Travel
. The Magic For Less Travel is an Authorized Disney Vacation Planner and has been helping guests plan magical vacations since 2002. Receive the best prices and free travel planning services. Their fee-free services will help you save time, money, and stress while planning a vacation designed around you and your needs!
Flying Fish Café Dinner Menu
Menu Date: 2023
Appetizers
Lobster Bisque
Aged Brandy, Chive Oil – $18.00
Spanish Octopus
Saffron Aioli, Shaved Fennel, Crispy Garlic – $21.00
Slow-roasted Pork Belly
Spiced Apple, Cherry Gastrique – $18.00
Shrimp Cocktail
Palm Hearts, Meyer Lemon, Pomodoro Brodo – $18.00
Heirloom Tomatoes
Varietal Basil, Tuscan Olive Oil, Variations of Balsamic – $15.00
Tasting of Artisan Cheeses
Brillat-Savarin, V.S.O.P Gouda, Seahive, Humbolt Fog, Point Reyes – $21.00
Oak-grilled Romaine
Buttercream Fraiche, Pecorino Romano, Marinated Vegetables – $15.00
Entrées
Verlasso Salmon*
Baby Zucchini, Savory Dumplings, Carrot Puree, Dill – $48.00
Chilean Sea Bass
Miso Blue Crab, Bok Choy, Spiced Fresno, Lemon Grass Nage – $56.00
Filet Mignon*
Herbed Risotto, Honshimeji Mushroom, Broccolini, Soubise Sauce – $59.00
Seafood Trofie Pasta
Shrimp, Lobster, Scallops, Clams and Mussels – $57.00
Char-crusted New York Strip*
Mille-Feuille Potato Gratin, Hericot Vert, Béarnaise Sauce – $56.00
Plancha-seared Scallops*
Savory Grits, Sweet Corn and Peppadew Emulsion – $49.00
Potato-wrapped Red Snapper*
Leek Fondue, Cassis-Red Wine Reduction – $58.00
Pan-seared Organic Chicken
King Oyster Mushrooms, Asparagus, Truffle Sauce – $38.00
Lemon Myrtle Roasted Tofu
Garden Vegetables, Holland Pepper Coulis (Plant-based) – $40.00
Enhancements
Sautéed Shrimp – $18.00
Cold Water Lobster Tail – $27.00
Seared Scallops* – $21.00
Desserts
Cocoa Breach
Dark Chocolate Mousse, Salty Caramel Center, Warm Dark Chocolate – $14.00
Chocolate Hazelnut Bar
Hazelnut Dacquoise, Milk Chocolate Whipped Cream, Candied Hazelnuts, Orange Sorbet – $14.00
Creamy Goat Cheesecake
Honey Glaze, Cassis Gel and Pistachio Cake – $13.00
Florida Sunset
Citrus Brodo, Fresh Fruit, Sweet Lemon – $12.00
Key Lime Cake
Coconut-Lime Mousse, Guava and Tropical Coulis (Plant-based) – $11.50
Tasting of Artisan Cheeses
Brillat-Savarin, V.S.O.P Gouda, Seahive, Humbolt Fog, Point Reyes – $21.00
Specialty Cocktail and Coffee
Espresso Martini
Stoli Vanil Vodka, Kahlúa Coffee Liqueur, shot of Joffrey's Espresso, garnished with Lemon Twist, and Coffee Beans – $14.50
Peanut Butter Freeze
Kahlúa, Baileys Irish Cream, Crème de Banana, dark Crème de Cacao, Peanut Butter, garnished with Candied Bacon – $14.50
Boardwalk Café
Maker's Mark Bourbon, Salted Caramel, Flying Fish Viennese-style Coffee blend, freshly made Cream – $13.50
Hand-pressed Viennese-style Flying Fish Signature Coffee Blend
Locally roasted 100% specialty grade Arabica beans served French Press-style – $7.49
Flying Fish Cafe Kids' Dinner Menu
Kids' Appetizers
Chicken Noodle Soup
Organic Chicken and Whole Grain Noodles – $4.00
Romaine Salad
with Ranch and Croutons – $5.00
Kids' Create Your Own Entrées
All meals served with choice of two selections and Small Lowfat Milk, Small Dasani Water, or Small Minute Maid Apple Juice
Salmon – $18.00
Pasta – with Marinara – $14.00
Chicken Breast – $15.00
Grilled Steak – $24.00
Red Snapper – $18.00
Kids' Create Your Own Selections
S' more Time at the Beach – Chocolate Sea Shells and Toasted Marshmallows
Fruits on Palm Island
Asparagus
Green Beans
Carrots
Macaroni & Cheese
** Flying Fish Menu and Prices are Subject to Change Without Notice **