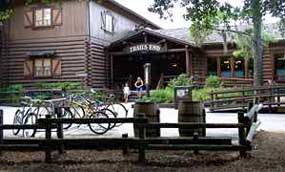 At P & J's Southern Takeout, you can rustle up some hearty vittles at this frontier takeout adjacent to rustic Pioneer Hall.
P & J's Southern Takeout is located in Disney's Fort Wilderness Resort & Campground.  Find more Walt Disney World dining locations on our Walt Disney World menus page.
Restaurant Info: American, Breakfast/Lunch/Dinner, $ – $14.99 and under per adult
Find out how you can save money on dining at Walt Disney World by using one of Disney's Dining Plans.

Planning a Walt Disney World Vacation?
For a Free no-obligation quote, contact our sponsor
The Magic For Less Travel
. The Magic For Less Travel is an Authorized Disney Vacation Planner and has been helping guests plan magical vacations since 2002. Receive the best prices and free travel planning services. Their fee-free services will help you save time, money, and stress while planning a vacation designed around you and your needs!
P & J's Southern Takeout Breakfast Menu
Menu Date: 08/2021
Entrées
Croissant Breakfast Sandwich – served with Eggs, Cheese, and choice of Bacon or Sausage with Potato Barrels – $8.99
Sides
Biscuits and Gravy – $3.99
Oatmeal – $3.99
Bacon –  $2.99
Sausage – $2.99
Potato Barrel – $2.49
Bakery

Cornbread Loaf – $6.49
Chocolate Creme Cupcake – Devil's Food Cupcake with Cookies 'n Cream Buttercream and Chocolate Wafer "Ears" – $4.99
Cinnamon Roll – $4.29
Chocolate Turtle Brownie – Chocolate Brownie with Caramel, Walnuts, and Chocolate Chips – $4.29
Danish Assortment – $3.99
Muffin Assortment – $3.49
Snacks
Cutie® Mandarins –  Three pack – $4.19
Apples with Caramel – $3.99
Carrots and Celery with Ranch – $3.99
Fruit Cup – $3.99
Chocolate Chip Cookie – $3.29
Oatmeal Raisin Cookie – $3.29
Sugar Cookie – $3.29
Dannon® Oikos® Greek Yogurt – Strawberry or Blueberry – $3.19
Beverages
Simply Orange® Juice – $4.99
Assorted Fountain Beverages – $3.99
DASANI® Bottled Water – $3.50
Freshly Brewed Joffery's Coffee™ Coffee – Regular or Decaf – $3.29
Hot Cocoa – $3.29
Twinnings of London® Hot Tea – $3.29
Lowfat Milk – $1.99
Small Minute Maid® Apple Juice – $1.99
Small NESQUIK® Chocolate Milk – $1.99
Hot Specialty Coffee
Hot Campfire S'mores Latte – Espresso blended with Swiss Chocolate, Toasted Marshmallow, and topped with Whipped Cream, Graham Cracker Crumbs, and Mini Marshmallows featuring Joffrey's Coffee™ – $4.99
Hot Gold Rush Latte – Vanilla Latte with Caramel featuring Joffrey's Coffee™ -$4.99
Hot Latte – Espresso infused with Steamed Milk Featuring Joffrey's Coffee™ – $3.99
Hot Strawberry Shortcake Latte – Hot Latte with a shot of Espresso, Strawberry Syrup, and Vanilla topped with Whipped Cream, Dried Strawberry, and Crumbled Vanilla Wafers featuring Joffrey's Coffee™ – $4.99
Hot Wilderness Bark Latte – Chocolate-Hazelnut Latte featuring Joffrey's Coffee™ – $4.99
Cappuccino – Espresso blended with Frothed and Steamed Milk featuring Joffrey's Coffee™ – $3.99
Americano – Espresso blended with Hot Water featuring Joffrey's Coffee™ -$2.49
Espresso – $2.49
Iced Specialty Coffee
Iced Campfire S'mores Latte – Espresso blended with Swiss Chocolate, Toasted Marshmallow, and topped with Whipped Cream, Graham Cracker Crumbs, and Mini Marshmallows featuring Joffrey's Coffee™ – $4.99
Iced Caramel Macchiato – $4.99
Iced Gold Rush Latte – Vanilla Latte with Caramel featuring Joffrey's Coffee™ -$4.99
Iced Latte – Espresso infused with Steamed Milk Featuring Joffrey's Coffee™ – $3.99
Iced Strawberry Shortcake Latte – Latte with a shot of Espresso, Strawberry Syrup, and Vanilla topped with Whipped Cream, Dried Strawberry, and Crumbled Vanilla Wafers featuring Joffrey's Coffee™ – $4.99
Iced Wilderness Bark Latte – Chocolate-Hazelnut Latte featuring Joffrey's Coffee™ – $4.99
P & J's Southern Takeout Lunch/Dinner Menu
Menu Date: 08/2021
Family Meals
Barbecued Ribs Full-Slab Meal – served with Cornbread and your choice of two Sides: Coleslaw, Cowboy Beans, Macaroni and Cheese or Mashed Potatoes (Serves 2 to 4) – $26.99
Half Slab Barbecued Robs and 4-piece Fried Chicken – served with Cornbread and your choice of two Sides: Coleslaw, Cowboy Beans, Macaroni and Cheese or Mashed Potatoes (Serves 2 to 4) – $24.99
Fried Chicken 8-piece Meal – served with Cornbread and your choice of two Sides: Coleslaw, Cowboy Beans, Macaroni and Cheese or Mashed Potatoes (Serves 2 to 4) – $23.49
Entrées
Cheese Pizza – $17.00
Pepperoni Pizza – $17.00
Barbecued Ribs Half – Served with Cornbread, Coleslaw, Mashed potatoes with gravy (Individual Serving) – $14.99
Fried Chicken 2-Piece Meal – served with Cornbread, Coleslaw, Mashed Potatoes with gravy – $10.49
Barbecued Pulled Pork Sandwich – Fresh-baked Kaiser Roll with our 10-hour Smoked Pulled Pork and BBQ Sauce topped with Creamy Slaw served with French Fries – $10.29
Chicken Breast Nuggets – 8 Pieces – Chicken Breast Nuggets (8 pieces) served with French Fries – $9.99
Salads
Fort Wilderness Garden Salad with Chicken – Romaine and Iceberg Lettuce Mix with Chicken, Radish, Green Peppers, Cucumbers, and Tomato served with choice of Dressing on the side – $9.99
Pioneer Berry Salad with Chicken – Grilled Chicken, Spring Greens, Fresh Berries, Blue Cheese, Candied Pecans, and Raspberry Vinaigrette on the side – $9.99
Fort Wilderness Garden Salad – Romaine and Iceberg Lettuce Mix with Radish, Green Peppers, Cucumbers, and Tomato served with choice of Dressing on the side – $7.99
Pioneer Berry Salad – Spring Greens, Fresh Berries, Blue Cheese, Candied Pecans, and Raspberry Vinaigrette on the side – $7.99
Plant-Based
Fort Wilderness Vegetable Burger – Plant-based Vegetable Burger with Balsamic Onions served on a Fresh-baked Brioche Bun with Lettuce and Tomato served with French Fries – $10.99
Sides
French Fries – $4.49
Mashed Potatoes with Gravy – $4.49
Coleslaw – $3.49
Kids' Meals
Turkey Sandwich – Served with choice of Sides and a Beverage – $6.99
Uncrustables – Served with choice of Sides and a Beverage – $6.19
Deserts
Strawberry Shortcake – $5.99
Nestlé® Mickey Ice Cream Sandwich – $5.69
Nestlé® Mickey Premium Bar – $5.69
Pineapple Upside down Cake Push Pop – Layered Cake, Pastry Cream, and Caramelized Pineapple in a fun Push Pop – $4.99
Snacks
Cuties® Mandarins – three pack- $4.19
Apple with Caramel – $3.99
Carrot and Celery with Ranch Dressing – $3.99
Fruit Cup – $3.99
Chocolate Chip Cookie – $3.29
Oatmeal Raisin Cookie – $3.29
Sugar Cookie – $3.29
Dannon® Oikos® Greek Yogurt – Strawberry or Blueberry – $3.19
Bakery
Cornbread Loaf – $6.49
Chocolate Creme Cupcake – Devil's Food Cupcake with Cookies 'n Cream Buttercream and Chocolate Wafer "Ears" – $4.99
Cinnamon Roll – $4.29
Chocolate Turtle Brownie – Chocolate Brownie with Caramel, Walnuts, and Chocolate Chips – $4.29
Danish Assortment – $3.99
Muffin Assortment – $3.49
Souvenir Specialties
Star Wars©™ Lucasfilm 2021 Resort Refillable Mug – Eligible for refills at Beverage Islands at Quick-service locations at any Disney Resort Hotel during the length of your stay – $29.99
Resort Refillable Mug – Eligible for refills at Beverage Islands at Quick-service locations at any Disney Resort Hotel during the length of your stay – $19.99
Beverages
Simply Orange® Juice – $4.99
Assorted Fountain Beverages – $3.99
DASANI® Bottled Water – $3.50
Freshly Brewed Joffery's Coffee™ Coffee – Regular or Decaf – $3.29
Hot Cocoa – $3.29
Twinnings of London® Hot Tea – $3.29
Lowfat Milk – $1.99
Small Minute Maid® Apple Juice – $1.99
Small NESQUIK® Chocolate Milk – $1.99
Hot Specialty Coffee
Hot Campfire S'mores Latte – Espresso blended with Swiss Chocolate, Toasted Marshmallow, and topped with Whipped Cream, Graham Cracker Crumbs, and Mini Marshmallows featuring Joffrey's Coffee™ – $4.99
Hot Gold Rush Latte – Vanilla Latte with Caramel featuring Joffrey's Coffee™ -$4.99
Hot Latte – Espresso infused with Steamed Milk Featuring Joffrey's Coffee™ – $3.99
Hot Strawberry Shortcake Latte – Hot Latte with a shot of Espresso, Strawberry Syrup, and Vanilla topped with Whipped Cream, Dried Strawberry, and Crumbled Vanilla Wafers featuring Joffrey's Coffee™ – $4.99
Hot Wilderness Bark Latte – Chocolate-Hazelnut Latte featuring Joffrey's Coffee™ – $4.99
Cappuccino – Espresso blended with Frothed and Steamed Milk featuring Joffrey's Coffee™ – $3.99
Americano – Espresso blended with Hot Water featuring Joffrey's Coffee™ -$2.49
Espresso – $2.49
Iced Specialty Coffee
Iced Campfire S'mores Latte – Espresso blended with Swiss Chocolate, Toasted Marshmallow, and topped with Whipped Cream, Graham Cracker Crumbs, and Mini Marshmallows featuring Joffrey's Coffee™ – $4.99
Iced Caramel Macchiato – $4.99
Iced Gold Rush Latte – Vanilla Latte with Caramel featuring Joffrey's Coffee™ -$4.99
Iced Latte – Espresso infused with Steamed Milk Featuring Joffrey's Coffee™ – $3.99
Iced Strawberry Shortcake Latte – Latte with a shot of Espresso, Strawberry Syrup, and Vanilla topped with Whipped Cream, Dried Strawberry, and Crumbled Vanilla Wafers featuring Joffrey's Coffee™ – $4.99
Iced Wilderness Bark Latte – Chocolate-Hazelnut Latte featuring Joffrey's Coffee™ – $4.99
Beer
Schöfferhofer Pink Grapefruit Hefeweizen – Germany – 16-oz Can – Easy and refreshing with light notes of Citrus and Spice with low bitterness – $10.25
Goose Island 312 Urban West – Chicago, IL – 16-oz Can – Easy and refreshing with light notes of Citrus and Spice with low bitterness – $10.00
Sweetwater 420 – Atlanta, GA – 16-oz Can – Gold to amber in color with the flavor and aroma centered around the citrus and pine character of American hops – $10.00
Angry Orchard Hard Crisp Apple Hard Cider – Cincinnati, OH – 16-oz Can – Sweet and refreshing. A favorite since Colonial times – $9.25
Cigar City Jai Alai IPA – Tampa, FL – 12-oz Can – This bigger brother to the Pale Ale employs a significant amount of Hops with high bitterness and Citrus and Floral aromas – $9.00
Corona Extra Lager – Mexico – 16-oz Can – Golden-colored with flavors that are dry, clean, crisp, and refreshing with subtle bitterness – $8.50
Michelob Ultra Lager – St. Louis, MO – 16-oz Bottle – Golden-colored with flavors that are dry, clean, crisp, and refreshing with subtle bitterness – $8.50
Bud Light Lager – St. Louis, MO – 16-oz Bottle – Golden-colored with flavors that are dry, clean, crisp, and refreshing with subtle bitterness – $8.00
Budweiser Lager – St. Louis, MO – 16-oz Bottle – Golden-colored with flavors that are dry, clean, crisp, and refreshing with subtle bitterness – $7.75
Wine
Copa Cabernet Sauvignon, Oregon – 187 mL Glass – Richly extracted black currant and dark cherry flavors extend to a long, polished finish – $9.00
Copa Chardonnay, Oregon – 187 mL Glass – Tropical Fruit and Buttery Pear aromas overlay a smooth, creamy texture – $9.00
** P & J's Southern Takeout Menu and Prices are Subject to Change Without Notice **