Disney Springs | West Side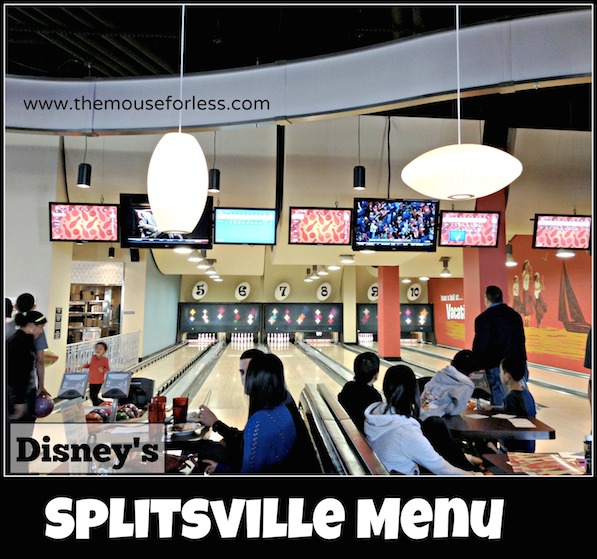 The Splitsville menu is distinctly different than your typical bowling alley fare. Guided by award-winning chef Tim Cushman, the menu features a variety of higher-end offerings such as grilled Mahi Mahi with "Voodoo" shrimp, filet sliders and grilled chicken parmesan, plus a kids menu, in addition to traditional bowling alley food items. Splitsville even features two sushi bars where guests can get fresh-rolled sushi.
Restaurant Info: American, Lunch/Dinner A la carte, $$ ($15 to $34.99 per adult
Find out how you can save money on dining at Walt Disney World by using one of Disney's Dining Plans.
Splitsville Lunch & Dinner Menu
Menu Date: 03/2019
Appetizers
Cone of French Fries – Classic crinkle-cut fries, lightly seasoned and served with chive dip – $10.00
Loaded Fries – Fries smothered with nacho cheese, bacon, ranch, scallions and love – $14.00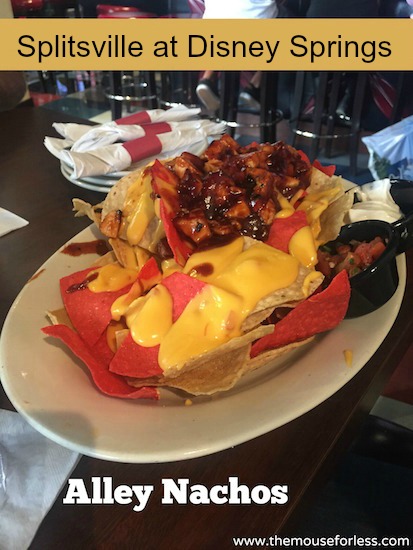 Macho Nachos – Loaded with seasoned ground beef, shredded jack, nacho cheese, black beans, corn, Pico de Gallo, sour cream and jalapeños and drizzled with avocado ranch – $16.00
Chicken Tenders – Chicken tenderloins are hand-battered with our Parmesan breading then fried and served with ranch dressing. Ask for them tossed in Buffalo or Asian BBQ sauce, add 1.00 – $13.00
Edamame – Steamed and tossed in kosher salt. Spice it up with chili sauce for $1 – $8.00
Cheeseburger Sliders – Three slider-style burgers topped with cheese, caramelized onions, our special sauce, lettuce, tomato and pickles – $15.00
Filet Sliders* – Two sliders with thick slices of beef tenderloin served with onion rings and horseradish cream – $16.00
Fig & Pig Flatbread – Prosciutto, fig spread, goat cheese, fresh mozzarella, maraschino onions, dried figs and topped with dressed arugula – $14.00
BBQ Chicken Flatbread – Grilled chicken, BBQ sauce, smoked Gouda, mozzarella, cilantro and red onion – $14.00
Sushi
All rolls include sushi rice and sesame seeds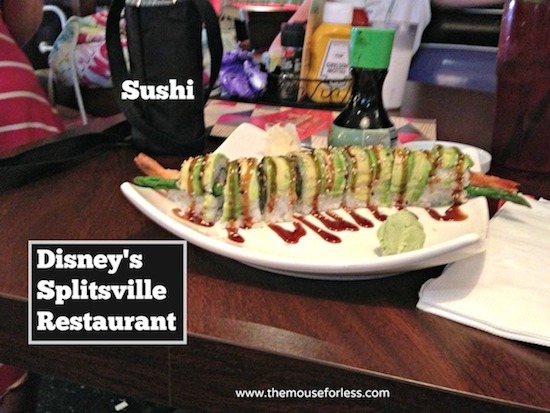 California Roll – Sushi rice, Kani Kama krab, cucumber and avocado – $12.00
California Crunch – Tempura Kani Kama krab, cucumber and avocado, topped with tempura crunch, spicy mayo and kimchee ponzu – $13.00
Spicy Tuna – Fresh tuna, spicy mayo, cucumber and scallions drizzled with sriracha hot chili sauce – $13.00
Ninja Crunch – Tempura-fried salmon and Kani Kama krab rolled with fresh salmon and topped with tempura crunch, spicy mayo and eel sauce – $15.00
Cucumber Kani Su – No rice, just lean protein and veggies. Spicy tuna, cream cheese and avocado rolled in thinly sliced cucumber and served with lemon ponzu sauce and drizzled with sriracha sauce – $13.00
Volcano Roll – Tempura shrimp, avocado, cream cheese, and spicy volcano krab mix – $16.00
Crouching Dragon – Tempura shrimp, asparagus and avocado topped with spicy krab mix and drizzled with eel sauce, spicy mayo and sriracha – $16.00
Grilled Avocado and Ahi Tuna – A halved avocado is grilled and filled with a generous portion of seared ahi tuna tossed in spicy kimchee ponzu sauce and topped with scallions and spicy mayo served with sushi rice and crispy wonton chips – $17.00
Galaxy Roll – Ahi tuna seared in kimchee ponzu, spicy krab mix, avocado and cream cheese rolled in soy paper. Topped with spicy shrimp mix, eel sauce, scallions and sesame seeds – $20.00
Fantasy Roll* – A sushi dream come true! Fresh salmon, ahi tuna, cucumber, avocado and steamed shrimp are rolled in soy paper and drizzled with spicy kimchee ponzu sauce – $18.00
Pizza
Mangia with traditional or wheat crust
Cheese – House-made crust, mozzarella and fresh tomato sauce like Mamma Mia used to make – $16.00
Pepperoni – Our homemade cheese pizza loaded with pepperoni – $18.00
Meat Lovers – Smoked sausage, pepperoni, bacon and Italian meatballs – $19.00
Margherita – Fresh mozzarella, Roma tomatoes, basil, tomato sauce on honey wheat crust – $17.00
Veggie – Mozzarella, mushrooms, red and green peppers, onions, black olives, broccoli and tomato sauce on honey wheat crust – $17.00
Firehouse – Mozzarella, diced chicken tenders, spicy Buffalo sauce, bleu cheese and drizzled with ranch dressing – $17.00
Hawaiian Pizza – House made crust, tangy BBQ sauce and mozzarella cheese topped with crispy bacon, Canadian bacon, fresh pineapple and cilantro – $18.00
Entrees & Salads
Chicken Fried Rice – Pan-roasted chicken, peas, carrots, broccoli, egg, bacon and sushi rice stir-fried in kimchee soy sauce, sesame oil and chili oil – $22.00
Fish N Chips – Hand-battered and golden-fried fish filet served with seasoned French fries, coleslaw and tartar sauce – $21.00
Grilled Salmon with Mango Chutney – Fresh salmon is grilled and topped with mango chutney and served with broccoli and sushi rice – $26.00
Sweet N' Spicy Chicken Bowl – Tempura-battered chicken, broccoli, red and green peppers are tossed in spicy Thai chili sauce and served over sushi rice – $22.00
Taco Bowl – Seasoned ground beef, black bean-corn salsa and white rice topped with shredded lettuce, pickled jalapeños, cheddar jack cheese and sour cream. Served in a crunchy tortilla shell – $21.00
Power Bowl – Pan-roasted chicken, loads of kale and broccoli stir-fried in kimchee tataki sauce and served over roasted sweet potatoes. Topped with avocado and sesame seeds. – $22.00
Substitute Grilled Salmon – $4.00
Spicy Veggie Bowl – Broccoli, kale and crisp mixed veggies are stir-fried in spicy kimchee tataki sauce and topped with avocado and green onions. Served over sushi rice – $18.00
Add Pan-roasted Chicken – $5.00
Smothered Chicken – Blackened chicken breast smothered with creamed spinach, chopped bacon, sautéed mushrooms and melted Colby jack cheese. Served over mashed potatoes and veggies. Make it sublime with beef tenderloin for $7 – $26.00
Southern Goddess Salad – Chopped fried chicken tenders, avocado, deviled eggs, cucumber, bacon, shaved red onion, roasted corn, and heirloom tomatoes over butter and romaine lettuce with green goddess dressing and a Stingin' Honey Garlic drizzle – $18.00
Ahi Tuna – Sushi grade tuna and avocado over mixed greens tossed in Asian pear dressing with yellow peppers, heirloom grape tomatoes, carrots, cucumbers and tataki sauce on the side – $19.00
Chicken Chopped – Chopped pan-roasted chicken, tomatoes, shaved red onion, bacon and blue cheese crumbles tossed in creamy Parmesan vinaigrette. Topped with avocado and drizzled with balsamic reduction – $18.00
Blackened Chicken Caesar – Romaine lettuce, heirloom grape tomatoes and croutons are tossed in Caesar dressing and topped with blackened chicken and shaved Parmesan cheese – $18.00
Mahi Mahi with Voodoo Shrimp – Blackened Mahi Mahi topped with grilled shrimp and our spicy Voodoo sauce, served with sushi rice and veggies – $27.00
Steak and Mushrooms – Pan-roasted filet mignon is sliced and served over linguine with sautéed mushrooms, asparagus and beef burgundy sauce. Toasted garlic bread on the side – $25.00
Ginger Shrimp Bowl – Stir-fried shrimp, broccoli, carrots, yellow peppers, asparagus and scallions tossed in miso ginger sauce and served over rice noodles. – $24.00
Handhelds
Cheeseburger Deluxe – Our Classic Burger with cheese and special, top-secret sauce. Served with lettuce, tomato, pickle, onion and fries – $17.00
Bacon Cheeseburger – Classic burger with cheese and crispy bacon served with lettuce, tomato, pickle, onion and fries – $18.00
Foghorn Burger – Our Classic Burger smothered in pepper jack cheese and topped with a fried egg, fried jalapeños, sriracha and cilantro-lime sauce. Served with lettuce, tomato, pickle, onion and fries – $18.00
Mushroom and Swiss – Our Classic Burger smothered with melted Swiss and savory sautéed mushrooms served with lettuce, tomato, pickle, onion and fries – $18.00
Buffalo Chicken – Breaded chicken breast spiced up with hot sauce and cooled off with ranch dressing, lettuce and tomato. Served with fries – $16.00
Turkey Club Supreme – Shaved turkey, miso aïoli, chopped lettuce, tomato, bacon and muenster cheese garnished with a dill gherkin pickle and grape tomato. Served with fries – $17.00
Big Fish Sandwich – Crispy tempura-fried fish filet topped with rémoulade sauce, coleslaw and tomato. Served with fries – $19.00
Impossible Burger – Plant-based, all natural patty topped with melted American cheese, awesome sauce, lettuce, tomato, onion and pickle. Vegan options upon request. Served with fries – $20.00
Black Jack Chicken – Grilled blackened chicken breast smothered in melted Colby jack cheese served on a bun topped with crispy bacon, guacamole, lettuce, tomato and fries – $17.00
Desserts
Ghirardelli Brownie a la Mode – Ghirardelli Triple Chocolate Brownie topped with vanilla ice cream, chocolate sauce, whipped cream and sprinkles – $8.00
Super Sundae – Heaping scoops of vanilla and chocolate ice cream are topped with chocolate sauce, caramel sauce, whipped cream, sprinkles and a cherry – $8.00
Root Beer Float – Root beer or Coca-Cola and vanilla ice cream served in a super-sized schooner glass. – $7.00
Cupcake – Who doesn't love a cupcake? Ours are gluten-free and locally baked. Ask for the chef's favorite flavor! – $8.00
Giant Cake – A mountainous portion of the chef's featured cake with layers so high you might need a ladder! – $9.00
Beverages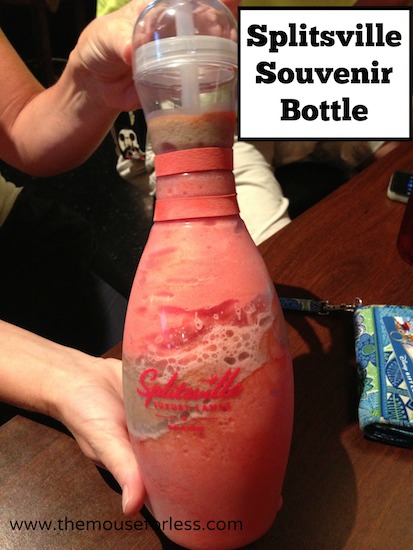 Coca-Cola Soft Drinks – $3.85
Assorted Juice Boxes – $2.50
Bottled Water – $3.25
Milk – $3.25
Chocolate Milk – $3.25
Regular Icee (16 oz) – $5.75
Super Icee in a Souvenir Cup – $9.75
Coca-Cola Freestyle – 100+ flavors and free refills all day! – $5.25
Coca-Cola Freestyle in a Souvenir Cup – in a large souvenir pin cup with free refills all day! – $9.75
Frozen Drinks
Pina Colada – A tropical vacation-full of rum, pineapple, and creamy coconut – $13.00 16 oz
Rumrunner – Rum, blackberry brandy, banana liqueur, lime juice and cranberry – $13.00 16 oz
Miami Vice – If a Piña Colada and a Rumrunner had a baby, this would be it – $13.00 16 oz
Swampwater – 151 Rum, grain alcohol, blue raspberry and lemonade – $13.00 16 oz
Froze – A refreshing, fruity frozen slushy with rosé, strawberry, lemonade and vodka – $13.00 16 oz
Top it Off with a Floater – Bacardi 151, Bacardi Flavor, Bacardi Black, Grand Marnier, Cuervo Gold – $4.00
Bowl Drinks
Long Island Tea – Vodka, rum, gin and triple sec mixed with sour and a splash of Coke – $16.00
Kingpin Margarita – All hail the King!  Imported tequila, orange liqueur, sour mix and lime – $16.00
Blueberry Lemonade – A sublime blend of blueberry vodka, lemonade and lime juice with a burst of fresh blueberries and lemons and a splash of Sprite. You'll think you're sitting on Grandma's porch! – $16.00
Kingpin Margarita – 1800 Tequila, triple sec and freshly squeezed lime juice – $16.00
Mai Tai – A blend of amber and dark rums with orange curacao, orgeat syrup and freshly squeezed lime, orange and pineapple juice – $16.00
Classic Cocktails
Mojito – Light rum, plenty of fresh mint and lime juice, simple syrup. Crisp, tart and slightly sweet – $13.00
Watermelon Smash – Watermelon-infused vodka muddled with fresh watermelon, lime juice, simple syrup and garnished with fresh mint – $13.00
Moscow Muleshine – Vodka, Q Premium Ginger Beer and fresh lime juice. Spicy and refreshing in equal measures – $13.00
Old Fashioned – Old Forester Signature 100 Proof Bourbon, simple syrup, dash of bitters, fancy cherry and an orange twist – $13.00
Spicy Mango Margarita – Seedless jalapeño slices muddled with fresh basil and blended with premium tequila, mango puree, ginger liqueur, lime juice and simple syrup – $13.00
Cucumber Cooler – Tito's Handmade Vodka with freshly squeezed lime, simple syrup and crisp cucumber slices. Just as refreshing with Hendrick's Gin – $13.00
Draft & Bottled Beer
Bud Light Draft or Miller Light Draft – $8.00
Yuengling or Sam Adams Draft – $9.00
Blue Moon  or Stella Artois Draft – $10.00
Modelo Especial or Local Craft Draft – $10.00
Kona Big Wave Golden Ale Draft – $9.00
Budweiser, Bud Light, Coors Light, or Miller Lite Bottle/Can – $6.00
Michelob Ultra Bottle – $6.50
Corona or Heineken Bottle – $7.00
Guinness Draught of Founders Porter Bottle – $9.00
Goose Island Next Coast IPA or Local IPA Bottle – $9.00
Kona Kanahana Blonde Ale Bottle – $8.00
Victory Golden Monkey Can – $9.00
Orange Blossom Pilsner Can – $8.00
Magners Pear Cider – $8.50
White Wines
House Chardonnay – $9.00 Glass, $36.00 Bottle
William Hill Chardonnay – $10.00 Glass, $40.00 Bottle
Sonoma-Cutrer Chardonnay – $12.00 Glass,  $48.00 Bottle
Honig Sauvignon Blanc – $12.00 Glass, $48.00 Bottle
House Sauvignon Blanc – $9.00 Glass, $36.00 Bottle
House Pinot Grigio – $9.00 Glass, $36.00 Bottle
J Vineyards Pinot Gris – $12.00 Glass, $48.00 Bottle
Blush & Bubbly Wines
Coppo Monclavina Moscato – $10.00 Glass, $40.00 Bottle
Juliette Rose – $9.00 Glass, $36.00 Bottle
Sofia Blanc de Blanc – $13.00 Glass,  $52.00 Bottle
Red Wines
House Merlot -$9.00 Glass, $36.00 Bottle
Buena Vista The Count Red Blend – $12.00 Glass, $48.00 Bottle
1000 Stories Zinfandel – $10.00 Glass, $40.00 Bottle
House Cabernet Sauvignon -$9.00 Glass, $36.00 Bottle
Hess 'Alomi' Cabernet Sauvignon – $13.00 Glass, $52.00 Bottle
House Pinot Noir -$9.00 Glass, $36.00 Bottle
Edna Valley Pinot Noir – $10.00 Glass, $40.00 Bottle
La Crema Pinot Noir – $13.00 Glass, $52.00 Bottle
Splitsville Kid's Menu
Menu Date: 03/2019
for Guests Ages 9 and Under
Kid Burger – Juicy small burger served plain on the bun. Choice of Fries, Applesauce, Carrot Sticks or Veggies – $8.00 – Add cheese for $1.00
Chicken Tenders – Crispy chicken fingers served with honey mustard dipping sauce. Choice of Fries, Applesauce, Carrot Sticks or Veggies – $8.00
Hot Dog – Hot dog grilled and served in a bun. Choice of Fries, Applesauce, Carrot Sticks or Veggies – $8.00
Grilled Cheese Sandwich – Thick-sliced American cheese melted to perfection on Texas toast. Choice of Fries, Applesauce, Carrot Sticks or Veggies – $8.00
Cheese Pizza – Housemade crust, mozzarella and tomato sauce. Add pepperoni ($1.00). Choice of Fries, Applesauce, Carrot Sticks or Veggies – $8.00
Kid Pasta – Linguini noodles tossed in butter. Alfredo or marinara sauce. Toasted garlic bread on the side – $8.00
** Splitsville Menu and Prices are Subject to Change Without Notice **