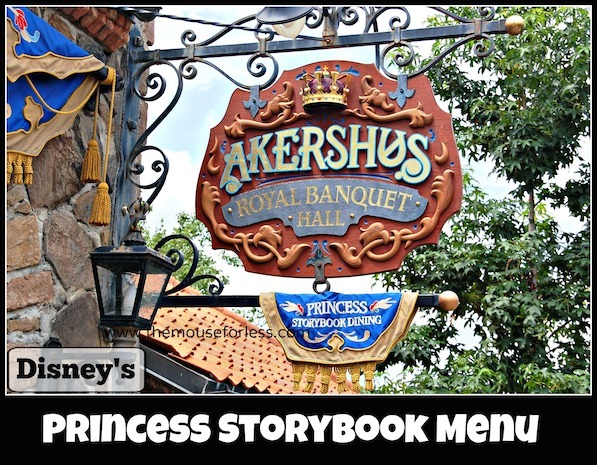 *Akershus Royal Banquet Hall will reopen on November 4. More details here.
Located in the Norway Pavilion, guests can dine among royals at Akershus Royal Banquet Hall. Join your favorite Disney princesses in a fairytale setting, while enjoying unique Norwegian Cuisine.
Akershus Royal Banquet Hall is located in Disney's Epcot theme park.  Find more Walt Disney World dining locations on our Walt Disney World Resort menus page.
Restaurant Info: Norwegian-style cuisine, Character Family-style Meal, Breakfast/Lunch/Dinner, $$$ – $35.00 to $59.99 per adult
Find out how you can save money on dining at Walt Disney World by using one of Disney's Dining Plans.

Planning a Walt Disney World Vacation?
For a Free no-obligation quote, contact our sponsor
The Magic For Less Travel
. The Magic For Less Travel is an Authorized Disney Vacation Planner and has been helping guests plan magical vacations since 2002. Receive the best prices and free travel planning services. Their fee-free services will help you save time, money, and stress while planning a vacation designed around you and your needs!
Akershus Royal Banquet Hall Dinner Menu
Menu Date: 10/2022
Adult Price: $63.00
Child Price (ages 3 – 9): $41.00
Prices vary by season and include tax, but not gratuity.
Princess Storybook Dining
Field Greens Salad with Lingonberry Vinaigrette
Lefse with Cardamom-Cinnamon Butter
Traditional KjØttkake: Norwegian Meatballs
Mashed Potatoes and Gravy
Grilled Salmon with Herbed Butter
Green Beans
Red Cabbage
Macaroni & Cheese
Rice Cream with Strawberry Sauce
Chocolate Roulade with Lingonberry Cream
Kylling og Melboller: Norwegian Chicken and Dumplings
The Royal Chef's Dessert Plate
An assortment of Norwegian-inspired Desserts
Non-Alcoholic Beverages
Assorted Fountain Beverages
Specialty Character Drink
Minute Maid® Zero Sugar Lemonade with flavors of Cotton Candy served in a souvenir Character Cup – $6.50
Specialty Drinks
Northern Light's Cocktail
Blueberry and Desert Pear Monin and Sprite® topped with Helix 7 Vodka and Blue Curacao served with a souvenir glow cube – $17.50
Midnight Sun
This blend of Linie Aquavit and Orange will take you to the place where sunset merges into sunrise, with no darkness in between – $14.50
Blue Viking
This blend of Vodka, Rum, Tequila, Gin and Blue Curacao will tame even the mightiest of Norse God thirst – $14.50
The Bifröst
This blend of Linie Aquavit and Orange Cream with a splash of grenadine will bring you along the journey between Midgard and Asgard – $15.50
The Stavanger
A refreshing frozen blend of Raspberry, Vodka and Linie Aquavit – $15.50
The Oslo
A creation from the capital city, this frozen fruity favorite combines Strawberries with Crème de Banana, Linie Aquavit, and Vodka – $15.50
Bottle and Draft Beer
Aass Pilsner Draft Beer – $11.25
Bud Light Lager – $8.50
Yuengling Traditional Lager  – $8.75
Stella Artois Bottle – $9.75
Breckenridge Brewing Nitro Vanilla Porter – $9.25
Heineken (non-alcoholic) – $9.25
Kopparberg Mixed Tropical Fruit Hard Cider – $10.25
Kopparberg Strawberry-Lime Hard Cider – $10.25
Kopparberg Pear Cider – $10.25
Wine
Fess Parker Pinot Noir, Sta. Rita Hills – Bottle $59.00, Glass $15.00
Conundrum Red Blend, California – Bottle $65.00, Glass $16.00
Kurt Russell's GoGi Wines Goldie Chardonnay, Santa Rita Hills – Bottle $96.00, $23.00
Ecco Domani Pinot Grigio, Delle Venezie – Bottle $39.00, $10.00
Conundrum White Blend, California – Bottle $65.00, Glass $16.00
Fess Parker Riesling, Santa Barbara County – Bottle $49.00, $12.00
Banfi Rosa Regale Sparkling Red, Piedmont – Bottle $64.00, Glass $16.00
Domaine Ste. Michelle Brut, Columbia Valley – Bottle $49.00, $12.00
Visit our Character Meet and Greet Opportunities page for other opportunities to meet your favorite characters.
** Akershus Royal Banquet Hall Menu and Prices are Subject to Change Without Notice **