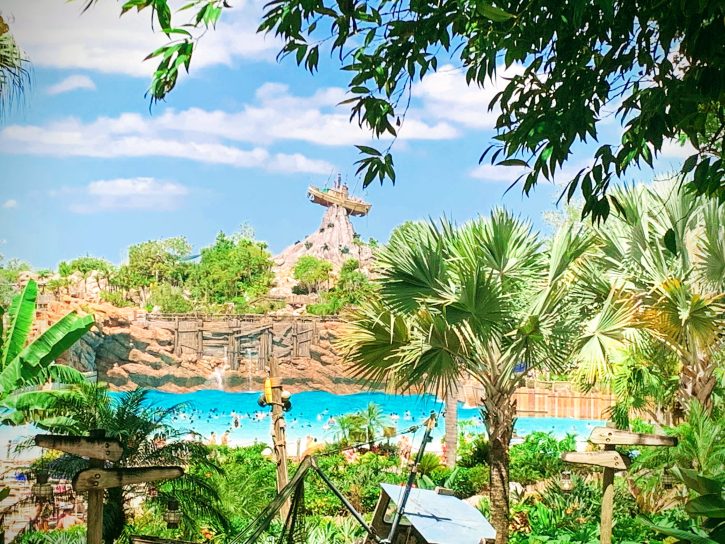 Go against the tide at Disney's Typhoon Lagoon, the Water Park that blows other water parks away. 'Cause after the storm of storms blew through; it left this tropical paradise full of twisting slides, roaring rapids, and the largest inland wave pool around in its wake! Come thrill out on a twisting, turning, water coaster, chill out on the beach, visit a shark reef, or cruise a creek. At least to start with! You'll also find slides, rides and bubbling jets for the little ones at Ketchakiddee Creek.
With 61 acres of fun, twelve attractions and plenty of food vendors, there is plenty to do for the whole family.
Location: Disney Springs resort area near Disney's Old Key West Resort on Buena Vista Drive.
Access: a Vehicle parking lot with free parking is located off of Buena Vista Drive and is next to the park entrance; buses operated from the Transportation and Ticket Center and most Walt Disney World resort hotels. For more about Parking, see our Parking Information page.
Admission  Attractions  Height Requirements  Kids  Food  Map  Premium Spaces and Rentals  Other Facilities  Snorkeling and Surfing  Wheelchair Accessibility   Photo Gallery
Admission
Deciding what ticket to get for your visit to Typhoon Lagoon is no simple matter.  You can get a ticket with one day's worth of admission to a water park, or you can add the Park Hopper Plus option to your admission or Disney package. Park Hopper Plus includes water parks, miniature golf, and golf at Disney's Oak Trail Golf Course, and ESPN Wide World of Sports Complex. For detailed information on Blizzard Beach admission visit MFL's Walt Disney World Ticket Options page. For detailed information on Typhoon Lagoon admission, visit MFL's "Walt Disney World Tickets: Lots of Options" page.
Children under the age of 14 may not enter the park unless they are accompanied by another person, age 14 or older.

Planning a Walt Disney World Vacation?
For a Free no-obligation quote, contact our sponsor
The Magic For Less Travel
. Services are provided free of charge, and their expert planning advice will help you make the most of your vacation time and money.
Attractions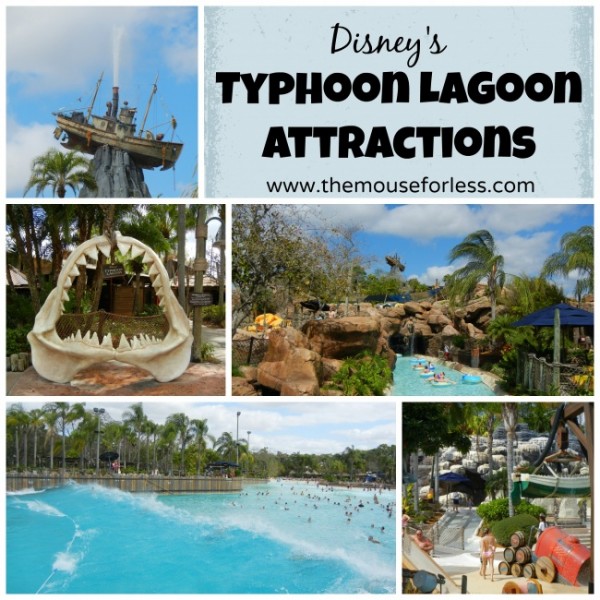 Bay Slides – Body slides for children 60″ or under
Castaway Creek – Lie back and relax for a 20-minute toe-soaking ride
Crush 'n' Gusher – Prepare for uphill climbs and drops on this intense water coaster
Gangplank Falls – Family whitewater rafting adventure
Humunga Kowabunga – Shoot down triple speed slides
Keelhaul Falls – Grab your inner tube and set off on a roaring rapid ride
Ketchakiddee Creek – Children's area complete with slides, raft rides, and bubbling jets made just for little ones 48″ or under
Mayday Falls – WHOOSH through caves and waterfalls
Mountain Trail – Lush trails with photo opportunities
Miss Adventure Falls – A family raft ride. Guests will ascend to the top of the attraction before plunging into a white-water adventure.
Storm Slides – Three curving, 300-ft-long body slides
Typhoon Lagoon Surf Pool – perfect 6-ft waves

Throughout the park, Disney PhotoPass photographers will capture guests caught up in the Disney experience. Disney's PhotoPass and Memory Maker allow guests to have great high-resolution photos taken by Disney Photographers using state-of-the-art digital equipment at picturesque locations. Even better, your photos can be accessed, shared, and ordered online. Visit our Disney's Disney's PhotoPass Guide for more information on Disney's PhotoPass service. This is an excellent opportunity to get family photos at the water park without worrying about getting your camera wet.
Typhoon Lagoon Height Requirements at a Glance
Typhoon Lagoon Height Requirement at a Glance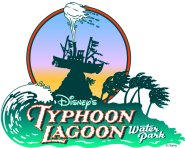 Bay Slides – Must Be Under 60″
Crush 'n' Gusher – 48″ (122cm)
Humunga Kowabunga – 48″ (122cm)
Ketchakiddee Creek – Must Be Under 48″ (122cm)
Keel Haul Falls – 48″ (122cm)
Mayday Falls – 48″ (122cm)
Storm Slides – 48″ (122cm)
Note: Diaper age children must wear swim diapers.
Visit our Height Requirement page for height requirements to all Walt Disney World attractions.
Visiting With Kids
Lost Children
In the water park, it is not uncommon for kids to escape their ever watchful parents. There are Disney cast members and lifeguards everywhere, so children are relatively safe while at Typhoon Lagoon. If your child does get separated from you, they will be taken to the Lost Children kiosk near the entrance to the park. Here, a Cast Member will play games with them and keep them calm until the child's parents are found.
Life Jackets
Life Jackets are available for a deposit that will be returned. Guests may also bring their own.
Other Tips
All children of diaper age must wear a swim diaper.
Be sure to take plenty of breaks.
Reapply sunscreen frequently.
Bring water shoes, sandals, or flip flops if you have tender feet. You may be asked to take them off and hold them on some slides, but your feet will thank you after walking on hot pavement.
The kids' area at Typhoon Lagoon is called Ketchakiddee Creek, and only children under 48″ tall and their parents are permitted to play here.
At the edge of the wave pool, there are "tide pools" with extremely shallow water. Kids are often playing in this water as parents watch nearby.
Typhoon Lagoon Food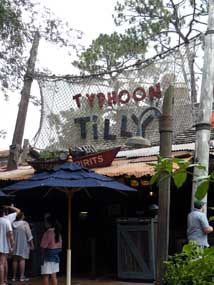 Guests to Typhoon Lagoon may bring food baskets and coolers that can be safely carried into the park. No glass containers or alcoholic beverages are allowed. Merchandise shops inside the park sell snacks. For those who prefer to leave the cooking to Disney, the following selections are available. Click on the name below for menu. Visit our WDW Menu Page for a complete list of menus available for Walt Disney World. Water Park Refillable Mugs are sold at Typhoon Lagoon and Blizzard Beach and include free refills for the day of the purchase only. The Refillable Mug can be used for another day during the Guest's current stay, with the purchase of a reduced price Refill Sticker available at either Water Park.
Premium Spaces and Rentals
Tired of fighting for spaces at the water parks? Guests to Typhoon Lagoon may reserve either the Getaway Glen Umbrellas or the Beachcomber Shacks up to 180 days in advance and have their space waiting for them no matter what time they arrive at the water park.
Getaway Glen Umbrellas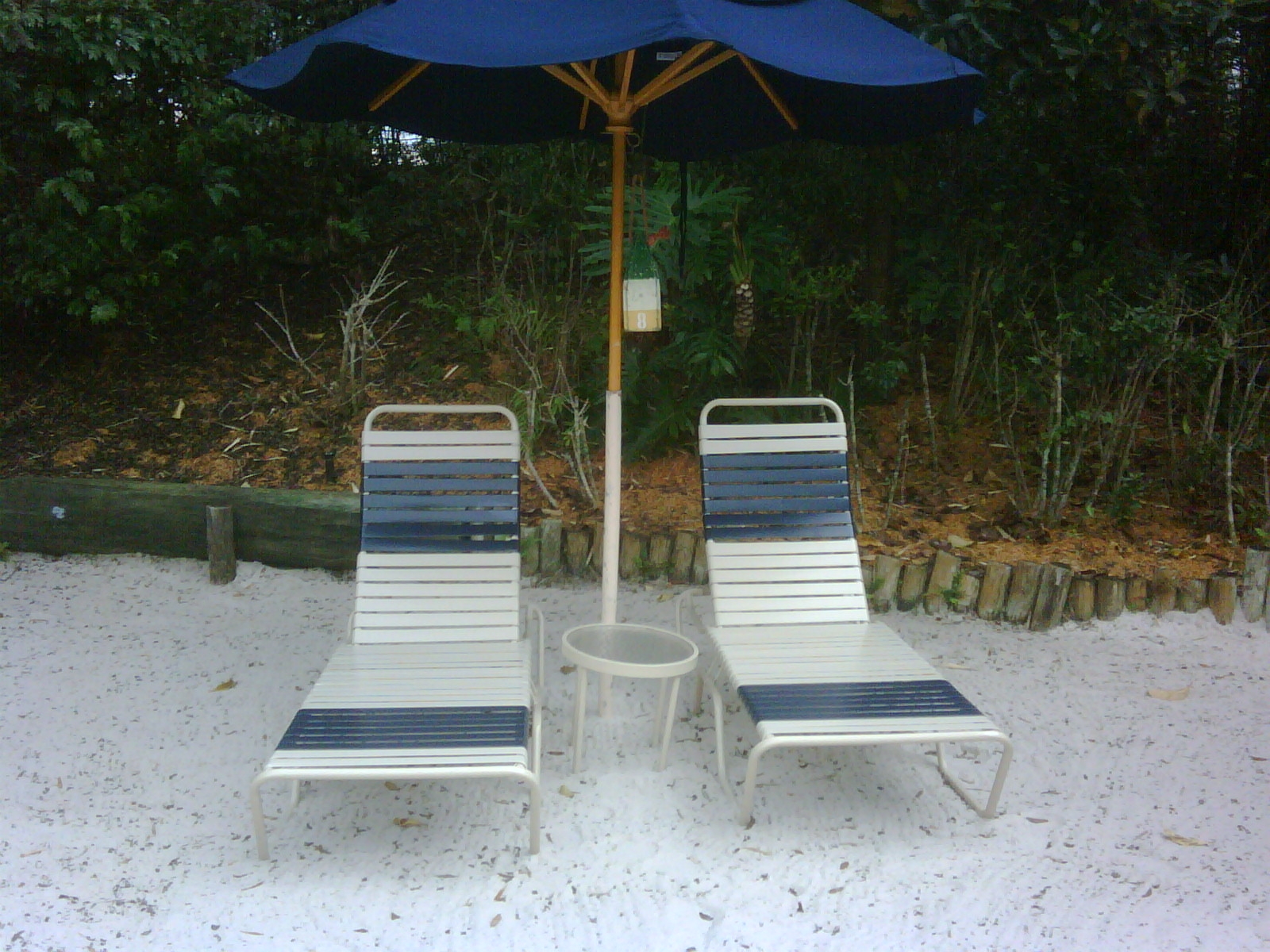 Premium beach chair spaces are available for rent up to 180 days in advance. Getaway Glen Umbrellas include 2 lounge chairs, an umbrella, a cocktail table, and 4 towels. A maximum of 4 guests can use this reserved space. If you did not make prior arrangements, you can stop at High and Dry Towel Rental to check same-day availability.  Reservations can be made through Disney Recreation at (407) WDW-PLAY.
Beachcomber Shacks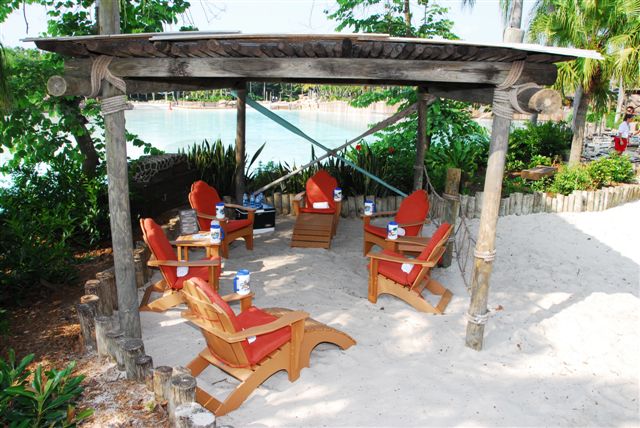 Premium reserved spaces are available for rent up to 180 days in advance. Beachcomber Shacks include a roof offering shade, locker, all-day drink mugs, cooler with bottled water, upgraded lounge furniture, service of an attendant (via a convenient call button) and towels. The attendant will be able to assist you with food orders (purchased at an additional cost) or any suggestions to enjoy your day to the fullest at Typhoon Lagoon. Six guests can enjoy the Beachcomber Shacks; there is an additional fee for guests 7-10.  Reservations can be made through Disney Recreations at (407) WDW-PLAY. Check in at High and Dry Towel Rental or inquire here for "same day" rental if available. Guests will be given a bracelet that allows access to the private area.
Life Jackets
Life Jackets are provided to guests for free with a deposit of either driver's license or credit card.
Lockers
Typhoon Lagoon offers small lockers (12.5″ X 10″ X 17″) costing $10 per day and large lockers (15.5″ X 13″ X 17″) costing $15 per day. A refundable key deposit is required for the rental.
Towels
Guests are encouraged to bring their own towels. If towels are needed, they can be rented for $2.00 per towel.
Other Facilities
Locker rooms – dressing rooms, showers, locker rental, towel rental, life jacket rental
Getaway Glen and Hideaway Bay picnic areas – picnicking is permitted, but no alcohol or glass containers can be brought in
High 'n Dry – souvenirs and sundries; premium space, umbrella, locker and towel rentals; complimentary life jackets
Singapore Sal's – Disney's Water Park merchandise, towels, bathing suits, shirts, sandals, sunglasses, plastic waterproof cases, Mickey Mouse-themed shovels, castle-shaped sand sculpting molds, disposable underwater cameras, sunscreen, sundries and more; locker and towel rentals
Sun Protection
Sun protection products are available in merchandise shops throughout the park, including sunscreen, sunglasses and short sleeve rash guard shirts for men, women and kids that offers 50+ Ultraviolet Protection Factor (blocks 98% of UVA and 99% of UVB rays) as well as Coppertone brand hats for adults and kids that offer Disney designs and 50+ UV protection.
Looking for a Complimentary Chair?
Check Typhoon Lagoon's Tip Board! It will note which areas of the park currently have available chairs.
Typhoon Lagoon Surfing
Surfing School
Have you ever wanted to learn how to surf? Typhoon Lagoon offers surfing lessons and private surf sessions. For lessons reserve, your space in a small class (up to 12) and have the bay to yourself before the park is open so that you can learn the art of surfing under professional instructions. Typhoon Lagoon has the world's largest wave machine producing up to 6 ft waves every 90 seconds so you'll have plenty of perfect waves to practice on.
The length of the program is 2.5 hours, including instruction on land and in the water with provided soft-side surfboards. A light breakfast is included, along with photos of the fun. Participants must be 8 years or older and must be strong swimmers. The cost of the program is $190 and does not include admission to the water park after the lesson. The program can be booked 180 days in advance by calling Disney Recreation at (407)WDW-PLAY.
Private surf sessions can be arranged for up to 25 participants up to 90 days in advance and can be arranged through (407)WDW-SURF. These events can be personalized with food and photography packages.
Wheelchair Accessibility
A limited number of water accessible wheelchairs are available at Guest Relations for no charge on a first come first serve basis, but guest must leave valid ID. No strollers or ECVs are allowed in the water. Guests may bring their wheelchairs into the wave pool up to the midpoint of the rear wheels.
The Typhoon Lagoon Surf Pool and the Castaway Creek have zero entry points. Crushin Gusher has an elevator, and the attraction can ride up to three to a raft. Ask for a Cast Member for escort up the elevator. A member of the party is required to meet the disabled guest at the bottom of the attraction to assist the rider get to the edge of the pool and exit into the chair. Most other attractions require guests to get to the top of a hill and require guests to transfer from their wheelchair to the attraction either by themselves or with the assistance of a member of their party. Cast Members are not permitted to assist in transferring Guests to/from their wheelchairs physically.
Most restrooms are designed for access by Guests using wheelchairs. Companion-assisted restrooms are available near Guest Services and at First Aid.
Typhoon Lagoon Photo Gallery
Click on photo for slideshow.
Other Walt Disney World Parks: