Epcot | World Showcase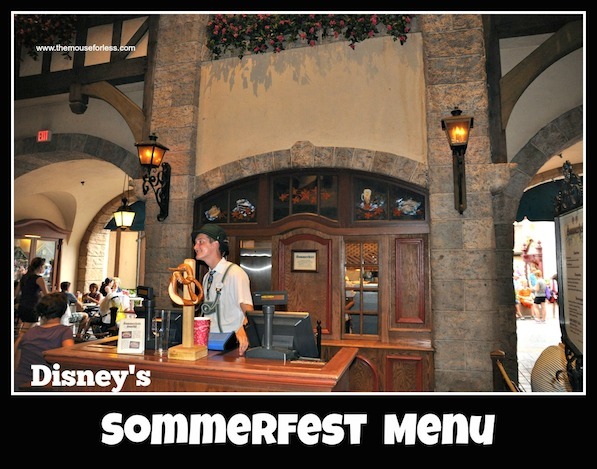 Cozy up to this comfy corner of the German pavilion for a sensational sampling of sausage, snacks and suds. You can't beat the bratwurst and German beer at Sommerfest!
Restaurant Info: German, Lunch/Dinner/Snack, $ – $14.99 and under per adult
Find out how you can save money on dining at Walt Disney World by using one of Disney's Dining Plans.
Sommerfest Lunch/Dinner Menu
Menu Date: 09/2018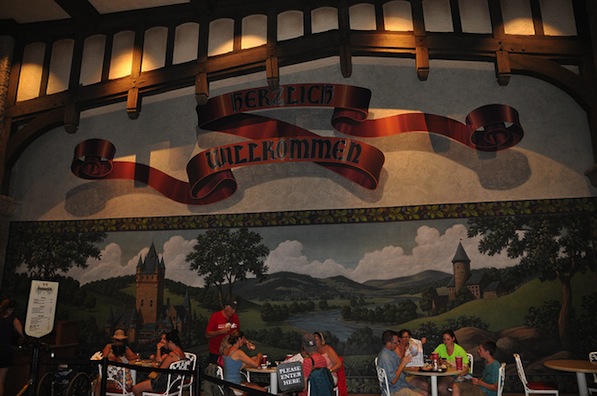 Entrées
Bratwurst – Served on a freshly baked Roll with Sauerkraut and House-made Paprika Chips- $10.29
Frankfurter – Served on a freshly baked Roll with Sauerkraut and House-made Paprika Chips – $9.99
Sides
Cold Potato Salad – Traditional Cold Potato Salad with Eggs – $3.79
Nudel Gratin – Baked Macaroni with Cheese Custard – $4.49
Jumbo Pretzel –  $9.39
Desserts
Black Forest Cake – $4.99
Apple Strudel with Vanilla Sauce – $4.79
Beverages
Assorted Fountain Beverage – $3.69
Dasani Bottled Water – $3.00
Alcoholic Beverages
Schofferhofer Pink Grapefruit Hefeweizen  – $8.00
Schofferhofer Pink Grapefruit Hefeweizen in a Souvenir Stein  – $12.00
Beck's Pilsner – $8.00
Beck's Pilsner in a Souvenir Stein  – $12.00
König Ludwig Weissbier – $8.50
König Ludwig Weissbier in a Souvenir Stein  – $12.50
Selbach-Oster Riesling – $11.00
** Sommerfest Menu and Prices are Subject to Change Without Notice **