Magic Kingdom | Main Street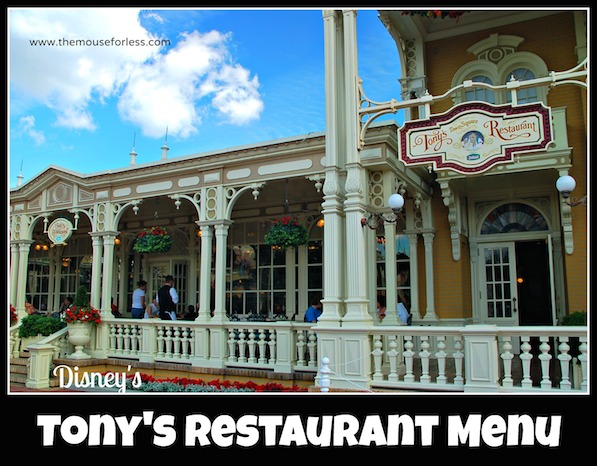 Mama mia! Join the fun at Tony's Town Square Italian restaurant inspired by the classic scene from Disney's animated "Lady and the Tramp."
Restaurant Info: Italian, Lunch/Dinner A la carte, $$ -$15 to $34.00 per adult
Find out how you can save money on dining at Walt Disney World by using one of Disney's Dining Plans.
Tony's Town Square Lunch/Dinner Menu
Menu Date: 05/2018
Antipasti
Caprese – Tomatoes, fresh Mozzarella, and a Balsamic Dressing – $11.00
Calamari – served with Peppers and a side of Lemon-Caper Aïoli – $16.00
Zucchini Fritte – Breaded seasoned Zucchini with Creamy Sun-dried Tomato Dressing for dipping – $11.00
Pasta Fagioli – Traditional meatless Italian soup with Pasta and Beans – $9.00
Seasonal Soup – $9.00
House Salad – Mixed Greens, Salami, Olives, Peppers, Shaved Romano, and Italian Vinaigrette. – $11.00
Caeser Salad – with Shaved Romano and House-made Croutons – $11.00
Italian Cheese Dip – Creamy Ricotta with Roasted Garlic topped with Tomato Jam served with Crostini – $12.00
Second Piatti
Chicken Parmigiana – Lightly-breaded Chicken Breast with Marinara Sauce topped with Melted Mozzarella over Spaghetti – $26.00
Spaghetti – with choice of Meatballs or Sweet Italian Sausage and Marinara Sauce- $22.00
Shrimp Scampi – Linguini with Sun-dried Tomatoes and Asparagus tossed in a Garlic Sauce – $25.00
New York Strip Steak – with Arugula, Onions, Peppers, Potatoes, and Romano topped with Chianti Butter – $34.00
Margherita Pizza – with Pizza Sauce and fresh Mozzarella, garnished with fresh Basil – $19.00
Pepperoni or Sausage Pizza – with Pizza Sauce and fresh Mozzarella garnished with fresh Basil – $20.00
Vegetarian Pizza – with Onions, Olives, Peppers, Tomatoes, Spinach, Feta, and Mozzarella – $21.00
Baked Rigatoni – with Ricotta and Bolognese filling topped with Melted Mozzarella – $22.00
Ravioli – Goat Cheese filled Ravioli with Seasonal Vegetables and Sun-dried Tomato-Pesto Cream – $22.00
Italian Trio – Three classic favorites on one dish – Chicken Parmigiana, Baked Rigatoni, and Fettuccine Alfredo – $32.00
Fish of the Day – with Pasta Puttanesca – Market Price
Desserts
Tiramisú` – Kahlúa Espresso-soaked Lady Fingers, Whipped Mascarpone, and Mocha Cream – $8.00
Chocolate Cake – Rich Chocolate layered cake – $9.00
Gelato – Italian-style Ice Cream–Chocolate or Vanilla – $7.00
Cannoli – Ricotta Cream filled Shells dusted with Powdered Sugar – $8.00
Seasonal Cheesecake – $8.00
Sorbet – Raspberry –  $7.00
Beverages
Assorted Fountain Drinks
1% Milk
Freshly Brewed Joffery's Coffee
Latte
Espresso
Cappuccino
Sweet and Unsweet Iced Tea
Twinings of London Hot Tea
French Press Pot Estate Grown Organic Colombian Coffee – serves 2 – $8.00
Wine Selections
Nino Franco Valdobbiadene Prosecco Superiore Rustico Brut, Veneto – Crisp and refreshing with aromas and flavors of ripe apples, candied lemon peel, and almonds – $10.00 glass /$45.00 bottle
Batasiolo Moscato d'Asti Bosc, Piedmont – Refreshing aromas and flavors of tropical fruit and sugar cane with a touch of acidity on the finish – $9.00 glass/$39.00 bottle
Antinori Castello della Sala 'Bramito' Chardonnay, Umbria – Rich and Luscious with expressions of tropical fruits, pineapple, hazelnut butter, and vanilla – $11.00 glass/$49.00 bottle
Luce delle Vite ' Lucente' Super Tuscan, Tuscany – Dry, Soft, and smooth showing fruity notes black cherry and raspberry combined with coffee beans and vanilla – $13.00 glass/$55.00 bottle
Benvolio Pinot Grigop Grave, Friuli-Venezia Giulia – Dry with vibrant fruit expressions of peach, apples, and a light floral note – $9.00 glass/$39.00 bottle
Banfi Chianti Superiore, Tuscany – Dry with characteristics of ripe cherries and strawberries mixed with a touch of fresh herbs – $9.00 glass/$39.00 bottle
Beer Selection
Birra Moretti Lager – Moretti's smooth, delicate malt flavor, and slightly hoppy aroma pairs well with many types of Italian cuisine – $8.00
Moretti La Rossa – Roasted and caramelized malt flavors with a delicate hop fragrance – $8.25
Tony's Town Square Restaurant Kids' Menu
Menu Date: 05/2018
Kids' Appetizers
Garden Salad – with Fat-free Ranch Dressing – $3.00
Carrot and Celery Sticks – $3.00
Apple Slices – $3.00
Grapes – $3.00
Mickey Check Meals
Served with choice of small lowfat milk or small Dasani water

Spaghetti and Turkey Meatball – Spaghetti and Turkey Meatball served with Salad and Sliced Apples – $11.00

 Sauteed Shrimp – served with Spaghetti, Broccoli, and Sliced Apples – $12.00

 Grilled Chicken – with Roasted Potatoes, Green Beans, Carrots, and Fruit Cup – $11.00

Meets Disney Nutrition Guidelines for Complete Meals without substitutions.
Kids' Meals
Served with choice of one (1) Entrée, choice of one (1) Beverage, and choice of one (1) Dessert
Cheese Pizza – $10.00
Macaroni & Cheese – $10.00
Spaghetti and Meatball – $11.00
Kids' Desserts
Fruit Salad
Cake
Ice-Cream Sundae
Sliced Apples
** Tony's Town Square Menu and Prices are Subject to Change Without Notice **