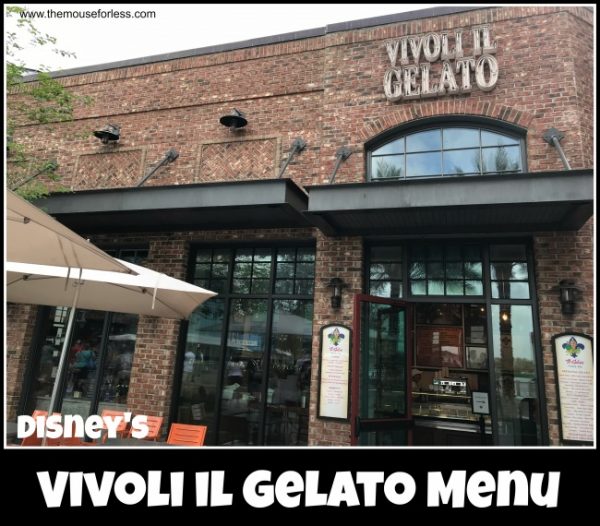 Experience a little taste of Italy at Vivoli il Gelato. Founded in Florence, Italy, Vivoli il Gelato showcases the art of gelato making as perfected by three generations of family. The Disney Springs location is Vivoli's first U.S. storefront and serves traditional Italian treats including more than a dozen gelato flavors, sorbet, panini sandwiches, espresso drinks, and more.
Restaurant Info: Italian, Snack, A la carte, $ – $14.99 and under per adult
Find out how you can save money on dining at Walt Disney World by using one of Disney's Dining Plans.
Vivoli il Gelato Menu
Menu Date: 02/2019
Sorbetto Flavors – Selections May Vary
Limone – lemon
Arancia – fresh Florida Oranges
Fragola – strawberry
Gelato Flavors – Selections May Vary
Crema – fresh cream custard
Amaretto – Almond Cookie
Cannolo – Cannoli
Cioccolato – imported Italian chocolate
Pistachio – Sicilian Bronte pistachio
Stracciatella – cream, dark chocolate
Gran Gianduia – chocolate hazelnut
Mascarpone – cheesecake
Biscotto – cookie dough
Biscotti e Crema – cookies and cream
Riso – Italian Aarborio rice pudding
Caramello Salato – handmade salted Caramel
Cocco – freshly shredded coconut
Amarena – brandied Italian sweet cherry
Burro D'Arachidi – smooth peanut butter
Cafe – Fresh Espresso Coffee
Banana – Fresh banana
Nocciola – Hazelnut
Menta e Cioccolato – Mint Chocolate Chip
Tiramisu – Italian Coffee Cake
Vaniglia – Vanilla Bean
Gelato and Sorbetto
Coppetta (Cup)
Piccola – $5.25
Media – $6.25
Grande – $7.25
Cono (Cone) – one flavor – $6.00
Cono (Cone) – two flavors – $7.00
Gelato and Sorbet Floats and Milk Shakes
Build Your Own Shake – choose any two flavors spun with Milk and topped with Whipped Cream – $10.00
Cannoli Shake – Cannoli Gelato spun with Milk and served inside of a Chocolate Dipped Waffle Cone topped with Whipped Cream, Pistachios, Chocolate Sauce and Crushed Cannoli Shells – $12.25
Tiramisu Shake – Tiramisu Gelato, Milk, Chocolate-dipped Waffle Cone, Lady Fingers, Chocolate Sauce and Whipped Cream – $12.25
Purple Potion – Black Cherry Gelato, Milk, Cherry Sauce, Purple Sprinkles, White Chocolate-dipped Waffle Cone, Whipped Cream and Lavender Candy Pearls – $11.50
Affogato – The "secret" Italian tradition has yet to catch on in America, but that will soon change. It starts with two scoops of Crema Gelato hollowed out, then a shot of fresh Espresso is added to the center and it begins to mix and meld the flavors into a rich, ever changing mixture of bitter and sweet, and hot and cold! – $10.00
Creamsicle Float – Vanilla Gelato, Orange Sorbet and Orange Soda served with Whipped Cream and Amarena Cherries – $10.00
Gelato Sundaes
Build Your Own Sundae – choose three scoops of Gelato with your choice of Sauce in a House-made Waffle Bowl – $10.25
Nutella Brownie Sundae – three scoops of Vanilla Gelato, Nutella Brownie Chunks, Chocolate Sauce and Whipped Cream in a House-made Waffle Bowl – $11.25
Spaghetti Sundae – Crema Gelato, Chocolate Gelato, Strawberry Sauce and White Chocolate Chips – $13.00
Chocolate Caramel Sundae – two scoops of Chocolate Gelato, a scoop of Salted Caramel Gelato, Chocolate Sauce, Caramel Sauce and Whipped Cream in a House-made Waffle Bowl – $11.00
Cookie Sandwich – one scoop of Gelato between two House-baked Cookies – $9.50
Strawberries and Cream Sundae – Crema Gelato, Fresh Strawberries, Strawberry Sauce and Whipped Cream – $10.75
Coffee
Espresso – $3.00
Double Shot Espresso – $4.00
Espresso with Milk – $3.00
Cappuccino – $5.00
Caffe Latte – $5.00
Iced Coffee – $5.00
Americano Coffee regular or decaf- $3.25
Frozen Espresso Shot – $3.00
Frozen Espresso Cup – $5.00
Flavored Coffee – $5.75
Hot Tea – $3.25
Beverages
San Pellegrino Still or Sparkling Water – $4.50
Italian Soda – Limonata, Aranciata, Aranciata Rossa, Pomeimo – $3.50
Iced Tea – Lemon or Peach- $3.50
Assorted Bottled Beverages – $4.50
Dasani Bottled Water – $4.50
Simply Apple Juice – $5.00
Simply Orange Juice – $5.00
Fresh Squeezed Lemonade – $3.75
Fresh Squeezed Orange Aqua Fresca – $3.75
** Vivoli il Gelato Menu and Prices are Subject to Change Without Notice **