Resort Restaurants | Boardwalk Resort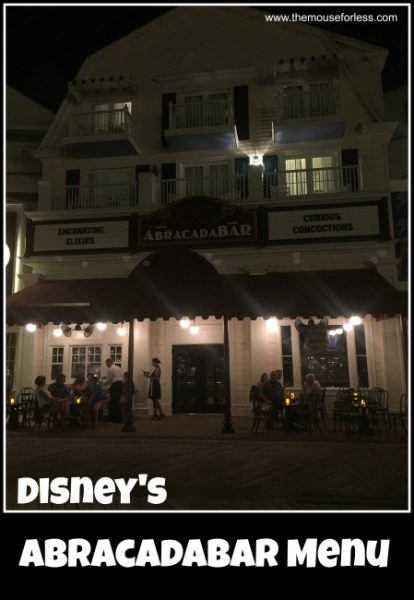 Travel back in time to the golden age of magic in this once secret lounge of illusion. AbracadaBar is located by Flying Fish on the Boardwalk and is open at 4:00 pm through the evening each day.
Restaurant Info: American, Lounge, $ – $14.99 and under per adult
Find out how you can save money on dining at Walt Disney World by using one of Disney's Dining Plans.
AbracadaBar Menu
Menu Date: 04/2019
Handcrafted Cocktails
The Conjurita – El Mayor Tequila, Cointreau, Simple Syrup, Lime Juice –  $12.50
Coney Negroni – Eagle Rare Bourbon, Campari, Antica Carpano Sweet Vermouth –  $12.50
Elixir – Lucid Absinthe, Sugar Cube, Water –  $13.00
Parlor Trick – Four Roses Bourbon Small Batch, Simple Syrup, splash of Soda Water –  $12.50
Magic Hattan – Hudson Manhattan Rye Whiskey and Antica Carpano Sweet Vermouth –  $12.50
Seashore Sweet – Absolut Citron, Odwalla® Lemonade, Cotton Candy Syrup –  $12.50
Collin's Double – Hayman's Old Tom Gin and House-made Sweet-and-Sour topped with Soda Water –  $12.50
Pepper's Ghost – Ciroc Pineapple Vodka and Habanero Lime –  $12.50
The Sour Assistant – Breuckelen Distilling 77 Whiskey and House-made Sweet-and-Sour –  $12.50
Magic Mirror – Bacardi Rum, Soda Water, Mango Syrup, Sprite®, Lime Juice –  $12.50
Sparkling and White Wines
Marsuret Prosecco Superiore Brut, Italy – $13.00 glass, $55.00 bottle
Veuve Clicquot Brut Yellow Label Champagne, Reims – $19.00 glass, $79.00 bottle
Selbach-Oster Riesling, Mosel – $14.00 glass, $59.00 bottle
Matanzas Creek Sauvignon Blanc, Sonoma County – $11.00 glass, $49.00 bottle
Saracco Moscato d'Asti, Italy – $10.00 glass, $45.00 bottle
Maso Poli Pinot Grigrio, Trentino – $13.00 glass, $55.00 bottle
The Magician White Blend, California – $8.00 glass, $35.00 bottle
Jackson Estate Chardonnay, Santa Maria Valley – $11.00 glass, $49.00 bottle
Landmark Damaris Reserve Chardonnay, Sonoma Coast – $17.00 glass, $75.00 bottle
Bottle and Can Beer
Magic Hat #9 Ale, South Burlington, VT – $8.00
Jdub's Bell Cow, FL – $8.00
Jdub's Passion Wheat, FL – $8.00
Jdub's Poolside Kolsch, FL – $8.00
Mega Mix Pale Ale – $8.00
Mia Tourist Trappe, FL – $9.00
Orlando Brewing Blonde Ale, FL – $8.00
Dogfish Head SeaQuench Ale, DE – $9.00
Kentucky Bourbon Barrel Ale, KY – $9.00
Woodchuck Gumption Cider, VT – $7.75
Yuengling Traditional Lager, PA – $7.00
Bud Light 16-oz, MO – $7.00
Draft Beer
Bud Light Pale Lager Draft, MO – $6.25
Hoptical Illusion IPA, NY – $9.00
Funky Buddha Sweet Potato Casserole – $9.00
Samuel Adams Octoberfest – $8.50
Bottle and Can Beer
Coney Island Hard Root Beer, Brooklyn, NY – $8.00
Woodchuck Amber Cider, Middblebury, VT– $7.50
** AbracadaBar Menu and Prices are Subject to Change Without Notice **