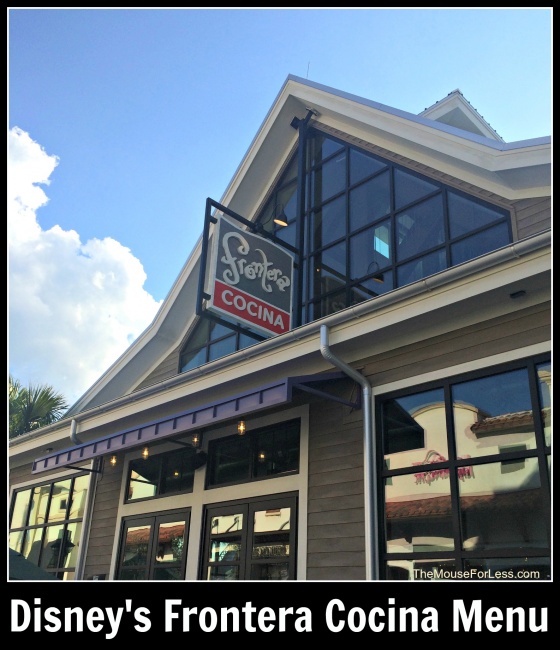 Frontera Cocina, by Chef Rick Bayless, showcases the gourmet Mexican cuisine that has made Chef Bayless a culinary legend. Frontera Cocina features authentic Mexican specialties such as hand-crafted tortas, tacos, salads, fresh-made guacamole, and classic Mexican braised meat entrees, all prepared from time-honored recipes with natural, locally sourced ingredients. Frontera Cocina also serves an extensive selection of margaritas, cocktails and craft beers and wine.
Frontera Cocina is located in Disney Springs.  Find more Walt Disney World dining locations on our Walt Disney World menus page.
Restaurant Info: Authentic Mexican Cuisine, $$ – $15-$34.99 per adult
Find out how you can save money on dining at Walt Disney World by using one of Disney's Dining Plans.

Planning a Walt Disney World Vacation?
For a Free no-obligation quote, contact our sponsor
The Magic For Less Travel
. The Magic For Less Travel is an Authorized Disney Vacation Planner and has been helping guests plan magical vacations since 2002. Receive the best prices and free travel planning services. Their fee-free services will help you save time, money, and stress while planning a vacation designed around you and your needs!
Frontera Cocina – Lunch & Dinner Menu
Menu Date: 11/2021
Starters
Chipotle Chicken Flautas
Crispy chipotle chicken tortilla flautas, roasted tomatillo avocado salsa, crema, Cotija cheese, fresh herbs (contains dairy, gluten) – $14.00
Queso Fundido
Queso Chihuahua melted with roasted poblanos and caramelized onions, warm corn tortillas (contains dairy). Add Gunthrop Farms Chorizo +2 – $13.00
Tortilla Soup
Red chile vegetable broth, chipotle chicken, avocado, Chihuahua cheese, tortilla strips, cilantro and onions, lime (contains dairy) – $10.00
Crispy Chipotle Calamari
Caramelized lime aioli, chile de arbol salsa, cotija cheese (contains dairy, gluten) – $16.00
Chips & Salsa
Smoky chipotle, herby salsa verde – $5.00
Toasted Pumpkin Seed "Hummus"
Creamy Yucatecan pumpkin seed habanero dip, crispy cucumber and jícama, warm tortilla chips (contains seeds) – $11.00
Guacamole & Chips – Verde
Paired with smoky chipotle and herby salsa. Roasted poblanos, roasted tomatillo, toasted pepitas, cilantro, and onions (contains seeds) – $12.00
Guacamole & Chips – Bacon
Paired with smoky chipotle and herby salsa. Nueske bacon, tomatillos, toasted pepitas, cilantro, and onions (contains seeds) – $12.00
Guacamole & Chips – Cranberry-Jícama
Paired with smoky chipotle, and herby salsa. Paired with smoky chipotle, and herby salsa – $12.00
Salads
Fall Ensalada
Field greens, cranberries, candied Neuske bacon, Bartlett pears, goat cheese, toasted pepitas, sweet-smoky chipotle vinaigrette (contains dairy, pork, seeds) – $13.00
Taquería Ensalada
Arcadian lettuce, poblano rajas, carrot, radish, avocado, crunchy tortilla strips, Cotija cheese, avocado-lime vinaigrette (contains dairy) – $10.00
Add Grilled Chicken Breast to your Salad – $8.00
Add Mojo Garlic Grilled Shrimp to your Salad – $12.00
Add Creekstone Natural Carne Asada* to your Salad – $14.00
Entrees
Shrimp Mojo de Ajo
Pan-roasted Florida Pink Shrimp with mojo de ajo (slow-cooked garlic, olive oil, lime, chipotle), plantain rice, grilled calabacitas, warm corn tortillas (contains shellfish) – $32.00
Oaxacan Red Mole Chicken
Crispy half chicken, Oaxacan red mole, plantain rice, warm corn tortillas (contains gluten, seeds) – $29.00
Cochinita Pibil
Achiote-marinated, slow-roasted tender pork, black beans, poblano rajas, pickled red onions, habanero salsa (contains pork) – $26.00
Oaxacan Green Mole Grilled Snapper
Herby (cilantro, epazote, parsley) grilled snapper, Oaxacan green mole (tomatillo, herbs), white beans, plantain rice, spicy salad greens, warm corn tortillas – $38.00
Carne Asada*
Garlic and red chile-marinated Creekstone Natural Black Angus steak, black bean refritos with queso fresco, caramelized plantains with crema and Cotija cheese, tomatillo salsa, warm corn tortillas (contains dairy, pork). Add mojo garlic grilled shrimp to your steak +12 – $42.50
Carnitas Enchiladas
Just-made corn tortillas, Gunthorp Farms slow-cooked pork carnitas, roasted butternut, cranberry-infused red mole, Chihuahua cheese, crema, black beans (contains dairy, pork, gluten)- $25.00
Red Chile Chicken Enchiladas
Just-made corn tortillas, chipotle chicken filling, guajillo chile sauce, Queso Chihuahua, crispy onions, black bean refritos (contains pork, dairy, gluten) – $24.00
Tacos
Grilled Chicken Chipotle
Grilled chicken in tangy chipotle sauce, caramelized red onions, black bean refritos with queso fresco, guacamole, chipotle salsa (contains dairy, pork) – $20.00
Garlicky Mushroom & Eggplant Tacos
Roasted portobello mushrooms & eggplant in slow-cooked garlic-mezcal mojo, goat cheese, garlicky red bean refritos with poblano rajas, and chipotle salsa (contains dairy) – $19.00
Carne Asada Tacos*
Grilled steak, poblano rajas, black bean refritos with queso fresco, salsa verde, guacamole (contains pork, dairy) – $26.00
Carnitas Enchiladas
Just-made corn tortillas, Gunthorp Farms slow-cooked pork carnitas, roasted butternut, cranberry-infused red mole, Chihuahua cheese, crema, black beans (contains dairy, pork, gluten) – $25.00
Sides
Garlicky Red Bean Refritos
Creamy garlic and chipotle mashed red beans – $7.00
Fried Plantains
With crema and Cotija cheese (contains dairy) – $7.00
Arroz con Plantains
White rice studded with plantains and cilantro – $7.00
Desserts
Cuatro Leches
Sponge cake soaked with four milks topped with whipped cream, toasted coconut, fresh blackberries, and lime zest (contains gluten, dairy, seeds) – $10.00
Flan de Queso
Cheesecake flan, guayaba-piloncillo caramel, guava paste, fresh orange (contains dairy) – $9.00
Soft Serve
Mexican Vanilla, Ancho Chile Chocolate, or Swirl (contains dairy) – $7.00
Margaritas
Topolo
Teremana reposado tequila, orange liqueur, housemade limonada, served straight up table side – $17.00
Blackberrita
Tromba blanco tequila, Mezcal ilegal joven, LeJay creme de cassis, blackberry puree and a hint of mint. Served frozen – $16.00
Watermelon Pink Flamingo
Arrette blanco tequila, fresh watermelon and lime juice, orange liqueur, Tajin Chile powder rim – $16.00
El Dios Chinola
Gracias a Dios 100% de agave gin, Chinola passion fruit liqueur, agave nectar and fresh lime juice with Tajin Chile powder rim – $20.00
The Smoky Pineapple
Ginger pineapple juice, Ilegal espadín mezcal, Ancho Reyes chile liqueur, black ant salt rim – $16.00
Frida
Casa Dragones blanco tequila, rose petal liqueur, lemon juice, pomegranate cordial, served with a rose petal popcorn salt rim – $25.00
La Cava Avocado
Centinela blanco tequila, melon liqueur, fresh avocado and lime juice, hibiscus salt rim, served frozen – $15.00
Play With Fire
Fresh lime juice, agave nectar, cucumber-jalapeño juice, hibiscus salt rim. Your Choice of Ojo De Tigre mezcal or Tromba blanco tequila – $17.00
Viuda Negra
Ambhar blanco tequila, Ancho Reyes verde, lime juice, agave nectar and blackberry purée with black ant salt rim – $18.00
Frontera
Centinela blanco tequila, Gran Gala orange liqueur, fresh lime juice and agave. Topped with Foss Marai Prosecco +3 – $17.00
Cocktails
Elote Old Fashioned
Abasolo ancestral corn whiskey, Nixta elote liqueur, orange bitters served in a smoked bottle • Serves two – $40.00
Cocina Gin & Tonic
Hendricks gin, elderflower liqueur, tonic water, fresh lime juice, cucumber – $16.00
Mexican Negroni
Gracias a Dios 100% de agave gin, Aperol, sweet vermouth – $16.00
Mezcal
5 Sentidos Bicuixe
Served with grasshoppers and an orange wedge in a traditional "Veladora" – $25.00
Sacrvm Madrecuixe – $20.00
Bozal ensamble blanco
Served with grasshoppers and an orange wedge in a traditional "Veladora" – $14.00
Ilegal espadín blanco
Served with grasshoppers and an orange wedge in a traditional "Veladora" – $12.00
OAX arroqueño
Served with grasshoppers and an orange wedge in a traditional "Veladora" – $20.00
Gracias a Dios espadín reposado
Served with grasshoppers and an orange wedge in a traditional "Veladora" – $15.00
Montelobos espadín blanco
Served with grasshoppers and an orange wedge in a traditional "Veladora" – $13.00
Ojo De Tigre espadín blanco
Served with grasshoppers and an orange wedge in a traditional "Veladora" – $11.00
Tequila Flights
Tradicional
Tromba blanco, Teremana reposado, Ambhar añejo – $23.00
Premium
Casa Dragones blanco, Clase Azul reposado, Santanera blend extra añejo – $40.00
Mezcal
Bozal ensamble, Ojo de Tigre espadín, Sacrvm Madrecuixe – $20.00
Beer, Wine, and Sangria
Red Sangria
Hibiscus flower tea, Malbec red wine, orange liqueur, housemade limonada – $13.00
La Pasión Sangria
A refreshing blend of premium Spanish white wine with natural essences of Mediterranean fruits and Chinola passion fruit liqueur – $14.00
Assorted Beer – $8.00 – $10.00
Assorted Wine – $9.00 – $14.00 Glass: $35.00 – $82.00 Bottle
Non-Alcoholic Beverages
Agua de Jamaica
Tangy hibiscus flower tea (no refills) – $5.00
Fiesta Mexicana Iced Tea
Black tea flavored with mango, melon and papaya – $4.00
Acqua Panna Natural Spring Water (1L) – $6.00
Acqua Panna Natural Spring Water (500mL) – $4.00
Topo Chico Sparkling Water (355mL) – $4.00
Perrier Sparkling Water (1L) – $6.00
Assorted Fountain Beverages
Coca-Cola • Diet Coke • Coke Zero • Sprite – $4.00
Frontera Cocina – Kids' Menu
Menu Date: 11/2021
Kids' Meals
Quesadillas
warm flour tortillas, Chihuahua cheese served with plantain rice, and organic carrots. Add $3 for Chicken – $9.50
Kids' Tacos
(2) flour tortillas with chicken, Chihuahua cheese, served with plantain rice, and organic carrots – $12.50
Kid's Dessert
Mexican Vanillas Soft Serve
Served with an optional chocolate sauce – $3.00
** Frontera Cocina Menu and Prices are Subject to Change Without Notice **