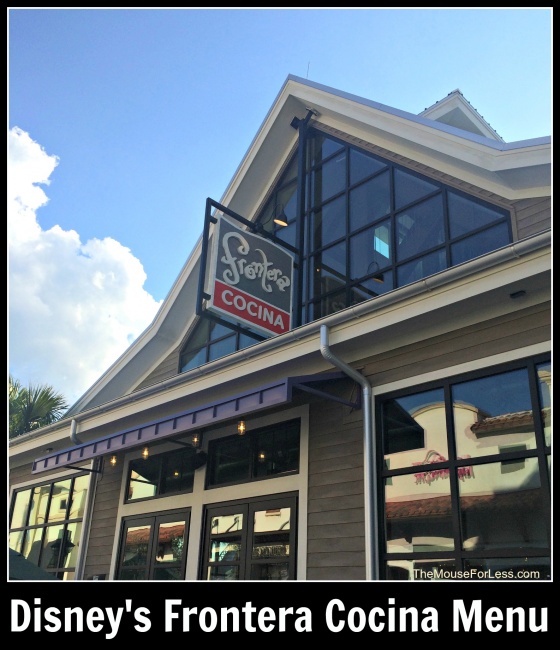 Frontera Cocina, by Chef Rick Bayless, showcases the gourmet Mexican cuisine that has made Chef Bayless a culinary legend. Frontera Cocina features authentic Mexican specialties such as hand-crafted tortas, tacos, salads, fresh-made guacamole and classic Mexican braised meat entrees, all prepared from time-honored recipes with natural, locally sourced ingredients. Frontera Cocina also serves an extensive selection of margaritas, cocktails and craft beers and wine.
Restaurant Info: Authentic Mexican Cuisine, $$ – $15-$34.99 per adult
Find out how you can save money on dining at Walt Disney World by using one of Disney's Dining Plans.
Frontera Cocina – Lunch & Dinner Menu
Menu Date: 08/2018
Starters
Chips and Salsa – Smoky chipotle, herby salsa verde – $4.00
Guacamole – Verde  – Roasted poblanos, roasted tomatillo, toasted pepitas, cilantro and onions (contains seeds) – $10.00
Guacamole – Bacon  – Nueske bacon, tomatillos, toasted pepitas, cilantro, and onions (contains seeds) – $10.00
Guacamole – Atomic – Diced cucumbers, habanero salsa, cilantro, and onions – $10.00
Tortilla Soup – Red chile chicken broth, avocado, artisan Jack cheese, tortilla strips, cilantro, red onion, lime with chicken (contains dairy, gluten) – $9.00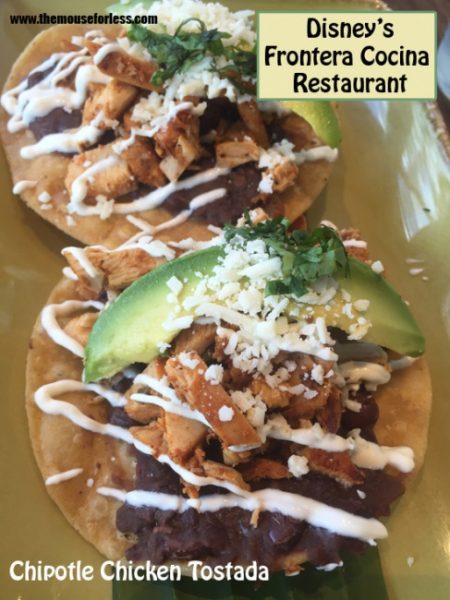 Chipotle Chicken Tostada -Crispy tostadas, creamy black beans, chipotle chicken, crema, queso fresco, and avocado (contains dairy) – $13.00
Zucchini and Poblano Raja Tostada – Crispy tostadas, garlicky grilled vegetables, fresh goat cheese, creamy black beans, pea shoots, and frisée (contains dairy) –  $12.00
Coctel Tropical – Florida Pink Shrimp and Baja bay scallops, tangy serrano-tomatillo salsa, lime, jícama, pineapple, avocado, warm tortilla chips (contains shellfish) – $14.00
Queso Fundido – Queso Chihuahua melted with roasted poblanos and caramelized onions, warm corn tortillas (contains dairy). Add Gunthrop Farms Chorizo +2 – $12.00
Toasted Pumpkin Seed Hummus – Creamy Yucatecan pumpkin seed-habanero dip, crispy cucumber and jícama, warm tortilla chips (contains seeds) – $9.00
Salads
Taqueria Salad – Petite baby lettuces, poblano rajas, carrot, radish, avocado, crunchy tortilla strips, Cotija cheese, avocado-lime vinaigrette (contains dairy) – $9.00
Caesar  – Romaine, wild arugula, Cotija cheese, caramelized red onion, avocado, croutons, chipotle lime Caesar dressing (contains dairy, gluten, fish) – $11.00
Add Grilled Chicken Breast – $6.00
Add Creekstone Natural Carne Asada – $8.00
Add Mojo Garlic Grilled Shrimp – $8.00
Entrees
Grilled Zucchini, Mushroom, and Potato Enchiladas – Just-made tortillas, creamy roasted tomatillo sauce, pea shoot and frisée salad (contains dairy) – $22.00
Carne Asada – Red chile-marinated Creekstone Natural Black Angus steak, refried black beans with cotija cheese, caramelized plantains topped with crema and queso fresco, tomatillo salsa, served with warm tortillas (contains dairy, pork) – $36.00
Oaxcan Red Chile Chicken – Crispy half chicken, Oaxcan red mole, toasted sesame seeds- served with plantain rice and warm tortillas (contains gluten) – $27.00
Shrimp Mojo de Ajo – Pan-roasted Mazatlán blue shrimp with slow cooked garlic, chicken broth, olive oil, lime and chipotle, plantain rice, cilantro, and mojo grilled calabacitas (contains shellfish) – $27.00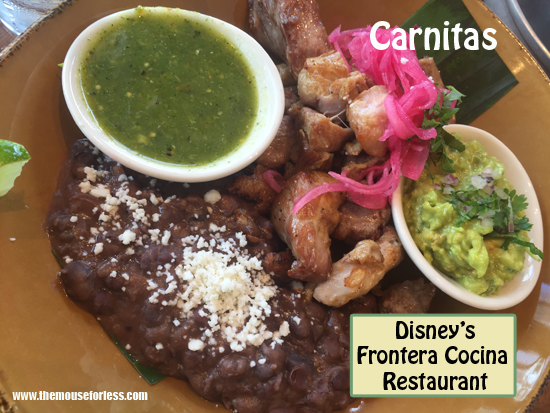 Carnitas – Slow cooked pork shoulder with garlic and lime, refried black beans with Cotija cheese, guacamole, pickled red onions, salsa verde, served with warm corn tortillas – $22.00
Red Chile Chicken Enchiladas – Just made corn tortillas filled with braised chipotle chicken, topped with artisanal Jack cheese, and crispy onions, creamy black beans (contains dairy, gluten) – $22.00
Creekstone Ribeye Steak – Ancho chile rubbed Creekstone ribeye steak, crispy onion strings, Cotija Mashed potatoes, caramelized plantains with crema and Cotija cheese, tomatillo salsa, warm corn tortillas (contains dairy, gluten) – $45.00
Cochinita Pibil – Achiote marinated slow-roasted tender pork, black beans, poblano rajas, pickled red onions, habanero salsa (contains pork and gluten) $24.00
Tacos and Tortas
Carne Asada Tacos – Grilled steak, poblano rajas, refried black beans with Cotija cheese, salsa verde, guacamole –corn tortillas (contains dairy) – $23.00
Chicken Tacos – Grilled chicken tacos, poblano rajas, refried black beans with Cotija cheese, guacamole, chipotle salsa –corn tortillas (contains dairy) – $18.00
Pepito Torta – Slow-cooked shortribs, artisan Jack cheese, black beans, pickled jalapeños, arugula, cilantro cream, chipotle salsa, taqueria salad (contains dairy, gluten) – $16.00
Mushroom Torta – Woodland mushrooms in chipotle garlic marinade, farm fresh goat cheese, lime juice, arugula, warm tortilla chips and chipotle salsa (contains dairy, gluten) – $14.00
Sides
Arroz con plantains – white rice studded with plantains and cilantro – $5.00
Fried Plantains – Served with crema and Cotija cheese (contains dairy) – $5.00
Black Beans Refritos with Queso Fresco – Classic mashed black beans (contains meat, contains dairy) – $5.00
Queso Añejo Mashed Potatoes – Mashed Yukon potatoes, aged Cotija cheese (contains dairy) – $5.00
Grilled Calabacitas – Grilled Mexican squash with Mojo – $5.00
Desserts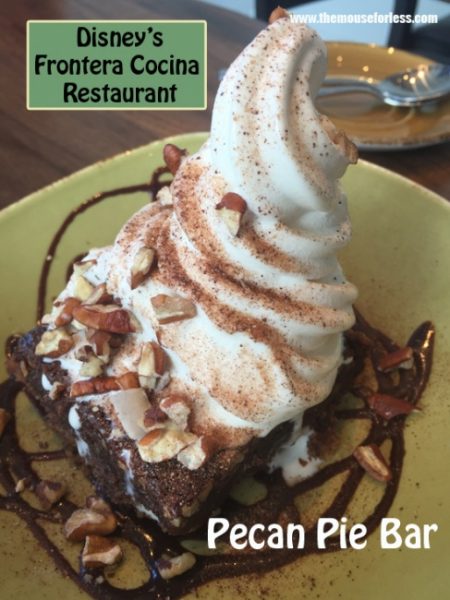 Pecan Pie Bar – Served with Mexican vanilla ice cream- chocolate sauce – $9.00
Seasonal Sorbet – House-made sorbet with fresh fruit – $7.00
Ancho Chile Chocolate Cake – Triple layer moist chocolate cake, ancho chile chocolate frosting, candied Tajin orange zest (contains gluten and dairy) – $9.00
Coconut Lime Quattro Leches – Sponge cake soaked with four milks topped with whipped cream, toasted coconut, fresh blackberries, and lime zest (contains gluten, dairy, seeds) – $9.00
Margaritas
Frontera Margarita – Casa Noble blanco tequila, Royal Combier, fresh lime juice, agave nectar, salt rim – $15.00
Topolo Margarita – Herradura añejo tequila, Torres orange liqueur, house-made limonada – $17.00
Lucy – Por Siempre sotol, fresh carrot juice, Torres orange liqueur, ginger cordial, fresh lime, candied mango – $15.00
Latitude Adjustment – Avión blanco tequila, Royal Combier, fresh lime juice, agave and a splash of soda – $16.00
La Cava Avocado – Por Siempre sotol, fresh carrot juice, Torres orange liqueur, ginger cordial, fresh lime, candied mango – $15.00
Blood Orange Jalapeno Margaria – Casa Noble blanco tequila, orange liqueur, blood orange juice, habanero bitters, jalapeño, tajin chile rim – $14.00
Watermelon Pink Flamingo – Ambhar blanco tequila, watermelon juice, fresh lime and Torres orange liqueur – $16.00
Play With Fire – Avión blanco tequila, cucumber, jalapeño, fresh lime juice, agave nectar, hibiscus salt rim – $15.00
Cocktails
Barcelona Nights – Grey Goose vodka, fresh lime, red wine syrup – $14.00
Frontera Old Fashioned – Zacapa 23 Solera rum, agave syrup, orange tiki bitters, lemon, orange peel – $15.00
All The Pretty Girls – St. Germain elderflower liqueur, fresh grapefruit, cava – $13.00
Mezcal Mule – Mezcal Montelobos Blanco, Ancho Reyes – Ancho Chile Liqueur, Fresh Lime Juice, Chocolate Mole bitters and Ginger Beer – $14.00
Cocina Gina and Tonic – Hendricks gin, tonic water, St. Germain elderflower liqueur, lime and cucumber – $13.00
Agave Flights
Traditional Tequila – Avión blanco, Casa Noble reposado and Ambhar añejo – $23.00
Mezcal – Ilegal blanco, Bozal Cuixe, Salvación Tobasiche – $32.00
Premium Tequila – Casa Dragones blanco, Clase Azul reposado and Avión Reserva 44 Extra añejo – $37.00
Sparkling Wine
Masfi Cava, Spain – $8.00 Glass, $31.00 Bottle
Moet Ice Champagne, France – $137.00 Bottle
Bellafina Moscato, Italy – $9.00 Glass, $33.00 Bottle
Sparkling Wine Split – $13.00 Glass
White Wine
Viño Maipo Chardonnay, Chile – $9.00 Glass, $36.00 Bottle
Kim Crawford Sauvignon Blanc, New Zealand – $11.00 Glass, $49.00 Bottle
Simi Chardonnay, Sonoma Valley CA – $12.00 Glass, $51.00 Bottle
Thomas Schmitt Kabinett Riesling, Germany – $10.00 Glass, $39.00 Bottle
Riff Progetto Lageday Pinot Grigio Italy – $9.00 Glass, $35.00 Bottle
Red Wine
Zolo Malbec, Argentina – $9.00 Glass, $37.00 Bottle
Belle Glos Pinot Noir, Monterey – $64.00 Bottle
Monte Xanic, Gran Ricardo Cabernet Blend, California, Mexico – $85.00 Bottle
Viño Maipo Cabernet Sauvignon, Chile – $9.00 Glass, $36.00 Bottle
Torres, Sangre de Toro Garnacha Blend, Spain – $9.00 Glass, $37.00 Bottle
Simi Cabernet, Alexander Valley – $13.00 Glass, $52.00 Bottle
Sangria
Jamaica Sangria – $11.00
Bottle & Draft Beer
Heineken – $7.00
Corona – $7.00
Dos Equis Amber – $7.00
Tecate – $7.00
Bohemia – $7.00
Budweiser – $6.00
Bud Light – $6.00
Coors Light – $6.00
Blue Moon – $6.00
Modela Especial Draft – $7.00
Corona Light Draft – $7.00
Negra Medelo Draft – $7.00
Blue Moon Belgium Style Wheat Beer – $9.00
Coppertail Brewing Co. 2 to Mango IPA – $9.00
Crooked Can Brewing Co Mr.Tractor – $9.00
Goose Island IPA Draft – $9.00
Goose Island 312 Draft – $9.00
Crooked Can Brewing Co. Mc Swagger's Own Amber Ale Draft – $9.00
Pacifico American Style Lager Draft – $7.00
SweetWater 420 Extra Pale Ale Draft – $9.00
Non-Alcoholic Beverages
Ague de Jamaica – Tangy jamaica "flower" tea (no refills) – $4.00
Fiesta Mexicana Iced Tea – Black tea with mango, melon and papaya – $3.00
Coffee – $3.00
Cappuccino – $6.00
Espresso – $4.00
Evian, Perrier – $4.00 Small, $6.00 Large
Assorted Fountain Beverages – $3.00
Frontera Cocina – Kids' Menu
Menu Date: 08/2018
Kids' Meals
Quesadillas – warm flour tortillas, artisan Jack cheese served with plantain rice, and grilled zuccini – contain dairy, gluten – $9.00
Chicken Enchiladas – flour tortillas with grilled chicken, Jack cheese, and red chile enchilada sauce served with plantain rice and grilled zucchini – contain dairy, gluten –  $9.00
Chicken Tacos – 2) flour tortillas with grilled chicken, queso fresco, and cilantro served with plantain rice and grilled zucchini – contain dairy, gluten – $9.00
Kid's Dessert
Mexican Vanillas Soft Serve – Served with an optional chocolate sauce $3.00
** Frontera Cocina Menu and Prices are Subject to Change Without Notice **