Disney Springs | Town Center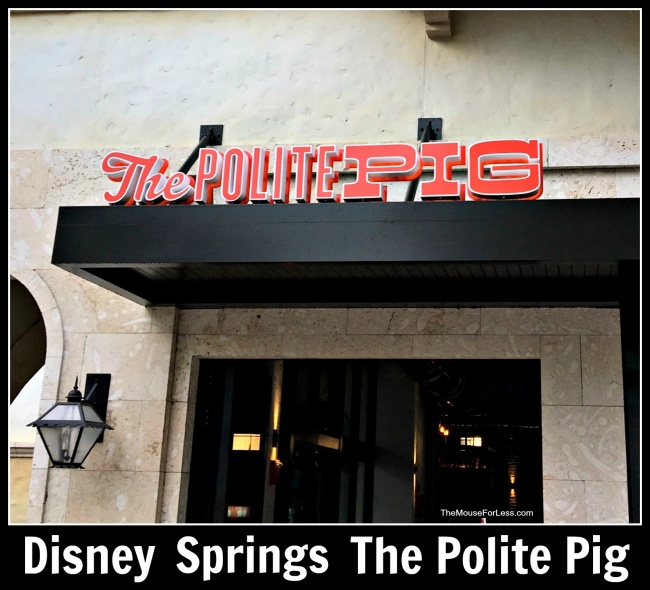 Featuring a variety of wood-fired smoked and grilled items as well as an innovative beverage program that serves all drinks on tap, The Polite Pig brings a new twist on local flavors to Disney Springs.
Owners and James Beard award nominees James and Julie Petrakis are partnering with James' brother (who operates another popular Orlando-area eatery, Greens & Grille) to open the new restaurant, located in the Town Center neighborhood.
Restaurant Info: American, BBQ; $$ – 15 – 30 per adult
Find out how you can save money on dining at Walt Disney World by using one of Disney's Dining Plans.
The Polite Pig Menu
Menu Date: 05/2019
Snacks
Slider Trio – Southern Pig, Low and Slow Brisket and Fried Chicken – $15.00
Polite Rub Chicken Wings – with pickled carrots – $13.00
Burnt Ends BBQ Meatballs – House Brisket, Cheddar Grist and Layla's Sweet BBQ Sauce – $12.00
Hop Salt Pretzels – with beer cheese fondue and ipa mustard – $9.00
Salads
Add crispy or smoked chicken to any salad for $5 , chopped pork for $6, chopped brisket for $8.00, or salmon for $9

Polite Caesar Salad – Romaine, Parmesan, Cornbread Croutons and Carrots – $12.00
BBQ Cobb Salad – with Egg, Bacon, Roasted Corn, Tomato, Cheddar and Avocado-chipotle Dressing – $13.00
Southern Garden – Baby Kale, Radish, Avocado, Blue Cheese, Pecan Granola and Bacon-sorghum Vinaigrette. – $13.00
Sandwiches
All sandwiches served with a pickle spear. Add a market side for $4
Smoked Chicken Salad – Whole Grain Mustard, Celery, Grapes, and Marinated Tomatoes on Romaine Lettuce. – $11.00
The Southern Pig – with Fennel-apple Slaw, Tangy Mustard BBQ, Duke's Mayo, and Smoked Pork –  $12.00
Low & Slow Brisket – Prime Brisket, Pimento Cheese, Porter BBQ, Pickled Jalapeños and Onion Straws served with a Pickle Spear – $14.00
Smoked Turkey BLT – Sweet BBQ Bacon-onion Jam, Cheddar, Lettuce, Tomato and Duke's Mayo served with a Pickle Spear – $13.00
Fried Chicken – with Duke's Mayo, Hot Honey, Pickles and Sweet Pepper Chow-Chow. – $12.00
From the Smoker
Half Chicken  – Citrus-marinade Half Chicken served with Jalapeño Cornbread, Signature Polite Slaw and choice of one Market Side  – $17.00
Cedar Plank Salmon  – Maple-dijon Glaze Cedar Plank Salmon served with Jalapeño Cornbread, Signature Polite Slaw and choice of one Market Side  – $22.00
Pork Shoulder  – Polite Rub Pork Shoulder served with Jalapeño Cornbread, Signature Polite Slaw and choice of one Market Side  – $16.00
USDA Prime Brisket  – Coffee Rub USDA Prime Brisket served with Jalapeño Cornbread, Signature Polite Slaw and choice of one Market Side  – $19.00
Baby Back Ribs  – Polite Rub Baby Back Ribs with Layla's Sweet BBQ Sauce served with Jalapeño Cornbread, Signature Polite Slaw and choice of one Market Side  – $23.00
BBQ Cheddar Sausage  – Bourbon Glaze Cheddar Sausage served with Jalapeño Cornbread, Signature Polite Slaw and choice of one Market Side  – $15.00
Smoked Turkey Breast  – Citrus Rub Smoked Turkey Breast served with Jalapeño Cornbread, Signature Polite Slaw and choice of one Market Side  – $17.00
Butcher Board (For 2)  – Pork Shoulder, Smoked Chicken, Brisket and BBQ Cheddar Sausage with Slaw, House Pickles, two Cornbreads and a choice of two Market Sides. Add Ribs $6 or Smoked Turkey $5  – $39.00
Market Sides
Tomato and Watermelon Salad  – with Feta, Basil and Pickled Onions  – $6.00
Roasted Beets  – Smoked Pecan Granola, Goat Cheese, Yogurt and Oranges  – $6.00
BBQ Cauliflower  – Paprika Sour Cream and Candied Pepitas  – $6.00
Crispy Brussel Sprouts  – with Whiskey-Caramel  – $6.00
Grilled Street Corn  – with Chipotle Aïoli and Breadcrumbs  – $6.00
Sweet Potato Tots  – with Parmesan Cheese  – $6.00
BBQ Waffle Fries  – Polite Rub  – $6.00
Southern Potato Salad  – Creamy Herb Dressing, Pickles, Egg and Celery  – $6.00
Mac and Cheese  – with Aged Cheddar and Breadcrumbs  – $6.00
Polite Baked Beans  – with Burnt Ends, Tomato and Sausage  – $6.00
Side Caesar  – Romaine, Parmesan, Croutons and Carrots  – $6.00
Seasonal Side  – $6.00
Local Sweets
Orange Blossom Pie – $7.00
Buttermilk Chess Pie – $7.00
Red Velvet Cake – $7.00
Kid's Meals
For Guests Ages 9 and Under
All meals include carrot sticks, Lil' Ranch Dipper, and apple juice
Chicken Tenders – $9.00
Mac & Cheese – $9.00
Smoked Pork Slider – $9.00
BBQ Meatballs – $9.00
Slice Smoked Turkey Breast – $9.00
Beverages
Bottled Water – $3.00
Apple Juice – $3.00
Sodas – $3.50
Beer & Wine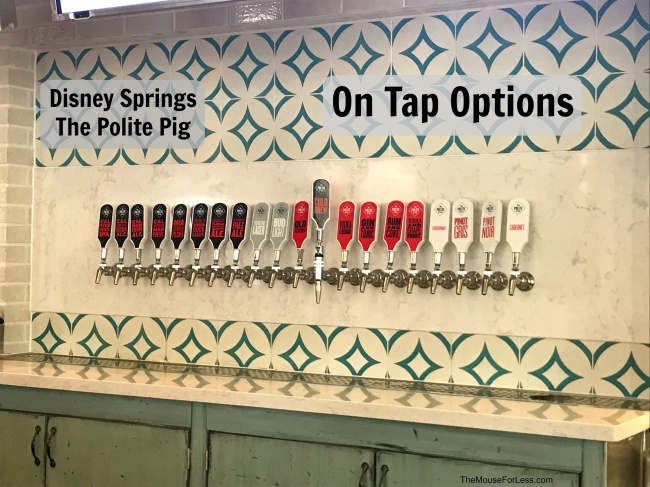 The Ravenous Pig Flight – $10.00
Ravenous Pig Lone Palm Golden Ale – light, crisp, refreshing – Pitcher $27.00, Serving $9.00
Ravenous Pig Five Points IPA – West Coast-style, hoppy IPA – Pitcher $27.00, Serving $9.00
Ravenous Pig Red Drum Amber Ale – hoppy, malty Amber Ale – Pitcher $27.00, Serving $9.00
Ravenous Pig Working Man Porter – medium bodied, dark, malty – Pitcher $27.00, Serving $9.00
Ravenous Pig Seasonal Offering – Pitcher $27.00, Serving $9.00
Red Cypress Spook Hill Pale Ale – hop forward American Pale Ale – Pitcher $27.00, Serving $9.00
Cigar City Florida Cracker – light, citrusy White Ale – Pitcher $27.00, Serving $9.00
Bud Light – Pitcher $22.00, Serving $7.00
Yuengling – Pitcher $22.00 , Serving $7.00
Angry Orchard Cider – Pitcher $27.00, Serving $9.00
Polite Pig Red – Hahn, Central Coast California, Red Blend – Serving $12.00
Polite Pig White – Acrobat, Oregon, Pinot Gris – Serving $12.00
Cocktails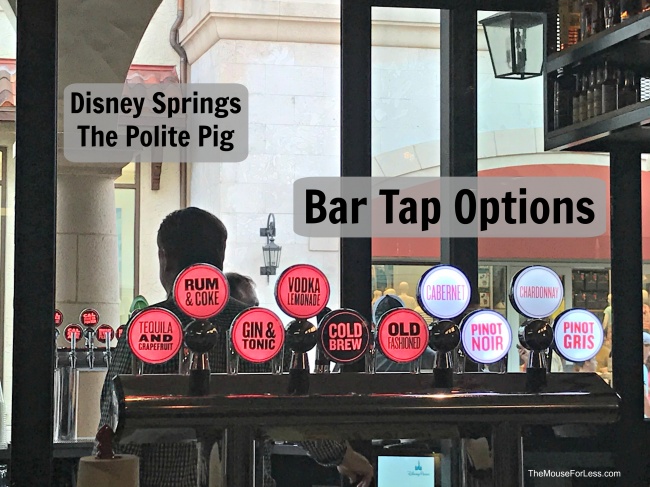 Bee's Knees – London Dry Gin, Honey and Lemon – Pitcher $27.00, Serving $11.00
Polite Sangria – Spanish Red Wine and Florida Orange Liqueur – Pitcher $27.00, Serving $11.00
Grapefruit Margarita – Tequila, Citrus and Grapefruit Liqueur – Pitcher $27.00, Serving $11.00
Vodka Lemonade – House-made Lemonade, Wheatley Vodka – Pitcher $27.00, Serving $11.00
Moscow Mule – Vodka, Ginger Beer and Lime – Pitcher $27.00, Serving $11.00
Rum & Coke – Siesta Key Florida Rum and Coca-Cola® – Pitcher $27.00, Serving $11.00
Polite Punch – Light Rum, Whiskey, Passion Fruit, Lime and Bitters – Pitcher $27.00, Serving $11.00
Sweet Tea Old-Fashioned – Bourbon, Sweet Tea Syrup and Bitters – Serving $11.00
Seasonal Slushie – Serving $11.00
Barrel-Aged Manhattan – Barrel-aged in-house to perfection. We put our own mark on this classic – Serving $15.00
Bourbon Bar
1792 Small Batch Bourbon – $19.00
Amador Double Barrel – $16.00
Angel's Envy – $15.00
Bakers – $20.00
Basil Hayden's – $15.00
Basil Hayden's 10yr – $24.00
Blanton's Single Barrel – $23.00
Booker's – $26.00
Buffalo Trace – $9.00
Bulleit 10yr – $16.00
Calumet Farm – $15.00
Clyde May's Straight 92 – $12.00
Corsair Centennial Hopped Whiskey – $17.00
Corsair Triple Smoke Whiskey – $14.00
Eagle Rare Bourbon – $10.00
E.H. Taylor Small Batch – $13.00
E.H. Taylor Single Barrel – $19.00
Elijah Craig – $15.00
Elijah Craig Barrel Proof – $21.00
Evan Williams 1783 – $9.00
Four Roses Small Batch – $10.00
Four Roses Single Barrel – $13.00
George Dickel No. 12 Tennessee Whiskey – $9.00
Henry McKenna Single Barrel – $12.00
High West American Prairie – $13.00
High West Campfire Blended Whiskey – $21.00
Hudson Baby Bourbon – $16.00
Jack Daniel's – $13.00
Jack Daniel's Single Barrel – $18.00
Jefferson Ocean 90 – $26.00
Knob Creek 100 – $10.00
Larceny Small Batch – $9.00
Maker's Cask Strength – $21.00
Maker's Mark – $14.00
Michter's American Whiskey – $14.00
Mitcher's Bourbon – $14.00
Old Forester 86 – $9.00
Old Forester 1920 Prohibition Style – $18.00
Old Medley 12yr – $24.00
Palm Ridge Reserve – $17.00
Ransom The Emerald 1865 – $25.00
Rock Hill Farms – $19.00
Slaughterhouse American – $13.00
Sonoma County 2nd Chance Wheat Whiskey – $14.00
St Augustine Double Oak – $17.00
Stagg Jr. Barrel Proof – $16.00
Straight Edge – $15.00
Stranahan's Colorado – $18.00
Traverse City Straight – $15.00
Widow Jane Straight 10yr – $26.00
Wild Turkey 81 – $9.00
Winter Park Bear Gully Single Barrel Reserve – $15.00
Woodford Reserve – $13.00
Elijah Craig Private Barrel – $14.00
High West Bourye – $25.00
Willett Family Bourbon – $16.00
Elmer T. Lee – $23.00
Heaven's Door – $16.00
High Wire 4 Grain – $16.00
High Wire Sorghum – $18.00
Horse Soldier Bourbon – $24.00
Horse Soldier Barrel Strength – $27.00
Horse Soldier Straight Bourbon – $14.00
Maker's 46 – $12.00
Bourbon Bar – Rye
Angel's Envy – $27.00
Basil Hayden Dark Rye – $25.00
Bulleit 95 Rye – $10.00
E.H. Taylor – $21.00
High West Double – $13.00
High West Rendezvous – $20.00
Mitcher's Straight Rye Single Barrel – $14.00
Pikesville Rye – $15.00
Russell's Reserve – $17.00
Sazerac Straight Rye – $18.00
Whistlepig Farmstock – $32.00
WhistlePig Farmstock 002 – $26.00
WhistlePig 10yr – $26.00
WhistlePig Polite Pig Private Barrel – $25.00
WhistlePig Old World Rye 12yr – $44.00
Wild Buck American Rye – $20.00
Willett Rye – $17.00
Bourbon Bar – Reserve
Elijah Craig 18yr – $65.00
George T Stagg – $90.00
Heaven Hill 27yr Barrel Proof – $150.00
Horse Soldier Reserve Select – $185.00
Michter's 10yr Single Barrel – $40.00
Old Fitzgerald 9yr – $70.00
Old Fitzgerald 11yr – $80.00
Parker's Heritage 11yr – $70.00
Parker's Heritage 12th Ed. – $85.00
WhistlePig Boss Hog – $80.00
WhistlePig 15yr – $55.00
Bourbon Bar – Whiskey Flights
Polite Flight – 1 oz pour of each | Elijah Craig Small Batch, Basil Hayden and Eagle Rare – $21.00
Refined Flight – 1 oz pour of each | Woodford Reserve, Calumet Farm and Blanton's – $26.00
Florida Flight – 1 oz pour of each | Winter Park Bear Gully Single Barrel, St. Augustine Florida Straight Bourbon and Palm Ridge Reserve – $26.00
The Three Little Pigs Flight – 1 oz pour of each | WhistlePig 10yr, WhistlePig 12yr and WhistlePig Farmstock – $51.00
** The Polite Pig Menu and Prices are Subject to Change Without Notice **