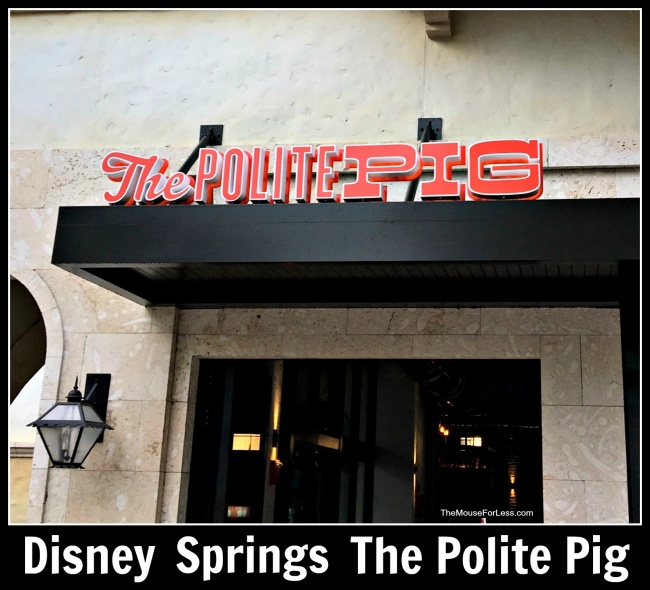 Featuring a variety of wood-fired smoked and grilled items as well as an innovative beverage program that serves all drinks on tap, The Polite Pig brings a new twist on local flavors to Disney Springs.
Owners and James Beard award nominees James and Julie Petrakis are partnering with James' brother (who operates another popular Orlando-area eatery, Greens & Grille) to open the new restaurant, located in the Town Center neighborhood.
The Polite Pig is located in Disney Springs.  Find more Walt Disney World dining locations on our Walt Disney World menus page.
Restaurant Info: American, BBQ; $$ – 15 – 30 per adult
Find out how you can save money on dining at Walt Disney World by using one of Disney's Dining Plans.

Planning a Walt Disney World Vacation?
For a Free no-obligation quote, contact our sponsor
The Magic For Less Travel
. The Magic For Less Travel is an Authorized Disney Vacation Planner and has been helping guests plan magical vacations since 2002. Receive the best prices and free travel planning services. Their fee-free services will help you save time, money, and stress while planning a vacation designed around you and your needs!
The Polite Pig Menu
Menu Date: 11/2021
Shareables
Hop Salt Pretzel
with Beer Cheese Fondue and IPA Mustard – $9.00
Polite Rub Chicken Wings
with Pickled Carrots – $13.00
Burnt Ends BBQ Meatballs
House Brisket, Cheddar Grits and Layla's Sweet BBQ Sauce – $12.00
Slider Trio
Southern Pig, Low and Slow Brisket and Fried Chicken – $15.00
Salads
Polite Caesar Salad
Romaine, Parmesan, Croutons and Carrots. Add Crispy or Smoked Chicken $5, Chopped Pork $6, Chopped Brisket $8 or Salmon $9 – $12.00
Chipotle Cobb Salad
with Egg, Bacon, Roasted Corn, Tomato, Cheddar and Avocado-chipotle Dressing. Add Crispy or Smoked Chicken $5, Chopped Pork $6, Chopped Brisket $8 or Salmon $9 – $13.00
The Springs Spinach
Spinach, Seasonal Fruit, Pecan Granola, Red Onion, Tomato, Feta Cheese, Sorghum Vinaigrette. Add Crispy or Smoked Chicken $5, Chopped Pork $6, Chopped Brisket $8 or Salmon $9 – $13.00
Sandwiches
Smoked Turkey BLT
Sweet BBQ Bacon-onion Jam, Cheddar, Lettuce, Tomato and Duke's Mayo served with a Pickle Spear – $13.00
Southern Pig
Pulled Pork, Fennel-apple Slaw, tangy Mustard BBQ and Duke's Mayo served with a Pickle Spear – $12.00
Smoked Chicken Salad
Whole-grain Mustard, Celery, Grapes, Marinated Tomatoes and Romaine Lettuce served with a Pickle Spear – $11.00
Low & Slow Brisket
Prime Brisket, Pimento Cheese, Porter BBQ, Pickled Jalapeños and Onion Straws served with a Pickle Spear – $14.00
Fried Chicken
Sweet and Smoky BBQ, Duke's Mayo, Pickles and Cole Slaw served with Pickle Spear – $12.00
Market Sides
Tomato and Watermelon Salad
with Feta, Basil and Pickled Onions – $6.00
Roasted Beets
Smoked Pecan Granola, Goat Cheese, Yogurt and Oranges – $6.00
BBQ Cauliflower
Paprika Sour Cream and Candied Pepitas – $6.00
Crispy Brussel Sprouts
with Whiskey-Caramel – $6.00
Grilled Street Corn
with Chipotle Aïoli and Breadcrumbs – $6.00
Sweet Potato Tots
with Parmesan Cheese – $6.00
BBQ Waffle Fries
Polite Rub – $6.00
Southern Potato Salad
Creamy Herb Dressing, Pickles, Egg and Celery – $6.00
Mac and Cheese
with Aged Cheddar and Breadcrumbs – $6.00
Polite Baked Beans
with Burnt Ends, Tomato and Sausage – $6.00
Side Caesar
Romaine, Parmesan, Croutons and Carrots – $6.00
Seasonal Side – $6.00
Local Sweets
Red Velvet Cake – $7.00
Orange Blossom Pie (7.00) – $7.00
Buttermilk Chess Pie – $7.00
Kid's Meals
For Guests Ages 9 and Under
All meals include carrot sticks, Lil' Ranch Dipper, and apple juice
Smoked Pork Slider – $9.00
Chicken Tenders – $9.00
Mac and Cheese – $9.00
BBQ Meatballs – $9.00
Sliced Smoked Turkey Breast – $9.00
Beverages
Bottled Water – $3.00
Apple Juice – $3.00
Sodas – $3.50
Beer & Wine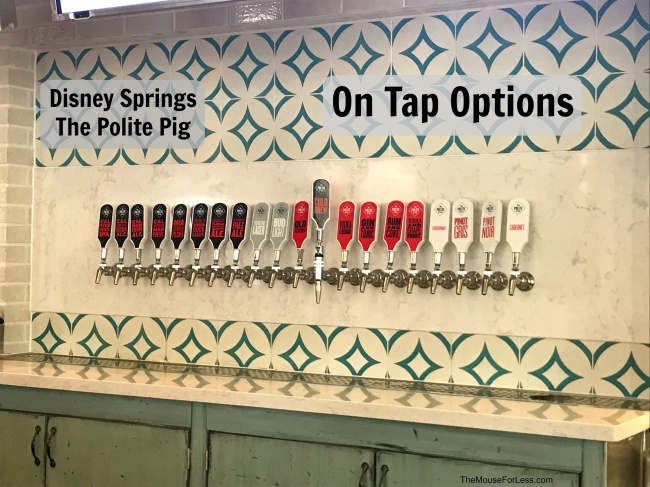 Ravenous Pig Lone Palm Golden Ale – light, crisp, refreshing – Pitcher $27.00, Serving $9.00
Ravenous Pig Five Points IPA – West Coast-style, hoppy IPA – Pitcher $27.00, Serving $9.00
Ravenous Pig Red Drum Amber Ale – hoppy, malty Amber Ale – Pitcher $27.00, Serving $9.00
Ravenous Pig Working Man Porter – medium bodied, dark, malty – Pitcher $27.00, Serving $9.00
Ravenous Pig Seasonal Offering – Pitcher $27.00, Serving $9.00
Red Cypress Spook Hill Pale Ale – hop-forward American Pale Ale – Pitcher $27.00, Serving $9.00
Cigar City Florida Cracker – light, citrusy White Ale – Pitcher $27.00, Serving $9.00
Bud Light – Pitcher $22.00, Serving $7.00
Yuengling – Pitcher $22.00, Serving $7.00
Angry Orchard Cider – Pitcher $27.00, Serving $9.00
Polite Pig Red – Hahn, Central Coast California, Red Blend – Serving $12.00
Polite Pig White – Acrobat, Oregon, Pinot Gris – Serving $12.00
Cocktails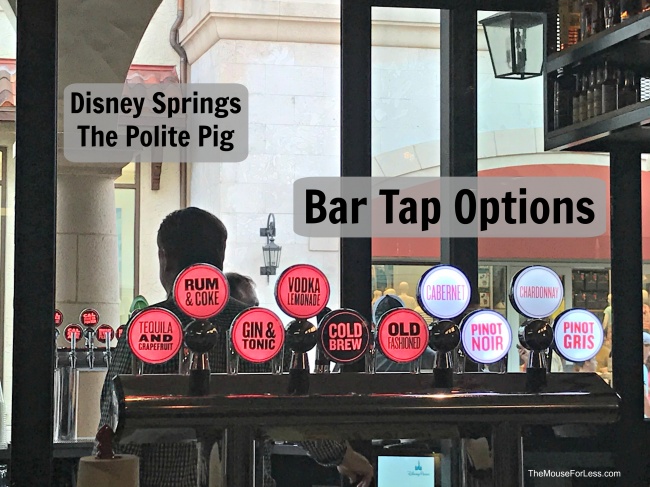 Bee's Knees – London Dry Gin, Honey, and Lemon – Pitcher $27.00, Serving $11.00
Polite Sangria – Spanish Red Wine and Florida Orange Liqueur – Pitcher $27.00, Serving $11.00
Grapefruit Margarita – Tequila, Citrus, and Grapefruit Liqueurs – Pitcher $27.00, Serving $11.00
Vodka Lemonade – House-made Lemonade, Wheatley Vodka – Pitcher $27.00, Serving $11.00
Moscow Mule – Vodka, Ginger Beer and Lime – Pitcher $27.00, Serving $11.00
Rum & Coke – Siesta Key Florida Rum and Coca-Cola® – Pitcher $27.00, Serving $11.00
Polite Punch – Light Rum, Whiskey, Passion Fruit, Lime, and Bitters – Pitcher $27.00, Serving $11.00
Sweet Tea Old-Fashioned – Bourbon, Sweet Tea Syrup and Bitters – Serving $11.00
Seasonal Slushie – Serving $11.00
Barrel-Aged Manhattan – Barrel-aged in-house to perfection. We put our mark on this classic – Serving $15.00
Bourbon Bar
1792 Small Batch Bourbon – $19.00
Amador Double Barrel – $16.00
Angel's Envy – $15.00
Bakers – $20.00
Basil Hayden's – $15.00
Basil Hayden's 10yr – $24.00
Blanton's Single Barrel – $23.00
Booker's – $26.00
Buffalo Trace – $9.00
Bulleit 10yr – $16.00
Calumet Farm – $15.00
Clyde May's Straight 92 – $12.00
Corsair Centennial Hopped Whiskey – $17.00
Corsair Triple Smoke Whiskey – $14.00
Eagle Rare Bourbon – $10.00
E.H. Taylor Small Batch – $13.00
E.H. Taylor Single Barrel – $19.00
Elijah Craig – $15.00
Elijah Craig Barrel Proof – $21.00
Evan Williams 1783 – $9.00
Four Roses Small Batch – $10.00
Four Roses Single Barrel – $13.00
George Dickel No. 12 Tennessee Whiskey – $9.00
Henry McKenna Single Barrel – $12.00
High West American Prairie – $13.00
High West Campfire Blended Whiskey – $21.00
Hudson Baby Bourbon – $16.00
Jack Daniel's – $13.00
Jack Daniel's Single Barrel – $18.00
Jefferson Ocean 90 – $26.00
Knob Creek 100 – $10.00
Larceny Small Batch – $9.00
Maker's Cask Strength – $21.00
Maker's Mark – $14.00
Michter's American Whiskey – $14.00
Mitcher's Bourbon – $14.00
Old Forester 86 – $9.00
Old Forester 1920 Prohibition Style – $18.00
Old Medley 12yr – $24.00
Palm Ridge Reserve – $17.00
Ransom The Emerald 1865 – $25.00
Rock Hill Farms – $19.00
Slaughterhouse American – $13.00
Sonoma County 2nd Chance Wheat Whiskey – $14.00
St Augustine Double Oak – $17.00
Stagg Jr. Barrel Proof – $16.00
Straight Edge – $15.00
Stranahan's Colorado – $18.00
Traverse City Straight – $15.00
Widow Jane Straight 10yr – $26.00
Wild Turkey 81 – $9.00
Winter Park Bear Gully Single Barrel Reserve – $15.00
Woodford Reserve – $13.00
Elijah Craig Private Barrel – $14.00
High West Bourye – $25.00
Willett Family Bourbon – $16.00
Elmer T. Lee – $23.00
Heaven's Door – $16.00
High Wire 4 Grain – $16.00
High Wire Sorghum – $18.00
Horse Soldier Bourbon – $24.00
Horse Soldier Barrel Strength – $27.00
Horse Soldier Straight Bourbon – $14.00
Maker's 46 – $12.00
Bourbon Bar – Rye
Angel's Envy – $27.00
Basil Hayden Dark Rye – $25.00
Bulleit 95 Rye – $10.00
E.H. Taylor – $21.00
High West Double – $13.00
High West Rendezvous – $20.00
Mitcher's Straight Rye Single Barrel – $14.00
Pikesville Rye – $15.00
Russell's Reserve – $17.00
Sazerac Straight Rye – $18.00
Whistlepig Farmstock – $32.00
WhistlePig Farmstock 002 – $26.00
WhistlePig 10yr – $26.00
WhistlePig Polite Pig Private Barrel – $25.00
WhistlePig Old World Rye 12yr – $44.00
Wild Buck American Rye – $20.00
Willett Rye – $17.00
Bourbon Bar – Reserve
Elijah Craig 18yr – $65.00
George T Stagg – $90.00
Heaven Hill 27yr Barrel Proof – $150.00
Horse Soldier Reserve Select – $185.00
Michter's 10yr Single Barrel – $40.00
Old Fitzgerald 9yr – $70.00
Old Fitzgerald 11yr – $80.00
Parker's Heritage 11yr – $70.00
Parker's Heritage 12th Ed. – $85.00
WhistlePig Boss Hog – $80.00
WhistlePig 15yr – $55.00
Bourbon Bar – Whiskey Flights
Polite Flight – 1 oz pour of each | Elijah Craig Small Batch, Basil Hayden and Eagle Rare – $21.00
Refined Flight – 1 oz pour of each | Woodford Reserve, Calumet Farm and Blanton's – $26.00
Florida Flight – 1 oz pour of each | Winter Park Bear Gully Single Barrel, St. Augustine Florida Straight Bourbon and Palm Ridge Reserve – $21.00
The Three Little Pigs Flight – 1 oz pour of each | WhistlePig 10yr, WhistlePig 12yr, and WhistlePig Farmstock – $51.00
** The Polite Pig Menu and Prices are Subject to Change Without Notice **