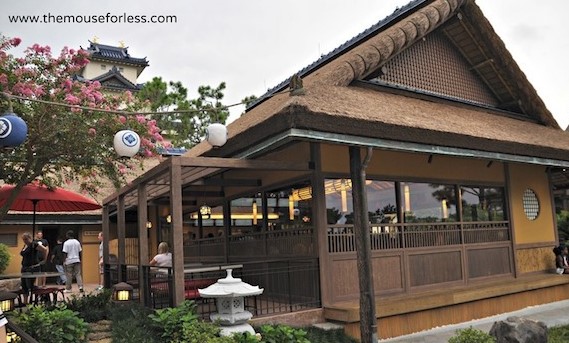 Taking inspiration from the Katsura Imperial Villa of western Kyoto, Katsura Grill reflects Japanese architecture and incredible gardens. Quick bites here include Sushi, Japanese Curry, Teriyaki, Udon Noodles, Miso Soup, Edamame, Green Tea Ice Cream, and Sake. (Formerly Yakitori House).
Katsura Grill is located in Disney's Epcot theme park.  Find more Walt Disney World dining locations on our Walt Disney World Resort menus page.
Restaurant Info: Japanese, Lunch/Dinner/Snack, $ – under $14.99 per adult
Find out how you can save money on dining at Walt Disney World by using one of Disney's Dining Plans.

Planning a Walt Disney World Vacation?
For a Free no-obligation quote, contact our sponsor
The Magic For Less Travel
. The Magic For Less Travel is an Authorized Disney Vacation Planner and has been helping guests plan magical vacations since 2002. Receive the best prices and free travel planning services. Their fee-free services will help you save time, money, and stress while planning a vacation designed around you and your needs!
Katsura Grill Menu
Menu Date: 07/2023
Sushi
California Roll – $10.00
Spicy Roll – Tuna and Salmon – $10.00
Tokyo Sushi Combo – 4 pcs. California Roll & 3 pcs. Nigiri – $12.00
Vegetable Roll – $9.00
Noodle & Salad
Shrimp Tempura Udon – $13.00
Yasai (Vegetable) Udon – $12.00
Tonkotsu (Pork)  Ramen – served with Pork and Vegetables – $13.00
Grilled Chicken Salad – $12.00
Osusume – Recommended Menu
Chicken Teriyaki – served with Steamed Rice and Mixed Vegetables – $16.00
Chicken and Beef Teriyaki – served with Steamed Rice and Mixed Vegetables – $16.00
Chicken Cutlet Curry – Curry Sauce with Chicken served with Steamed Rice and Mixed Vegetables – $14.00
Shrimp and Chicken Teriyaki – served with Steamed Rice and Mixed Vegetables – $15.00
Sides
Miso Soup – $3.00
Yuzu Miso Wings – 6 piece Chicken Wings – $12.00
Salad – served with ginger dressing – $6.00
Edamame – served chilled – $4.50
Kids' Meal
Chicken Teriyaki – served with White Rice, Vegetables, Cookie and a choice of Juice, Milk, or Soda – $8.50
Chicken and Shrimp Teriyaki  – served with White Rice, Vegetables, Cookie and a choice of Juice, Milk, or Soda $9.50
Beef and Shrimp Teriyaki – with White Rice, Vegetables, Cookie, and choice of Juice or Milk or Soda – $9.50
Kids' menu items for children ages 9 and younger
Desserts
Yuzu Cheesecake – $4.50
Mousse Cake – $5.50
Beverages
Assorted Fountain Beverages – $3.99
Apple Juice – $3.00
Low Fat Milk – $3.00
Dasani Bottled Water – $3.75
Alcoholic Beverages
Sake – Cold or Hot – $8.00
Plum Wine – $8.00
Kirin Draft Beer – $10.00
Kirin Light Beer – $8.50
Sapporo Draft Beer – $10.00
Asahi Super Dry Draft Beer – $11.00
Nigori (unfiltered) Sake – $9.50
Japanese Cocktails – $11.00
** Katsura Grill Menu and Prices are Subject to Change Without Notice **