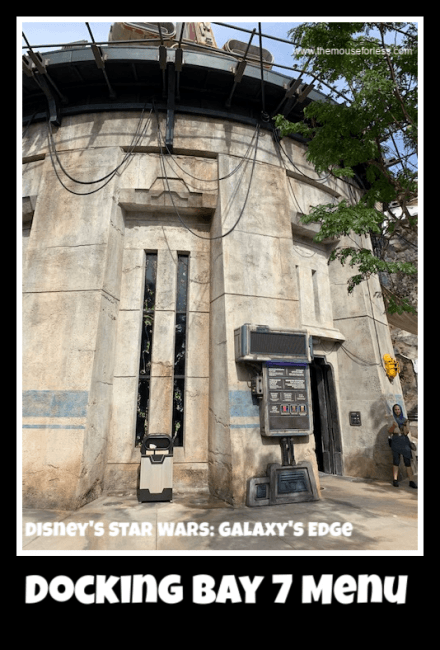 At this restaurant housed in a working hangar bay, choose from a variety of dishes prepared with ingredients from across the galaxy—all of it delicious, but none of it familiar. Chef Strono "Cookie" Tuggs has docked a food freighter loaded with fresh supplies and he's ready to satisfy the appetites of visitors and locals alike with an array of exotic offerings. His planet-hopping travels allow him to prepare fare with unusual flavors that delight customers.
Once you've got your grub, sit inside the spacious hanger, or grab a table in the rustic outdoor seating area surrounded by the crumbling walls of the old marketplace.
Docking Bay 7 is located in Disney's Hollywood Studios theme park. Find more Walt Disney World dining locations on our Walt Disney World Resort menus page.
Restaurant Info: American, Snacks and Beverages, $ – under $14.99 per adult
Find out how you can save money on dining at Walt Disney World by using one of Disney's Dining Plans.

Planning a Walt Disney World Vacation?
For a Free no-obligation quote, contact our sponsor
The Magic For Less Travel
. The Magic For Less Travel is an Authorized Disney Vacation Planner and has been helping guests plan magical vacations since 2002. Receive the best prices and free travel planning services. Their fee-free services will help you save time, money, and stress while planning a vacation designed around you and your needs!
Docking Bay 7 Food and Cargo Lunch/Dinner Menu
Menu Date: 09/2022
Entrees
Batuuan Beef and Crispy Topato Stir-fry
Smoky Braised Beef glazed in Tamarind Sauce. Served with Stir Fried Mushrooms and Vegetables, Crispy Herb Yucca, Pickled Onions, and Cilantro – $18.99
Peka Tuna Poke*
Raw Tuna tossed in a Spicy Sriracha Dressing and served with Green Papaya Salad, Pickled Mushrooms, Fresh Herbs, and Crispy Garlic – $17.99
Smoked Kaadu Pork Ribs
Pork Ribs brushed with Tangy BBQ Sauce and served with Blueberry Corn Muffin and Red Cabbage Slaw – $16.99
Fried Endorian Chicken Tip Yip
Crispy Chicken served with House-Made Macaroni & Cheese and Roasted Vegetables – $15.49
Pirjanad Hot Chicken Tip Yip
Crispy Chicken glazed in a Spicy Chipotle Sauce and served with White Rice and a Relish of Sweet Corn, Shishito Peppers, Jicama, Plantains, and Cilantro – $15.49
Roasted Endorian Chicken Salad
Marinated Chicken, Mixed Greens, Shaved Onion and Radish, Grapes, Tomato, and Cucumber in a Citrus-Pomegranate Vinaigrette with Spiced Yogurt Drizzle – $13.99
Plant-Based
Felucian Kefta and Hummus Garden Spread
Plant-based Meatballs, Herb Hummus, Tomato-Cucumber Relish, Pita – $12.99
Ronto Roaster Specialty
Ronto Wrap
Roasted Pork, Grilled Pork Sausage, Peppercorn Sauce, and Tangy Slaw wrapped in Pita Bread with a side of Root Vegetable Chips. Available after 3:00pm – $13.99
Desserts
Outpost Puff
Chocolate Pastry filled with Guajillo Chocolate Mousse and Green Milk Sauce finished with Thai Tea Panna Cotta, Spiced Pineapple and Confectionary Debris – $7.29
Kids' Meals
Ithorian Pasta Rings
Plant-based Meat Marinara Sauce and Pasta with a side of Roasted Vegetables served with choice of Small Lowfat Milk or Small DASANI® Water. Meets Disney Nutrition Guidelines for Complete Meals without substitutions – $8.99
Takodana Veggie Dippers
Black Bean Hummus, Edible Soil with Nuts, Chilled Dipping Vegetables, and Multigrain Crisps with a side of 'Ranch' dressing served with choice of Small Lowfat Milk or Small DASANI® Water. Meets Disney Nutrition Guidelines for Complete Meals without substitutions – $8.49
Fried Chicken Tip Yip Youngling Meal
Crispy Chicken served with House-made Macaroni & Cheese and Roasted Vegetables served with choice of Small Lowfat Milk or Small DASANI® Water – $9.99
Non-Alcoholic Specialty Beverages
Moof Juice
Simply® Fruit Punch, Simply® Orange with Pineapple, Chipotle-Pineapple – $5.49
Beverages
Assorted Fountain Beverages – Large – Assorted Coca-Cola® Offerings – $4.49
DASANI® Bottled Water – $4.25
Assorted Fountain Beverages – Regular – Assorted Coca-Cola® Offerings – $3.99
Lowfat Milk – $1.99
Nestlé® NESQUIK® Chocolate Milk – $2.99
Minute Maid® Apple Juice – $2.69
Beverages with Alcohol
Takodana Quencher
Bacardí Dragon Berry Rum, Blue Curaçao, Simply® Orange with Pineapple, and Kiwi – $16.00
Gold Squadron Lager – Blue Point Brewing Co.
16 oz draft – Golden Lager with Lavender and Plum flavors – $13.25
Surly Sarlacc
Ketel One Botanical Grapefruit and Rose Vodka, Minute Maid© Limeade, Raspberry, Spicy Mango Flavors – $14.00
** Docking Bay 7 Menu and Prices are Subject to Change Without Notice **