Magic Kingdom | Tomorrowland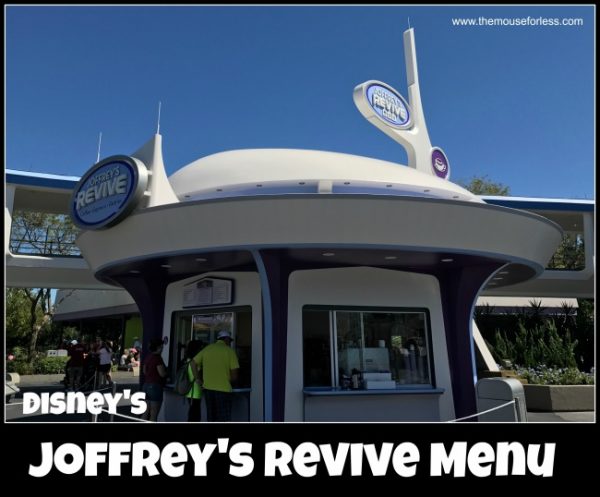 The Joffrey's Revive kiosk opened in March 2016. It is located in Tomorrowland in the Magic Kingdom near Space Mountain. This location currently features a special latte called "Mission to S'mores," which references the Mission to Mars attraction that operated in Tomorrowland from 1975-1993.
Restaurant Info: Snacks and coffee, $ – under $15 per adult
Find out how you can save money dining at Walt Disney World using a dining plan.
Joffrey's Revive Kiosk Menu
Menu Date: 07/2018
Beverages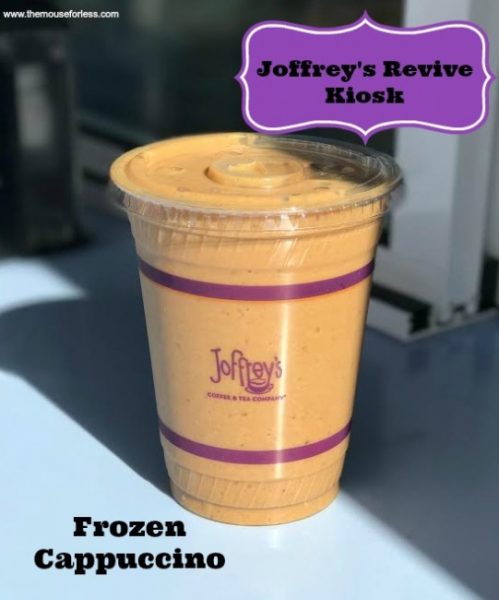 Cafe Femenino Coffee – $3.49

Double Espresso – $3.59

Cafe Latte – $5.09

Chai Latte – $5.09

Flavored Latte – Vanilla, Caramel, or Hazelnut– $5.69

Frozen Cappuccino – $5.69

Frozen Drinks – $5.69

Hot Tea – $3.49

Iced Guava Tea – $4.19

Peach Iced Tea – $4.19

Dasani Bottled water – $3.00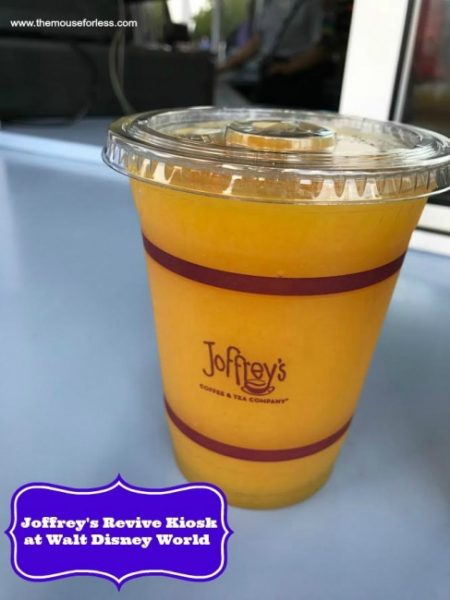 Specialty Beverages
Shakin Jamaican – layered frozen strawberry and lemonade topped with vodka – $9.99
Tiki Torch – frozen passion fruit with juicy sweet flavors, a hint of tartness, blended with vodka – $9.99
Frozen Strawberry-Lemon Sunset – freshly brewed tea and frozen lemonade topped with vodka – $9.49
Kahlua Tini – roasted coffee chilled then topped with Kahlua, vodka and light cream – $9.99

= Snack on the Disney Dining Plan
** Joffrey's Revive Coffee Kiosk Menu and Prices are Subject to Change Without Notice **