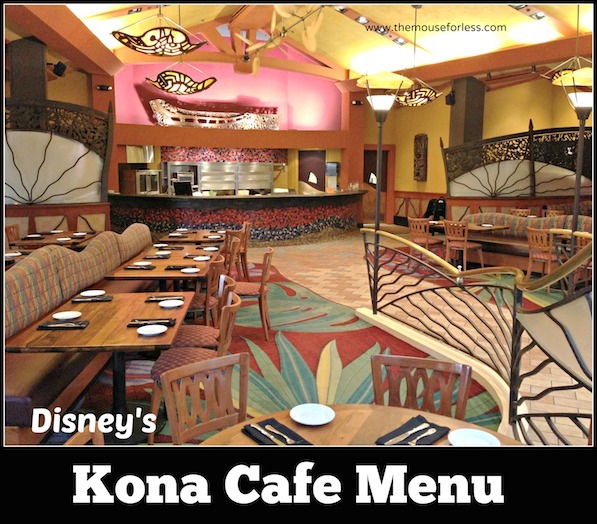 Kona Cafe infuses a bit of Asian zest into traditional American meals. This relaxed cafe also features an onstage sushi kitchen.
Kona Cafe is located in Disney's Polynesian Village Resort.  Find more Walt Disney World dining locations on our Walt Disney World menus page.
Restaurant Info: American, Seafood Cuisine, Sushi; Breakfast (7:30 a.m. – 11:15 a.m.)/Lunch (12:00 p.m. – 2:45 p.m.)/Dinner (5:00 p.m. – 10:00 p.m.) A la carte, $-$$
Find out how you can save money on dining at Walt Disney World by using one of Disney's Dining Plans.
Breakfast Menu  Kids' Breakfast Menu  Lunch Menu  Dinner Menu  Kids' Lunch & Dinner Menu

Planning a Walt Disney World Vacation?
For a Free no-obligation quote, contact our sponsor
The Magic For Less Travel
. The Magic For Less Travel is an Authorized Disney Vacation Planner and has been helping guests plan magical vacations since 2002. Receive the best prices and free travel planning services. Their fee-free services will help you save time, money, and stress while planning a vacation designed around you and your needs!
Kona Cafe Breakfast Menu
Menu Date: 10/2021
Entrées
Tonga Toast
Banana-stuffed French Toast rolled in Cinnamon Sugar and served with a Strawberry Compote and your choice of Ham, Spiced Ham, Bacon, or Sausage – $16.00
Two Eggs-Any Style
with Home-fried Potatoes and your choice of Ham, Spiced Ham, Bacon, or Sausage – $14.00
Plant-based Loco Moco
Plant-based Eggs, Plant-based Sausage, Coconut Milk, Rice, Pico de Gallo – $12.00
Macadamia Nut Pancakes
with Macadamia Nut Butter, Pineapple Sauce, and your choice of Ham, Spiced Ham, Bacon, or Sausage – $14.00
Sides
Bacon, Ham or Pork Sausage – $5.00
Creamy Grits with Smoked Gouda – $6.00
Steel-cut Oatmeal with Apples – $7.00
Fresh Fruit Cup – $5.50
Specialty Beverages
Liliko'i Mimosa – $13.00
Wasabi Bloody Mary – $13.00
Polynesian Red Eye
Coconut Rum, Liliko'i juice, and Grenadine – $9.50
Magical Beacon Cocktail
Empress 1908 Gin, Bols Blue Curaçao, Minute Maid® Premium Lemonade, Orgeat (Almond), Lemon, Hibiscus Grenadine and a souvenir Glow Cube – $17.00
Non-Alcoholic Beverages
EARidescent Sip-a-bration
Minute Maid® Premium Lemonade and Fruity Strawberry Punch, served in a souvenir 50th Celebration Cup with a surprise Character and a little bit of magic! – $10.00
Specialty Character Drink
Minute Maid® Light Lemonade served in a souvenir Character Cup with a glowing Character Clip-on Light – $8.00
Liliko'i Juice
Orange, Passion Fruit, and Guava blend – $6.50
Mega-Berry Smoothie
Raspberry Purée and Nonfat Yogurt blended with Simply Smoothie® Orchard Berry – $6.00
Assorted Juices
Minute Maid® Orange, Apple, Cranberry, and Pineapple Juice. Grapefruit or Tomato Juice
Freshly Brewed Joffrey's Coffee Hawaiian Kona Maragogype Press Pot $9.50 (Serves Two)
Kona Blend Coffee
Espresso
Cappuccino
Caffe Latte
Cafe Mocha
Kona Cafe Kid's Breakfast Menu
All meals include choice of one (1) entrée, two (2) selections and choice of small Lowfat Milk, small Bottled Water or small Apple Juice
Kids' Entrées
Scrambled Eggs – $8.00
Oatmeal with Dried Cranberries – $6.00
Mickey-shaped Pancakes – $8.00
Minnie's French Toast – $8.00
Kids' Selections
Fruit Cup
Breakfast Potatoes
Sausage
Yogurt with Strawberries
Bacon
Kona Cafe Lunch/Dinner Menu
Menu Date: 10/2021
Appetizers
Seafood Coconut-Curry Soup
Shrimp, Scallop, Crab – $10.00
Crispy Pork-Vegetable Pot Stickers
Soy-Vinaigrette Dressing – $10.00
Glazed Chicken Wings
Sticky Wing Sauce – $14.00
Sushi
Spicy Tuna Roll
Ahi Tuna, Spicy Mayonnaise, Cucumber – $18.00
California Roll
Jumbo Lump Crab, Citrus Mayonnaise, Cucumber, Avocado – $18.00
Rainbow Roll
Tuna, Salmon, Kanpachi, Lump Crab, Cucumber, Avocado – $24.00
Poke
Tuna Poke
Passion Fruit BoBo, Micro Chives, Wasabi Chips, Citrus Yuzu – $16.00
Rainbow Poke
Tuna, Salmon, Kanpachi, Hamachi, Fresno Chili Peppers, Lotus Root, Spicy Ponzu – $16.00
Burgers and Sandwiches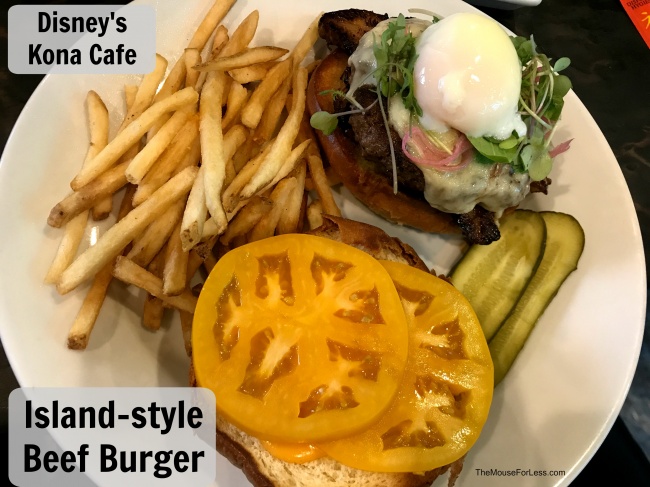 Crispy Cheddar Burger*
Crispy Cheddar, Brown Sugar-Black Pepper Bacon, Roasted Tomato, and Braised Onions served with French Fries – $21.00
Turkey Banh Mi
Slow-roasted Turkey Breast, Black Pepper Bacon, Pork Pâte, Cilantro, Jalapeño, Onions, and Grilled Poblano Mayonnaise served with French Fries – $16.00
Entrées
Kona Chicken Stir-fry
Yakisoba Noodles, Napa Cabbage, Carrots, Teriyaki Sauce – $21.00
Mahi, Bacon, Lettuce, and Tomato
Pan-fried Mahi, Butter Croutons, Marble Potato, Tomato, Arugula, Soy Velouté – $28.00
Duck Fried Rice with Leg Confit
Crispy Duck Spring Roll, Shiitake Mushrooms, Togarashi, Grilled Bok Choy – $32.00
Steak Salad*
Sunny-side Up Egg, Kona House Vinaigrette, Sweet Bell Peppers, Kale and Arugula Blend – $23.00
Dashi Bowls
Pork Belly Noodle Bowl
Bone Broth, Rice Noodles, Soy Egg, Mushrooms, Bok Choy, Hot Sesame Oil – $24.00
Vegetable Bowl
Jasmine Broth, Glass Noodle, Pineapple Tofu, Umami Tomato – $21.00
Dessert Glasses
Chocolate Dome
White and Dark Chocolate Mousse Dome with Graham Cracker Crust and Blue Mickey Spirals – $5.99
Lemon Tart
Lemon Curd in a Sablé Tart Shell, with Toasted Meringue and Fresh Berries – $5.00
Key Lime
Key Lime Curd and Blood Orange-Mango Jam piped between Passion Fruit Curd and topped with Passion Fruit Boba, Meringue, and a Chocolate Curl – $5.00
S'more
Milk Chocolate Pot de Crème, Marshmallow Cream, and Graham Cracker Crust topped with Toasted Mashmallows – $5.00
Tiramisu
Mascarpone Cream with a Mocha Crèmeux topped with Fresh Whipped Cream, Cocoa, and Chocolate-covered Coffee Beans – $5.00
Banana Trifle
Banana Pastry Cream with a Chocolate Pot de Crème center topped with Creamy Caramel – $5.00
Coconut Tapioca
with a Pineapple-Coconut Jam base topped with Fresh Fruit and Assorted Boba (Plant-based) – $5.00
Cheesecake, No Sugar Added
with Seasonal Fruit and topped with Fruit Sauce – $5.00
Non-Alcoholic Beverages
EARidescent Sip-a-bration
Minute Maid® Premium Lemonade and Fruity Strawberry Punch, served in a souvenir 50th Celebration Cup with a surprise Character and a little bit of magic! – $10.00
Specialty Character Drink
Minute Maid® Light Lemonade served in a souvenir Character Cup with a glowing Character Clip-on Light – $8.00
Liliko'i Juice
Orange, Passion Fruit, and Guava blend – $6.50
Mega-Berry Smoothie
Raspberry Purée and Nonfat Yogurt blended with Simply Smoothie® Orchard Berry – $6.00
Assorted Juices
Minute Maid® Orange, Apple, Cranberry, and Pineapple Juice. Grapefruit or Tomato Juice
Freshly Brewed Joffrey's Coffee Hawaiian Kona Maragogype Press Pot $9.50 (Serves Two)
Kona Blend Coffee
Espresso
Cappuccino
Caffe Latte
Cafe Mocha
Alcoholic Beverages
Assorted Draft Beer – $7.50 – $10.25
Assorted Bottle/Can Beer – $6.75 – $11.25
Takatenjin Sword of the Sun Tokubetsu Honjozo Sake, Japan – Bottle $59.00; Glass $14.00
Tozai Blossom of Peach Plum Sake, Japan – Bottle $49.00; Glass $11.00
Assorted Sparkling and White Wine – $10.00 – $16.00 Glass; $39.00 – $65.00 Bottle
Assorted Rosé and Red Wine – $11.00 – $16.00 Glass; $45.00 – $65.00 Bottle
Specialty Cocktails
Magical Beacon Cocktail
Empress 1908 Gin, Bols Blue Curaçao, Minute Maid® Premium Lemonade, Orgeat (Almond), Lemon, Hibiscus Grenadine and a souvenir Glow Cube – $17.00
Magical Star Cocktail
X-Fusion Organic Mango and Passion Fruit Liqueur, Parrot Bay Coconut Rum, Pineapple Juice, and a souvenir Multicolored Glow Cube – $15.00
Lapu Lapu
Plantation Original Dark Rum and Tropical Fruit Juices served in a fresh Pineapple topped with Gosling's 151 Rum – $18.00
Backscratcher
Bacardi Superior Rum, Plantation Original Dark Rum, and Guava-Passion Fruit Juice topped with Jack Daniel's Tennessee Whiskey and a Bamboo Backscratcher – $13.00
Polynesian Mai Tai
Plantation Original Dark Rum, Bacardi Superior Rum, Bols Orange Curaçao, Lime Juice, Orgeat (Almond), and Pure Cane Sugar – $13.00
Ultimate Long Island Iced Tea
Bacardi Superior Rum, Tito's Handmade Vodka, Hendrick's Gin, Corazón Blanco Tequila, Cointreau, and Sweet-and-Sour with a splash of Coca-Cola® – $15.00
Puka Punch
The Real McCoy 5 yr Rum, Bacardi Superior Rum, John D. Taylor's Velvet Falernum, Tropical Juices, Passion Fruit, and Angostura Bitters – $14.00
Hawaiian Mule
Pau Maui Handmade Vodka, Lychee-Citrus Reduction, and Fever Tree Ginger Beer – $13.00
Dragon Iced Tea
Hendrick's Gin, Lemon and Ginger Herbal Tea, Tropical Juices, and Blood Orange – $14.00
Watermelon Margarita
Patrón Silver Tequila, Watermelon, and Lime Juice *Spicy version also available with Ancho Reyes Verde Liqueur – $16.00
Whiskey Breeze
Jim Beam Black Extra-aged Bourbon, Cointreau, and Lime Juice with flavors of Guava and Mango – $16.00
Rum Swizzle
Mount Gay Eclipse Rum with Tropical Juices and flavors of Guava and Mango – $13.00
Raspberry Mojito
Bacardi Raspberry Rum, Mount Gay Eclipse Rum, Lime Juice, Mint, and Raspberry Purée topped with Soda Water *Also available without alcohol – $13.00
Bahama Mama
Parrot Bay Coconut Rum, Plantation Original Dark Rum, Bols Crème de Banana, and Tropical Juices – $13.00
Piña CoLAVA
Bacardi Raspberry Rum blended with flavors of Coconut, Pineapple, and Raspberry Purée – $13.00
White Sangria
Opici Family White Sangria is made in La Mancha, Spain from Airén grapes and has flavors of banana, pineapple, and grapefruit with a hint of ginger – $11.00
Red Sangria
Opici Family Red Sangria is made in La Mancha, Spain from Tempranillo grapes and has flavors of raspberry, apple, and blackberry with succulent aromas of natural Valencia oranges and cinnamon – $11.00
A full bar featuring Cocktails, Craft Beers, Sake and Wine is also available
Kona Cafe Kid's Lunch & Dinner Menu
Menu Date: 10/2021
Appetizers
Chicken Noodle Soup – $3.00
Garden Salad – $3.00
Fruit Salad – $3.00
Kids' Create-Your-Own Entrées
All meals include choice of one (1) entrée, two (2) selections and choice of small Lowfat Milk, small Bottled Water or small Apple Juice
Kids' Entrées
Grilled Chicken Taco – $10.00
Cheeseburger – $11.00
Macaroni & Cheese – $9.00
Kids' Sushi – $10.00
Kids' Selections
Fruit Salad

Green Beans
Yogurt with Strawberries
** Kona Cafe Menu and Prices are Subject to Change Without Notice **