Resort Restaurants | Polynesian Village Resort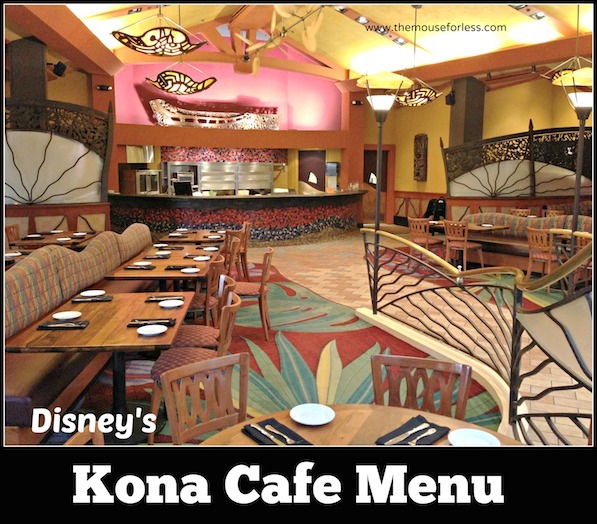 Breakfast Menu  Kids' Breakfast Menu Lunch Menu   Dinner Menu   Kids' Lunch & Dinner Menu
Kona Cafe infuses a bit of Asian zest into traditional American meals. This relaxed cafe also features an onstage sushi kitchen.
Restaurant Info: American, Seafood Cuisine, Sushi; Breakfast (7:30 a.m. – 11:15 a.m.)/Lunch (12:00 p.m. – 2:45 p.m.)/Dinner (5:00 p.m. – 10:00 p.m.) A la carte, $-$$
Find out how you can save money on dining at Walt Disney World by using one of Disney's Dining Plans.
Kona Cafe Breakfast Menu
Menu Date: 12/2018
Entrées
Tonga Toast – Banana-stuffed Sourdough French Toast rolled in Cinnamon Sugar and served with a Strawberry Compote and your choice of Ham, Bacon, or Sausage – $16.00
Polynesian Egg Platter – Two Eggs-Any Style with fresh Fruit Poke, Bakery-fresh Muffin, and Home-fried Potatoes with your choice of Spiced Ham, Bacon, or Sausage – $14.00
French Toast – Topped with Caramel-Banana Sauce with your choice of Spiced Ham, Bacon, or Sausage – $13.00
Macadamia Nut Pancakes – With Macadamia Nut Butter, Pineapple Sauce, and your choice of Ham, Bacon or Sausage – $14.00
Ham and Cheese Omelet – With Home-fried Potatoes – $15.00
Seven Seas Samoan – Poached Eggs with Citrus Hollandaise Sauce on Pulled Pork and Turkey Hash with Mustard Greens and Tomatoes tossed in a Citrus Vinaigrette – $14.00
Two Eggs Any Style – With Home-fried Potatoes and choice of Ham, Bacon or Sausage – $14.00
Loco-Moco – Traditional Island Brunch staple which features a Grilled Hamburger Patty over a Bed of Rice with House-made Chorizo Gravy, Two Eggs-Any Style, and topped with a Tomato Salsa – $12.00
Lighter Fare
Fruit Plate – Fresh seasonal Fruit served with a Danish – $10.00
Spice-rubbed Salmon Plate – Served with Pan-Asian Accompaniments – $16.00
Sides
Bacon, Ham or Pork Sausage – $5.00
Creamy Grits with Smoked Gouda – $5.00
Steel-cut Oatmeal with Apples – $7.00
Fresh Fruit Cup – $5.50
Specialty Beverages
Liliko'i Mimosa – $11.25
Wasabi Bloody Mary – $11.25
Mimosa Flight – Your choice of Three Tropical Juices – Orange, Pineapple, Cranberry, Pink Grapefruit, or Liliko'i – $14.00
Bloody Mary Flight – Ketel One Vodka, Buffalo Trace Bourbon, Patrón Tequila – $12.25
Non-Alcoholic Beverages
Glowing Character Punch – Minute Maid Light Lemonade Punch served in a souvenir Fairies or Toy Story 3 Cup with a glowing Tinker Bell or Buzz Lightyear Clip-on Light – $8.00
Liliko'i Juice – Orange, Passion Fruit, and Guava blend – $6.50
Mega-Berry Smoothie – Raspberry Purée and Nonfat Yogurt blended with Odwalla Berries GoMega (an excellent source of Omega-3) – $6.00
Assorted Juices – Minute Maid Orange, Apple, Cranberry, Grapefruit, Tomato Juice, or Pineapple Juice
Freshly Brewed Joffrey's Coffee Hawaiian Kona Maragogype Press Pot $9.50 (Serves Two)
Kona Blend Coffee
Espresso
Cappuccino
Caffe Latte
Cafe Mocha
Kona Cafe Kid's Breakfast Menu
All meals include choice of one (1) side Item: Bacon, Sausage, or Fruit Cup and choice of small Lowfat Milk, small Bottled Water or small Apple Juice
Mickey-Shaped Pancakes – Have you ever had a Buttermilk Pancake in the shape of you-know-who?- $8.00
Minnie's French Toast – Rolled in Cinnamon Sugar – it's almost as sweet as our Minnie – $8.00
Mickey Check Meals
For Guests Ages 9 and Under. All meals served with choice of small Lowfat Milk or small Dasani Water

Scrambled Eggs – with Broccoli, Tomatoes, Breakfast Potatoes, Fruit Salad, and Yogurt – $8.00

Oatmeal and Dried Cranberries – served with Turkey Bacon and Fruit Salad – $6.00

Meets Disney Nutrition Guidelines for Complete Meals without substitutions
Kona Cafe Lunch/Dinner Menu
Menu Date: 12/2018
Appetizers
Kona Crab Cakes – Pineapple Relish, Bacon Vinaigrette – $13.00
Seasonal Soup  – $8.00
Pot Stickers – Wok-seared Pork & Vegetable Dumplings with Creamy Ginger-Soy Sauce – $9.00
Sticky Wings – Glazed Chicken Wings with tangy Mustard Drizzle and Toasted Sesame Seeds – $10.00
Kona Salad – Mixed Greens, Blue Cheese, fresh Fruit, Red Onions, and Smoked Almonds with Citrus Vinaigrette – $10.00
Island Tuna Poke – Ahi Tuna with Sesame-Soy Dressing, Avocado Purée, Togarashi Rice, and Plantain Chip – $14.00
Sushi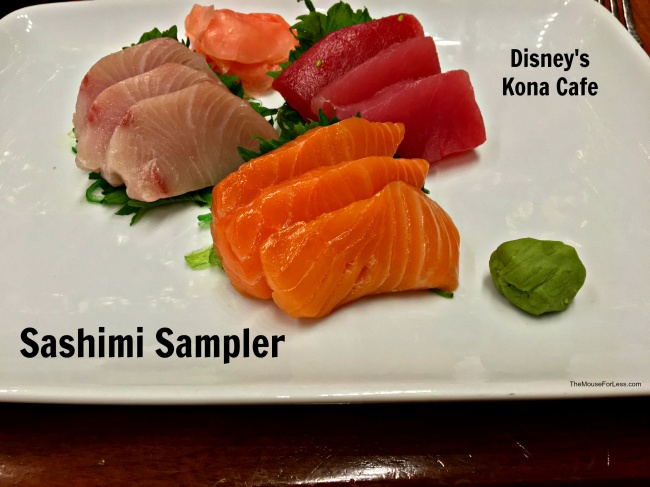 Nigiri Sampler – Chef's choice of five pieces of seafood – $17.00
Vegetable Nigiri – Six pieces of our Chef's seasonal vegetables – $13.50
Sashimi Sampler -Chef's choice of six pieces of seafood – $18.00
California Roll – Jumbo lump crab, citrus mayonnaise, cucumber, and avocado – $15.00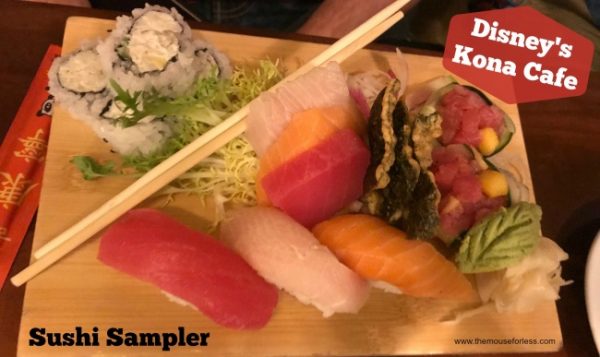 Kona Sampler Small – Two pieces of Nigiri, Two pieces of Sashimi, Two pieces of our California roll and Tuna Poke – $21.00
Kona Sampler Large – Three pieces of Nigiri, Four pieces of Sashimi, Four pieces of our California roll and Tuna Poke – $25.00
Dragon Roll – Eel, Poached Shrimp, and Avocado served with our Eel Sauce – $18.00
Hamachi Tune-Cilantro Roll – Hamachi tuna, avocado, and cilantro served with our ponzu sauce – $17.00
Seasonal Sushi Appetizer – Chef's Special of the day – $17.00
Entrées
Kona Coffee-rubbed Strip Loin – New York Strip with Japanese Sweet Potatoes, Seasonal Vegetables, and Miso Glaze –  $28.00
Market Fresh Fish – Chef's seasonal accompaniments – Market Price
Dashi with Today's Fresh Catch – Ginger-seared Fresh Catch, Bok Choy Seaweed, Pickled Ginger, Mushrooms, Rice Noodles, and Soft-boiled Soy Egg with Mushroom Dashi – $24.00
Ginger-Soy Chicken – with Roasted Marbled Potatoes, Wilted Sesame Greens, Pickled Carrots, and Red Wine Sauce – $21.00
Pork Belly Noodle Bowl – Seared Pork Belly with Rice Noodles, Bok Choy, and a Soft-boiled Soy Egg with Beef Bone Broth – $21.00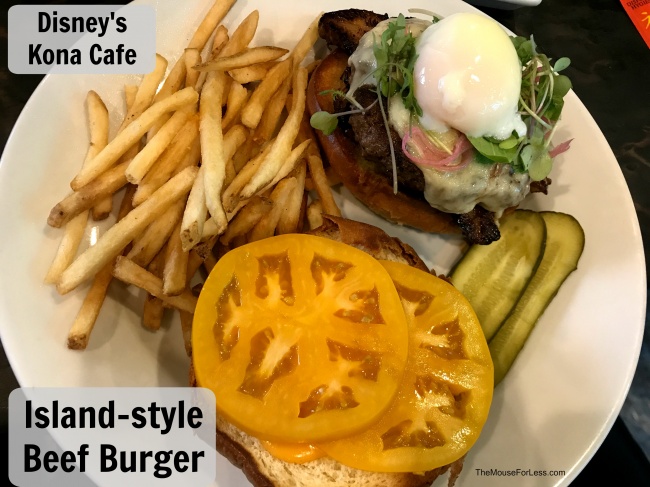 Island-style Beef Burger – Fresh-pressed Beef Burger with Char Siu Pork Belly, Soft-poached Egg, Mustard Greens, Spicy Mayonnaise, and Pickled Onions served on a Pineapple Brioche Bun with House-made Pickle and French Fries – $20.00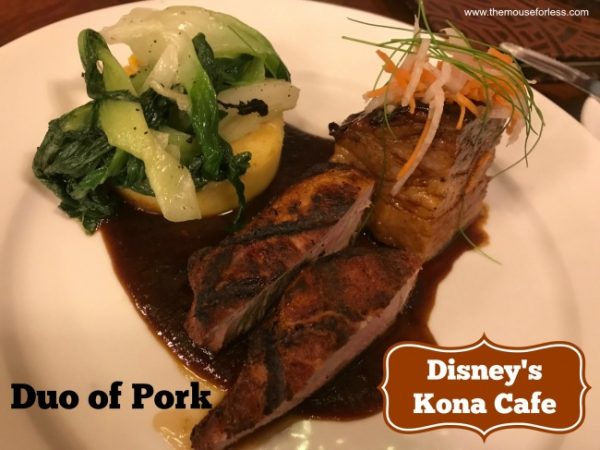 Asian Stir Fry – Yakisoba Noodles, Wok-seared with Vegetables and your choice of Chicken or Tofu in a Soy-Yuzu Sauce- $19.00
Catch of the Day – with Coconut Tri-Colored Quinoa, Asian Vegetables, and a sweet Carrot-Ginger Sauce – Market Price
Grilled Chili-dusted Shrimp – with creamy Lemon Vinaigrette, Heirloom Tomatoes, Avocado, Pickled Onions, and Cilantro – $18.00
Togarashi-cured Salmon – Plum Wine Glaze, Sesame Rice Cake, Baby Bok Choy, and Mushrooms – $25.00
Kona Turkey Banh Mi – Sliced Turkey Breast and Pork Pâte with Candied Bacon, Vegetable Slaw, Roasted Poblano Mayonnaise, and Blue Terra Chips – $15.00
Desserts
Te Fiti's Island Mousse – A Passion Fruit and Coconut Mousse Dome with Pineapple and Seasonal Sorbet – $8.00
Coconut Pearl Tapioca – with fresh Tropical Fruit and Passion Fruit Boba – $9.00
Kona Kone – $7.00
Kilauea Torte – An explosion of warm liquid Chocolate inside Chocolate Volcano – $7.00
Chocolate Fondue – with Tropical Fruit and House-made Cookies – $8.00
Mango Cheesecake – A No Sugar Added Dessert – $6.00
Kona Mocha Verrine – Kona Coffee Crémeux with crispy Chocolate Pearls and Milk Chocolate Ganache – $8.00
Non-Alcoholic Beverages
Glowing Character Punch – Minute Maid Light Lemonade Punch served in a souvenir Fairies or Toy Story 3 Cup with a glowing Tinker Bell or Buzz Lightyear Clip-on Light – $8.00
Odwalla All-Natural Lemonade – topped with a Wildberry Foam – $5.50
Mega-Berry Smoothie – Raspberry Purée and Nonfat Yogurt blended with Odwalla Berries GoMega (an excellent source of Omega-3) – $6.00
Assorted Fountain Beverages

Freshly Brewed Joffrey's Coffee Hawaiian Kona Maragogype Press Pot $9.50 (Serves Two)
Freshly Brewed Joffrey's Coffee Hawaiian Kona Maragogype Press Pot $6.50 (Serves One)
Kona Blend Coffee
Espresso
Cappuccino
Caffe Latte
Cafe Mocha
Beverages
Freshly Brewed Joffrey's Coffee – $2.99
Assorted Fountain Beverages – $3.29
Glowing Character Punch – Minute Maid Light Lemonade Punch served in a souvenir Fairies or Toy Story 3 Cup with a glowing Tinker Bell or Buzz Lightyear Clip-on Light – $7.00
Odwalla All-Natural Lemonade – topped with a Wildberry Foam – $4.50
Mega-Berry Smoothie – Raspberry Purée and Nonfat Yogurt blended with Odwalla Berries GoMega (an excellent source of Omega-3) – $5.50
Featured Beers
Kona Longboard Island Lager – $9.00
Kona Fire Rock Pale Ale – Kona, HI – $9.00
Kona Hanalei Island IPA – Kona, HI – $9.00
Kona Beer Flight (Three Samplings – 5oz each) – $9.00
Kona Big Wave Golden Ale – Kona, HI – $8.75
Kirin Ichiban – Japan – $7.75
Asahi – Japan – $7.75
Sake and Plum Wine
Takatenjin Sword of the Sun Tokubetsu Honjozo Sake, Japan – $59.00 Bottle, $14.00 Glass
Tozai Blossom of Peach Plum Sake, Japan – $49.00 Bottle, $11.00 Glass
Specialty Cocktails
Magical Star Cocktail – X-Fusion Organic Mango and Passion Fruit Liqueur, Parrot Bay Coconut Rum, Pineapple Juice, and a souvenir Multicolored Glow Cube – $12.00
Kona Cool Sundown – A refreshing blend of Vodka, Chambord, and Cranberry Juice – $10.75
Island Sunset – Seven Tiki Spiced Rum, Parrot Bay Coconut Rum, Melon, and Peach combined with our Orange Guava-Passion Fruit Juice – $9.75
Lapu Lapu – Myers's Original Dark Rum and Tropical Fruit Juices served in a fresh Pineapple topped with Bacardi 151 Rum – $14.00
Tropical Macaw – Parrot Bay Coconut Rum, Midori Melon Liqueur, and Pineapple and Cranberry Juice – $9.75
A full bar featuring Cocktails, Craft Beers, Sake and Wine is also available
Kona Cafe Kid's Lunch & Dinner Menu
Menu Date: 12/2018
Appetizers
Chicken Noodle Soup – $3.00
Garden Salad – $3.00
Fruit Salad – $3.00
Mickey Check Meals
For Guests Ages 9 and Under. All meals served with choice of small Lowfat Milk or small Dasani Water
Grilled Chicken Taco – Grilled Chicken Breast served with Whole-Wheat Tortilla, Toppings, and Fruit Salad – $10.00
Pasta with Turkey Marinara – served over Steamed Vegetables with Fruit Salad  -$10.00
Dashi Noodle Bowl – Asian Noodles in a Mushroom-Dashi Broth with Seasonal Fish, Seasonal Vegetables, and Fruit Salad for Dessert – $12.00

Meets Disney Nutrition Guidelines for Complete Meals without substitutions
Kid's Choice Meals
For Guests Ages 9 and Under. All Meals include choice of one (1) Entree, one (1) Beverage and one (1) Dessert
Kids' Entrees
Cheeseburger – $11.00
Macaroni & Cheese – $9.00
Hot Dog – $9.00
Kids' Sushi – $10.00
Kids' Dessert
Fruit Salad
Ice Cream Sundae
Yogurt Parfait
Kids' Beverage
Small Bottled Water
small Apple Juice
Small Lowfat Milk
** Kona Cafe Menu and Prices are Subject to Change Without Notice **