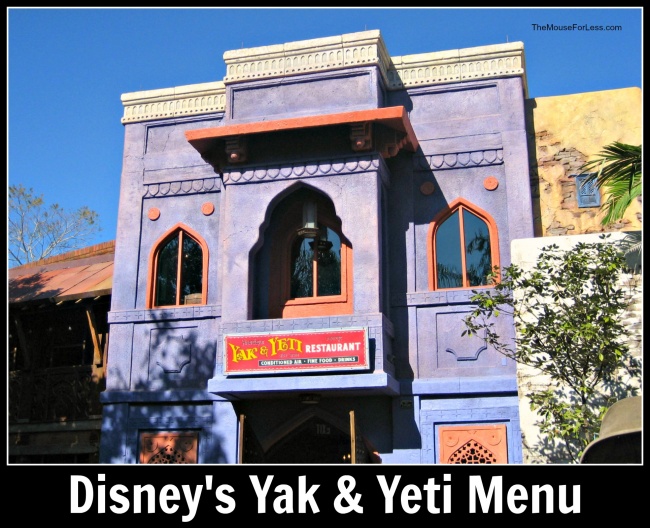 Yak and Yeti restaurant is an Asian-inspired restaurant is themed as an old hotel that was converted into a restaurant by an Anandapur entrepreneur.
Yak and Yeti Restaurant is located in Disney's Animal Kingdom theme park. Find more Walt Disney World dining locations on our Walt Disney World Resort menus page.
Restaurant Info: Asian, Lunch/Dinner, $$ – $15 to $34.99 per adult
Find out how you can save money on dining at Walt Disney World by using one of Disney's Dining Plans.
Lunch and Dinner Menu   Kids Menu

Planning a Walt Disney World Vacation?
For a Free no-obligation quote, contact our sponsor
The Magic For Less Travel
. The Magic For Less Travel is an Authorized Disney Vacation Planner and has been helping guests plan magical vacations since 2002. Receive the best prices and free travel planning services. Their fee-free services will help you save time, money, and stress while planning a vacation designed around you and your needs!
Yak and Yeti Restaurant Lunch & Dinner Menu
Menu Date: 06/2022
Lunch served from 11:00 a.m. to 3:30 p.m.
Dinner served from 4:00 p.m. to 7:30 p.m.
Small Plates
Pork Pot Stickers – Pan seared or steamed, soy lime dipping sauce – $11.99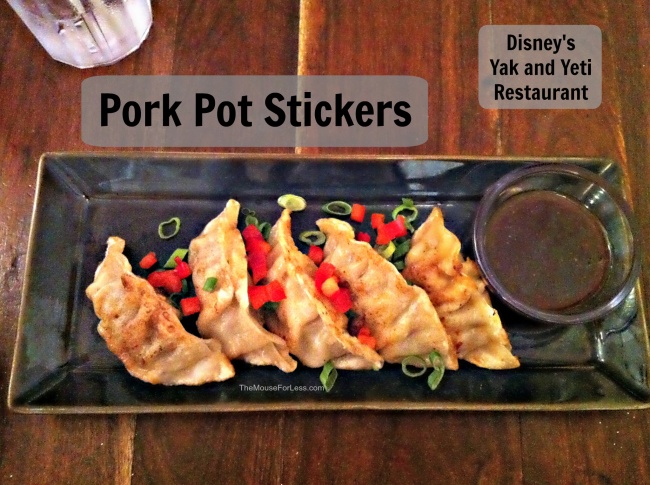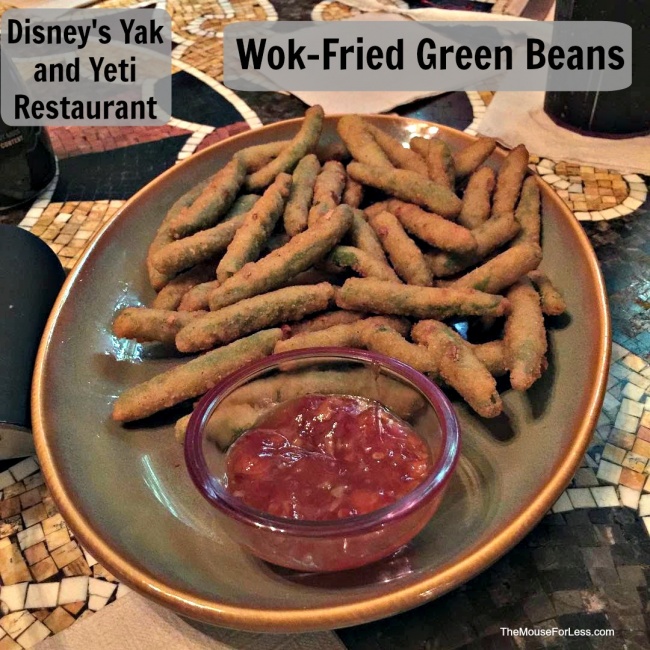 Wok-Fried Green Beans – Battered green beans, sweet Thai chili dipping sauce – $12.49
Pork Egg Rolls – Chili plum dipping sauce – $11.99
Firecracker Shrimp – Crispy fried shrimp tossed in a creamy, spicy sauce, Asian slaw – $13.99
Shareables (Meant for 2)
Lettuce Cups – Minced chicken breast, chopped vegetables, Saigon Haison sauce, crisp lettuce cups – $18.99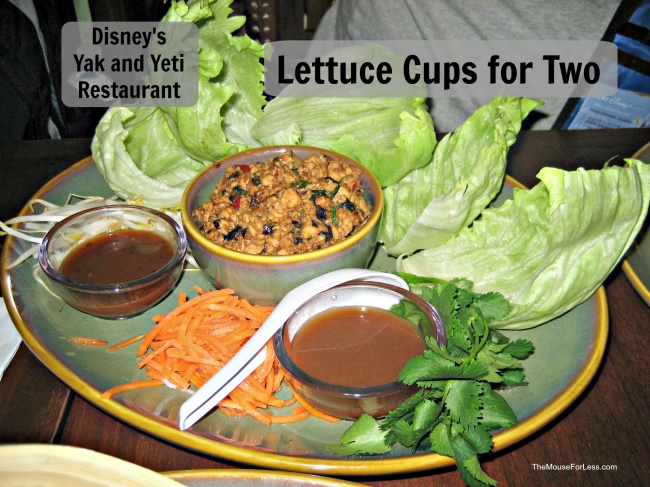 Ahi Tuna Nachos For Two – Sushi grade Ahi tuna, Asian slaw, crispy fried wontons, wasabi aioli, sweet soy glaze – $19.99
Korean Fried Chicken – Hand Breaded  tenders tossed in gochijang maple syrup, dipping sauce   – $14.99
Soups & Salads
Wonton Soup – Pork wontons, clear chicken broth and vegetables. Add a half portion of soup or salad to any entrée for 4.99.  – $7.79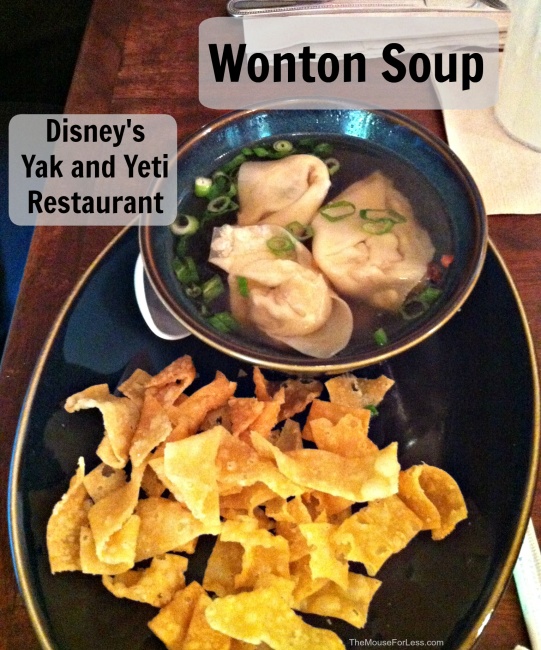 House Salad – Romaine and iceberg lettuce, sesame seeds and Asian dressing. Add a half portion of soup or salad to any entrée for 4.99. – $9.99
Seared Tuna Salad – Chilled, seared blackened Ahi Tuna, mixed greens, grape tomatoes, wonton crisps and ginger dressing – $21.99
Chop Chop Chicken Salad – Chopped romaine lettuce, red and Napa cabbage, carrots, marinated grilled chicken, tossed in miso sesame dressing, crispy wontons – $18.99
Chop Chop Shrimp Salad – Chopped romaine lettuce, red and Napa cabbage, carrots, marinated grilled shrimp, tossed in miso sesame dressing, crispy wontons – $20.99
Noodles & Bowls
Lo Mein – Chicken – with Lo Mein noodles, carrots, cabbage, green onions, bean sprouts – $20.99
Lo Mein – Shrimp – with Lo Mein noodles, carrots, cabbage, green onions, bean sprouts – $21.99
Lo Mein – Combo – with Lo Mein noodles, carrots, cabbage, green onions, bean sprouts – $21.99
Vegetable Lo Mein – Lo Mein noodles, carrots, cabbage, green onions, bean sprouts. Add tofu 4.99  – $19.99
Malaysian Seafood Curry – Jumbo shrimp & crab ravioli, zucchini, spinach, tomatoes, mushrooms, tossed in red curry coconut sauce – $33.99
Lobster Garlic Noodles – Lobster, shrimp, scallops, baby spinach, red peppers, shiitake mushrooms, tossed in zesty garlic stir-fry sauce – $34.99
Roasted Vegetable Bowl – Oven roasted Kalbi marinated vegetables served with a flavorful blend of white and red quinoa, brown rice, vegan Sriracha aioli – $20.99
Specialties
Miso Salmon – Miso glazed Atlantic Salmon, coconut-ginger rice, stir-fried vegetables – $29.99
Chicken Tikka Masala – Boneless chicken breast marinated in yogurt and freshly ground herbs cooked in a traditional Masala sauce, jasmine rice, garlic naan – $25.99
Bhaktapur Duck – Roasted half duckling, plum BBQ sauce, jasmine rice, stir-fried vegetables – $33.99
Coconut Shrimp – Coconut crusted shrimp, jasmine rice, stir-fried vegetables, served with plum BBQ sauce – $25.99
Wok
Honey Chicken – Tempura chicken, fresh vegetables tossed in honey sauce served with choice of jasmine or brown rice – $21.99
Sweet and Sour Chicken – Tempura chicken, ginger, garlic, bell peppers, pineapple – $21.99
Korean Beef – Wok-fried beef, peppers, onions, pineapple, Korean BBQ sauce – $22.99
Grilled
Kobe Beef Burger – 10 oz. grilled American Kobe beef burger, sesame-soy mayonnaise, and crispy fries topped with choice of shiitake mushroom and scallion compote or Asian slaw – $22.99
BBQ Ribs– Half rack of slow roasted St. Louis pork ribs, Korean BBQ sauce, fries, kimchi slaw. Add additional half rack of ribs $14.99.   – $27.99
Soy Herb Glazed Rib Eye – Grilled 14 oz. CAB Ribeye, topped with kimchi butter, served with stir-fried vegetables and mashed potatoes – Market Price
Teriyaki Chicken – Marinated All Natural Joyce Farms® chicken breast, pineapple mango salsa, teriyaki glaze, coconut-ginger rice, stir-fried vegetables – $25.99
Sides
House Fried Rice – $14.99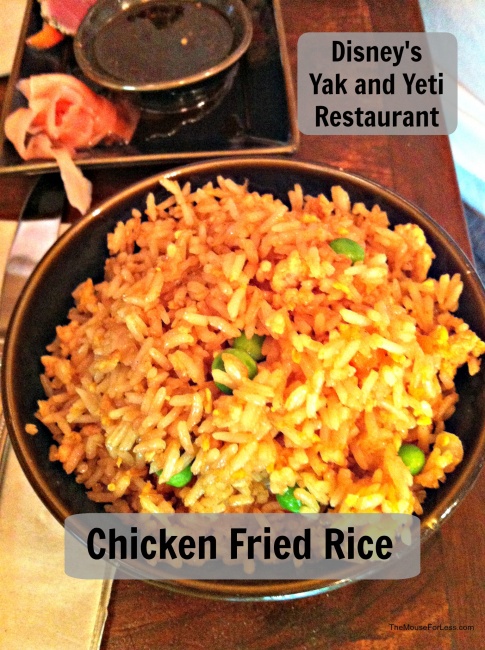 Chicken Fried Rice – $9.99
Steamed Rice – Jasmine or Brown Rice – $5.99
Sauteed Baby Bok Chop – $11.99
Garlic Noodles – $12.99
Coconut Shrimp – $9.99
Wok-Fried Green Beans – $9.99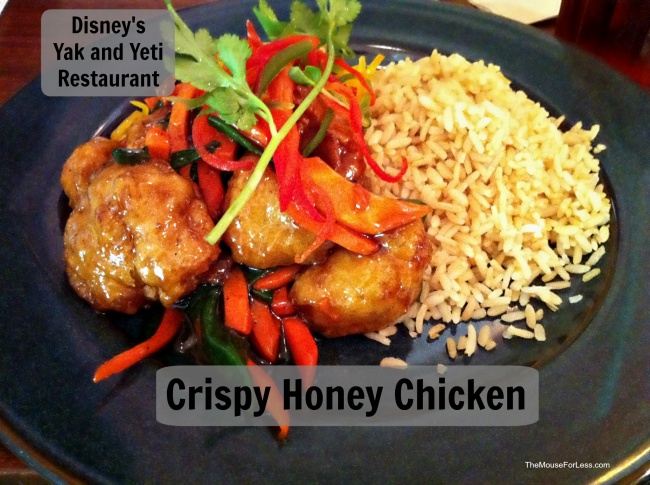 Desserts
Fried Wontons – Skewers of fresh pineapple and cream cheese wontons, vanilla ice cream, honey-vanilla drizzle – $12.99
New York Cheesecake – with mango and strawberry coulis, whipped topping – $11.99
Pineapple Upside-down Cake –  Served warm, vanilla ice cream, caramel sauce – $12.99
Chocolate Pudding Cake – with raspberry sauce – $11.99
Mango Pie – Shortbread cookie crust, whipped topping, raspberry sauce – $11.99
Non-Alcoholic Beverages
Yak & Yeti Souvenir Cup – From the peaks of Mt. Everest comes a frozen blend of ICEE Flavors layered in our collectible character cup. Keep the cup! – $10.50
Hot Teas – Organic Chai, English Tea, Afternoon Darjeeling, Earl Grey & Chamomile (Caffeine Free)
Berry Cherry Limeade – Cherry and Lime Juices with Sprite
Shanghai Lemonade – Lemonade with Desert Pear, Passion Fruit, South Seas Blend, Lychee, or Lemon Grass Flavors
Everest Refresher –  Sparkling Water with Desert Pear, Passion Fruit, South Seas Blend, Lychee, or Lemon Grass Flavors
Frozen Daiquiri – Strawberry, Piña Colada, Wild Berry, or Mango Flavors
 Frozen Beverages – Strawberry and Lemonade
Soft drinks – Coke, Diet Coke, Sprite, Mr. Pibb, Coke Zero, Lemonade, Fruit Punch, and Iced Tea
Bottled Beverages – IBC Bottle Root Beer, Still Water, Sparkling Water, Half Liter & Full Liter (serves two)
Specialty Drinks
Yak Attack – Mango Daiquiri, Don Q Cristal Rum and Wildberry Flavors – $12.50
Pink Himalayan – Tanqueray Gin, Ruby Red Grapefruit Juice, Passion Fruit and Lemon Grass Flavors, Salt Rim – $12.50
Kiwi Coconut Rita – Milagro Silver Tequila, Cointreau Orange Liqueur, fresh kiwi, sweet & sour and Coco Reál Cream of Coconut – $12.50
Big Bamboo – Don Q Coconut Rum, Don Q Cristal Rum, Banana Liqueur, and Tropical Fruit Juices – $12.50
Tropical Daiquiri – Don Q Cristal Rum with choice of Strawberry, Piña Colada, Wild Berry or Mango flavors – $12.50
Kiwi Kimono – Don Q Coconut Rum, Vodka, Midori Melon Liqueur, Fresh Kiwi, and Sweet and Sour – $12.50
Opici Family Red Sangria – Opici Family Red Sangria Blended with Natural Citrus and Fruit Juices – $12.50
South Seas Traveler – Created by the Yak and Yeti Bartenders…Myer's Original Dark Rum and Captain Morgan Spiced Rum, Monin Lychee Syrup, and citrus juices – $12.50
Tibetan Mule – Skyy Infusions Pineapple Vodka, Monin Yuzu Purée, Liber & Co. Fiery Ginger Syrup, Fever-Tree Ginger Beer – $12.50
Snap Decision – Yak & Yeti's Woodford Reserve Bourbon Personal Selection, apricot brandy and Crisp Apple Reàl Infused Syrup<br />topped with Fever-Tree Ginger Beer
Beer
Assorted Domestic and Imported Beer
Wine and Sake
Assorted Wine – glass $8-$11; bottle $31-$45
Assorted Sake – $9-$19
Yak and Yeti Restaurant Kids' Menu
Menu Date: 06/2022
Yak and Yeti Kids' Entrées
Cheeseburger – choice of Two (2) Sides and choice of Kid-size portion of Milk or Apple Juice – $10.99
Stir Fry Noodles – choice of Two (2) Sides and choice of Kid-size portion of Milk or Apple Juice – $10.99
Chicken Fried Rice – choice of Two (2) Sides and choice of Kid-size portion of Milk or Apple Juice – $10.99
Mini Corn Dogs – choice of Two (2) Sides and choice of Kid-size portion of Milk or Apple Juice – $10.99
Grilled Chicken Breast – choice of Two (2) Sides and choice of Kid-size portion of Milk or Apple Juice – $10.99
Mac & Cheese – choice of Two (2) Sides and choice of Kid-size portion of Milk or Apple Juice – $10.99
Teriyaki Chicken Breast – choice of Two (2) Sides and choice of Kid-size portion of Milk or Apple Juice – $10.99
Chicken Tenders – choice of Two (2) Sides and choice of Kid-size portion of Milk or Apple Juice – $10.99
Kid's Sides
Carrot Sticks
Fresh Fruit
Go-Gurt
White Rice
Applesauce
Corn
Steamed Veggies
Brown Rice
Kids' Desserts
Chocolate Pudding – $4.99
Chocolate Chip Ice Cream Sandwich  – $4.99
** Yak and Yeti Menu and Prices are Subject to Change Without Notice **