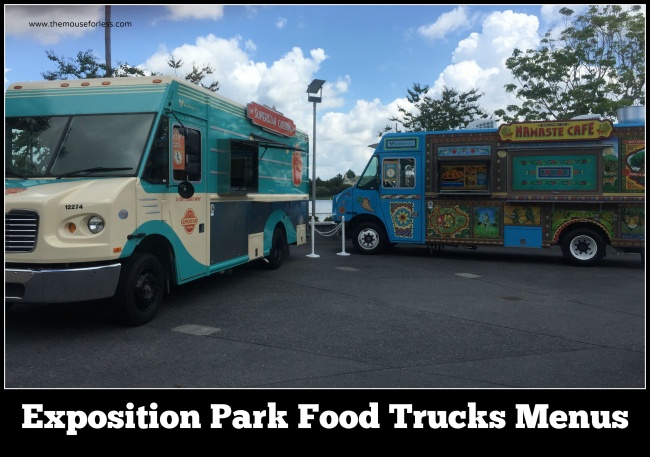 Guests to Disney Springs can now enjoy four food trucks – each themed to portray the essence of a different Disney Park. Exposition Park Food Trucks provide seating for waterside dining and scheduled live entertainment. Trucks typically open from 12:30-11 p.m. daily, weather permitting.
Exposition Parks Food Trucks is located in Disney Springs.  Find more Walt Disney World dining locations on our Walt Disney World menus page.
Restaurant Info: Variety, Dinner, Snack, A la carte, $ – $14.99 and under per adult
Springs Street Tacos Menu  Superstar Cater Menu
Mac & Cheese  Cookie Dough  Beverages and Desserts

Planning a Walt Disney World Vacation?
For a Free no-obligation quote, contact our sponsor
The Magic For Less Travel
. The Magic For Less Travel is an Authorized Disney Vacation Planner and has been helping guests plan magical vacations since 2002. Receive the best prices and free travel planning services. Their fee-free services will help you save time, money, and stress while planning a vacation designed around you and your needs!
Springs Street Tacos Entrées – Exposition Park Food Trucks Menu
Menu Date: 12/2019
In the great food truck tradition – street tacos.
Steak Bowl – Steak with Avocado Crème, Pico de Gallo, Queso Fresco, Jalapeño, Cilantro, Radish, and Lime – $12.00
Taco Combo – combine any two Tacos – $9.00
Fish Bowl – Seared White Fish with Pumpkin Seed Butter, Tropical Fruit Salsa, Red Cabbage, Cilantro, Radish, and Lime – $11.50
Chicken Bowl – Braised Chicken with Avocado Crème, Queso Fresco, Pico de Gallo, Jalapeño, Cilantro, Radish, and Lime – $11.00
Vegetarian Bowl – Yellow Rice, Black Beans, Roasted Corn and Peppers, Pico de Gallo, Queso Fresco, Cilantro, Radish, and Lime – $10.50
Chips and Dip – Tortilla Chips with Guacamole and Salsa – $5.00
Kids' Portion Available for Guests ages 9 and Under
Mac and Cheese – Exposition Park Food Trucks Menu
Menu Date: 12/2019
Brisket Macaroni & Cheese – with Cheddar and Smoked Gouda, Crispy Onion Rings, and Chives – $11.00
Bacon Cheeseburger Macaroni & Cheese – with Cheddar and American Topped with Shredded Lettuce, Tomato, Pickles, Potato Sticks, Ketchup, and Mustard – $10.00
Lobster and Shrimp Macaroni & Cheese  – with Swiss and Toasted Buttery Crackers – $13.00
Chicken Parmesan Macaroni & Cheese – with Creamy Parmesan Sauce, Marinara, Mozzarella, and Basil – $10.00
Six-Cheese Crunchy Macaroni & Cheese – Topped with Crunchy Cheese Puffs – $8.00
Kids' Portion Available for Guests ages 9 and Under
Cookie Dough Entrees
Spring Candy Taco –  Monster Cookie Dough, Chocolate sauce, Whipped cream, Sprinkles and Cherry – $6.00
Minnie Dessert Taco – Peanut Butter and  Fluff Cookie Dough, Caramel sauce, whipped cream, and Cherry with a minnie bow – $7.00
Cold Brew Cookie Dough Sundae –  Cookies-n- Cream  Cold Brew Cookie Dough,with Chocolate Sauce and mini funnel cake – $8.00
Celebration Parfait – Celebration Cookie Dough with Mickey cake, Vanilla custard,strawberries, whipped cream,and a cherry – $8.00
Mickey or Minnie Funnel Cake – funnel cake topped with powdered sugar with a mickey or minnie chocolate chip cookie dough – $10.00
Cookie Dough in a cup or cone – $4.75
Cookie Dough Flavors: Chocolate Chip, Peanutbutter and Fluff, Celebration
Beverages  – Exposition Park Food Trucks Menu
Menu Date: 12/2019
Beverages
Assorted Bottled Beverages –  $4.50

Dasani Bottled Water –  $3.50

** Exposition Park Food Trucks Menu and Prices are Subject to Change Without Notice **