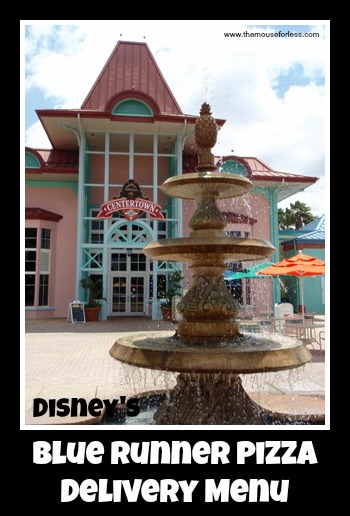 At Blue Runner Pizza Delivery, enjoy our Oven-fresh Pizzas, Sides, Desserts, and Beverages nightly from 4-12:00 a.m.
Blue Runner Pizza Delivery is located in Disney's Caribbean Beach Resort.  Find more Walt Disney World dining locations on our Walt Disney World menus page.
Restaurant Info: American, Lunch/Dinner, $$
Find out how you can save money on dining at Walt Disney World by using one of Disney's Dining Plans.

Planning a Walt Disney World Vacation?
For a Free no-obligation quote, contact our sponsor
The Magic For Less Travel
. The Magic For Less Travel is an Authorized Disney Vacation Planner and has been helping guests plan magical vacations since 2002. Receive the best prices and free travel planning services. Their fee-free services will help you save time, money, and stress while planning a vacation designed around you and your needs!
Menu
Menu Date: 12/2019
Serving from 4:00 p.m. to 12:00 a.m. $15.00 minimum order. 18% Gratuity, $3.00 Delivery Charge, and 7% Sales tax added to all Delivery Orders.
Starters
Half Dozen Breadsticks – with Marinara – $5.99
Garden Salad or Caesar Salad – with choice of Dressing – $5.29
Chicken Tenders – with Celery Sticks and Choice of Honey Mustard, Barbecue, or Buffalo Sauce – $10.49 – 3 pcs; $19.99 – 6 pcs
Family Sized Pizzas
House-made Cheese Pizza Dinner (serves four)  – Fresh Dough Four-Cheese Pizza served with Caesar Salad and Bread Sticks –  $29.99
House-made Pepperoni Pizza Dinner (serves four)  – Fresh Dough Four-Cheese and Pepperoni Pizza served with Caesar Salad and Bread Sticks –  $29.99
Entrées
Turkey Focaccia Sandwich – Roast Turkey, Roasted Bell Peppers, Mozzarella Cheese, Shredded Lettuce, and Basil Aïoli with House-made chips – $11.99
Roasted Vegetable Sandwich – Grilled Zucchini, Caramelized Red Onions, Roasted Mushrooms, Sun-dried Tomatoes, Arugula, Avocado, Sun-dried Tomato Basil Pesto and Provolone Cheese with House-made Chips – $9.99
Pasta with Meatballs – Pasta, Pork and Beef Meatballs with choice of Marinara or Alfredo Sauce served with a Bread Stick – $11.99
Chicken Parmesan – Fried Chicken baked with Marinara and Provolone Cheese served with Pasta, choice of Marinara or Alfredo Sauce, served with a Bread Stick – $11.99
Desserts
Cheesecake – Plain or Tie Dye – $4.29
Chocolate Cake – $4.29
Carrot Cake – $4.29
Assorted Beverages
Soda – Coke, Diet Coke, Sprite, 20 Ounce Bottle
Dasani Water – 1.5 Liter or 20 Ounce Bottle
Cigar City Jai Alai IPA (16-oz) – $10.00
New Belgium Fat Tire (16-oz) – $10.00
Yuengling (16-oz) – $8.50
Blue Moon (16-oz) – $8.50
Bud Light or Coors Light (16-oz) – $8.00
Stella Artois (14-oz) – $10.25
Sierra Nevada Torpedo Extra IPA (16-oz) – $10.00
Angry Orchard Crisp Apple Hard Cider (16-oz) – $9.25
Copa Di Vino Pinot Grigio, Chardonnay, Cabernet Sauvignon, or White Zinfandel (187 mL) – $9.00
Parducci Chardonnay or Merlot (375 mL) – $15.00
** Blue Runner Pizza Delivery Menu and Prices are Subject to Change Without Notice **