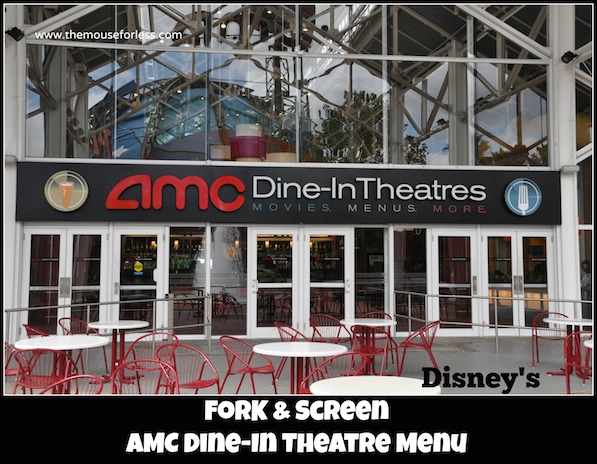 At AMC Dine-In Theater, enjoy your favorite foods and cocktails paired with great movies in an immersive big-screen theatre. AMC Disney Springs 24 Theatres includes six Fork & Screen dine-in theaters featuring menu items from quesadillas to flatbread pizzas. Fork & Screen features reserved seating with upgraded seats, a personal call button, and seat-side service. AMC Dine-In Theater guests must be at least 18 years old or accompanied by a parent or guardian that is 21 years or older.
AMC Dine-In Theater is located in Disney Springs.  Find more Walt Disney World dining locations on our Walt Disney World menus page.
Restaurant Info: American, Lunch/Dinner A la carte, $ – $14.99 and under per adult
Find out how you can save money on dining at Walt Disney World by using one of Disney's Dining Plans.

Planning a Walt Disney World Vacation?
For a Free no-obligation quote, contact our sponsor
The Magic For Less Travel
. The Magic For Less Travel is an Authorized Disney Vacation Planner and has been helping guests plan magical vacations since 2002. Receive the best prices and free travel planning services. Their fee-free services will help you save time, money, and stress while planning a vacation designed around you and your needs!
AMC Dine-In Theater Menu
Menu Date: 03/2021
Snacks
Freshly-Popped Popcorn
Ultimate Chicken Nachos
Green-chile-marinated chicken breast, queso and three-cheese blend, pickled jalapeños, black beans, pico de gallo, cilantro, house-made guacamole and sour cream
Fried Mozzarella
Whole-milk mozzarella, garlic-herb breading, Romano and Parmesan cheeses, served with marinara dipping sauce and arugula salad
Loaded Bacon Tots or Fries
Choice of tater tots or french fries topped with applewood-smoked bacon, rich cheddar cheese sauce, scallions and house-made ranch dressing
Crispy Bacon Brussels Sprouts
Applewood-smoked bacon, Parmesan cheese and spice blend
Pretzel Bites
fresh baked and served with rich Cheddar Cheese and Honey-dijon Dipping Sauces
Dry Rub Wings
Crispy chicken with a sweet and smoky maple rub, served with red slaw and honey-chipotle BBQ ranch dipping sauce. Also available tossed in Buffalo sauce or honey-chipotle BBQ sauce.
Gourmet Popcorn
Cheddar | Salted Caramel
Candy
Plain M&M's | Peanut M&M's | Skittles, Twizzlers | Sour Patch Kids | Junior Mints | Reese's Pieces | Buncha Crunch | Sunmaid Raisins | Welch's Fruit Snacks
Gluten-Free Snacks
Please ask about our available options
Flatbreads
Artisan Pepperoni
Sliced and ground pepperoni, Parmesan and mozzarella cheeses, fresh basil, garlic and marinara
Caprese
Roasted tomatoes, Parmesan and mozzarella cheeses, fresh basil, garlic and marinara
Entrees
Southern-Style Chicken Tenders – Hand-battered Chicken Tenders with House-Made Ranch and Honey-Dijon Dipping Sauces served with Red Slaw, Garlic Cheddar Buttermilk Biscuits, and Fries
Steak Quesadillas – Green-chile-marinated sirloin, three-cheese blend, caramelized onions and cilantro, served with tortilla chips, guacamole, green chile salsa and cilantro-lime crema. (Substitute Chicken also available)
Burgers & Sandwiches
Royal Bacon Brie
Applewood-smoked bacon, brie cheese, caramelized onions, arugula, fig jam and royal sauce served with a side of Fries. (Substitute Beef for Black Bean Patty, Grilled Chicken or Fried Chicken also available)
Bacon Ranch
Applewood-smoked bacon, Monterey Jack cheese, lettuce, tomato, house-made ranch dressing and royal sauce served with a side of Fries. (Substitute Beef for Black Bean Patty, Grilled Chicken or Fried Chicken also available)
Western BBQ
Applewood-smoked bacon, cheddar cheese, fried jalapeños, lettuce, crispy onion straws and honey-chipotle BBQ sauce served with a side of Fries. (Substitute Beef for Black Bean Patty, Grilled Chicken or Fried Chicken also available)
Classic Cheeseburger
American cheese, tomato, lettuce, ketchup and royal sauce served with a side of Fries. (Substitute Beef for Black Bean Patty, Grilled Chicken or Fried Chicken also available)
Avocado Chicken Grill Sandwich
Herb-marinated grilled chicken breast, arugula, tomato, onion, cilantro-lime crema and herbed goat cheese spread on a toasted brioche bun served with a side of Fries. (Substitute Grilled Chicken or Fried Chicken also available)
Crispy Buffalo Chicken Sandwich
Hand-breaded all-white-meat chicken tossed in Buffalo sauce and stacked with tomato, pickles, lettuce, blue cheese crumbles and ranch on a toasted brioche bun served with a side of Fries. (Substitute Grilled Chicken or Fried Chicken also available)
Chipotle Chicken Melt Sandwich
Herb-marinated grilled chicken, applewood-smoked bacon, cheddar-jack cheese and chipotle mayo between warm flatbread, served with chipotle mayo served with a side of Fries. (Substitute Grilled Chicken or Fried Chicken also available)
Kid's Meals
All kid's meals served with fruit cup, fries and your choice of a soft drink or 2% milk
Crispy Chicken Tenders 
Cheeseburger 
Sweets
Chocolate Hazelnut Churros
Crispy churros with dark chocolate hazelnut filling, sprinkled with cinnamon sugar and served with whipped cream and strawberries
Mega Milkshake
Real vanilla ice cream paired with premium ingredients and topped with whipped cream. Available in OREO®, Strawberry, Chocolate, or Vanilla
Beverages
Coca-Cola Freestyle Soft Drinks

Dasani Bottled Water
smartwater
** AMC Dine-In Theater Menu and Prices are Subject to Change Without Notice **