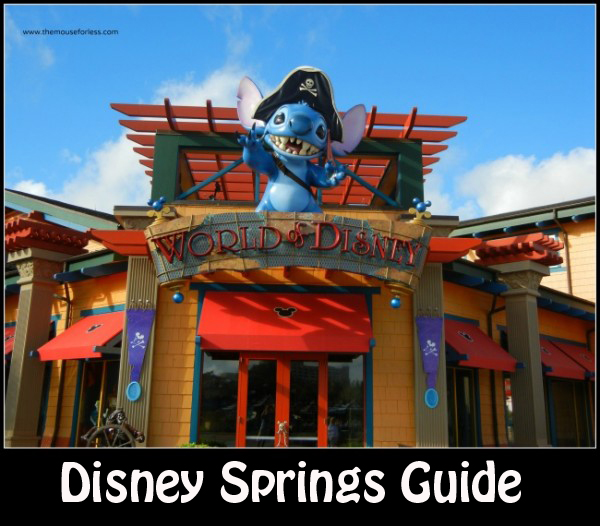 About Disney Springs – Downtown Disney Disney Springs – Downtown Disney Map
West Side The Landing Marketplace Town Center
Latest Developments    Disney Springs Photo Gallery
General Disney Springs – Downtown Disney Info
About Disney Springs – Downtown Disney
Disney Springs, formerly known as Downtown Disney, is located at the Walt Disney World Resort. Disney Springs has it all: dining, entertainment and shopping opportunities. Entertainment at Disney Springs takes place throughout the day and into the night. Guests will find a wide array of acrobatic artistry, art, theater, live music, special events, boating, and fountains for children to play in. Additionally, you find some great backdrops for family photos in and around Disney Springs. Admission and parking are complimentary.
Back in March 2013, Disney officially announced the changes to Downtown Disney. With this expansion, Disney creates a welcoming, comfortable space. Here families can relax, enjoy the entertainment, wander in and out of unique and distinctive shops, and enjoy a world-class dining experiences.
The Disney Springs area welcomes guests with a new gateway featuring a signature water tower and grand entry featuring bubbling natural springs in the Town Center. The Town Center joins three additional neighborhoods – The Landing, Marketplace and West Side. Each neighborhood has its own distinct feel.
The Town Center offers a sophisticated mix of shopping and dining along with a promenade. Here guests can relax, refresh and reconnect. Town Center features Spanish style architecture, drawing from a rich history of explorers that landed in Florida centuries ago.
The colorful and thriving commercial district called The Landing includes inspired dining and beautiful waterfront views. Buildings feature an older, rustic look that feels like they've been around for decades.
The West Side provides an exuberant atmosphere with lively entertainment, along with a more industrial feel.
The family-friendly Marketplace continues to delight guests of all ages by combining new experiences, such as an over-the-water pedestrian causeway, along with classic Disney favorites, including an expanded World of Disney store.
Story Behind Disney Springs
Like all Disney theme parks and attractions, Disney has anchored the entire experience around a story. The story of Disney Springs begins at the Town Center, which is oriented around a series of bubbling natural springs that first attracted settlers to the area. Built around one of these natural tourist destinations, Disney Springs grew into a timeless and vibrant place for shopping and dining. It's not unlike many of the urban developments found in other cities today. Disney Springs tells the story of a town that grew up over time, but lovingly kept all of its charm and history, and now sits squarely in the modern day.
Disney Springs features an eclectic and contemporary mix of offerings from Disney and other noteworthy brands. From boutique shops to unique flagship anchor stores, guests will be able to explore a variety of shopping and dining experiences and discover offerings unlike any other currently available in Central Florida.
Disney Springs also has an extremely active Twitter  and Instagram presence. Make sure to follow along for the latest updates.
Latest Developments
Lemon Garage Coming to Disney Springs
Opening next year, Disney Springs' third parking structure will be named the Lemon Garage. Just like the Lime and Orange Garages, the new Lemon Garage is named after Florida-grown citrus and will provide up to 3,000 additional parking spaces for Disney Springs Guests and Cast Members.
City Works Eatery and Pour House Announced
A new restaurant called City Works Eatery & Pour House is coming to Disney Springs. This will be a lively eatery that will offer 80 local and global craft beers on draft and American food with brilliant chef-driven twists, City Works will deliver an upbeat, energetic atmosphere, and superior service. The restaurant will be an 8,632 square foot and will offer a retail space, expansive seating, plenty of high-definition TVs, including a 165-inch screen, and a 1,767 square foot patio. The space will also include three full-service bars, two of which allow for covered, open air dining along the patio. City Works is expected to open in the spring of 2019.
Chicken Guy Now Open
A brand new quick service dining location called Chicken Guy has debuted. Enjoy all-natural chicken and sauces bursting with Guy Fieri's signature flare. Items include tenders to skewers to sandwiches to salads.
Wine Bar George Now Open
Wine Bar George, brought to to life by Master Sommelier George Miliotes, brings an unparalleled wine list including more than 100 selections by the bottle and glass in a range of varietals, vintages and prices. Shareable plates, cheese and charcuterie will complement the wine list, featuring local artisans and seasonally relevant dishes. In addition, The Basket at Wine Bar George is a new quick-service window that offers European-style sandwiches, cheese, olives, hummus, charcuterie, cookies, and wines on tap—served to-go by the glass or carafe.
DisneyStyle Now Open in the West Side
DisneyStyle, the newest shopping destination at Disney Springs is now open. Located on the West Side across from Starbucks, this modern shop will debut a collection of apparel and accessories inspired by timeless characters and beloved experiences at Disney Parks.
Ever After Jewelry Co. Open in Town Center
Ever After Jewelry Co. & Accessories offers Disney-inspired gifts that glitz and shine in this boutique featuring fine jewelry & accessories with brands like Pandora Jewelry, ALEX AND ANI and Dooney & Bourke! Ever After Jewelry Co. will be found adjacent to UNOde50 in Town Center.
Three New Restaurants for The Landing
Three modern Italian restaurants arrived at Disney Springs this winter. These new dining locations are created by the Patina Restaurant Group and feature unique menus and authentic Italian food.
Maria & Enzo's, is a trattoria set in the town's abandoned 1930's airline terminal which has now been transformed into an open and airy restaurant. There are incredible 50-foot ceilings, the interior dining room is adorned with artifacts that reflect air travel of the time such as maps and historic flight paths. The menu is inspired by Sicily including Arancini di Carne (rice balls stuffed with meat), Melanzane Parmigiana (eggplant parmesan), and handmade pastas including Busiate con Granchio (spiral pasta with crab) and 'Ncasiata al Forno (Sicilian baked pasta). Other delectable highlights include fresh fish, richly flavored steaks and chops.
The second is Enzo's Hideaway, a speakeasy inspired by Roman aperitivo bars. Located in the storied rum-runner tunnels that adjoin Maria & Enzo's, Enzo's Hideaway pours Prohibition-era cocktails at its Tunnel Bar and serves a casual menu of hearty Roman Dishes such as the city's legendary Bucatini alla Carbonara (hollow spaghetti with creamy egg and pancetta sauce) and Tonnarelli Cacio e Pepe (square-cut spaghetti with pecorino and black pepper).
Finally, Pizza Ponte is a fast-casual restaurant serving pizza, pastries, Italian sandwiches and espresso. The menu features Pizza al Taglio (Sicilian-style pizza served by the slice), signature Tirangolo (stuffed pizza bread) sandwiches, and Porchetta (roast pork). To satisfy your sweet tooth, pastry specialties include Bombolini (Italian donuts), Sfoglia di Riso (pastry with rice cream), and Tiramisu.
Tickets Now On Sale for Star Wars: Secrets of the Empire Hyper Reality Experience
Tickets are now on sale for the all-new hyper-reality experience, Star Wars: Secrets of the Empire, which debuted at Disney Springs on December 16. Star Wars: Secrets of the Empire transports Guests deep into the beloved Star Wars universe allowing them to walk freely and untethered throughout the multi-sensory experience with friends and family. In groups of four, teams will go undercover as Stormtroopers to capture Imperial intelligence that is vital to the budding rebellion's survival. The VOID requires all Guests to be at least 48" tall. They also suggest that Guests be at least 10 years old or older due to the weight of the gear and some intense content. Guests under 18 years old will have to have a parent or guardian sign the liability waiver. Tickets can be purchased here.
Jaleo to Open in 2018
Opening in 2018 on the West Side is Jaleo, a concept by Chef José Andrés. Bringing the spirit and flavors of Spain, the Disney Springs restaurant will feature an extensive menu of tapas that reflect the rich regional diversity of traditional and contemporary Spanish cuisine, such as paella cooked over a wood fire, hand-carved Jamon Iberico de Bellota and wood-grilled Iberico pork.
Wolfgang Puck Bar & Grill to Debut in 2018
Also in 2018, a new Wolfgang Puck concept will open in a new location in Town Center. Wolfgang Puck Bar & Grill, will modernize the traditional "bar and grill" concept in a setting inspired by traditional farmhouses with a touch of elegance. The restaurant will capture the essence of laid-back California dining made popular by at Spago. The menu will highlight the best of Puck's signature dishes with Mediterranean influences, innovative takes on comfort food classics and handcrafted specialty cocktails, beer and wine. The existing Wolfgang Puck Grand Cafe will have its final day of service on Aug. 1, 2017.
Preferred Parking Now Available
Disney Springs has launched preferred parking providing an additional convenient parking option for Guests. Guests may choose preferred parking for $10 and park in the "Lemon" or "Grapefruit" parking lots. Complimentary parking in surface lots and parking garages, as well as valet parking, will remain available.
Portobello Country Italian Trattoria becomes Terralina Crafted Italian Restaurant
James Beard award-winning chef, Tony Mantuano helped in the development of this new, Italian restaurant at Disney Springs called Terralina Crafted Italian. The Top Chef Master lead the development of the restaurant, which replaces the space at Disney Springs currently occupied by Portobello Country Italian Trattoria. The new restaurant's menu features dishes inspired by Chef Tony's adventures across the many regions of Italy.
The Polite Pig Now Open in the Town Center
The Polite Pig, a new sister restaurant of popular Winter Park eatery, The Ravenous Pig, is now open in Town Center at Disney Springs. Serving lunch and dinner, The Polite Pig features a variety of wood-fired smoked and grilled items. The new venue also features an innovative beverage program offering all drinks on tap – including beer, wine and cocktails.
Cirque du Soleil la Nouba Closed
The entertaining West Side show, Cirque du Soleil la Nouba saw its final performance on December 31, 2017. La Nouba included theatrics, magical lighting, unique sets, dazzling costumes, and music and was filled with action, humor, and a blending of ancient traditions of circus with dance, acrobatics and street entertainment. There will be a Cirque show replacing La Nouba, but we do not have any details at this time. To purchase tickets visit the Walt Disney World website.
Disney Quest Closed for NBA Experience
DisneyQuest closed July 2, 2017 to make way for the NBA Experience. "The NBA Experience at Walt Disney World Resort" will be an expansive, one-of-a-kind destination will feature hands-on activities that put families and guests of all ages right in the middle of NBA game action. Guests will enjoy immersive NBA video productions and numerous interactive experiences, as well as a restaurant and a retail store. Currently, there is no projected opening date for The NBA Experience.
The Edison Now Open
Inspired by The Edison venue in Los Angeles, this lavish "Industrial Gothic"-style restaurant, bar and nighttime destination is themed to a 1920s-period power plant, recalling an exuberant era of invention and imagination. It features classic American food and craft cocktails. With a range of themed areas to explore, The Edison has The Lab performance space, The Ember Parlour, Telegraph Lounge, The Patent Office, The Tesla Lounge, The Radio Room, Waterfront Patio, and more. Live entertainment includes contortionists, DJs, a cabaret and more. This location along with STK are open late into the night.
Planet Hollywood Now Open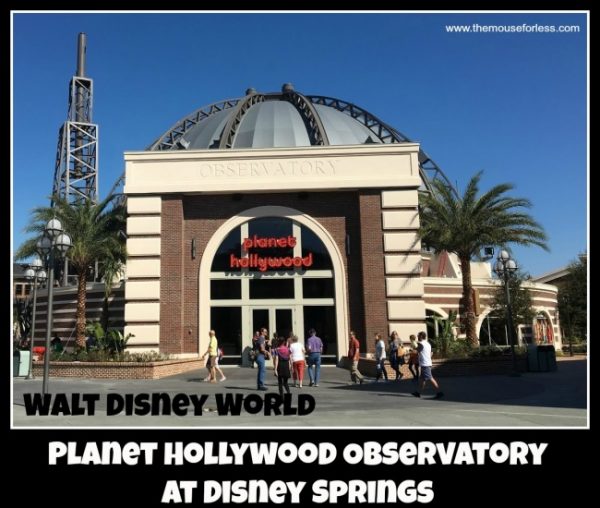 Planet Hollywood  is now open at Disney Springs in the Town Center. The restaurant is themed after an early 1900s observatory. The changes include an expanded outdoor seating area, and the bar area called Stargazers, which will also bring live entertainment to Planet Hollywood. A new menu has been created and features sandwiches from celebrity chef Guy Fieri. While the Hollywood memorabilia remains, the ceiling has been transformed into a planetarium with stars and constellations.
Disney Springs Conceptual Art Photo Gallery
View the slide show to learn interesting facts about each area of Disney Springs.
General Disney Springs Information
Guest Services
Guest Services at Disney Springs area is located at the Welcome Center in Town Center. Services include guidebooks for guests with disabilities, distribution of handheld captioning devices, wheelchair, ECV & stroller rentals. Hours are from 8:30 a.m. to 11 p.m. on Sunday – Thursday and 8:30 a.m. to 11:30 p.m. Friday and Saturday. Lost and Found items are sent to the Welcome Center.
ECV, Wheelchair & Stroller Rentals
Electric Convenience Vehicles (ECVs), wheelchairs and strollers are available for rent at the Guest Relations building in Town Center. The ECV rental fee of $50 per day. The wheelchair rental fee is $12 per day. The fee to rent a stroller is $15 per day for a single-passenger stroller (double strollers are not available). All Disney Springs rentals include a $100 refundable credit card deposit is required per unit rented at the Disney Springs area. Return the rented unit to the original rental location to receive a credit card deposit refund.
Automated Teller Machines (ATM) & Credit Cards
ATM presented by Chase locations:
• Near the House of Blues restaurant
• Near Starbucks on the West Side
• Inside the World of Disney Store
• Near the Once Upon a Toy shop
• Near Marketplace Snacks
Visa, American Express, Diners Club Card, Discover, JCB International, AND MasterCard are accepted at Disney Springs stores. Guests with charging privileges can also use their MagicBands. Stores also accept traveler's checks and cash.
Merchandise Shipment
For guests staying at a Disney Resort hotel, purchases made at Disney Springs shops can be delivered to the guest's room. Purchases made at Disney Springs shops can also be shipped home via UPS or FedEx.
Valet Parking
Valet parking at Disney Springs sees prices starting at $10 for the first 2 hours, while the cost  caps at $20 for 3 or more hours. Please note: Payment will be collected at time of pick-up; gratuity is not included in the cost. Valet parking is available in front of Cirque du Soleil on Disney's West Side.
If you have a Tables in Wonderland membership, valet parking is free with a dining receipt.
Bus Transportation, Driving & Parking
Transportation to and from the Disney Springs area is complimentary and is a benefit of staying at a Disney Resort. Disney Springs features only one central bus terminal found near the Town Center, in between the Orange and Lime Garages. Bus service runs from 8:00 a.m until 2:00 a.m.
For Park Guests choosing to drive to Disney Springs, complimentary self-parking is also available. The current parking details are:
Parking and Pathway Developments
The parking lots at Disney Springs are now named after different types of Florida fruits.  They are:
Strawberry – O, P, Q
Watermelon – M, N
Grapefruit – L
Mango – K
Orange Garage – West Garage
Lime Garage – East Garage
Lemon Garage – Coming Soon
The two parking garages are open at Disney Springs. These five story garages feature approximately 4,000 spaces. In addition, above each space are lights which indicate if a spot is full or not. (Green means available space, red means full. Also, the blue light indicates a handicapped spot.) The garages will remain complimentary for guests to utilize.
To see a map with directions to Disney Springs, click here.
Disney Springs Ferryboat Schedule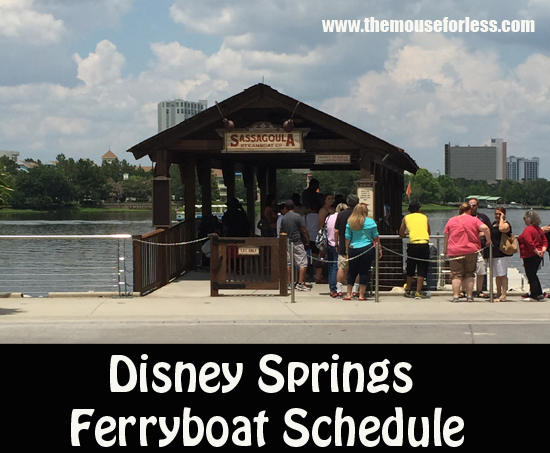 Disney Springs Internal Water Shuttle – 10:00 a.m. – 11:30 p.m.
Dock-to-dock service between Marketplace, the West Side, and The Landing. Runs approximately every 20 minutes. The last guest pick-up is at 11:30 p.m. Look for Red flags and signs.
Disney's Port Orleans Resorts – 10:00 a.m. – 11:30 p.m.
Departs Marketplace Dock approximately every 20 minutes. Look for Yellow flags and signs.
Disney's Old Key West Resorts – 10:00 a.m. – 11:30 p.m.
Departs The Landing Dock approximately every 20 minutes. Look for Green flags and signs for Old Key West.
Disney's Saratoga Springs Resorts – 10:00 a.m. – 11:30 p.m.
Departs The Landing approximately every 20 minutes. Look for Blue flags and signs for Disney's Saratoga Resort & Spa.
Other Useful Information
• Proper dress is required at Disney Springs area. Shirt and shoes must be worn at all times.
• With the exception of service dogs for Guests with disabilities, pets are not permitted in the Disney Springs area.
• Baby changing stations are located in the restrooms.
For additional Disney Springs information, call 407-WDW-2NITE.
---
TheMouseForLess Tips
General
As for the best time to go, when the parks are open, during the week, there seems to be less crowds. In the evenings the stores can be wall-to-wall people. During the day, it isn't nearly as crowded. Go during the day for shopping, but also consider spending  at least one evening there as well, just for the atmosphere. Grab a snack at Goofy's, sit outside and people watch.
If you have a day with no park tickets, we have no trouble spending the better part of a day here.
There is one not-so-hidden gem. Our kids stand for 30 minutes waiting to be spit on by Stitch outside of the World of Disney. They love it – it's so much fun to watch!
Dining
If you are on Disney's Dining Plan, be sure to check out Wolfgang Puck Express. Great food that becomes a really good deal on the dining plan, as it is a counter service credit!
Earl of Sandwich is a quick favorite. The choice is great and the options are pretty filling. We love to grab a table – inside or out depending on the heat – and relax for a while. It's easy to chill out here and build up the strength for more shopping. And of course you can grab an ice cream nearby at Ghirardelli for dessert – yummy.
If we're coming here for an evening of browsing, we love Raglan Road for dinner – especially the live entertainment; and again, there's nothing like a little dessert at Sprinkles cupcake bakery 🙂 With the many new restaurants at Disney Springs there are a ton of dining options. New favorites include Art Smith's Homecomin' Kitchen and The Boathouse.
Shopping
There is a multitude of stores at Disney Springs! World of Disney is a favorite for general souvenir shopping. Goofy's Candy Company is a great place to spend your snack credits for snacks for the trip home. An absolute favorite is Disney's Days of Christmas. The Marketplace Co-op always has some fun finds, and there are many upscale shopping locations where it is fun to just browse.
World of Disney is great for just about everything but it's huge and you will lose your other half so have a plan on where and what time to meet. While shopping, make sure you have your camera. It's a good place to take photos in all those huge hats that they sell.
LEGO statues – of course you have to take those pictures. And if you have kids who need a break, check out the play area where they can lose themselves for a while. The kids LOVE the Lego playground.
Make a stop at Basin. I often grab one of the pre-made gift baskets to keep in my closet at home for last minute hostess gifts or teacher gifts. We always buy the chamomile soap for our youngest daughter, who has sensitive skin. If it's a warm day and we have free time, the girls make a few passes through the fountain to get soaking wet!
Entertainment
Disney Springs offers live entertainment through the afternoon and evening. It can be fun to explore the shops, enjoy some chocolate from the Ganachery, and listen to the music. There are professional performers, but also sometimes high-school music groups come and perform near World of Disney.
Several of the restaurants and bars at Disney Springs offer live entertainment in the evening and night. STK and The Edison are two of the largest. If you are looking for nighttime entertainment you can find some good food and fun around Disney Springs.
For the whole family, check out Splitsville where you can bowl and eat, a great rainy day activity. You could also see a movie at the AMC theater. For the Star Wars fans the VOID is a can't miss attraction, and for princesses a trip to Bibbidi Bobbidi Boutique is a magical experience. There are more fun things to check out like the amphicars and the Characters in Flight hot air balloon. All of the entertainment options make Disney Springs a great place to spend a non-park day, and you can do it all without a park ticket.