Disney Springs | The Landing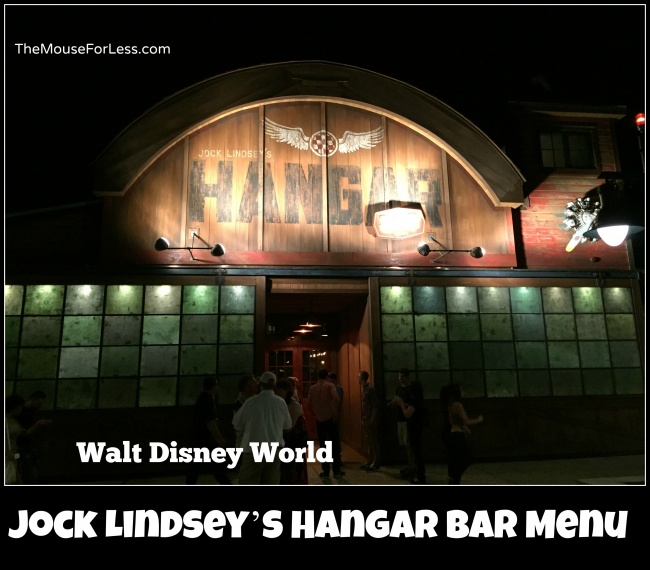 Jock Lindsey's Hangar Bar, a Disney owned venue themed to a 1940's airplane hangar turned dive bar, seats up to 150 guests, both indoor and outdoors. Jock Lindsey's Hangar Bar serves unique beverages and small plates. The Hangar also features interactive moments based on Jock Lindsey, the pilot from the "Indiana Jones" films. Jock Lindsey's Hangar Bar's features themed décor like propeller-based ceiling fans, vintage travel posters and correspondence between Jock and Indy immerses guests who visit the Hangar in a world of adventure.
Restaurant Info: American Cuisine, Snacks, $ – $14.99 and under per adult
Find out how you can save money on dining at Walt Disney World by using one of Disney's Dining Plans.
Jock Lindsey's Hangar Bar Menu
Menu Date: 02/2019
Appetizers
Tanis Tuna – Sliced Za'atar-spiced Tuna Loin served with Hummus and topped with a Chickpea, Tomato, and Celery Salad – $15.00
Air Pirate's Pretzels – A Giant Pretzel with Spicy German Mustard and Beer-Cheese Fondue – $11.00
Snakebite Sliders – Reggie's favorite snack! Three Gourmet Beef Sliders with Tomato-Bacon Jam, House-made Pickles, Shredded Lettuce and Cheese – $11.00
Doctor Astorga's Queso Fundido – A skillet of Melted Soft Cheeses topped with fresh Pico de Gallo served with Warm Flour and Corn Tortilla Chips – $12.50
Satipo's Empanadas – Crispy-fried Empanadas Hand-stuffed with Beef, Onions, Peppers, Potatoes, Olives, Cheese, Herbs, and Spices served with fresh Chimichurri Sauce – $10.00
Lomo Saltado Peruvian Flank Steak – Thinly Sliced Grilled Flank Steak with Piquillo Peppers, Pickled Onions, and Crispy Potatoes with Tamari-Lime Dressing and Yellow Pepper Aïoli – $14.00
Nang Tao Spicy Popcorn Chicken – Crispy Chicken Chunks and Popcorn tossed in spicy Togarashi Seasoning served with Korean Pepper Sauce – $11.00
Old World Pizza of San Marco – Deep-Dish Pizza topped with fresh Tomato Sauce, sweet Basil, melted Provolone, and Pepperoni (Plain Cheese Pizza available upon request) – $12.00
Chen's BBQ Pork Skewers – Grilled Pork Belly with Gojuchang Pepper Sauce, Pickled Vegetables, and Cilantro served with tender Bibb Lettuce Cups – $13.00
Lao Che's Peppers – Blistered Shishito Peppers with Sesame Dipping Sauce – $9.00
Signature Libations (Non-Alcoholic)
Antidote – Sprite and Maraschino Cherry Juice – $4.50
Poisonless Dart – Soda Water with Mint, Simple Syrup, and fresh Lime Juice – $5.00
Teddy's Tea – Green Tea with Mint and Tangerine – $4.00
Diving Bell – Simply Lemonade and Watermelon topped with a Lemon-Lime Foam – $5.00
Signature Libations (Alcoholic)
Anything Goes – byejoe dragon fire spirit, fresh Lime Juice, Passion Fruit, and Pineapple Juice – $11.50
Shorty's Singapore Sling – Plymouth Gin, Heering Cherry Liqueur, Bénédictine, Cointreau, fresh Lime Juice, Pineapple Juice, and Grenadine – $12.50
Bedtime Story – Absolut Mandrin Vodka, Domaine de Canton Ginger Liqueur, Hibiscus Syrup, fresh Lemon Juice, and Iced Tea – $12.50
The Bitter Barkeep – Barsol Quebranta Pisco, Simple Syrup, and fresh Lime Juice. Contains Pasteurized Egg Whites – $12.50
Fountain of Youth – St. Augustine Florida Cane Vodka, Bols Blue Curaçao, White Cranberry Juice, and Sweet-and-Sour – $12.50
German Mechanic – Bavarian Radler a.k.a. "Shandy" with Paulaner Hefe-Weizen and Simply Lemonade – $10.75
The Scottish Professor – Monkey Shoulder Blended malt Scotch Whiskey, Hendrick's Gin, Pear Nectar, Simple Syrup, and fresh Lemon Juice – $12.50
Safari Sangria – South African Red Wine with Van Der Rum Tangerine Liqueur – $10.75
Air Pirate's Mule – Knob Creek Disney Select Single Barrel Reserve Bourbon and fresh Lime Juice topped with Fever-Tree Ginger Beer – $14.00
Hail Marty – Colonel E.H. Taylor, Jr. Single Barrel Straight Kentucky Bourbon Whiskey bottled in Bond served with an Ice Sphere – $22.00
The Mayor's Reserve – Woodford Reserve Bourbon, Blackberry Brandy, Simple Syrup, and fresh Lemon Juice – $15.00
Pancho's Margarita – Don Julio Reposado Tequila, Grand Marnier, and fresh Sweet-and-Sour – $14.00
Wrong Island! – Siesta Key Silver Rum, Tito's Handmade Vodka, Tamiami Gin, Tippler's Orange Liqueur, and Sweet-and-Sour with a splash of Coca-Cola – $11.50
Bam's Barnstormer – byejoe dragon fire spirit, fresh Lime Juice, Passion Fruit, and Pineapple Juice – $11.00
Cool-headed Monkey – Starr African Rum, Van Der Hum Tangerine Liqueur, fresh Lime Juice, Watermelon, and Pineapple Juice – $12.50
Hovito Mojito – Barson Quebranta Pisco, fresh Lime Juice, Mint, and Simple Syrup topped with Soda Water – $12.50
Reggie's Revenge – Florida Cane 'Orlando Orange' Vodka, Midori Melon Liqueur, White Cranberry Juice, and fresh Lime Juice – $12.50
Bottled Beer & Hard Cider
Michelob Ultra Lager – St. Louis, MO – $7.75
Tsingtao Lager – China – $7.75
Tusker Premium Lager – Kenya – $9.00
Stella Artois Lager – Belgium – $9.00
Florida Beer American Lager – Cape Canaveral, FL – $8.50
Blue Moon Belgian White – Golden, CO – $7.50
Xingu Black Beer – Brazil – $9.50
Schöfferhoffer Pink Grapefruit Hefeweizen – Germany – $9.00
Angry Orchard Crisp Apple Cider – Cincinnati, OH – $8.50
Ace Pineapple Hard Cider – Sebastopol, CA – $10.00
Draft Beers
Tampa Bay Brewing Old Elephant IPA Draft – Tampa, FL – $9.00
Paulaner Hefe-Weizen – Germany – $9.75
Bud Light Draft – St. Louis, MO – $8.00
Jock's Visiting Brew Draft – $8.25
Bubbles
Nino Franco Rustico Prosecco di Valdobbiadene, Veneto – $11.00 Glass, $49.00 Bottle
White Wines
Coppo Moncalvina Moscato d'Asti, Piedmont – $10.00 Glass, $45.00 Bottle
Selbach-Oster Riesling Kabinett, Mosel – $12.00 Glass, $55.00 Bottle
King Estate Pinot Gris, Oregon – $11.00 Glass, $49.00 Bottle
Montes Limited Sauvignon Blanc, Leyda Valley – $10.00 Glass, $45.00 Bottle
Jackson Estate Chardonnay, Santa Maria Valley – $12.00 Glass, $55.00 Bottle
Red and Rose Wines
Château Miraval Rosé, Provence – $12.00 Glass, $55.00 Bottle
Jam Jar Sweet Shiraz, Western Cape – $9.00 Glass, $38.00 Bottle
Meiomi Pinot Noir, California – $15.00 Glass, $59.00 Bottle
Santa Ema Reserve Merlot, Maipo Valley – $10.00 Glass, $45.00 Bottle
Bodega Norton Reserva Malbec, Mendoza – $11.00 Glass, $49.00 Bottle
Black Pearl Oro Cabernet-Shiraz, South Africa – $11.00 Glass, $49.00 Bottle
Concha Y Toro Marques de Casa Concha Cabernet Sauvignon, Maipo Valley – $12.00 Glass, $55.00 Bottle

Dessert Wines
Graham's 20 yr Tawny Port, Portugal – $15.00 Glass, $59.00 Bottle
Flights
Aviator's Flight – ¾-oz pour of each Single Malt Scotch Whisky – The Macallan 12 yr Speyside, Highland Park 12 yr Orkney Islands, and Bowmore 12 yr Islay – $15.25′
Beer Flight – Jock's Visiting Brew, Paulaner Hefe-Weizen, Old Elephant IPA – $9.50
Jock Lindsey's Hangar Late Night Dining Food Menu
Air Pirate's Pretzels – A Giant Pretzel with Spicy German Mustard and Beer-Cheese Fondue – $11.00
Nang Tao Spicy Popcorn Chicken – Crispy Chicken Chunks and Popcorn tossed in spicy Togarashi Seasoning served with Korean Pepper Sauce – $11.00
Old World Pizza of San Marco – Deep-Dish Pizza topped with fresh Tomato Sauce, sweet Basil, melted Provolone, and Pepperoni (Plain Cheese Pizza available upon request) – $12.00
Sankara Stones and Barrels – Fried Spice-encrusted Cheese Curds with crispy Potato Barrels – $9.00 
** Jock Lindsey's Hangar Bar Menu and Prices are Subject to Change Without Notice **