Epcot | World Showcase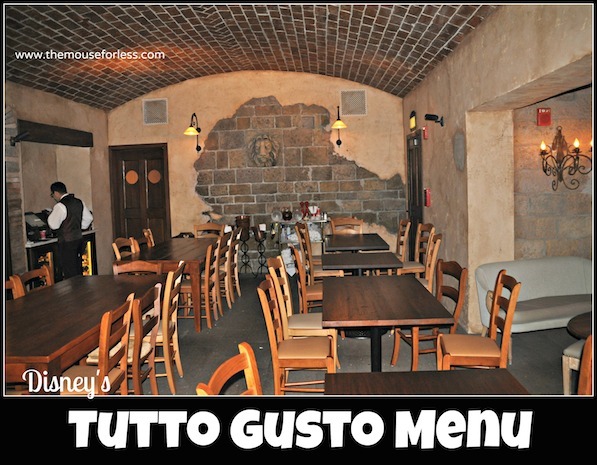 Tutto Gusto, the wine bar adjacent to Tutto Italia Ristorante in the Italy Pavilion at Epcot is sure to be a new World Showcase hot spot. The chefs have created a small-plate menu that takes guests on a fabulous culinary tour of Italy. More than 200 Italian wines, including sparkling, reds and whites, and beers such as La Rossa, Moretti and Menabrea are offered. This establishment does not take reservations.
Restaurant Info: Italian, Lunch/Dinner A la carte, $ – $14.99 and under per adult
Find out how you can save money on dining at Walt Disney World by using one of Disney's Dining Plans.
Tutto Gusto Wine Cellar All-Day Menu
Menu Date: 09/2018
Gusto Plate – La Siciliana (for two or more)
Fior di Latte Mozzarella – pasta filata, hand-crafted, made from cow's milk
Cacciatorini – black pepper, wine marinated, beef and pork cured sausages
Caponata – Sicilian egglplant agrodolce salad
Gusto Plate – La Serenissima (for two or more)
Asiago – semisoft, butter scented
Asparaghi Bianchi – white asparagus, lemon, olive oil and parmesan
Insalata di Mare – shrimp, squid, octopus, lemon, extra virgin olive oil
Gusto Plate – L'Alpina (for two or more)
Fontina Valdostana – semi-firm, alpine cow's milk cheese
La Tur – creamy blend of cow, sheep, and goat's milks
Gorgonzola Cremificato – profoundly sweet, blue-veined cheese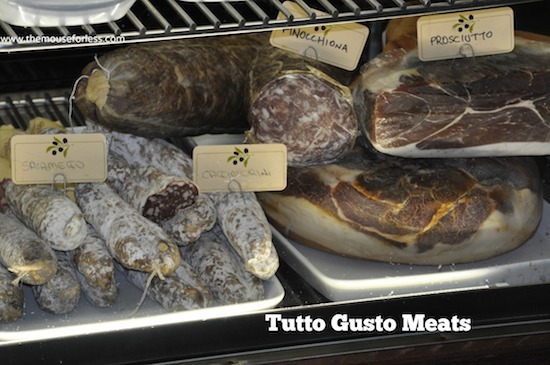 Gusto Plate – La Maiala (for two or more)
Prosciutto di Parma – Emilia Romagna aged dry cured ham
Finocchiona, fennel and pepper flavored salame
Salametto – Veneto, small, dried spiced pork sausages
Gusto Plate – La Campagnola (for two or more)
Carciofi – olive oil marinated artichokes
Olive di Cerignola – marinated cerignola olives, citrus zest, herbs
Bruschetta di Capri – tomatoes, basil, extra virgin olive oil
Cavatappi (Pasta)
Lasagna – beef, veal, and pork ragù alla bolognese, béchamel, parmesan – $28.00
Spaghetti – beef, veal, and pork meatballs, pomodoro sauce – $25.00
Ravioli Caprese – pomodoro sauce, burrata, basil – $28.00
Risotto – arborio rice, sweet corn, lemon shrimp – $31.00
Carne e Pesce
Bistecca – 12 oz. Grilled New York Strip Steak, Crispy Rosemary Potatoes, Herb Butter – $35.00
Pollo alla Parmigiana – Chicken Parmesan, Spaghetti Chitarra, Pomodoro Sauce – $32.00
Salmone – Pan-seared Filet of Salmon, Cream of Corn, Roasted Green Onions, Crispy Pancetta – $31.00
Gusto Specialties
Meatballs Parmigiana – pane di casa, tomato, mozzarella, cheese – $16.00
Fettuccine – Egg pasta, grilled Chicken breast, Parmesan Cheese – $30.00
Involtini di Melanzane – Eggplant, Ricotta, Mushroom, pomodoro sauce – $26.00
Panini
Small bread sandwiches, served with Caesar salad wedge
$8 per choice | $12 per two choices | $16 per three choices
Prosciutto di Parma
Fior de Latte Mozzarella & Pomodoro
Carciofi and Fontina
Gorgonzola Cremificato
Fontina and Salametto
Dolce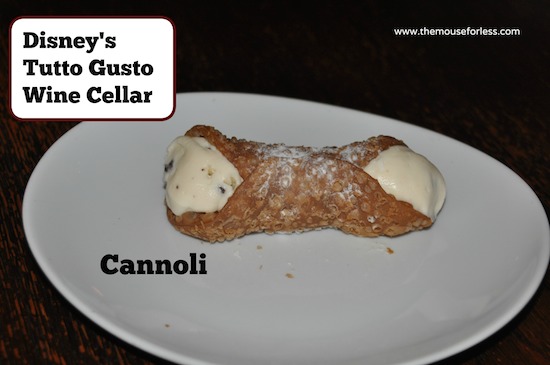 Cannoli – crisp pastry, sweet ricotta, chocolate, candied orange – $4.00
Chocolate Caramel – $4.00
Mocha Tiramisu – $4.00
Nutella Chocolate Cake – $4.00
Vanilla Panna Cotta – $4.00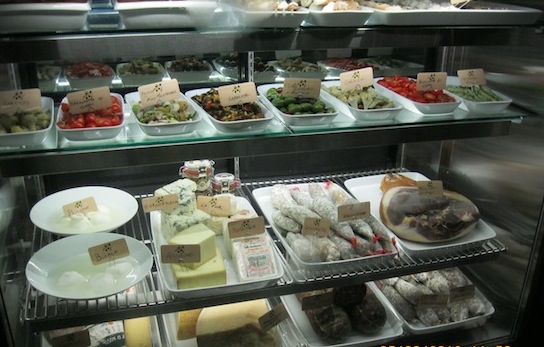 Full selection of beers and wines available
** Tutto Gusto Menu and Prices are Subject to Change Without Notice **