Disney Springs | Marketplace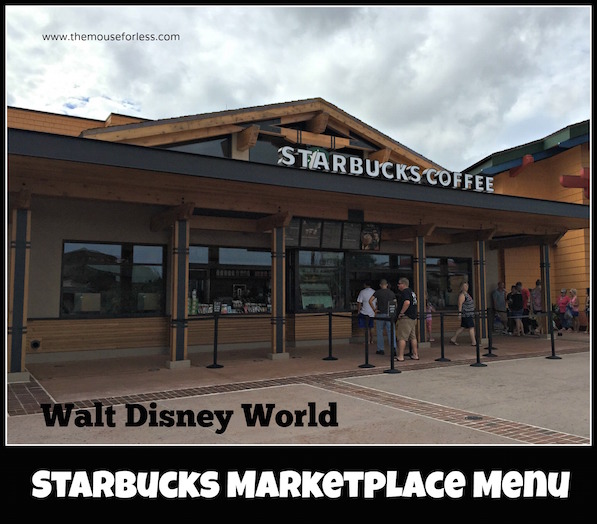 Stop by for a Starbucks flavored coffee or tea – the perfect snack for strolling through Disney Springs Marketplace. Unlike the Starbucks locations in the Disney theme parks, this location is operated by Starbucks corporate. Starbucks Marketplace accepts Starbucks gift cards and rewards. This location is a walk up window. There is another Starbucks where Guests can relax on the West Side.
Restaurant Info: American, Snack A la carte, $ – $14.99 and under per adult
Find out how you can save money on dining at Walt Disney World by using one of Disney's Dining Plans.
Starbucks Marketplace Food Menu
Menu Date: 02/2019
Pastries & Treats
Plain Bagel
Croissant
Chocolate Croissant
Blueberry Yogurt Muffin with Honey
Chocolate Chip Muffin
Old-Fashioned Glazed Doughnut
Petite Vanilla Bean Scone
Blueberry Scone
Cake Pop – chocolate chip, birthday, chocolate
Chocolate Chip Cookie
Oatmeal Cookie
Morning Bun
Banana Walnut Loaf Cake
Chocolate Marble Loaf
Reduced Fat Coffee Cake
Cheese Danish
All-Day Breakfast Offerings
Artisan Breakfast Sandwiches
Spicy Chorizo, Monterey Jack & Egg Sandwich
Double-Smoked Bacon, Cheddar and Egg
Bacon, Egg and Gouda Sandwich
Spinach, Feta, Cage-Free Egg White Wrap
Reduced-Fat Turkey Bacon, Cheddar & Cage-Free White Breakfast Wrap
Steel-Cut Oatmeal
Starbucks Marketplace Beverage Menu
Menu Date: 02/2019

All drinks and sizes qualify as a snack credit on the Disney Dining Plan!
Starbuck Sizes: Tall – 12 oz | Grande – 16 oz | Venti- 24 oz | Trenta 31 oz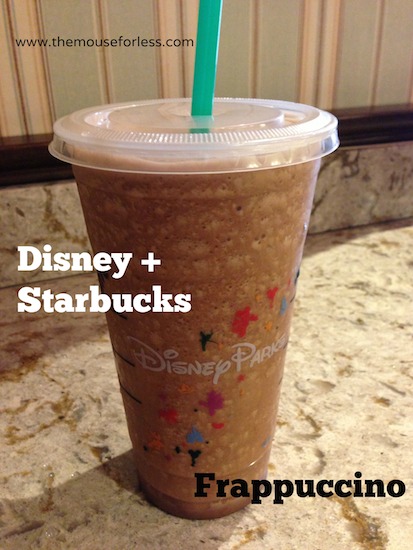 Blended Beverages
Caramel Frappuccino
Vanilla Bean Frappuccino
Strawberry Smoothie
Chocolate Smoothie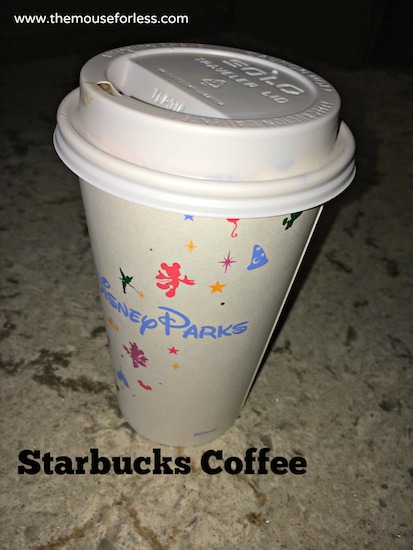 Classic Espresso Beverages
Espresso – Solo
Caramel Macchiato
Caffé Misto
Caffé Latte
Mocha Latte
Vanilla Latte
Caffé Americano
Tea & Refreshers
Very Berry Hibiscus Refresher
Strawberry Acai Refresher
Shaken Passion Iced Tea
Shaken Passion Iced Tea Lemonade
English Breakfast Whole Leaf Tea
Caffé Latte
Chai Tea Latte
Classic Beverages
Freshly Brewed Coffee – regular of decaf
Iced Coffee
Hot Chocolate
Kids' Hot Chocolate
Seasonal Offerings
Cinnamon Shortbread Frappuccino – Tall – $5.49; Grande – $5.99; Venti – $6.29
Cinnamon Shortbread Latte – Tall – $5.29; Grande – $5.69; Venti – $5.99
Iced Americano – Tall – $3.49; Grande – $3.79; Venti – $3.99
** Starbucks Marketplace Menu and Prices are Subject to Change Without Notice **