Disney Springs | West Side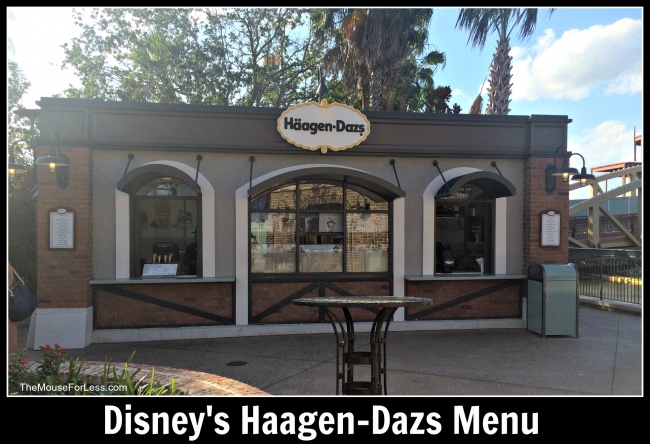 Stop by for a quick sundae, shake or ice cream cone. This is the perfect snack while shopping at Disney Springs on a warm Florida day.
Restaurant Info: American, Snack A la carte, $
Find out how you can save money on dining at Walt Disney World by using one of Disney's Dining Plans.
Haagen-Dazs Ice Cream Kiosk Menu
Menu Date: 04/2019
Sundaes and Shakes
Sundaes – Your choice of ice cream, add your favorite topping and top it off with whipped cream – $6.49 Kiddie | $7.49 Small | $8.69 Regular
Dazzler Sundaes – $8.99 Small (2 scoops) | $9.99 Regular (3 scoops)
Dulce Split Dazzler – Dulce de leche ice cream layered with bananas and warm caramel
Rocky Road Dazzler – Rocky Road ice cream layered with hot fudge and chocolate cookie pieces
Mint Chip Dazzler – Mint chip ice cream layered with hot fudge and chocolate cookie pieces
Banana Split Dazzler – Vanilla ice cream layered with bananas and pineapple, strawberry and hot fudge toppings
Shakes – Without Toppings – $8.49 Small |$9.79 Regular
Shakes – With Toppings – Dulce or Belgian Chocolate – $9.09 Small | $9.99 Regular
Haagen-Dazs Ice Cream
Kiddie Cup or Cone – $5.89
Regular Cup or Cone – $6.99
Large Cup or Cone – $7.99
Ice Cream Flavors:
Vanilla
Belgian Chocolate
Mint Chocolate Chip
Strawberry
Dulce De Leche
Rocky Road
Vanilla Chocolate Chip
Rum Raisin
Butter Pecan
Sorbet
Cookie Dough
Caramel Cone
Cookies and Cream
Add Ons:
Waffle Cone +$2.19
Dipped Waffle Cone +$2.79
Hot Fudge or Caramel +$1.69
Sprinkles or Peanuts +$1.39
Frozen Beverages
Coffee Frappe – Plain, Mocha or Caramel – $8.49 Small | $9.79 Regular
Additional Beverages
Bottled Water – $3.00
** Haagen-Dazs Ice Cream Menu and Prices are Subject to Change Without Notice **