Disney Springs | Town Center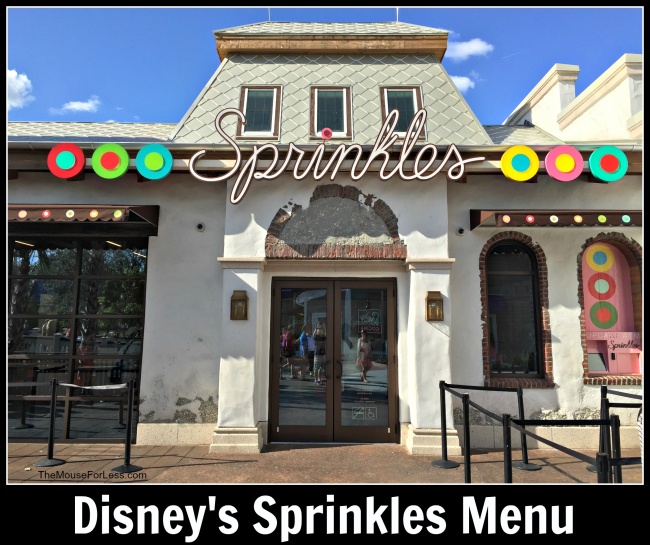 Sprinkles, the world's first cupcake bakery, serves up handcrafted cupcakes, slow churned ice cream and homemade cookies. Look for cupcake flavors such as salted oatmeal cornflake, banana peanut butter, maple bacon, Cuban coffee, and lemon coconut, as well as vegan, gluten-free, sugar-free and doggie options. Their innovative Cupcake ATM will satisfy sweet-toothed epicureans 24/7. The Cupcake ATM is accepts credit cards and is stocked daily with almost 400 cupcakes at a cost of about $4.25 each.
Restaurant Info: Bakery; Snacks; $ – under $14.99 per adult
Find out how you can save money on dining at Walt Disney World by using one of Disney's Dining Plans.
Sprinkles Menu
Menu Date: 04/2019
Cupcakes
$4.95 Each | $52 Dozen
Red Velvet Cupcake
Vegan Red Velvet Cupcake
Gluten-free Red Velvet Cupcake
Sugar-free Red Velvet Cupcake
Black and White Cupcake
Dark Chocolate Cupcake
Vanilla Cupcake
Vanilla Milk Chocolate Cupcake
Chocolate Marshmallow Cupcake
Strawberry Cupcake
Sprinkle Cupcake
Salty Caramel Cupcake
Banana Cupcake
Carrot Cupcake
Coconut Cupcake
Seasonal Cupcake
Cookies
$3.50 Each | $35 Dozen
Chocolate-Chip
Gluten-free Chocolate-Chip
Salted Oatmeal Cornflake
Peanut Butter Pretzel Chip
Brownie
Snickerdoodle
Ice Cream Options
Ice Cream Cup – $3.50 Kid's Scoop | $4.95 Single Scoop | $6.95 Double Scoop
Ice Cream Waffle Cone – $4.50 Kid's Scoop | $5.95 Single Scoop | $7.95 Double Scoop
Assorted Toppings – brownie crumble, chocolate chips, cookie crumble, cupcake crumble, fresh whipped cream, gummy bears, rainbow sprinkles, toasted almonds – $1.00 Each
Assorted Sauces – caramel, hot fudge, marshmallow cream – $1.00 Each
Ice Cream Flavors
Vanilla
Red Velvet
Capn' Crunch
Rocky Road
Cookie Dough
Peanut Butter Cup
Butter Pecan
Dark Chocolate
Strawberry
Mint Chip
Coffee
Mango Sorbet
Seasonal Ice Creams
Specialty Ice Cream
Sprinkles Sandwich – $7.95
Cookie Sandwich – $8.95
Sprinkles Sundae $5.50 Mini | $7.95 Regular
Sundae – $7.95 Double Scoop | $9.95 Triple Scoop
Cookie Sundae – $8.95
Brownie Sundae – $8.95
Sprinkles Shot – $5.50
Shakes
Regular Shake – $8.95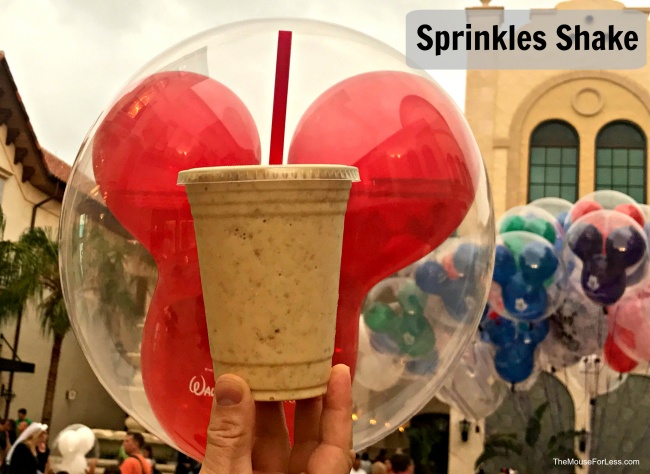 Sprinkles Shake – $9.95
Malt – $8.95
Float –  $8.95
Beverages
Assorted Beverages – $3.00
Organic Milk – $3.00
Bottled Water – $3.00
Tea – $3.00
Apple Juice – $3.00
Espresso
Red Velvet Mocha – $4.50
Vanilla Latte – $4.50
Latte – $4.00
Americano – $3.50
** Sprinkles Menu and Prices are Subject to Change Without Notice **