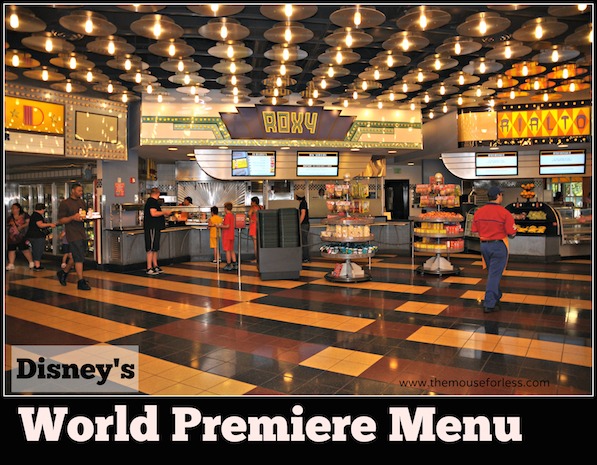 Star in a great meal at this movie-themed food court featuring four unique dining shops and a deli-style market. Dine on a wide selection of quick-service foods in a whimsical high-tech environment at World Premiere Food Court.
World Premiere Food Court is located in Disney's All-Star Movies Resort.  Find more Walt Disney World dining locations on our Walt Disney World menus page.
Restaurant Info: American, Breakfast/Lunch/Dinner/Snack, $ – $14.99 and under per adult
Breakfast Menu  Lunch/Dinner Menu

Planning a Walt Disney World Vacation?
For a Free no-obligation quote, contact our sponsor
The Magic For Less Travel
. The Magic For Less Travel is an Authorized Disney Vacation Planner and has been helping guests plan magical vacations since 2002. Receive the best prices and free travel planning services. Their fee-free services will help you save time, money, and stress while planning a vacation designed around you and your needs!
World Premiere Food Court Breakfast Menu
Menu Date: 03/2021
Breakfast Platters
Bounty Platter – Served with Scrambled Eggs, Breakfast Potatoes, Bacon, Sausage, and Biscuit – $11.29
American Platter – Scrambled Eggs, Breakfast Potatoes, Bacon, and Sausage – $8.59
Entrées
Continental Breakfast – Oikos® Blueberry Yogurt, Banana, and a Croissant – $7.49
Breakfast Bagel Sandwich – Eggs, Bacon, and American Cheese served on a Bagel – $6.79
Egg and Cheese Bagel Sandwich – Eggs and American Cheese served on a Bagel – $5.79
Waffles
Mickey-shaped Waffles – Three Mickey-shaped Waffles, Strawberry Topping and Syrup – $9.99
Omelets
Ham and Cheese Omelet – Fresh-made Omelet mixed with Diced Ham and Shredded Cheddar served with Breakfast Potatoes – $10.99
Plant-Based
Chipotle Seitan Scramble – Sauté Chipotle Seitan with Edamame Beans, Spinach, Onions, Roasted Peppers, and Mushrooms  – $8.59
Plant-based Mickey-shaped Waffles – Served with Roasted Breakfast Potatoes – $9.99
Overnight Oats – $5.29
Sides
Breakfast Potatoes – $4.49
Steel-cut Oatmeal – $3.49
Bacon – $2.99
Sausage – $2.99
Side of Scrambled Eggs – $2.99
Bakery
Family Assortment Four-Pack – Select four Pastries from our Fresh Selection – $11.99
Bakery Selection Two-Pack – Select two Pastries from our Fresh Selection – $6.49
Brownie Bites – $4.79
Cinnamon Roll – $4.29
Danish Assortment – $3.99
Coffee Cake – $3.79
Croissant – $3.49
Toasted Plain Bagel – $3.49
Muffin Assortment – Selection of Daily Fresh-baked Muffins – $3.49
Chocolate Chip Cookie – $3.29
M&M'S® Sugar Cookie – $3.29
Glazed Doughnut – $1.99
Fresh Fruit
Grapes – $5.69
Mixed Fruit Cup – $5.69
Pineapple Fruit Cup – $5.69
Banana – $2.29
Orange – $2.29
Red Apple – $2.29
Snacks
Yogurt Parfait – Vanilla Yogurt topped with Fresh Fruit and Honey Granola – $5.79
Cereal with Milk – Choice of Cereal served with Small Lowfat Milk – $4.99
Mickey's Crisped Rice Treat – $4.69
Apple Slices with Caramel – $3.99
Dannon® Oikos® Blueberry Greek Nonfat Yogurt – $3.19
Assorted Chips – $2.99
PB&J Uncrustable – $2.99
Pickle-in-a-Pouch – $1.99
Allergy-Friendly Crunchy Cookies – Chocolate Chip – $6.79
Allergy-Friendly Soft Baked Cookies – Double-Chocolate Chip – $6.79
Mickey Mouse Celebration Cake
Chocolate Cake – Chocolate Cake with Chocolate Ganache and Chocolate Mousse with your choice of Engraving Options. One Cake feeds 4 to 6 Guests – $35.00
White Chocolate Cake – Vanilla Cake with White Chocolate Ganache and White Chocolate Mousse with your choice of Engraving Options. One Cake feeds 4 to 6 Guests – $35.00
Dessert
Nestlé® Mickey's Premium Ice Cream Bar – $5.69
Cookies 'n Cream Sundae Cupcake – Chocolate Cupcake topped with Cookies 'n Cream Buttercream, Rainbow Sprinkles, and Chocolate Ears – $5.49
Cheesecake – $5.29
Strawberry Fruit Bar (No Sugar Added) – $5.19
Kids' Meals
Scrambled Eggs – Served with Dannon® Danimals® Smoothie and Apple Slices and Small Lowfat Milk – $6.49
Mickey-Shaped Waffles – Two Mickey-shaped Waffles served with GoGo squeeZ® Applesauce, Dannon® Danimals® Smoothie and small Lowfat Milk – $6.49
Beverages
Star Wars Refillable Mug – Eligible for refills at Beverage Islands at Quick-service locations at any Disney Resort Hotel during the length of your stay – $29.99
Resort Refillable Mug – Eligible for refills at Beverage Islands at Quick-Service locations at any Disney Resort Hotel during the length of your stay – $19.99
Monster™ Energy – $5.29
Monster™ Energy Zero Ultra – $5.29
POWERADE® Fruit Punch Bottle – 20-oz Bottled Beverage – $4.69
POWERADE® Mountain Blast – 20-oz Bottled Beverage – $4.69
Minute Maid® Lemonade Bottle – 20-oz Bottled Beverage – $4.19
Assorted Bottled Soda – 20-oz Bottled Beverage – $4.19
Assorted Cold Beverages – Assorted Coca-Cola® Offerings – $3.99
Honest Tea® Honey Green – $4.49
Gold Peak® Sweet Iced Tea – 18.5-oz Bottled Beverage – $4.19
Gold Peak® Unsweetened Iced Tea – 18.5-oz Bottled Beverage – $4.19
smartwater® – $5.50
Sparkling Water – $4.99
vitaminwater® Power-C Dragonfruit – $4.49
DASANI® Bottled Water – $3.50
Small DASANI® Water – 12-oz Bottled Beverage – $2.50
NESQUIK® Chocolate Milk – $4.19
NESQUIK® Strawberry Milk – $4.19
Half-Gallon 1% Milk – $3.69
Half-Gallon Whole Milk – $3.69
Vitamin D Milk Pint – $3.59
Small Lowfat Milk – $1.99
Small NESQUIK® Chocolate Milk – 8-oz Bottled Beverage – $1.99
Small Whole Milk – 8-oz Carton – $1.99
Soy Chocolate Milk – $2.99
Soy Vanilla Milk – $2.99
Simply® Orange Juice – $4.99
Minute Maid® Apple Juice – $3.99
Minute Maid® Cranberry Apple Raspberry Juice – $3.99
Minute Maid® Ruby Red Grapefruit Juice – $3.99
Vegetable Juice – $3.99
Small Minute Maid® Apple Juice – $1.99
Hot Beverages
Freshly Brewed Joffrey's Coffee™ Decaf – $3.29
Freshly Brewed Joffrey's Coffee™ Regular – $3.29
Hot Cocoa – $3.29
Twinings of London® Hot Tea – $3.29
Specialty Beverages
Joffrey's Coffee™ Cold Brew – Artisan Roasted Coffee Beans blended with flavors of Chocolate with a Smoky finish featuring Joffrey's Coffee™ perfectly steeped in water at cool temperatures for an extended period of time to create a smooth cup of Cold Brew Coffee – $3.79
Joffrey's Shakin' Jamaican™ – Artisan Roasted Coffee Beans blended with Caramel, Vanilla, and Smoky flavors featuring Joffrey's Coffee™ perfectly steeped in water at cool temperatures for an extended period of time to create a smooth cup of Cold Brew Coffee – $3.79
Alcoholic Specialty
Seagram's Escapes Strawberry Daiquiri – 11.2-oz Bottle with refreshing flavors of Ripe Strawberries – $11.00
Blue Marble Bloody Mary – 200 mL can – Ultra-premium Vodka, All-Natural Tomato Juice and a dash of Spice – $10.00
Blue Marble Mojito – 200 mL can – Ultra-premium Rum, All-Natural Lime Juice and All-Natural Mint – $10.00
Canella Peach Bellini – 250 mL Bottle – $10.00
Cutwater Three Sheets Rum & Ginger – 200 mL Can – Cutwater White Rum with fresh and spicy house-made ginger beer – $10.00
Jose Cuervo Margarita – 200 ml Bottle – Ready-to-Drink Mini Bottle of classic Lime-flavored Margarita – $10.00
Kahlúa Mini Mudslide – 200 mL Bottle – Indulgent blend of Kahlúa Liqueur, Vodka, and Irish Cream – $10.00
Malibu Kiwi Strawberry – 200 mL Can of sparkling flavors of Strawberry and Kiwi with a hint of Malibu Coconut – $10.00
Smirnoff Ice – 11.2-oz Bottle with crisp Citrus flavors – $8.75
Beer
Assorted Beer – $8.00 – $10.25
Wine
 California – 187 mL glass of White Zinfandel – Fresh red berry, citrus, and melon flavors and aromas rounded out with subtle hints of nutmeg and clove – $9.00
Copa Di Vino Cabernet Sauvignon, Oregon – 187 mL glass of Cabernet Sauvignon – Richly extracted Black Currant and Dark Cherry flavors extend to a long, polished finish – $9.00
Copa Di Vino Chardonnay, Oregon – 187 mL glass of Chardonnay – Tropical Fruit and Buttery Pear aromas overlay a smooth, creamy texture – $9.00
Copa Di Vino Pinot Grigio, Oregon – 187 mL glass of Pinot Grigio – Light, fresh floral, and mineral aromas with refreshing flavors of Citrus and Green Apple, and a clean, Fresh Lemon Zest finish – $9.00
Ruffino Prosecco D.O.C. Sparkling Wine, Italy – 187 mL Bottle Sparkling Wine – Fragrant bouquet bursting with aromas of apples, pears and citrus. Crisp, clean and delicate with fine bubbles on the palate, and intense flavors of apples and peaches – $9.00
Seven Daughters Pinot Noir, California – 250 mL Can of Pinot Noir – Light, fresh floral and mineral aromas with refreshing flavors of Citrus and Green Apple, and a clean, fresh Lemon Zest finish – $9.00
Sofia Brut Rosé, California – 187 mL Can – Light effervescence and fragrant notes of fresh fruit, flowers and spice – $9.00
Silverado Sauvignon Blanc, California – 375 mL Bottle – Crisp bright notes of Lime, Gooseberry, and Grapefruit lift the palate to a refreshing, clean finish – $21.00
La Crema Pinot Noir, California – 375 mL Bottle – Light, fresh floral and mineral aromas with refreshing flavors of Citrus and Green Apple, and a clean, fresh Lemon Zest finish – $19.00
Clos du Bois Merlot, California – 375 mL Bottle – Black cherry and vanilla notes, balanced with a round, velvety texture – $16.00
Natura Cabernet Sauvignon, Chile – 375 mL Bottle – Cabernet Sauvignon with flavors of Blackberry, Toffee, and subtle Spice notes – $15.00
Natura Chardonnay, Chile – 375 mL Bottle – Tropical Fruit and Buttery Pear aromas overlay a smooth, creamy texture – $15.00
Parducci Chardonnay, California – 375 mL Bottle – Tropical Fruit and Buttery Pear aromas overlay a smooth, creamy texture – $15.00
Parducci Merlot, California – 375 mL Bottle – Black cherry and juicy plum notes, balanced with a round, velvety texture – $15.00
Parducci Pinot Grigio, California – 375 mL Bottle – Light, fresh floral and mineral aromas with refreshing flavors of citrus and green apple, and a clean, fresh lemon zest finish – $15.00
World Premiere Food Court Lunch/Dinner Menu
Menu Date: 03/2021
Entrées
Roasted Salmon Dinner – Available Monday, Wednesday, and Friday. Topped with Lemon Butter Sauce served with Roasted Potatoes and Green Beans – $15.99
Roasted Turkey Dinner – Available Sunday, Tuesday, Thursday, and Saturday. Served with Mashed Potatoes, Green Beans, and Gravy – $13.99
Turkey Sandwich – Turkey, Mozzarella, Sweet Bell Peppers, Basil Aïoli, Lettuce, and Balsamic Vinaigrette served with French Fries – $10.99
Burgers and Chicken
Bacon Cheddar Cheeseburger – Grilled Signature Blend Burger topped with Bacon, Cheddar, Shredded Lettuce, and Tomato on a Toasted Brioche Bun served with French Fries – $12.49
House-seasoned Grilled Chicken Sandwich – House-seasoned Grilled Chicken topped with Bacon, Cheddar, Shredded Lettuce, and Tomato on a Toasted Brioche Bun served with French Fries – $11.99
Cheddar Cheeseburger – Grilled Signature Blend Burger topped with Cheddar, Shredded Lettuce, and Tomato on a Toasted Brioche Bun served with French Fries – $11.49
Chicken Strips – Served with French Fries – $10.49
Pizza and Pasta
Large Cheese Pizza Dinner – House-made Pizza served with a Caesar Salad and Bread Sticks – Serves 4 – $29.99
Large Pepperoni Pizza Dinner – House-made Pizza served with a Caesar Salad and Bread Sticks – Serves 4 – $29.99
Chicken-Parmesan Pasta – Penne Pasta with a choice of Marinara or Alfredo finished with a Breaded Chicken Breast topped with Provolone served with a Bread Stick – $11.99
Pasta with Meatballs – Penne Pasta with a choice of Marinara or Alfredo finished with Italian Meatballs served with a Bread Stick – $10.99
Super Slice of Cheese Pizza – House-made Pizza By-the-Slice served with a Caesar Salad – $10.49
Super Slice of Pepperoni Pizza – House-made Pizza By-the-Slice served with a Caesar Salad – $10.49
Plant-Based
Plant-Based Barbecue Burger – Served with Arugula, Tomato, Avocado, Barbecue Sauce, and a side of Sea Salt-Lentil Chips – $11.99
Salads
Salad with Chilled Shrimp – Chilled Shrimp served over a bed of Romaine tossed with Cucumbers, Tomatoes, Onions, and Croutons with your choice of Dressing on the side – $11.99
Salad with Chilled Chicken – Chilled Chicken Breast served over a bed of Romaine tossed with Cucumbers, Tomatoes, Onions, and Croutons with your choice of Dressing on the side – $10.99
Sides
French Fries – $4.49
Macaroni & Cheese – $4.49
Caesar Salad – $3.79
Bread Sticks – $3.49
Bakery
Family Assortment Four-Pack – Select four Pastries from our Fresh Selection – $11.99
Bakery Selection Two-Pack – Select two Pastries from our Fresh Selection – $6.49
Brownie Bites – $4.79
Cinnamon Roll – $4.29
Danish Assortment – $3.99
Coffee Cake – $3.79
Croissant – $3.49
Toasted Plain Bagel – $3.49
Muffin Assortment – Selection of Daily Fresh-baked Muffins – $3.49
Chocolate Chip Cookie – $3.29
M&M'S® Sugar Cookie – $3.29
Glazed Doughnut – $1.99
Fresh Fruit
Grapes – $5.69
Mixed Fruit Cup – $5.69
Pineapple Fruit Cup – $5.69
Banana – $2.29
Orange – $2.29
Red Apple – $2.29
Snacks
Yogurt Parfait – Vanilla Yogurt topped with Fresh Fruit and Honey Granola – $5.79
Cereal with Milk – Choice of Cereal served with Small Lowfat Milk – $4.99
Mickey's Crisped Rice Treat – $4.69
Apple Slices with Caramel – $3.99
Dannon® Oikos® Blueberry Greek Nonfat Yogurt – $3.19
Assorted Chips – $2.99
PB&J Uncrustable – $2.99
Pickle-in-a-Pouch – $1.99
Allergy-Friendly Crunchy Cookies – Chocolate Chip – $6.79
Allergy-Friendly Soft Baked Cookies – Double-Chocolate Chip – $6.79
Mickey Mouse Celebration Cake
Chocolate Cake – Chocolate Cake with Chocolate Ganache and Chocolate Mousse with your choice of Engraving Options. One Cake feeds 4 to 6 Guests – $35.00
White Chocolate Cake – Vanilla Cake with White Chocolate Ganache and White Chocolate Mousse with your choice of Engraving Options. One Cake feeds 4 to 6 Guests – $35.00
Dessert
Nestlé® Mickey's Premium Ice Cream Bar – $5.69
Cookies 'n Cream Sundae Cupcake – Chocolate Cupcake topped with Cookies 'n Cream Buttercream, Rainbow Sprinkles, and Chocolate Ears – $5.49
Cheesecake – $5.29
Strawberry Fruit Bar (No Sugar Added) – $5.19
Kids' Meals
Scrambled Eggs – Served with Dannon® Danimals® Smoothie and Apple Slices and Small Lowfat Milk – $6.49
Mickey-Shaped Waffles – Two Mickey-shaped Waffles served with GoGo squeeZ® Applesauce, Dannon® Danimals® Smoothie and small Lowfat Milk – $6.49
Beverages
Star Wars Refillable Mug – Eligible for refills at Beverage Islands at Quick-service locations at any Disney Resort Hotel during the length of your stay – $29.99
Resort Refillable Mug – Eligible for refills at Beverage Islands at Quick-Service locations at any Disney Resort Hotel during the length of your stay – $19.99
Monster™ Energy – $5.29
Monster™ Energy Zero Ultra – $5.29
POWERADE® Fruit Punch Bottle – 20-oz Bottled Beverage – $4.69
POWERADE® Mountain Blast – 20-oz Bottled Beverage – $4.69
Minute Maid® Lemonade Bottle – 20-oz Bottled Beverage – $4.19
Assorted Bottled Soda – 20-oz Bottled Beverage – $4.19
Assorted Cold Beverages – Assorted Coca-Cola® Offerings – $3.99
Honest Tea® Honey Green – $4.49
Gold Peak® Sweet Iced Tea – 18.5-oz Bottled Beverage – $4.19
Gold Peak® Unsweetened Iced Tea – 18.5-oz Bottled Beverage – $4.19
smartwater® – $5.50
Sparkling Water – $4.99
vitaminwater® Power-C Dragonfruit – $4.49
DASANI® Bottled Water – $3.50
Small DASANI® Water – 12-oz Bottled Beverage – $2.50
NESQUIK® Chocolate Milk – $4.19
NESQUIK® Strawberry Milk – $4.19
Half-Gallon 1% Milk – $3.69
Half-Gallon Whole Milk – $3.69
Vitamin D Milk Pint – $3.59
Small Lowfat Milk – $1.99
Small NESQUIK® Chocolate Milk – 8-oz Bottled Beverage – $1.99
Small Whole Milk – 8-oz Carton – $1.99
Soy Chocolate Milk – $2.99
Soy Vanilla Milk – $2.99
Simply® Orange Juice – $4.99
Minute Maid® Apple Juice – $3.99
Minute Maid® Cranberry Apple Raspberry Juice – $3.99
Minute Maid® Ruby Red Grapefruit Juice – $3.99
Vegetable Juice – $3.99
Small Minute Maid® Apple Juice – $1.99
Hot Beverages
Freshly Brewed Joffrey's Coffee™ Decaf – $3.29
Freshly Brewed Joffrey's Coffee™ Regular – $3.29
Hot Cocoa – $3.29
Twinings of London® Hot Tea – $3.29
Specialty Beverages
Joffrey's Coffee™ Cold Brew – Artisan Roasted Coffee Beans blended with flavors of Chocolate with a Smoky finish featuring Joffrey's Coffee™ perfectly steeped in water at cool temperatures for an extended period of time to create a smooth cup of Cold Brew Coffee – $3.79
Joffrey's Shakin' Jamaican™ – Artisan Roasted Coffee Beans blended with Caramel, Vanilla, and Smoky flavors featuring Joffrey's Coffee™ perfectly steeped in water at cool temperatures for an extended period of time to create a smooth cup of Cold Brew Coffee – $3.79
Alcoholic Specialty
Seagram's Escapes Strawberry Daiquiri – 11.2-oz Bottle with refreshing flavors of Ripe Strawberries – $11.00
Blue Marble Bloody Mary – 200 mL can – Ultra-premium Vodka, All-Natural Tomato Juice and a dash of Spice – $10.00
Blue Marble Mojito – 200 mL can – Ultra-premium Rum, All-Natural Lime Juice and All-Natural Mint – $10.00
Canella Peach Bellini – 250 mL Bottle – $10.00
Cutwater Three Sheets Rum & Ginger – 200 mL Can – Cutwater White Rum with fresh and spicy house-made ginger beer – $10.00
Jose Cuervo Margarita – 200 ml Bottle – Ready-to-Drink Mini Bottle of classic Lime-flavored Margarita – $10.00
Kahlúa Mini Mudslide – 200 mL Bottle – Indulgent blend of Kahlúa Liqueur, Vodka, and Irish Cream – $10.00
Malibu Kiwi Strawberry – 200 mL Can of sparkling flavors of Strawberry and Kiwi with a hint of Malibu Coconut – $10.00
Smirnoff Ice – 11.2-oz Bottle with crisp Citrus flavors – $8.75
Beer
Assorted Beer – $8.00 – $10.25
Wine
 California – 187 mL glass of White Zinfandel – Fresh red berry, citrus, and melon flavors and aromas rounded out with subtle hints of nutmeg and clove – $9.00
Copa Di Vino Cabernet Sauvignon, Oregon – 187 mL glass of Cabernet Sauvignon – Richly extracted Black Currant and Dark Cherry flavors extend to a long, polished finish – $9.00
Copa Di Vino Chardonnay, Oregon – 187 mL glass of Chardonnay – Tropical Fruit and Buttery Pear aromas overlay a smooth, creamy texture – $9.00
Copa Di Vino Pinot Grigio, Oregon – 187 mL glass of Pinot Grigio – Light, fresh floral, and mineral aromas with refreshing flavors of Citrus and Green Apple, and a clean, Fresh Lemon Zest finish – $9.00
Ruffino Prosecco D.O.C. Sparkling Wine, Italy – 187 mL Bottle Sparkling Wine – Fragrant bouquet bursting with aromas of apples, pears and citrus. Crisp, clean and delicate with fine bubbles on the palate, and intense flavors of apples and peaches – $9.00
Seven Daughters Pinot Noir, California – 250 mL Can of Pinot Noir – Light, fresh floral and mineral aromas with refreshing flavors of Citrus and Green Apple, and a clean, fresh Lemon Zest finish – $9.00
Sofia Brut Rosé, California – 187 mL Can – Light effervescence and fragrant notes of fresh fruit, flowers and spice – $9.00
Silverado Sauvignon Blanc, California – 375 mL Bottle – Crisp bright notes of Lime, Gooseberry, and Grapefruit lift the palate to a refreshing, clean finish – $21.00
La Crema Pinot Noir, California – 375 mL Bottle – Light, fresh floral and mineral aromas with refreshing flavors of Citrus and Green Apple, and a clean, fresh Lemon Zest finish – $19.00
Clos du Bois Merlot, California – 375 mL Bottle – Black cherry and vanilla notes, balanced with a round, velvety texture – $16.00
Natura Cabernet Sauvignon, Chile – 375 mL Bottle – Cabernet Sauvignon with flavors of Blackberry, Toffee, and subtle Spice notes – $15.00
Natura Chardonnay, Chile – 375 mL Bottle – Tropical Fruit and Buttery Pear aromas overlay a smooth, creamy texture – $15.00
Parducci Chardonnay, California – 375 mL Bottle – Tropical Fruit and Buttery Pear aromas overlay a smooth, creamy texture – $15.00
Parducci Merlot, California – 375 mL Bottle – Black cherry and juicy plum notes, balanced with a round, velvety texture – $15.00
Parducci Pinot Grigio, California – 375 mL Bottle – Light, fresh floral and mineral aromas with refreshing flavors of citrus and green apple, and a clean, fresh lemon zest finish – $15.00
Kids' Meals
includes a choice of small Lowfat Milk or small Dasani® Water with GoGo squeeZ® Applesauce and Dannon® Danimals® Smoothie
Turkey Sandwich on Honey Wheat Bread – $6.79
Macaroni & Cheese – $6.49
Chicken Strips – $7.29
Cheeseburger – $7.49
Pasta with Chicken – $6.19
** World Premiere Food Court Menu and Prices are Subject to Change Without Notice **