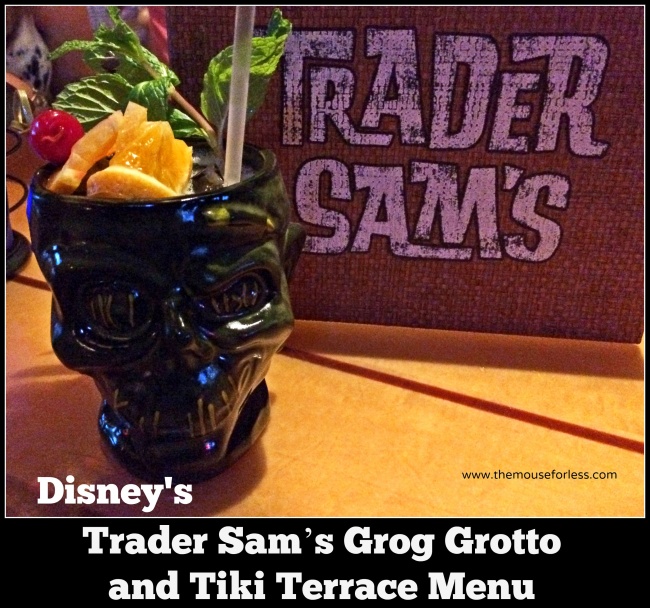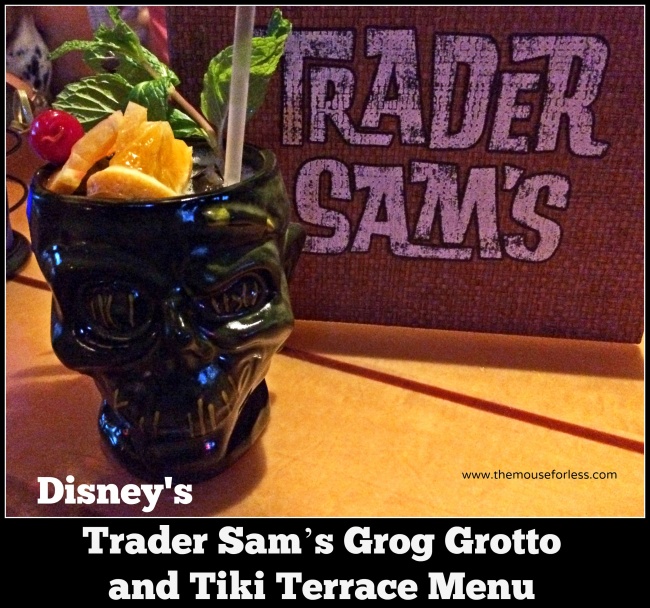 Trader Sam's Grog Grotto is a tiki-themed lounge, based on the popular themed lounge at the Disneyland Hotel in Anaheim, CA. The lounge operates daily from 4:00 p.m. to midnight serving food and drinks, and is available exclusively to guests aged 18 and older after 8:00 p.m.
About 30 – 60 minutes before opening, a line forms outside (past the entrance of Trader Sam's and through the exit). The first 50 people will receive a hand stamped and will be taken inside upon opening; latecomers can ask for a pager to be notified when additional inside space opens up. Seating is also available outdoors on a patio offering a waterfall, live music, table service, and a walk-up bar. There is no age restriction outside on the Tiki Terrace, and seating is first come first serve. Inside, watch for audio and lighting effects to come to life when select drinks are ordered. Cast members inside and out offer their own brand of fun!
TheMouseForLess Tip: Those driving will have to park at Transportation and Ticket Center and either walk or take a monorail to the Polynesian Village Resort. Parking at the resort is reserved for guest and those with confirmed dining reservations only.
Trader Sam's Grog Grotto and Tiki Terrace is located in Disney's Polynesian Village Resort.  Find more Walt Disney World dining locations on our Walt Disney World menus page.
Restaurant Info: Seven Seas-Inspired, Appetizers and Beverages, $-$$
Find out how you can save money on dining at Walt Disney World by using one of Disney's Dining Plans.

Planning a Walt Disney World Vacation?
For a Free no-obligation quote, contact our sponsor
The Magic For Less Travel
. The Magic For Less Travel is an Authorized Disney Vacation Planner and has been helping guests plan magical vacations since 2002. Receive the best prices and free travel planning services. Their fee-free services will help you save time, money, and stress while planning a vacation designed around you and your needs!
Trader Sam's Grog Grotto Menu
Menu Date: 07/2021
Trader Sam's Grog Grotto and Tiki Terrace Appetizers
Chicken or Tofu Lettuce Cups – with Hoisin-Ginger Sauce – $11.50
Kahlua Pork Tacos – with Cabbage and Pickled Vegetables – $10.50
Veggie Rainbow Roll – $11.50
Thai Chicken Flatbread – with Bacon and Peanut Sauce – $12.00
Pan-Fried Dumplings – with Soy-Sesame Dipping Sauce – $9.50
Sam's No-Booze Brews
Skipper Sipper – Tropical Juices, Organic Agave Nectar, Falernum, Mint, and fresh Lime Juice topped with Soda Water
Schweitzer Falls – Tropical Juices and Sam's Gorilla Grog Topped with Sprite
Polynesian Punch – Sam's Gorilla Grog and Hibiscus Grenadine; Served in a Souvenir Sipper
Trader Sam's Grog Grotto and Tiki Terrace Specialty Drinks
In addition to the following Specialty Drinks, a full bar is available featuring Beer Selections and Flights and Wines.
TheMouseForLess Tip: Keep the receipt for any drinks that include a souvenir mug. You will receive a new, boxed mug at the desk just inside Trader Sam's entrance on your way out. Drinks are also available without the souvenir mug for a lesser cost.
Polynesian Pearl – $20.00
RumChata Cream Liqueur, Grand Marnier, and Cinnamon with Tropical Juices. The Pearl souvenir mug is yours to keep!
Nautilus – $32.00 ($58 with souvenir mug)
Barbancourt Pango Rhum, Appletone Estate Reserve Rum, Combier Creme de Peche de Vigne Liqueur, Tropical Juices, and Falernum. Available with a souvenir Nautilus. Serves two
Uh-Oa! – $23.00 ($43 with souvenir mug)
Myers's Original Dark Rum, Bacardi Superior Rum, Orange, Passion Fruit, Guava, Pineapple, and Grapefruit Juices, Falernum, Cinnamon, and fresh Lime Juice. Recommended for Two or more Guests.
TheMouseForLess Tip: This drink is lit tableside, and guests can make it spark by throwing the provided cinnamon into the flame.
HippopotoMai-Tai – $15.00
Plantation Original Dark Rum, Bacardi Superior Rum, Bols Orange Curacao, Orgeat (Almond), Organic Agave Nectar, and fresh Lime Juice. Served in a souvenir Tiki Glass
Krakatoa Punch – $15.00
Sailor Jerry Spiced Rum, Pyrat XO Reserve Rum, Orgeat (Almond), Sam's Gorilla Grog, and Hibiscus Grenadine. Served in a souvenir Tiki Mug with a glow cube
Tiki Tiki Tiki Tiki Tiki Rum – $16.00
Pyrat XO Reserve Rum, Cream of Coconut and Pineapple and Orange Juices dusted with Cinnamon and Nutmeg
Zombie – $15.00
Gosling's 151 Black Seal Rum, Appleton Estate Reserve Rum, Bacardi 8 yr Rum, Tropical Juices, Falernum, and Cinnamon. Available in a Souvenir Mug
Dark & Tropical Stormy – $12.00
Gosling's Black Seal Rum, fresh Lime Juice, Ginger Beer, and Falernum
Mosquito Mojito – $14.00
Bacardi Dragon Berry Rum, Organic Agave Nectar, Falernum, Mint, and fresh Lime Juice topped with Soda Water
Tahitian Torch – $14.00
ByeJoe Dragon Fire Spirit, Tropical Juices, Passion Fruit, and fresh Lime Juice
Rum Flight – $19.00
3/4-oz pour of Bacardi 8 yr, Pyrat XO Reserve, and Ron Zacapa Centenario 23 yr. Served in a souvenir tumblers
Spikey Pineapple – $14.00
Barbancourt Pango Rhum blended with Pineapple Soft-serve
Trader Sam's Grog Grotto and Tiki Terrace Beer and Cider Selection
Ace Pineapple Hard Cider – Sonoma County, CA – $10.25
Blue Moon Belgian White – Golden, CO – $7.75
Bud Light – St. Louis, MO – $7.50
Cigar City Jai Alai IPA – Tampa, FL – $9.00
Kona Beer Flight – $9.75
5-oz pour of Longboard Island Lager, Big Wave Golden Ale, Hanalei island IPA from Kona, HI
Kona Hanalei Island IPA – Kona, HI – $9.00
Kona Big Wave Golden Ale – Kona, HI – $9.25
Kona Longboard Island Lager – Kona, HI – $9.25       
New Belgium Fat Tire – Ft. Collins, CO -$9.00
Terrapin Luau Krunkles IPA – Athens, GA – $9.00
Yuengling Lager – $7.75
Trader Sam's Grog Grotto and Tiki Terrace Sparkling & White Wines
Argyla Sparkling Brut, Willamette Valley – $26 Glass, $65 Bottle
Coppo Moncalvina Moscato D'Asti, Piedmont – $11.00 Glass, $45.00 Bottle
Dr. Loosen Dr. L Riesling, Mosel – $12.00 Glass, $49.00 Bottle
King Estate Pinot Gris, Oregon – $13.00 Glass, $53.00 Bottle
Spy Valley Sauvignon Blanc, Marlborough – $11.00 Glass, $45.00 Bottle
Chalk Hill Chardonnay, Sonoma Coast – $14.00 Glass, $55.00 Bottle
Trader Sam's Grog Grotto and Tiki Terrace Red Wines
Meomi Pinot Noir, California – $16.00 Glass, $65.00 Bottle
Columbia Crest H3 Merlot, Columbia Valley – $11.00 Glass, $45.00 Bottle
Conundrum Red, California – $16.00 Glass, $65.00 Bottle
Simi Cabernet Sauvignon, Alexander Valley – $16.00 Glass, $65.00 Bottle
** Trader Sam's Grog Grotto Menu and Prices are Subject to Change Without Notice **