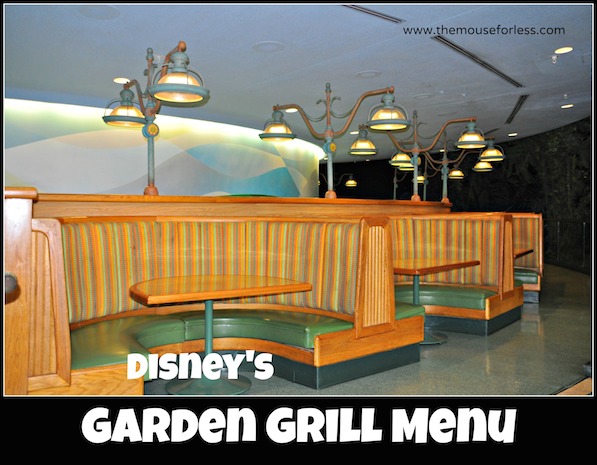 Come to the party and meet Farmer Mickey and his pals, who host a family-style meal for you at The Garden Grill! This rotating restaurant overlooks scenes from the Living with the Land attraction and even features food grown in the Land greenhouse. The children's meals feature a fun interactive dessert and tend to offer more intimate interactions with the characters than other character meals.
Garden Grill is located in Disney's Epcot theme park.  Find more Walt Disney World dining locations on our Walt Disney World Resort menus page.
Restaurant Info: American; Breakfast/Lunch/Dinner; Buffet/Family Style, $$$ – $35.00 to $59.99 per adult
Find out how you can save money on dining at Walt Disney World by using one of Disney's Dining Plans.
Breakfast Menu  Lunch/Dinner Menu

Planning a Walt Disney World Vacation?
For a Free no-obligation quote, contact our sponsor
The Magic For Less Travel
. The Magic For Less Travel is an Authorized Disney Vacation Planner and has been helping guests plan magical vacations since 2002. Receive the best prices and free travel planning services. Their fee-free services will help you save time, money, and stress while planning a vacation designed around you and your needs!
The Garden Grill Breakfast Menu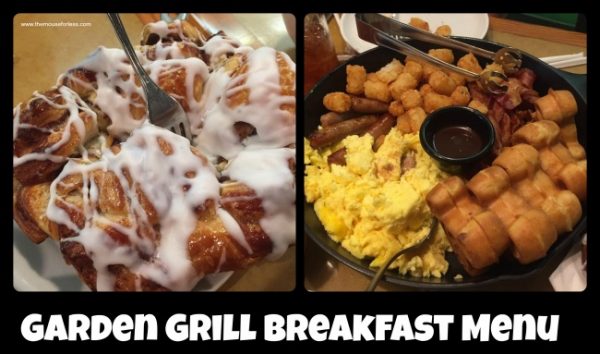 Menu Date: 01/2020
Chip 'N' Dale Harvest Feast
Breakfast daily from 8:00 a.m. – 10.30 a.m.
Adult Price: $44.73
Child Price (ages 3 – 9): $28.76
Prices vary by season and include tax, but not gratuity.
Chip's Sticky Bun Bake
Seasonal Fresh Fruit
Fluffy Scrambled Eggs
Hash Brown-style Potato Barrels
Thick Sliced Bacon and Sausage Links
Mickey-shaped Waffles – with Warm Chocolate-Hazelnut Sauce
Non-Alcoholic Beverage
Orange, Passion Fruit, and Guava Juice Blend
Coffee
Tea
Cranberry Juice
Apple Juice
Pomegranate Lemonade
Specialty Cocktails
Orange or Raspberry Mimosa – $9.75
Bloody Mary – $8.50
The Garden Grill Lunch/Dinner Menu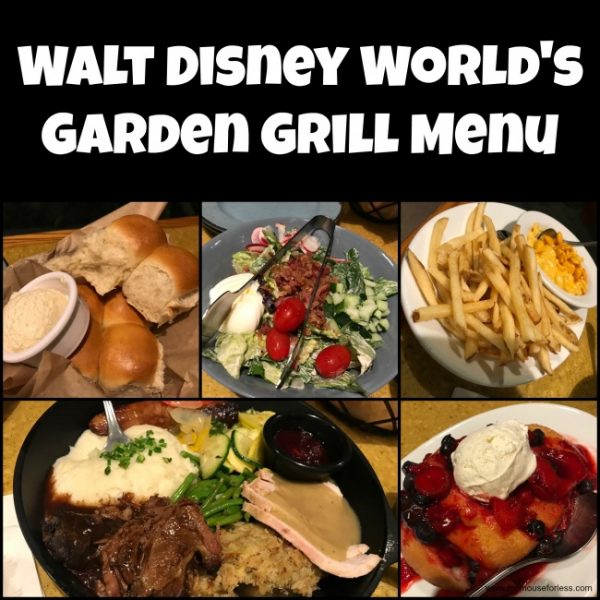 Menu Date: 01/2020
Lunch is served daily from 11:30 a.m. to 3:00 p.m.
Dinner is served daily from 4:00 p.m. to 8:30 p.m.
Adult Price: $58.58
Child Price (ages 3 – 9): $38.34
Prices vary by season and include tax, but not gratuity.
Chip 'N' Dale Harvest Feast
Harvest-inspired Garden Salad
Slow-braised Pot Roast
All-Natural Sliced Turkey Breast – with Turkey Gravy
Carved Pork with Apple Chutney
French Fries
Buttermilk Mashed Potatoes
Macaroni & Cheese
Seasonal Vegetables
Herb and Leek Stuffing
Berry Short Cake – topped with Vanilla Bean Whipped Cream
Non-Alcoholic Beverage
Specialty Character – Minute Maid Light Lemonade Punch served in a souvenir cup with a glowing  Clip-on Light – $6.00
Specialty Drinks & Beers
Citrus Freeze – Florida Cane 'Orlando Orange' Vodka, Peach Schnapps, and Mango Purée – $12.75
Stella Artois Bottle – $9.00
Corona Bottle – $7.75
Coors Light Bottle – $6.50
Blue Moon Bottle – $8.75
Orlando Brewing 1-4 IPA Bottle – $8.75
Yuengling Traditional Lager Bottle – $7.50
Orlando Brewing Blonde Ale Draft – $9.00
Bud Light Draft – $7.25
Samuel Adams Seasonal Draft – $8.75
Wine Selection
Coppo Moncalvina Moscato d'Asti – floral notes along with peach and pear overtones leaving a fresh and aromatic lasting finish – $10.00 Glass, $75.00 Bottle
Placido Pinot Grigio, Veneto – light, fresh floral and mineral aromas with refreshing flavors of citrus and green apple, and a clean, fresh lemon zest finish – $10.00 Glass, $45.00 Bottle
Kim Crawford Sauvignon Blanc, Marlborough – exuberant wine brimming with citrus and tropical fruits such as pineapple and stone fruit, the finish is fresh, zesty and lingering – $11.00 Glass, $49.00 Bottle
Franciscan Chardonnay, Napa Valley – bright and vibrant flavors of pear, apple, honey, and creamy vanilla bean, full and round with rich mouthfeel and a long finish of Asian pear – $13.00 Glass, $55.00 Bottle
Canyon Road Merlot, California – Soft and elegant mouthfeel with deep flavors of rich cherries and jammy blackberries, finishes with hints of vanilla and spice – $9.00 Glass, $39.00 Bottle
Robert Mondavi Cabernet Sauvignon, Napa Valley – deep, dense and concentrated, the flavors echo intense aromas of blueberry, bramble, and cassis intermingled with cocoa, cinnamon, and sweet, toasty oak – $15.00 Glass, $65.00 Bottle
Red Sangria – Beso Del Sol Red Sangria made from a 100% natural marriage of Spanish Tempranillo Grapes, Orange, Blood Orange, and Lemon Juices with a touch of natural Cinnamon – $10.50 Glass
Visit our Character Meet and Greet Opportunities page for other opportunities to meet your favorite characters.
** The Garden Grill Menu and Prices are Subject to Change Without Notice **