Resort Restaurants | Caribbean Beach Resort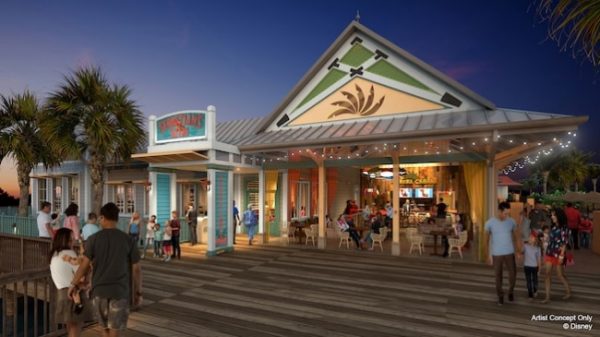 Lunch MenuDinner Menu   Kids' Menu
A bright ambience and market-fresh ingredients await you at this under-the-sea-inspired eatery.
Located along the Old Port Royale promenade, this family-friendly spot offers signature dishes to please any palate—from salads, sandwiches and burgers for lunch to delicious steak and seafood entrées for dinner.
Sebastian's also offers a satisfying selection of desserts and refreshing beverages—including a variety of fruity and frozen cocktails, as well as mocktails.
Restaurant Info: Latin, Seafood, Lunch and Dinner, $$
Find out how you can save money on dining at Walt Disney World by using one of Disney's Dining Plans.
Sebastian's Bistro Lunch Menu
Menu Date: 10/2018
Appetizers
Jamaican Meat Pies – with Guajillo Chili Sauce – $12.00
Marauders Snack – Tostones, Arepas, and House-made Crackers with Black Bean Hummus, Guacamole, and Pico de Gallo – $15.00
Conch Fritters – with Chili-Mayonnaise – $12.00
Crab Cakes – with Watercress Salad and Herb Mayonnaise – $14.00
Raw Sliced Tuna – Bell Pepper, Sweet Potato Purée, Micro Cilantro, and Extra Virgin Olive Oil – $14.00
Caribbean Pull-apart Rolls – with Guava Butter, Mango Chutney, and Jamaican Jerk Oil – $12.00
Seasonal Tropical Fruit – with Ancho Chili Salt and Fresh Lime – $9.00
Arepa – with Slow-cooked Pork and Chili-Mango Barbecue Sauce – $10.00
Grilled Jerk Chicken Wings – with Cilantro-Lime Crema and Carrot Ribbons – $12.00
Sandwiches
Crab Cake-topped Burger – with Lettuce, Tomato, and Horseradish Mayonnaise served with choice of French Fries, Sweet Potato Fries, or Jicama Slaw – $20.00
Smoked Turkey on Ciabatta – with Gouda, Cabbage Slaw, and Guava Barbecue Sauce served with choice of French Fries, Sweet Potato Fries, or Jicama Slaw – $15.00
Island Curry "Eggless" Salad Sandwich – on Multigrain Bread served with choice of French Fries, Sweet Potato Fries, or Jicama Slaw – $14.00
Plant-based Banh Mi Sandwich – with Cucumbers, Pickled Vegetables, and Miso-Sriracha Mayonnaise served with choice of French Fries, Sweet Potato Fries, or Jicama Slaw – $16.00
Lunch Mains
Grilled Skirt Steak "Chimichurri" – with crispy Yuca – $28.00
Jerk Chicken – with Black Beans and Rice and Marinated Vegetable Ribbons – $22.00
Kale and Mixed Green Salad – with Dijon Vinaigrette – $12.00
Kale and Mixed Green Salad with Grilled Fish – with Dijon Vinaigrette – $18.00
Kale and Mixed Green Salad with Grilled Shrimp – with Dijon Vinaigrette – $16.00
Kale and Mixed Green Salad with Grilled Chicken – with Dijon Vinaigrette – $15.00
Jerk Chicken Salad – with Black Beans and Rice and Marinated Vegetable Ribbons – $15.00
Desserts
Warm Chocolate Pudding – Dark Chocolate Cake, Cocoa Nibs Tuile, and Caramel Crispies – $10.00
Message in the Bottle – Coconut-Rice Panna Cotta, Pineapple, and Mango-Lime Sorbet – $8.00
Mile Marker Zero – Iced Key Lime Pops with Sea Salt and a Tropical Fruit Sauce – $9.00
Banoffee Tart – Banana Custard, Chocolate Ganache, and Caramel Sauce – $7.00
Floating Island– Fresh Caribbean Fruit and Meringue with Guava and Guanabana Sorbet – $8.00
Joffrey's Locally Roasted Coffee
Joffrey's Jamaican Blue Mountain Press Pot – World famous for the distinct and rich flavor. Jamaican Blue Mountain Mavis Bank Estate regarded by many to be the quintessential cup of coffee – $5.50
Alto Mayo Press Pot – Disney Supports Conservation International's Alto Mayo Forest Project in Peru, which promotes sustainable coffee growing and economic growth – $5.50
Freshly Brewed Regular or Decaf – $3.79
Espresso – $3.99
Cappuccino – $4.79
Caffè Latte – $4.79
Non-Alcoholic Beverages
Soda Fountain Beverages – Coca-Cola®, Diet Coke®, Coca-Cola® Zero Sugar, Sprite®, Fanta® Orange, PowerAde® Mountain Berry Blast, vitaminwater® açai-blueberry-pomegranate – $4.29
Odwalla Lemonade – $4.49
Zico Coconut Water – $4.49
Fresh-brewed Iced Tea – $4.29
Passionfruit Iced Tea – $4.29
Twining's of London Hot Tea Large Lead Discovery Collection – $3.99
Non-Alcoholic Specialty Drinks
The Peachcomber – Fruity mix of Orange, Lemon, and Peach topped with Soda Water – $4.49
Mutiny Punch – A blend of Raspberry, Pineapple, Lime, and Cinnamon topped with Fever Tree Ginger Beer – $4.49
Landlubber Lemonade – Odwalla® Lemonade with a mixture of Citrus and Grenadine – $4.49
Specialty Cocktails
Guava-Rita – Herradura Reposado Tequila, Sweet-and-Sour, and Guava with Pomegranate and Lime Juices – $11.25
Mariner's Mojito – Bacardi Gran Reserva Maestro de Ron Rum, Lime Juice, Mint, and Pure Cane Sugar topped with Soda Water – $12.50
Caribbean Smuggler – Captain Morgan Original Spiced Rum and Parrot Bay Coconut Rum with Cranberry and Pineapple Juices – $10.50
Hoist the Colors – Cruzan Mango and Guava Rums, Bols Blue Curaçao, and Odwalla® Lemonade with Pomegranate Juice – $10.50
Gold Medallion – Cruzan Disney Select Single Barrel Rum, Beefeater Gin, Bols Apricot Brandy, and Orgeat (Almond), with Orange and Lime Juices topped with Soda Water – $11.50
The Lost Cargo – Buffalo Trace Bourbon, J.D. Taylor Velvet Falernum, Lemon Juice, Maple Syrup, and Angostura Bitters – $12.50
Barbados Lily – Tito's Handmade Vodka, J.D. Taylor Velvet Falernum, Guava and Lemon Juice – $12.50
Jamaican Old Fashioned – Appleton Estate Reserve Blend Rum, Pure Cane Sugar, and Angostura Bitters – $12.50
Caribbean Mai Tai – Bacardi Gran Reserva Maestro de Ron Rum, Plantation Original Dark Rum, Bols Orange Curaçao, Orgeat (Almond), and Lime Juice – $12.50
Wines
Maschio Prosecco, Italy – $10.00 Glass; $45.00 Bottle
Moët & Chandon Brut Impérial Champagne, Épernay – $89.00 Bottle
Coppo Moncalvina Moscato d'Asti, Piedmont – $10.00 Glass; $45.00 Bottle
Dr. Loosen 'Dr. L', Riesling, Mosel – $10.00 Glass; $45.00 Bottle
Benvolio Pinot Grigio, Friuli-Venezia – $9.00 Glass; $39.00 Bottle
Kim Crawford Sauvignon Blanc, Marlborough – $12.00 Glass; $53.00 Bottle
Conundrum White Blend, California – $15.00 Glass; $65.00 Bottle
Baileyana Grand Firepeak Cuvée Chardonnay, Edna Valley – $15.00 Glass; $65.00 Bottle
Benziger Chardonnay, Carneros – $10.00 Glass; $45.00 Bottle
Jackson Estate Chardonnay, Santa Maria Valley – $12.00 Glass; $53.00 Bottle
Kenwood Vineyars Yulupa White Zinfandel, California – $9.00 Glass; $39.00 Bottle
Meiomi Pinot Noir Rosé, Coastal California – $11.00 Glass; $49.00 Bottle
King Estate Pinot Noir, California – $9.00 Glass; $39.00 Bottle
La Crema Pinot Noir, Monterey – $15.00 Glass; $65.00 Bottle
Fess Parker Frontier Red, California – $9.00 Glass; $39.00 Bottle
Columbia Crest Merlot H3 'Horse Heaven Hills', Columbia Valley – $10.00 Glass; $45.00 Bottle
Seghesio Zinfandel, Sonoma Country – $13.00 Glass; $55.00 Bottle
Catena Vista Flores Malbec, Mendoza – $11.00 Glass; $49.00 Bottle
Francis Ford Coppola Rosso Shiraz, California – $9.00 Glass; $39.00 Bottle
Louis M. Martini Cabernet Sauvignon, Sonoma Country – $12.00 Glass; $53.00 Bottle
Beringer Knights Valley Cabernet Sauvignon, Sonoma County – $14.00 Glass; $59.00 Bottle
Oberon Cabernet Sauvignon, Napa County – $14.00 Glass; $59.00 Bottle
Beer, Hard Cider, and Sparkling Water
Budweiser – St. Louis, MO – $7.75
Bud Light (16-oz Draft) – St. Louis, MO – $7.25
Carib Lager – Trinidad & Tobago – $7.75
Corona Extra – Mexico – $8.50
Michelob Ultra – St. Louis, MO – $8.25
Miller Light – Milwaukee, WI – $7.75
Prestige Lager – Haiti – $7.75
Red Stripe Lager – (16-oz Draft) Jamaica – $8.00
Stella Artois – Belgium – $9.00
Concrete Beach Havana Lager – Wynwood, FL – $9.75
Schöfferhofer Pink Grapefruit Hefeweizen – Germany – $10.00
New Belgium Fat Tire – Ft. Collins, CO – $9.75
Sierra Nevada Pale Ale – Chico, CA – $9.75
Cigar City Jai Alai IPA (16-oz Draft) – Tampa, FL – $9.00
Crooked Can High Stepper IPA – Winter Garden, FL – $8.75
Leinenkugel's – Chippewa Falls, WI – $9.50
Angry Orchard Crisp Apple Hard Cider – Cincinnati, OH – $9.00
Truly Wild Berry Hard Sparkling Water – Boston, MA – $9.00
Sebastian's Bistro Dinner Menu
Menu Date: 10/2018
Appetizers
Jamaican Meat Pies – with Guajillo Chili Sauce – $12.00
Marauders Snack – Tostones, Arepas, and House-made Crackers with Black Bean Hummus, Guacamole, and Pico de Gallo – $15.00
Conch Fritters – with Chili-Mayonnaise – $12.00
Grilled Jerk Chicken Wings – with Cilantro-Lime Crema and Carrot Ribbons – $12.00
Crab Cakes – with Watercress Salad and Herb Mayonnaise – $14.00
Raw Sliced Tuna – Bell Pepper, Sweet Potato Purée, Micro Cilantro, and Extra Virgin Olive Oil – $14.00
Sebastian's House Salad – Mixed Greens with Black Beans, Avocado, Pumpkin Seeds, and Cilantro-Lime Vinaigrette – $9.00
Caribbean Pull-apart Rolls – with Guava Butter, Mango Chutney, and Jamaican Jerk Oil – $12.00
Seasonal Tropical Fruit – with Ancho Chili Salt and Fresh Lime – $9.00
Arepa – with Slow-cooked Pork and Chili-Mango Barbecue Sauce – $10.00
Dinner Mains
Slow-cooked Pork Shoulder – with Black Beans and Cilantro Rice, Corn Tortillas, and Mojo Sauce – $25.00
Sautéed Shrimp and Tamales – with Peppers and Salsa Verde – $10.00
Jerk Chicken – with Black Beans and Rice and Marinated Vegetable Ribbons – $22.00
Sustainable Fish – with Mash Plantain and Escovitch Suace – $25.00
Caribbean Goat Curry – with Cilantro Rice, Lime Crèma, and crispy Yuca – $24.00
Jerk Butternut Squash – Black Beans and Cilantro Rice, Collards, and Honey-Chili Sauce – $17.00
Caribbean Vegetable Curry – with Cilantro Rice, Lime Crèma, and crispy Yuca – $19.00
Citrus Stuffed Whole Fish – with Turmeric Brown Rice and Cilantro-Lime Vinaigrette – $34.00
Grilled Skirt Steak "Chimichurri" – with crispy Yuca – $28.00
Desserts
Warm Chocolate Pudding – Dark Chocolate Cake, Cocoa Nibs Tuile, and Caramel Crispies – $10.00
Message in the Bottle – Coconut-Rice Panna Cotta, Pineapple, and Mango-Lime Sorbet – $8.00
Mile Marker Zero – Iced Key Lime Pops with Sea Salt and a Tropical Fruit Sauce – $9.00
Banoffee Tart – Banana Custard, Chocolate Ganache, and Caramel Sauce – $7.00
Floating Island– Fresh Caribbean Fruit and Meringue with Guava and Guanabana Sorbet – $8.00
Joffrey's Locally Roasted Coffee
Joffrey's Jamaican Blue Mountain Press Pot – World famous for the distinct and rich flavor. Jamaican Blue Mountain Mavis Bank Estate regarded by many to be the quintessential cup of coffee – $5.50
Alto Mayo Press Pot – Disney Supports Conservation International's Alto Mayo Forest Project in Peru, which promotes sustainable coffee growing and economic growth – $5.50
Freshly Brewed Regular or Decaf – $3.79
Espresso – $3.99
Cappuccino – $4.79
Caffè Latte – $4.79
Non-Alcoholic Beverages
Soda Fountain Beverages – Coca-Cola®, Diet Coke®, Coca-Cola® Zero Sugar, Sprite®, Fanta® Orange, PowerAde® Mountain Berry Blast, vitaminwater® açai-blueberry-pomegranate – $4.29
Odwalla Lemonade – $4.49
Zico Coconut Water – $4.49
Fresh-brewed Iced Tea – $4.29
Passionfruit Iced Tea – $4.29
Twining's of London Hot Tea Large Lead Discovery Collection – $3.99
Non-Alcoholic Specialty Drinks
The Peachcomber – Fruity mix of Orange, Lemon, and Peach topped with Soda Water – $4.49
Mutiny Punch – A blend of Raspberry, Pineapple, Lime, and Cinnamon topped with Fever Tree Ginger Beer – $4.49
Landlubber Lemonade – Odwalla® Lemonade with a mixture of Citrus and Grenadine – $4.49
Specialty Cocktails
Guava-Rita – Herradura Reposado Tequila, Sweet-and-Sour, and Guava with Pomegranate and Lime Juices – $11.25
Mariner's Mojito – Bacardi Gran Reserva Maestro de Ron Rum, Lime Juice, Mint, and Pure Cane Sugar topped with Soda Water – $12.50
Caribbean Smuggler – Captain Morgan Original Spiced Rum and Parrot Bay Coconut Rum with Cranberry and Pineapple Juices – $10.50
Hoist the Colors – Cruzan Mango and Guava Rums, Bols Blue Curaçao, and Odwalla® Lemonade with Pomegranate Juice – $10.50
Gold Medallion – Cruzan Disney Select Single Barrel Rum, Beefeater Gin, Bols Apricot Brandy, and Orgeat (Almond), with Orange and Lime Juices topped with Soda Water – $11.50
The Lost Cargo – Buffalo Trace Bourbon, J.D. Taylor Velvet Falernum, Lemon Juice, Maple Syrup, and Angostura Bitters – $12.50
Barbados Lily – Tito's Handmade Vodka, J.D. Taylor Velvet Falernum, Guava and Lemon Juice – $12.50
Jamaican Old Fashioned – Appleton Estate Reserve Blend Rum, Pure Cane Sugar, and Angostura Bitters – $12.50
Caribbean Mai Tai – Bacardi Gran Reserva Maestro de Ron Rum, Plantation Original Dark Rum, Bols Orange Curaçao, Orgeat (Almond), and Lime Juice – $12.50
Wines
Maschio Prosecco, Italy – $10.00 Glass; $45.00 Bottle
Moët & Chandon Brut Impérial Champagne, Épernay – $89.00 Bottle
Coppo Moncalvina Moscato d'Asti, Piedmont – $10.00 Glass; $45.00 Bottle
Dr. Loosen 'Dr. L', Riesling, Mosel – $10.00 Glass; $45.00 Bottle
Benvolio Pinot Grigio, Friuli-Venezia – $9.00 Glass; $39.00 Bottle
Kim Crawford Sauvignon Blanc, Marlborough – $12.00 Glass; $53.00 Bottle
Conundrum White Blend, California – $15.00 Glass; $65.00 Bottle
Baileyana Grand Firepeak Cuvée Chardonnay, Edna Valley – $15.00 Glass; $65.00 Bottle
Benziger Chardonnay, Carneros – $10.00 Glass; $45.00 Bottle
Jackson Estate Chardonnay, Santa Maria Valley – $12.00 Glass; $53.00 Bottle
Kenwood Vineyars Yulupa White Zinfandel, California – $9.00 Glass; $39.00 Bottle
Meiomi Pinot Noir Rosé, Coastal California – $11.00 Glass; $49.00 Bottle
King Estate Pinot Noir, California – $9.00 Glass; $39.00 Bottle
La Crema Pinot Noir, Monterey – $15.00 Glass; $65.00 Bottle
Fess Parker Frontier Red, California – $9.00 Glass; $39.00 Bottle
Columbia Crest Merlot H3 'Horse Heaven Hills', Columbia Valley – $10.00 Glass; $45.00 Bottle
Seghesio Zinfandel, Sonoma Country – $13.00 Glass; $55.00 Bottle
Catena Vista Flores Malbec, Mendoza – $11.00 Glass; $49.00 Bottle
Francis Ford Coppola Rosso Shiraz, California – $9.00 Glass; $39.00 Bottle
Louis M. Martini Cabernet Sauvignon, Sonoma Country – $12.00 Glass; $53.00 Bottle
Beringer Knights Valley Cabernet Sauvignon, Sonoma County – $14.00 Glass; $59.00 Bottle
Oberon Cabernet Sauvignon, Napa County – $14.00 Glass; $59.00 Bottle
Beer, Hard Cider, and Sparkling Water
Budweiser – St. Louis, MO – $7.75
Bud Light (16-oz Draft) – St. Louis, MO – $7.25
Carib Lager – Trinidad & Tobago – $7.75
Corona Extra – Mexico – $8.50
Michelob Ultra – St. Louis, MO – $8.25
Miller Light – Milwaukee, WI – $7.75
Prestige Lager – Haiti – $7.75
Red Stripe Lager – (16-oz Draft) Jamaica – $8.00
Stella Artois – Belgium – $9.00
Concrete Beach Havana Lager – Wynwood, FL – $9.75
Schöfferhofer Pink Grapefruit Hefeweizen – Germany – $10.00
New Belgium Fat Tire – Ft. Collins, CO – $9.75
Sierra Nevada Pale Ale – Chico, CA – $9.75
Cigar City Jai Alai IPA (16-oz Draft) – Tampa, FL – $9.00
Crooked Can High Stepper IPA – Winter Garden, FL – $8.75
Leinenkugel's – Chippewa Falls, WI – $9.50
Angry Orchard Crisp Apple Hard Cider – Cincinnati, OH – $9.00
Truly Wild Berry Hard Sparkling Water – Boston, MA – $9.00
Sebastian's Bistro Kids' Menu
Menu Date: 10/2018
Kids' Appetizers
House Salad – $3.00
Seasonal Tropical Fruit – $3.00
Celery and Carrot Sticks – $3.00
Conch Fritters with Chili Mayo – $3.00
Kids Choice Meals
All meals served with choice of one (1) Beverage and one (2) Selections
Whole Grain Penne – with Zucchini and Roasted Tomato Sauce – $11.00
Grilled Jerk Chicken – $11.00
Grilled Shrimp Skewer – with Cilantro-Lime Cream – $13.00
Beef and Mushroom Blended Burger – $13.00
Jamaican Met Pie – $12.00
Slow-cooked Pork Shoulder – $13.00
Kids' Selections (choose one):
Sautéed Green Beans
Jerk-roasted Butternut Squash
Cauli-fries with Carrot Ketchup
Pizza Biscuit
Black Beans and Rice
Yellow Rice
Macaroni & Cheese
Pineapple Cloud with Banana and Orange
Vanilla Gelato with Fruit and Chocolate Sauce
Sliced Apples
Kids' Beverages (choose one):
Small Lowfat Milk
Small Dasani Water
Small Minute Maid Apple Juice
Tinker Bell and Friends or Buzz Lightyear Punch – Minute Maid® Light Lemonade Punch served in a souvenir Fairires or Toy Story 3 Cup with a glowing Tinker Bell or Buzz Lightyear Clip-on Light – $8.00
** Sebastian's Bistro Menu and Prices are Subject to Change Without Notice **