Magic Kingdom | Frontierland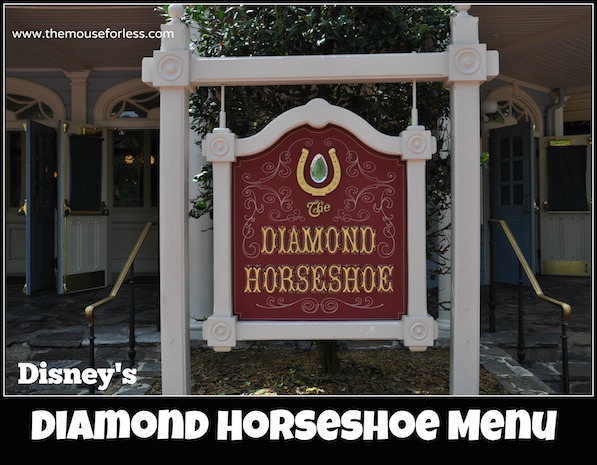 Mosey into the Diamond Horseshoe for heaping helpings of frontier favorites your whole posse will love. This meal is all-you-care-to-eat and served family style.
Restaurant Info: American, Lunch/Dinner, $$$ – $35 to $59.99 per adult
Find out how you can save money on dining at Walt Disney World by using one of Disney's Dining Plans.
Diamond Horseshoe Lunch Menu
Menu Date: 03/2019
Sandwiches & More
Grilled Chicken Sandwich – Citrus-marinated Chicken, Lettuce, Tomato, and Barbecue Mayonnaise served with Cornbread and choice of one Fix 'In – $17.00
Smoked Beef Brisket Sandwich – House-smoked Brisket, Crisp Pickled Vegetables, and Barbecue Sauce Served with Cornbread and Choice of one Fix 'In – $18.00
Roasted Beet Salad – Spinach, Apples, Red Onions – $17.00
Cowboy Macaroni – Creamy Macaroni & Cheese, Smoked Beef Brisket, and Onions served with Cornbread and choice of one Fix 'In – $17.00
Pulled Pork Sandwich – Tender Pork, Creamy Coleslaw, and Barbecue Sauce served with Cornbread and choice of one Fix 'In – $17.00
Mixed Green Salad – Choice of Brisket, Chicken, or Pork with Cucumber, Tomato, Red Onion, and Creamy Chipotle Dressing – $18.00
Chuck Wagon Platters
Carved Beef Brisket – Tender House-smoked Brisket served with Cornbread and choice of two Fix 'Ins – $22.00
Barbecue Pulled Pork – Spice-rubbed Pork served with Cornbread and choice of two Fix 'Ins – $21.00
Grilled Chicken – Citrus-marinated Chicken served with Cornbread and choice of two Fix 'Ins – $21.00
Smoked Stuffed Peppers – served with Cornbread and your choice of two fix 'ins – $19.00
The Fix 'Ins
Macaroni & Cheese

Roasted Beet Salad
Harvest Beans
Seasonal Vegetables
Smoked Mushrooms and Onions
House Salad
Creamy Coleslaw
Desserts
Buttermilk-Chocolate Cake – with Bourbon-Caramel Sauce – $7.00
Peaches and Cream Cheesecake – with crisp Streusel topping – $7.00
Seasonal Berry Cobbler – with Whipped Cream – $7.00
Saloon Feast Platters
Adult – $38.00 ; Child – $21.00
Carved Beef Brisket, Citrus-marinated Chicken, Barbecued Pulled Pork, Smoked Sausage, Macaroni & Cheese, Seasonal Vegetables, Harvest Baked Beans, Creamy Coleslaw, and a Dessert Trio including Buttermilk-Chocolate Cake, Apple Cobbler, and Layered Cheesecake
Beverages
Fountain Sodas
Fresh-brewed Coffee
Nestea Iced Tea
Milk – Whole, 1% Lowfat or Chocolate
Specialty Beverage
Diamond's Frozen S'mores  – $5.50
Pirates Punch or Ariel Punch – Minute Maid® light Pomegranate Lemonade Punch – $6.00
Beer
Michelob Ultra  – $7.75
Samuel Adams Seasonal -$9.00
Yuengling – $7.75
Blue Moon – $8.25
Bud Light – $7.00
Cigar City Jai Alai IPA – $9.75
Angry Orchard Crisp Apple Cider – $9.00
Wine
Domaine Ste Michelle Brut  – $45.00 Bottle; $10.00 Glass
Chateau Ste Michelle Riesling  – $39.00 Bottle; $9.00 Glass
Kenwood Sauvignon Blanc  – $45.00 Bottle; $10.00 Glass
Cambria Estate Benchbreak Chardonnay  – $55.00 Bottle; $12.00 Glass
MacMurray Ranch Pinot Noir  – $45.00 Bottle; $14.00 Glass
Fess Parker Frontier Red  – $45.00 Bottle; $10.00 Glass
J. Lohr Seven Oaks Cabernet Sauvignon  – $45.00 Bottle; $10.00 Glass
Western Sangria – $10.00
Diamond Horseshoe Dinner Menu
Menu Date: 03/2019
Saloon Feast Platters
Adult – $38.00 ; Child – $21.00
Carved Beef Brisket, Citrus-marinated Chicken, Barbecued Pulled Pork, Smoked Sausage, Macaroni & Cheese, Seasonal Vegetables, Harvest Baked Beans, Creamy Coleslaw, and a Dessert Trio including Buttermilk-Chocolate Cake, Apple Cobbler, and Layered Cheesecake
Beverages
Fountain Sodas
Fresh-brewed Coffee
Nestea Iced Tea
Milk – Whole, 1% Lowfat or Chocolate
Specialty Beverage
Diamond's Frozen S'mores  – $5.50
Pirates Punch or Ariel Punch – Minute Maid® light Pomegranate Lemonade Punch – $6.00
Beer
Michelob Ultra  – $7.75
Samuel Adams Seasonal -$9.00
Yuengling – $7.75
Blue Moon – $8.25
Bud Light – $7.00
Cigar City Jai Alai IPA – $9.75
Angry Orchard Crisp Apple Cider – $9.00
Wine
Domaine Ste Michelle Brut  – $45.00 Bottle; $10.00 Glass
Chateau Ste Michelle Riesling  – $39.00 Bottle; $9.00 Glass
Kenwood Sauvignon Blanc  – $45.00 Bottle; $10.00 Glass
Cambria Estate Benchbreak Chardonnay  – $55.00 Bottle; $12.00 Glass
MacMurray Ranch Pinot Noir  – $45.00 Bottle; $14.00 Glass
Fess Parker Frontier Red  – $45.00 Bottle; $10.00 Glass
J. Lohr Seven Oaks Cabernet Sauvignon  – $45.00 Bottle; $10.00 Glass
Western Sangria – $10.00
** Diamond Horseshoe Menu and Prices are Subject to Change Without Notice **