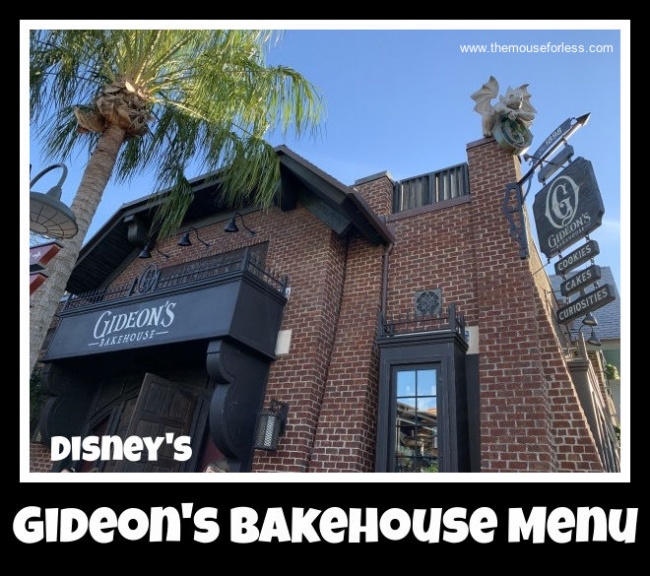 Orlando's very own Gideon's Bakehouse is best known for their ingredient rich, from-scratch "almost half pound" cookies that take over 24 hours to create. Prepare to experience flavors ranging from their celebrated Original Chocolate Chip to addicting Pistachio Toffee.
Gideon's Bakhouse is located in Disney Springs. Find more Walt Disney World dining locations on our Walt Disney World menus page.
Restaurant Info: American, Snack, A la carte, $ – under $14.99 per adult
Find out how you can save money on dining at Walt Disney World by using one of Disney's Dining Plans.

Planning a Walt Disney World Vacation?
For a Free no-obligation quote, contact our sponsor
The Magic For Less Travel
. The Magic For Less Travel is an Authorized Disney Vacation Planner and has been helping guests plan magical vacations since 2002. Receive the best prices and free travel planning services. Their fee-free services will help you save time, money, and stress while planning a vacation designed around you and your needs!
Gideon's Bakehouse Menu
Menu Date: 08/2022
Gideon's Bakehouse From Scratch Cookies
Original Chocolate Chip Cookie – The Gideon's Original Chocolate Chip is the foundation of who we are, the first child. This recipe took 15 years to perfect and is filled with history. It is packed inside and out with a variety of Chocolates, infused with differing vanillas, and has a texture that might almost trick you into thinking you're eating Cookie Dough. This Cookie has been named everything from Best in Orlando to Best on Planet Earth, and we couldn't be prouder to hand make it from scratch for you daily. – $6.00
Pistachio Toffee Chocolate Chip – A long-standing favorite in our community, this flavorful Cookie mixes our favorite chocolate chips with crunchy toffee pieces. Top that off with lightly salted pistachios and perfection is achieved. Sweet and Salty. Soft and Crunchy. Known for being our most sophisticated and addictive flavor, this is the Cookie that the Orlando Weekly suggests you try first. – $6.00
Cookies & Cream  – We have come to know this one as our Cult Cookie. People who love it want everyone else to obsess over it along with them. Why? It's like a Cookies & Cream milkshake in a cookie. It starts with our ultra-soft vanilla bean cookie filled with chunks of hand-cut Double Stuff. We top it with a complete covering over crushed cookies to solidify Cookies & Cream in a way you've never experienced. Not that prettiest but so sweet and tasty. – $6.00
Triple Chocolate Chip – Our Triple Chocolate (which is really five kinds of chocolate) is made with fancy Callebaut and Ghirardelli chocolates, to name a few. To make it extra velvety, we pour our chocolate ganache straight into the cookie dough as we're mixing it. This is the Cookie you just want to curl up with, our most emotional Cookie. – $6.00
Peanut Butter Crunch – This Cookie took an extra-long time to perfect. We wanted you to enjoy something that was truly set apart from the standard flavor for a PB cookie. We're very proud that our Peanut Butter Crunch is entirely peanut buttery with every bite. Not surprising since the dough is made of mostly peanut butter! It's topped with our handmade candied peanuts for the perfect amount of crunch. A must for any PB Lover. – $6.00
Coffee Cake Cookie (Exclusive Daily Limited Edition Disney Springs Flavor) – Our crazy-popular Coffee Cake Cookie is an extra Buttery Vanilla Bean Cookie filled with Cinnamon Swirl and topped with our Homemade Double Baked Butter Crumbs! Buttery. Crunchy. Amazing. It's like a Snickerdoodle in its final evolution! Built to be paired with our Original line of Cold Coffees. – $6.00
Dark Coffee Cake Cookie (Exclusive Daily Limited Edition Disney Springs Flavor) – The Dark Coffee Cake Cookie is a Gideon's Coffee Cake Cookie with a rich Triple Chocolate base in place of vanilla. This elusive limited flavor can only come out after dark and will be yours for the taking every evening strictly at Sunset until sell out. Ask your smartphone the time for Sunset, and this delectable offering will be waiting.  – $6.00
Monthly Limited Edition Flavor – Gideon's Bakehouse keeps the fever hot by switching up on 6th flavor each and every month. Some months are static each year, like the epically popular Frankenstein Cookie every October, and some months we throw out something completely new. Outside of the static months, each shop carries a different Limited Edition Flavor! Available Daily While Supplies Last. – $6.00
Gideon's Bakehouse Cake Slices
Rotating Vanilla Slices
If you're Team Vanilla, we've got you covered. You can find an ever-changing selection of Gideon's Cake Slices that shy away from chocolate. On your visit, you might find our award-winning True Red Velvet Cake, which is based on the real buttermilk cake origins of Red Velvet. Or be on the lookout for our delicious Key Lime Pie Cake, which is a Florida must. Let us surprise you with many rotating vanilla flavors! – $9.00
Various Chocolate Cake Slices
We can't stop creating chocolate-based cakes. Every day you will find a different three-layer chocolate cake flavor. What's your favorite? The Chocolate Churro Cake always flies off the shelf, and we're a little obsessed with the Andes Mint Cookies & Cream Cake. With different creations for each day of the week, these cake slices will give you a reason to visit every day, and they are huge and sharable if you're into that kind of thing. – $9.00
Limited Double Frosted Slices
A Gideon's Exclusive! It's no secret that we're a bit buttercream obsessed, so we've created a line of Double Frosted Cakes. That's right! Three Layer Cakes covered in two complimenting layers of buttercream rotate daily and include everything from our Banana Peanut Butter Double Frosted Cake to special Limited Edition releases like the Rainbow Crunch Cake! – $9.00
Limited Special Items
Hot Cookie Hour
Let us be honest with you. We think our Cookies are best cooled. Why? Because you can taste all the intended flavors. Hot Cookies push one flavor forward, and that is Chocolate. But we hear you, and we want you happy. We know you sneak behind our backs and put your cookies in the microwave. We want to stop that crime to our cookie by giving you a chance to enjoy our Classic Chocolate Chip straight from the oven every day between 2 pm and 3 pm and then again between 7 pm and 8 pm! Served with or without Homemade Ice Cream. – $6.00 – $10.00
Gideon's Bites
Quartered Gideon's Cookies Dipped in chocolate are perfect for sharing or pacing yourself. Since they're dipped in chocolate, they are next level, so make sure your body is used to our regular Cookies before you jump into these! These are not samples of our full cookies. They are their own unique flavor! Available in a prepackaged mystery bag. Get some daily flavors with a promise of at least one Limited Edition flavor! 6 Bites per bag! – $12.00
Gideon's Nitro Cold Brew
The Original Peanut Butter Cold Brew
Our popular coffee recipe that goes perfectly with all things chocolate. We combine our smooth Oat Milk Cold Brew with a unique dark roasted peanut blend from our favorite Georgia Peanut Farm. Sweetened with maple syrup, this Cold Brew is Vegan & Gluten Free! – $6.00
Classic White Cold Brew
This is the choice that pairs with every single thing we make, Cookies or Cake Slices. It also satisfies when you want a smooth Nitro Cold Brew that you know is filled with quality ingredients brewed right here in Orlando. – Vegan & Gluten-Free – $6.00
Cookies & Cream Cold Brew
Our Cookies & Cream coffee delight combines our smooth and balanced Oatmilk Nitro Cold Brew with our in-house sauce that mixes chocolate, finely crushed Cookie & Cream, and a bonus dash of fresh ground coffee bean. Each drink is shaken, cocktail style, to order. This is for those who enjoy a more dessert forward coffee drink! – Vegan – $6.00
Pumpkin Chai Cold Brew
It feels like Halloween inside of Gideon's all year round, so why not keep Pumpkin Chai all year? Like all of our Cold Brew offerings, you won't find any store-bought chemical-filled syrups in our house. With this drink, you get real Cinnamon, Ginger, Cardamon, White Pepper, Nutmeg, Cloves, and locally roasted beans! It pairs perfectly with the Coffee Cake Cookie! – Vegan & Gluten-Free – $6.00
Limited Edition Cold Brew
It's not a monthly promise, but when we feel it works, we drop a unique Limited Edition Nitro Cold Brew flavor that pairs with special monthly cookie releases. To find out if it's your lucky month, be sure to grab one of our collectible monthly menus outside of Gideon's or visit our social media! – $6.00
Gideon's Soda Shop Offerings
Good Old Fashioned Local Milk
Sure! You need milk with your cookies. We won't stop you. We support our local farmers and hope you enjoy this fresh whole milk straight from Dakin Dairy Farm on the west coast of Florida. – $3.50
Coca-Cola Products 21oz
We know you might want to enjoy your day with a soda in hand, so we've got you covered. We offer Coke, Diet Coke, Sprite, Fanta, Root Beer, Cherry Coke Enjoy! – $3.50
** Gideon's Bakehouse Menu and Prices are Subject to Change Without Notice **