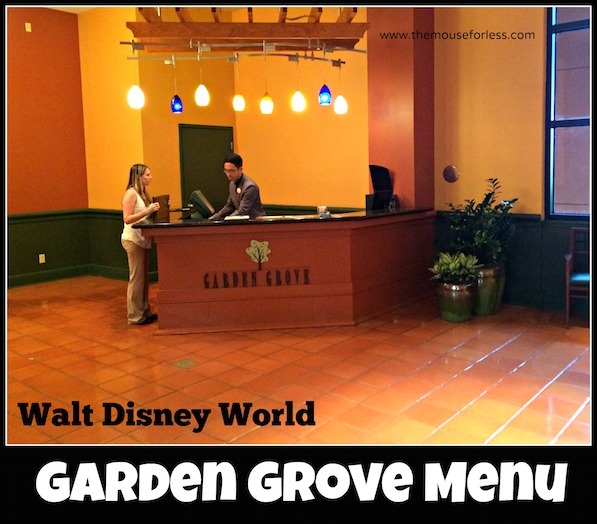 Guests will feel as if they have been transported to the tranquil gardens of Central Park after stepping into the newly transformed Garden Grove restaurant in the Walt Disney World Swan and Dolphin Resort. From the center platform of the restaurant, guests will be marveled by a beautiful 25-foot oak tree which is adorned with twinkling lights and paper lanterns. During the day, families can feast in the park-like atmosphere while bright sunlight from the restaurant's tall windows fills the area. In the evening, the lights are dimmed, and the oak tree centerpiece shimmers while guests dine under street lamps that accentuate the feeling of indulging in a nighttime garden. Families will enjoy the American cuisine at Garden Grove and have the opportunity to dine with Disney characters  for breakfast on the weekends.
Garden Grove is located in the Walt Disney World Swan Hotel.  Find more Walt Disney World dining locations on our Walt Disney World menus page.
Restaurant Info: American, Breakfast – Buffet  $$
Find out how you can save money on dining at Walt Disney World by using one of Disney's Dining Plans.

Planning a Walt Disney World Vacation?
For a Free no-obligation quote, contact our sponsor
The Magic For Less Travel
. The Magic For Less Travel is an Authorized Disney Vacation Planner and has been helping guests plan magical vacations since 2002. Receive the best prices and free travel planning services. Their fee-free services will help you save time, money, and stress while planning a vacation designed around you and your needs!
Garden Grove Breakfast Menu
Menu Date: 12/2022
To Start
Just Oatmeal
Gluten-Free Steel Cut Oats, Water, and Sea Salt… That's It! – $8.00
Overnight Oats… Our Way
Old Fashioned Rolled Oats, Soaked in Almond Milk, Greek Yogurt, Brown Rice Syrup, and topped with Seasonal Fruit – $9.00
Grits… A Southern Staple
Anson Mills Stone Ground White Corn Grits Served with Creamery Butter and Salt – $7.00
Fruit… Simply Fruit
A Bowl Full of Watermelon, Cantaloupe, Honeydew, and Pineapple – $8.00
Parfait… Everybody Likes a Parfait
Vanilla Flavored Yogurt, Strawberries, Blueberries, and a Crunchy House-Made Cereal Blend – $10.00
Eggs
Three Egg Omelet
Three Eggs Folded Lovingly Around Your Choice of the Following: Ham, Bacon, Taylor Pork Roll, Bell Peppers, Onion, Cheddar Cheese, American Cheese, Jack Cheese, Baby Spinach, and Smoked Salmon. Topped with House Guacamole and Served with Toast – $21.00
How You Like Them
Two Eggs Prepared Any Style with Hash Browned Potatoes and Your Choice of Bacon, Sausage Link, or Turkey Bacon, and Toast or English Muffin – $19.00
Benedict… The Return of the Classic
Toasted English Muffin, Canadian Bacon, Two Poached Eggs and Hollandaise Sauce served with Diner Style Potatoes – $19.00
Power Bowl… It's Uncle Lou's Favorite
Steamed Arkansas Brown Rice, Turkey or Vegan Sausage, Wilted Ice Spinach, Sunflower Seeds, Quinoa, Flax Seed, and Two Poached Eggs – $19.00
Sweet Stuff
Belgian Waffle
It is Your Standard Belgian Waffle, topped with House Made Berry Compote, Sweetened Vanilla Butter, Cinnamon Sugar, and Maple Syrup – $15.00
Pancakes… Lots of Them
Four Buttermilk Pancakes, Piled High, and Served with Whipped Creamery Butter or Nutella Butter, and Real Maple Syrup… Try Them with Blueberries, Bananas or Tiny Little Chocolate Chips – $16.00
French Toast… The Kind Made with French Bread
Egg Batter Dipped, Double Cut French Baguette, Served with Brown Sugar Caramelized Bananas, Lightly Whipped Vanilla Cream and Powdered Sugar – $16.00
The Stuff You Like
Taylor Pork Roll Sandwich
Hot Thinly Sliced Taylor Pork Roll, Scrambled Eggs, Melted American Cheese on a toasted New York Style Everything Bagel with Diner Style Potatoes – $17.00
Freida's Eggs Over Easy
Two Dippy Eggs, Over Easy with Diner Style Potatoes and Your Choice of Ham, Bacon, Sausage Link, or Turkey Bacon, and Toast or English Muffin – $19.00
All You Like Combo
Two Eggs Any Style
Served with Diner Style Potatoes and Toast, and Your Choice of Two Pancakes or French Toast, and Ham, Bacon, Sausage Link or Turkey Bacon – $22.00
Avocado Toast… Plain, Simple, Healthy
Locally Sourced Whole Wheat Bread, Topped with Freshly Smashed Avocado, Poached Egg, Olive Oil, and Sea Salt – $18.00
Smokin' D's Biscuits & Gravy
Two Buttermilk Biscuits, Topped with our House-Made Sausage Gravy. Served with Two Eggs Any Style and Home Fries – $16.00
Go Ahead…Add A Side, You're On Vacation
Bacon – $5.00
Turkey Bacon – $5.00
Sausage Link – $5.00
Vegan Sausage – $5.00
Buttermilk Biscuit – $4.00
Bagel & Cream Cheese – $4.00
Single Pancake – $4.00
Pancake Short Stack (2) – $6.00
Home Fries – $4.00
Hand Cut Fresh Fruit – $3.00
Bowl of Berries – $6.00
Two Pastries of Your Choice – $5.00
Kids' Meals
Mickey Mouse Belgian Waffles
Strawberries and Whipped Sweet Cream – $10.00
Kids All American Breakfast
Eggs Any Style, Served with Diner Style Potatoes and Toast and Your Choice of Bacon or Sausage – $10.00
Pancakes
Chocolate Chip, Blueberry, or Banana – $10.00
** Garden Grove Menu and Prices are Subject to Change Without Notice **