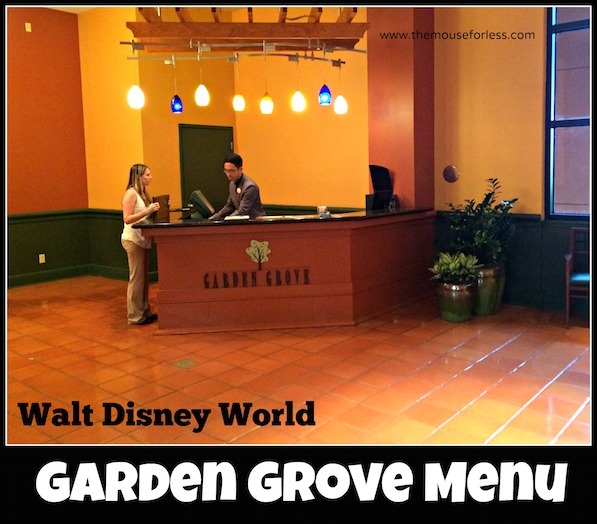 Guests will feel as if they have been transported to the tranquil gardens of Central Park after stepping into the newly transformed Garden Grove restaurant in the Walt Disney World Swan and Dolphin Resort. From the center platform of the restaurant, guests will be marveled by a beautiful 25-foot oak tree which is adorned with twinkling lights and paper lanterns. During the day, families can feast in the park-like atmosphere while bright sunlight from the restaurant's tall windows fills the area. In the evening, the lights are dimmed, and the oak tree centerpiece shimmers while guests dine under street lamps that accentuate the feeling of indulging in a nighttime garden. Families will enjoy the American cuisine at Garden Grove and have the opportunity to dine with Disney characters  for breakfast on the weekends.
Garden Grove is located in the Walt Disney World Swan Hotel.  Find more Walt Disney World dining locations on our Walt Disney World menus page.
Restaurant Info: American, Seafood Breakfast – Buffet / Lunch – Ala Carte / Character Meals, $$ – $$$
Find out how you can save money on dining at Walt Disney World by using one of Disney's Dining Plans.

Planning a Walt Disney World Vacation?
For a Free no-obligation quote, contact our sponsor
The Magic For Less Travel
. The Magic For Less Travel is an Authorized Disney Vacation Planner and has been helping guests plan magical vacations since 2002. Receive the best prices and free travel planning services. Their fee-free services will help you save time, money, and stress while planning a vacation designed around you and your needs!
Garden Grove Breakfast Menu
Menu Date: 02/2020
Weekend Character Buffet (Available Saturday and Sunday)
Weekend Character Buffet – Adults $33.99/ Children 20.99 (Ages 3 – 9)  Children under 3 complimentary with adult.
Build-Your-Own Omelet – Choose your ingredients – Baby Spinach, Spanish Onions, Tri-Colored Peppers, Young Crimini Mushroom, Ripe Red Tomatoes, Traditional Cured Ham, Bacon Lardon, and Artisan Cheddar Cheese
Mickey Mouse Belgian Waffles – Seasonal Florida Berries, Organic Gala Apple Compote, Whipped Sweet Cream, Chocolate Chips, Chocolate and Hazelnut Spread, Barrel Aged Vermont, Maple Syrup
Hot Selections – Corned Beef Hash, Huevos Rancheros, Savory French Toast, Hash Brown Casserole, Crispy Russet Potatoes with Chives and Sea Salt, Thick-sliced Applewood-smoked Bacon, Scrambled Eggs, Potatoes O'Brien, Sausage Patty, Pancakes, Sausage-Egg-Cheese Sandwich, Traditional Spiced Pork Sausage, Steel-cut Oatmeal, and Traditional Grits
Fresh Fruit Selection, Fresh Pastries, and Breads
Cold Selections – Hard boiled Eggs, Overnight Oats, Cold Cereals, Non-Dairy Coconut Milk Yogurt, Create-Your-Own Parfait
Starbucks Coffee and Florida Orange Juice included
Refreshing Smoothies
Weekday Swan Buffet (Available Monday – Friday)
Weekday Swan Buffet – Adults $28.99/ Children 17.99 (Ages 3 – 9)  Children under 3 complimentary with adult.
Omelets and Eggs Any Style
Breakfast Meats
Potatoes
Fresh Fruit Salad
Oatmeal and Cold Cereal Selections
Specialty Egg Entrée
Sweet Entrées and Pastries
Superfoods Collection
Refreshing Smoothies
Starbucks Coffee and Florida Orange Juice included
Early Start (Available Monday – Friday)
Steel-cut Oats – whole milk, honey, cinnamon, apple, walnut – $6.00
Selection of Cold Cereals – $5.00
Bowl of Assorted Seasonal Berries – $6.00
Plain Yogurt – lowfat, fruit flavored, or non-dairy coconut – $5.00
Healthy Muesli – granola, berries, bananas, yogurt, apple, walnuts – $6.00
Eggs à La Carte (Available Monday – Friday)
Life-style Omelet – three eggs, mushrooms, peppers, tomatoes, onions, cheddar cheese, choice of breakfast meat, toast, side of breakfast potatoes – $17.00
All American – two eggs any style, choice of breakfast meat, toast, side of breakfast potatoes –$17.00
Turkey and Cheddar Wrap – scrambled pastel eggs, turkey, cheddar, avocado, chipotle salsa, side of breakfast potatoes – $15.00
Heavenly Breakfasts (Available Monday – Friday)
Cinnamon Apple French Toast – madagascar vanilla, cinnamon streusel, apple compote – $14.00
Belgian Waffle – blueberries, dark chocolate, whipped butter – $14.00
Organic Granola Pancakes – greek yogurt, florida orange, field berries, whipped butter – $14.00
Additional Sides (Available Monday – Friday)
Toast – White, Whole Wheat, or Rye – $3.50
Muffin/Pastry – $4.00
Breakfast Meat – bacon, turkey bacon, Canadian bacon, ham steak, or sausage – $5.00
Bagel – $4.00
Breakfast Potatoes – $4.00
Non-Alcoholic Beverages
Cappuccino – $5.00
Cafe Latte  –$5.00
Espresso – $4.00
Pot of Imported Breakfast Tea – $3.50
Hot Chocolate – $3.50
Milk – Whole, Skim, Chocolate, Non-Dairy – $4.00
Evian Still or Badoit Water – $7.95
Florida Orange or Grapefruit Juice – $4.00
Apple, Cranberry, Tomato, V-8 – $4.00
Smoothie – strawberry, banana, goji, coconut milk – $7.00
Adult Beverages
Peach Bellini – $6.00
Mimosa – $8.00
Bloody Mary – $11.00
Garden Grove Lunch Menu
Menu Date: 02/2020
Soup & Salads
Soup of the Day – Check with your server for our daily soup offering – $7.00
Caesar's Garden – creamy cracked pepper garlic dressing, brioche croutons, parmesan – $13.00
Heirloom Tomato Salad – organic hot house tomatoes, bibb lettuce, skim milk mozzarella cheese, crispy garlic croutons, herb vinaigrette – $15.00
Fried Chicken Salad – iceberg wedge with house fried chicken, shredded cheddar, red onion, buttermilk ranch – $15.00
Compressed Watermelon Salad – late harvest Florida watermelon, arugula, marinated feta, spiced pumpkin seeds, white balsamic vinaigrette, sea salt – $16.00
Chopped Salad – tomato, cucumber, Vermont cheddar cheese, black olive, red wine vinaigrette, crouton, diced roasted chicken – $14.00
Enhance your Salad with Chicken or Shrimp
Sandwiches
Maine Lobster Club – fresh Maine lobster, Hellman's mayonnaise, Boston bibb lettuce, heirloom tomato, crispy bacon, buttered ciabatta – $23.00
Shrimp Tacos – cerveza-glazed shrimp, spicy mayo, citrus-avocado salsa, shaved cabbage – $19.00
Pulled Pork Sandwich – Carolina-style smoked pork shoulder, tangy house-made barbecue sauce, red pepper jam, coleslaw – $17.00
Pastrami on Rye – thinly sliced pastrami, garlic spread, pickled mustard seed, shaved dill pickle, marble rye bread – $16.00
Garden Grove Burger – custom blended beef patty, cheddar cheese, applewood bacon, lettuce, tomato, charred avocado, onion straws – $17.00
Chickpea Shawarma – braised chickpeas, warm naan bread, fresh parsley, creamy garlic dill cucumber sauce, shredded iceberg, pepperoncini – $15.00
Meatball Hoagie – pork meatballs braised in tomato sauce, sharp provolone, soft Italian roll – $17.00
Chicken BLT – romesco, heirloom tomato, sourdough, arugula – $16.00
Desserts
Vanilla Crème Brûlée  –$5.00
Triple Chocolate Cake  – milk chocolate mousse, white chocolate mousse interior, flourless cake, chocolate sauce – $7.00
Key Lime Tart – key lime tart, raspberry compote, white chocolate chiboust dome, lime sauce – $8.00
Lowfat Ricotta Cheesecake – raspberry glaze, seasonal berries – $5.00
Ice Cream – chocolate, vanilla, strawberry – $2.00
Kids' Meals
Spaghetti & Meatballs – whole wheat spaghetti served with turkey meatballs, tomato sauce, and market vegetables – $10.00
Fish Tacos – lean white fish in soft shell with tomato, lettuce, grilled corn, jalapeño, mango, and pico de gallo – $10.00
Chicken Fingers – served with carrots, celery, and lowfat ranch sauce  – $9.00
Grilled Turkey Burger – with lettuce, tomato, sweet potato chips, and vegetable crudité – $10.00
Tuna Salad Sandwich – served on whole wheat bread with lettuce and tomato – $9.00
Chicken Quesadilla – served with beans, rice, and pico de gallo – $10.00
Beverages
Soda – coke, diet coke, sprite, root beer, ginger ale, lemonade, iced tea – $3.00
Assorted Juices – orange, apple, cranberry, grapefruit, tomato, V8 – $4.00
Coffee, Tea, or Hot Chocolate – $3.50
Cappucino or Latte – $5.00
Espresso – $4.00
Draft Beers
Yuengling– $6.00 Glass / $26.00 Bottle
Phins and Feathers – $7.00 Glass / $31.00
Miller Lite –  $6.00 Glass / $26.00 Pitcher
Sam Adams Seasonal – $7.00 Glass / $31.00 Pitcher
Wine & Sangria
Hess Chardonnay – $40.00 Bottle/ $8.00 Glass
Archaval Ferrer Malbac – $40.00Bottle / $8.00 Glass
J&H Selbach Saar Rielsing Spatlese – $40.00Bottle / $8.00 Glass
Tolloy Pinot Grigio –  $45.00 Bottle / $9.00
Pomegranate or Peach Sangria – $12.00 Glass / $38.00 Pitcher
Liberty School Merlot – $40.00 Bottle / $8.00 Glass
The Federalist Cabernet Sauvignon – $45.00 Bottle / $9.00 Glass
Kim Crawford Sauvignon Blanc – $45.00 Bottle / $9.00 Glass
** Garden Grove Menu and Prices are Subject to Change Without Notice **