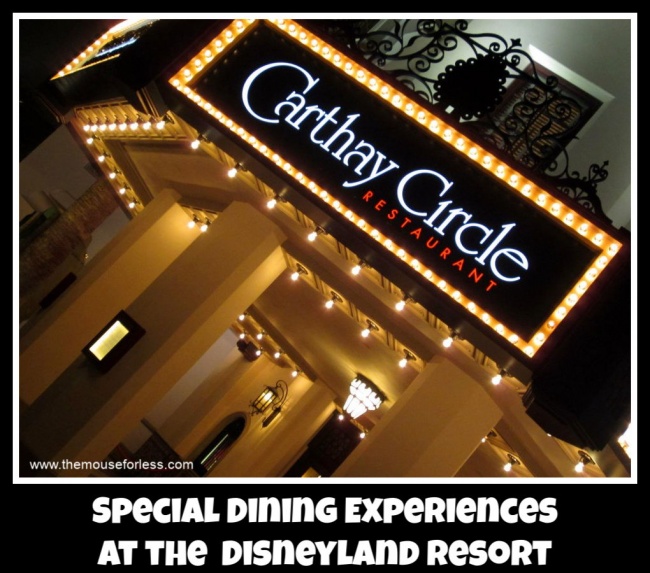 Disneyland Dining Experiences at Disneyland Resort
There are an array of options for dining experiences at Disneyland, Disney California Adventure, and even at select Disneyland resorts guests can experience a  number of dining adventures. Ranging from character breakfasts to magical dessert parties, Disneyland has it all!
Dining reservations can be made online or by phone by calling 714-781-3463.
Disneyland Park Disney California Adventure Disneyland Resort Hotels
Disneyland Dining Experiences
Fantasmic! Dining Experiences
River Belle Terrace
When you book your package with River Belle Terrace a 3 course meal is served while you enjoy the Fantsmic! show and the sights of the Rivers of America. This event has one dining time of 7:15 p.m.
Pricing
Children $25+ | Adults $30+
On-The-Go at Hungry Bear Restaurant
The on the go package includes dinner (1 main dish, 3 sides) plus entry into the reserved viewing area or Fantasmic! Dinner includes a choice of sustainable salmon, barbeque chicken, St. Louis style ribs, or plant-based skewers. All dishes are served with a mashed potatoes, honey-glazed carrots, and cornbread. Guests are welcome to the reserved viewing area or take it truly on the go while exploring Disneyland. This package requires reservations ahead of your visit. Reservations made for 3:00pm to 6:45pm allows you entrance to reserved viewing for the first performance. 7:00pm to 8:30pm reservations will be for the second performance.
Pricing
Children (ages 3-9) $20 | Adult $25+
Main Street Electrical Light Parade Dining Experiences
Parade Dining Package
The Plaza Inn Dining Package includes a special parade viewing. Enjoy delightfully southern cuisine at the Plaza Inn followed by a reserved viewing voucher for the evening's Main Street Electrical Parade. Reserved viewing requires one dining ticket per person. The menu for this dining experience includes fried chicken breast, macaroni and cheese, oven-roasted carrots, baby wedge salad, Mickey-shaped corn bread, and a berry cheesecake for dessert.  Kid's entree include fried chicken tenders, baby carrots, apple sauce, Mickey-shaped corn bread and berry cheesecake.  All kid's entrees are served with a choice of small Dasani water or small lowfat milk.
Pricing
Children (ages 3-9) $25.00 | Adult $40.00
Tomorrowland Sky Lounge Experience
Hosted by the Tomorrowland Expo Center, this dining experience is held on the balcony of the Tomorrowland Sky Lounge. Guests will enjoy a top notch view of the fireworks showing for the evening. A tasty box of treats are provided for each guest including seasonal fruits, cheeses, and assorted sweets. Plus a choice of either hot or cold non-alcoholic beverage.
Pricing
Tickets: $50.00 per person | 3 and under: Free
Disney California Adventure
World of Color Dining Experiences
World of Color Dining Package
Dine in either Wine Country Trattoria or Storytellers Cafe for lunch or dinner, then cap off your evening with reserved spot in the preferred viewing area for the World of Color.  World of Color Dining Package includes full-service, 3 course meal with 1 non-alcoholic beverage and one voucher for the World of Color. Storyteller's Café has been added to the World of Color Dining Package options, here you can enjoy a delicious buffet dinner before the show.
Wine Country Trattoria
Children (3-9) $35 | Adult $59
Storyteller's Café Buffet
Children $25 | Adult $59
World of Color Dessert Party
Enjoy a sweet and savory dessert selection served with sparkling package and receive a reserved seating in the World of Color preferred viewing area.
Pricing
$89.00 including tax and gratuity
Disneyland Resort Hotels
Disneyland's Grand Californian Hotel & Spa
Storytellers Cafe
This dining experience is available for breakfast, brunch, or dinner (reservations highly recommended). Each meal is buffet style with a spread of breakfast classics, brunch specials, & a carving station for dinner. During breakfast and brunch Mickey and his pals join guests for photo and autograph opportunities. Plus Mickey Mouse himself will entertain with stories from his many adventures. Characters are not available for dinner, however dinner is great for foodies looking for a memorable dinner. Price includes 3 hours of complimentary parking at the Grand Californian Hotel & Spa.
Breakfast Pricing
Children $29 | Adult $49
Annual Passholder Discounts Available
Brunch Pricing
Children $29 | Adult $51
Annual Passholder Discounts Available
Dinner Pricing (No characters)
Children $24 | Adult $44
Annual Passholder Discounts Available
Disney Princess Breakfast Adventure
Guests can enjoy a beautiful breakfast with the famous Disney Princesses. Share stories, take photos, and take home a personalized princess portrait. The 3 course meal offers a variety of options, including kid & adult-specific menus. Advance reservations are not required, but same-day reservations are subject to availability. This adventure is hosted at Napa Rose, and is available Thursday through Monday between 8:00 am & 12:00 pm.
Pricing
$125.00 Per Person
Tax & Gratuity Not Included
Disneyland Hotel
Goofy's Kitchen
At Goofy's Kitchen enjoy Goofy and his fun friends for a breakfast buffet and fun dancing. The buffet includes omelet stations, sausage and other classic items. Or reserve for dinner for a tasty selection of Goofy favorites like his Peanut Butter & Jelly Pizza!
Pricing
Lunch – Children (ages 3-9) $35| Adult $59.99
Dinner – Children (ages 3-9) $35| Adult $59.99
**Disneyland Dining Experiences Menu items & character appearances subject to change without notice.**