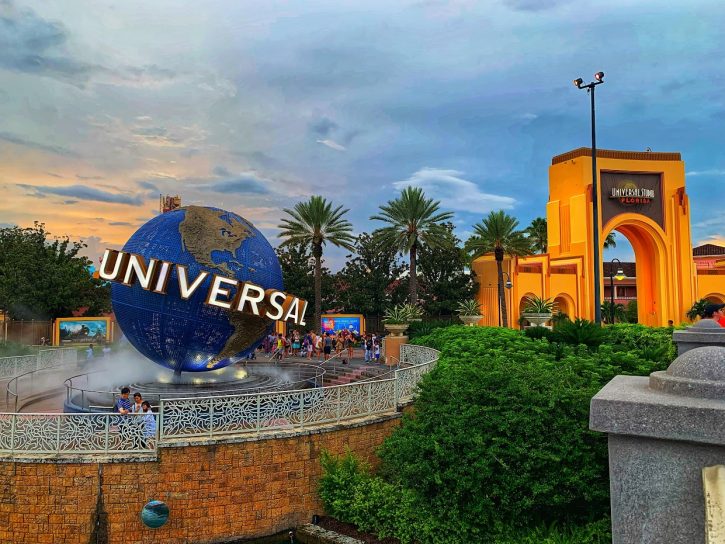 Admission can be purchased for only Universal Studios Florida or can be combined with admission to Universal's Islands of Adventure. Multi-day tickets are also available. Visit our ticket page to review ticketing options.
For up to date information about modified operations and safety procedures, visit the Know Before You Go to Universal Orlando page.
Attractions  Contact Numbers  Express Pass  Food  Lockers On-Site Guest Benefits  Stroller, Wheelchair, and ECV Rentals  Transportation

Planning a Universal Vacation?
Attractions at Universal Studios Florida
Universal Studios Florida is divided into eight sections. Attractions and shows can be found throughout the park. Please note ride restrictions on park maps.
Diagon Alley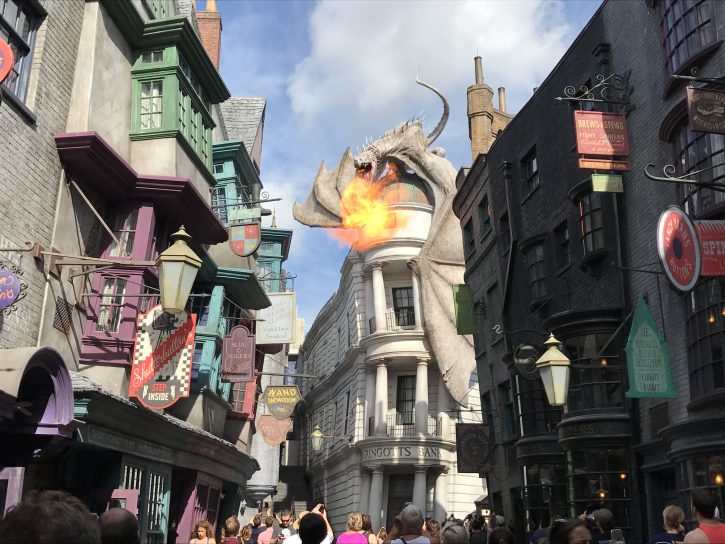 The Wizarding World of Harry Potter — Diagon Alley is part of a two-park experience. Diagon Alley is in Universal Studios, and Hogsmeade and Hogwarts is at Islands of Adventure. The area brings to life some of the experiences and places found in and around London in the Harry Potter books and films. Diagon Alley and 'London' is located within the Universal Studios Florida theme park. This area within Universal Studios is just as expansive, immersive and authentic as the themed environment of Wizarding World of Harry Potter at Universal's Islands of Adventure theme park. It features shops, a restaurant, and an innovative attraction based on Gringotts Bank in addition to the attractions above. Diagon Alley includes:
Production Central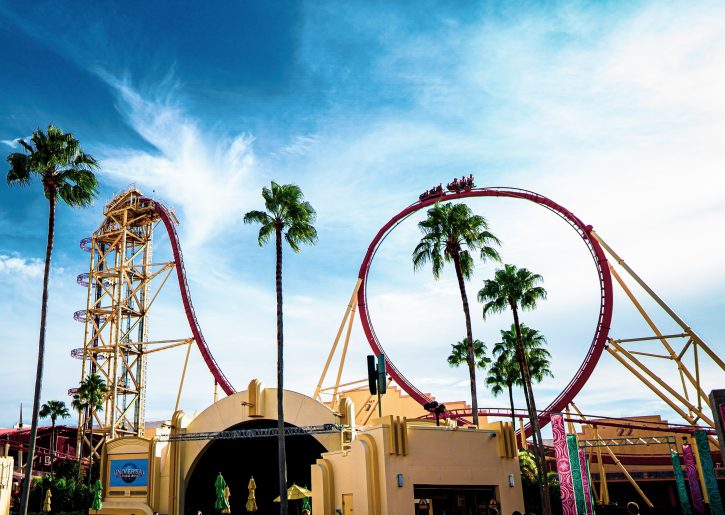 Production Central brings to life some of the experiences and places found in some of Universal's famous films and late night TV shows. This area within Universal Studios features shops, themed restaurants, and immersive attractions. Here you can become a minion, save Earth from Megatron, or race through New York with Jimmy Fallon, anything is possible! Production Central includes:
New York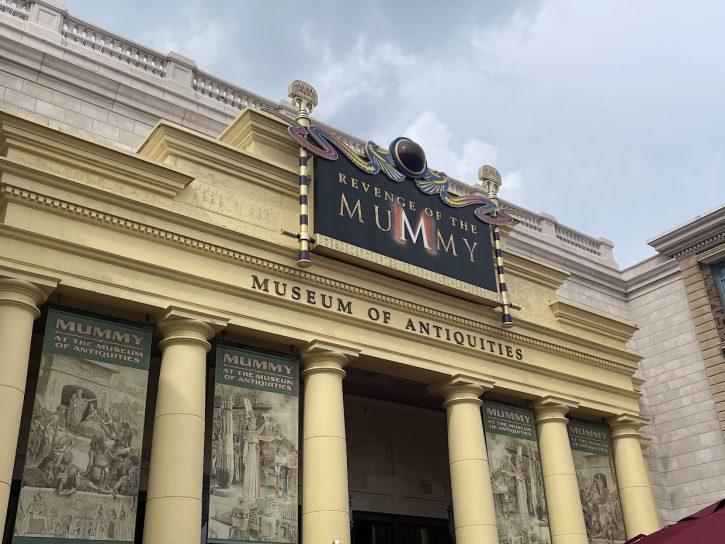 New York takes guests back to the classic 1930's version of the city. This section of Universal Studios is filled with small alleyways and roads filled with stores and shops guests might have seen back in the day. Here guests can eat at themed restaurants, look through the shops, or experience one of Universal's most thrilling attractions! New York includes:
San Francisco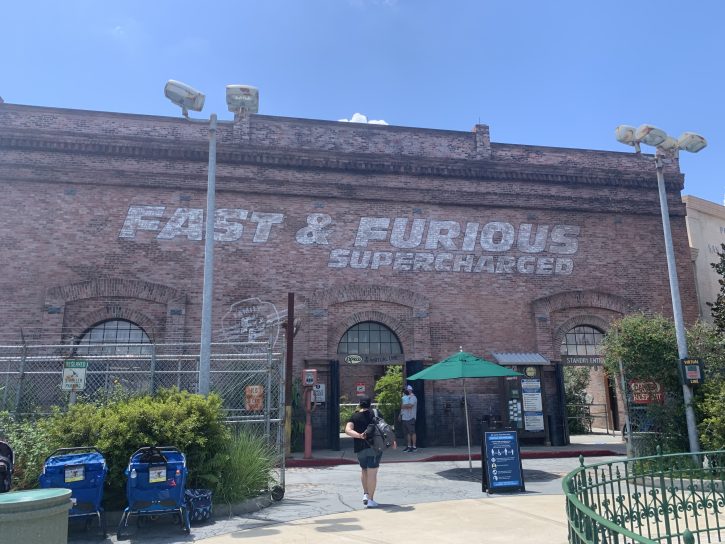 This section of Universal Studios features themed restaurants, shops, and one of Universal's most thrilling attractions! San Francisco includes:
World Expo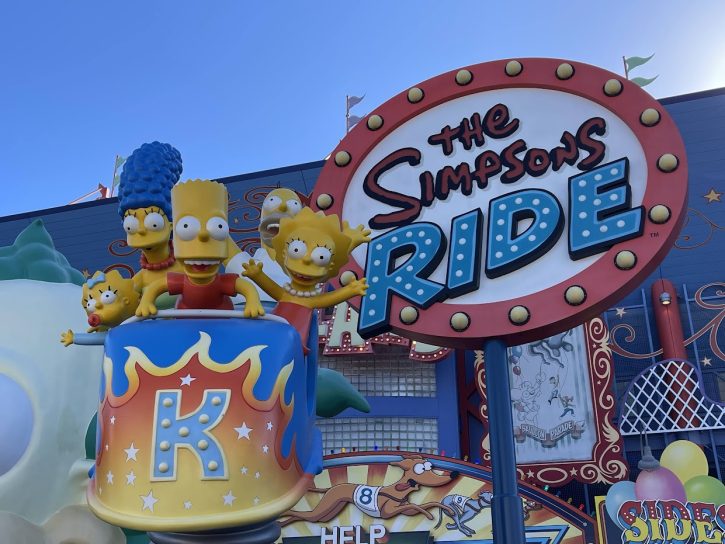 World Expo gives you the chance to visit and become a part of many beloved movies and TV shows. This area of Universal Studios features attractions, shops, and restaurants from Men in Black, Fear Factor, and even the Simpsons! Have a Flaming Moe at Moe's Tavern, become a contestant on Fear Factor, or see if you're agent material in the Men in Black attraction. World Expo includes:
Minion Land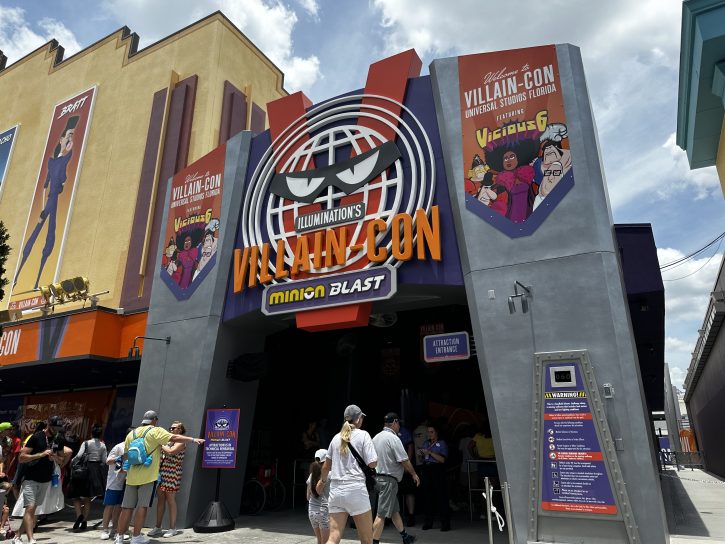 Explore Minion Land on Illumination Avenue. Guests are able to experience the restaurant Illumination's Minion Cafe, experience the ride Despicable Me Minion Mayhem or the attraction Illumination's Villain-Con Minion Blast. You'll be able to meet Minions and grab tasty snacks at Bake My Day, Pop-A-Nana, and Freeze Ray Pops. There is also plenty of shopping at Super Silly Stuff and Evil Stuff.
Illumination's Villain-Con Minion Blast
Woody Woodpecker's KidZone
Woody Woodpecker's KidZone brings to life some favorite characters for your little ones. This area within Universal Studios Florida features shops, character meet & greets, and immersive attractions sure to delight any age. Here you can help E.T. phone home, watch animal actors perform amazing stunts, and more.  Woody Woodpecker's KidZone includes:
Kingdom Strollers is the top choice for families traveling to Orlando, Disney, and surrounding areas! Kingdom Strollers provides premium stroller & crib rentals delivered straight to your Orlando theme park resort, hotel or vacation home free of charge. Book your stroller as soon as you book your vacation for best selections!
Hollywood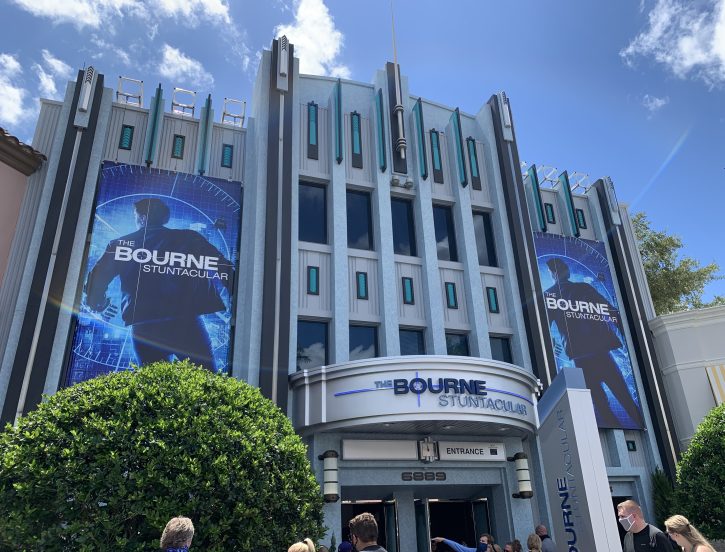 There's nowhere quite like Hollywood and at Universal Studios guests can take a peek at the glitz and the glamour. This area features shops, historic Hollywood landmarks, and themed restaurants. Here guests can visit Schwab's Drug Store, explore the shops, or even grab a bite at Mel's Drive-In! Hollywood includes:
Other Entertainment
Universal Studios' Food
There are several food options while visiting Universal Studios Florida. For dining, the following are available:
Eternelle's Elixir of Refreshment
Lisa's Teahouse of Terror
Lard Lad Donuts
In addition, don't discount the proximity of the many restaurants at CityWalk. They are a short distance outside of the park gates and offer a wide variety of choices.
Express Pass
Express Pass can be added to your admission tickets and will allow guests to get through the lines faster. The pass is good for one-time per ride at select rides and attractions. The pass allows holders to enter a shorter line. There are options for a 2-Park Universal Express Pass or a 1-Park Universal Express Pass.
Universal Express Unlimited allows guests admission to both theme parks each day plus unlimited access to the participating attractions. This is a separate admission ticket.
For more on the express passes and current pricing visit our Universal Express Pass page.
Lockers
Lockers available inside the entrance to the park. The rental fee is $8 per day for a standard locker and $10 per day for a family size locker (family size lockers are available at Universal Studios Florida only). There is no limit to the number of times a guest can open the locker each day.
The lockers at Volcano Bay are $8 (mini), $10 (standard), and $12 (family).
In addition, loose articles are not permitted on select attractions. There are free lockers offered at the following attractions to be used only for the time guests are experiencing the attraction:
MEN IN BLACK Alien Attack
Revenge of the Mummy
Hollywood Rip Ride Rockit
The Incredible Hulk Coaster
Harry Potter and the Forbidden Journey
Harry Potter and the Escape from Gringotts
Jurassic Park River Adventure
Pop-eye & Bluto's Bilge Rat Races
Dudley Do-Right's Ripsaw Falls
Additional lockers are available at select attractions inside Universal Studios and Universal's Islands of Adventure® for $2 for each additional hour; with a $14.00 per day maximum.
Contact Numbers
General Information – 407-363-8000
Guest Services – 407-224-4233
Lost and Found– 407 -224-4233, option 2
Merchandise Questions 1-888-762-0820
Reservations – 1-877-801-9720 or call your favorite travel agent at The Magic For Less Travel at (888) 330-6201
Dining – (407) 224-4233
Ticketing – (407) 224-7840
Stroller, Wheelchair and ECV Rentals
Strollers
Stroller rentals are available for single day rentals. Rentals are available at park entrance. Stroller rental price is as follows:
Single Strollers: $14.99 tax inclusive
Single Kiddie Car: $17.99 tax inclusive
Double Strollers: $24.99 tax inclusive
Double Kiddie Car: $27.99 tax inclusive
Guests may opt to bring their own strollers as well. Strollers are not available for rent at Universal's Volcano Bay.
Wheelchairs and ECVs
Manual wheelchairs are available at the Rotunda area of the parking garage as well as to the left side of the park entrance. Wheelchair rental is $12 per day plus a $50 deposit and signed rental contract.
ECVs (Electronic Convenience Vehicles) are available in limited numbers on a first-come, first-served basis. ECV rentals are for guests 18 years old and over. ECVs may be reserved by calling 407-224-4233 at least one week prior to arrival. The rental cost is $50 per day plus a $50 deposit and a signed rental contract.
Transportation
Guests staying on-site can opt to take water taxis or walk to the theme parks. Guests visiting for the day can park in Universal's parking structure. From the parking structure, guests walk through CityWalk and then enter either Universal Studios Florida or Islands of Adventure.
Regular parking is $30 per day. Florida residents with proper ID can park for free after 6 p.m. (not valid for special events and restrictions apply). Prime Parking is also available at a cost of $$50-$60 seasonally and a Prime Upgrade is $20-$30 seasonally per day. RV/Bus parking is $40.00 per day.
Valet parking is available for cars and vans. Upon arrival to Universal Orlando® Resort, follow the signs to Valet Parking.
Before 6:00 pm
•$30.00 for 2 hours
•$65-$75.00 for over 2 hours
After 6:00 pm
•$30.00 for 2 hours
•$40.00-$75.00 for over 2 hours
For Preferred Annual Passholders
50% off valet (After first visit; Subject to availability)
For Premier Annual Passholders
Free (Subject to availability)
On-site Guest Benefits
Guests staying at Portofino Bay Resort, Hard Rock Hotel, or Royal Pacific Resort receive exclusive theme park benefits.
Universal Express Unlimited – Skip the regular lines in both parks. A free benefit valued at $89 per person, per day for those staying at Loews Portofino Bay Hotel, Loews Hard Rock Hotel, or Loews Royal Pacific Hotel.
Early Park Admission one hour before general entry (with valid theme park admission) to The Wizarding World of Harry Potter
Complimentary water taxi transportation from Royal Pacific, Hard Rock Hotel or Portofino to Universal CityWalk and buses to CityWalk and the theme parks.
Priority seating at select restaurants (not availabe for Cabana Bay guests).
Resort-wide charging privileges.
Complimentary delivery of merchandise purchased throughout the resort to your hotel.